POV Holder:
James
POV Competition
Aug 29th
POV Used
Yes
POV Ceremony
Aug 31st
HOH
Vanessa
Next HOH
Sept 3rd
Original Nominations:
Meg and James
After POV Nominations:
Meg and Julia
Have Nots
Johnny Mac, Julia, James, Meg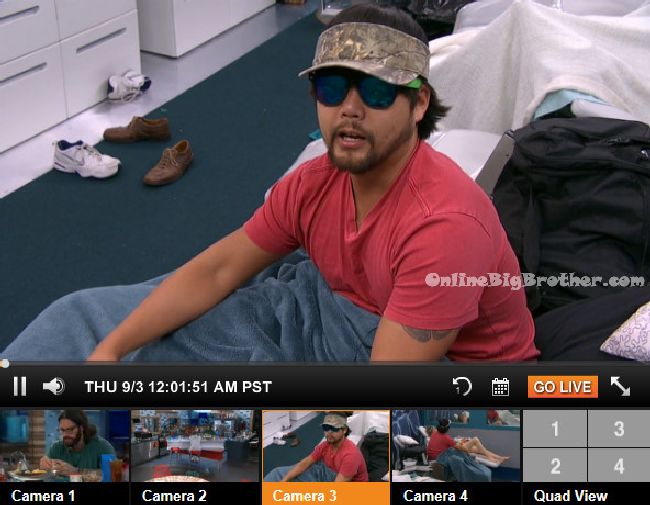 12am – 12:30am James and Meg are in the havenot room talking and laughing. James puts the pillow on Meg face. She says he just got all her makeup all over it. He says its getting more action than he is. James looks at the camera and requests they play their music tomorrow since Meg is leaving. Meg says she wants to hear Sara Bareilles – Little Black Dress, or Allen Stone – Celebrate Tonight. James requests Tim Mcgraw my best friend. James starts talking about his best friend and circle of friends back home. James starts talking about his friends backing him up if he gets into a bar fight. Meg talks about how she has the best friends. Meg says I know my fate is sealed. I'm not even going to talk to Austin. He is acting so weird this week. Its strange. James says very strange. Meg says I can't tell what he's like on the outside. James says he would probably try to sleep with you. Meg says eww no! James says okay if you had to sleep with some one Austin or me who would it be? Meg says I'm not saying anything. James says what if he chloroformed you? Meg says not a chance. James asks what does Liz see in him? Meg says he acts like he runs the show a bit, people like that. Johnny Mac joins then and they talk about going to sleep.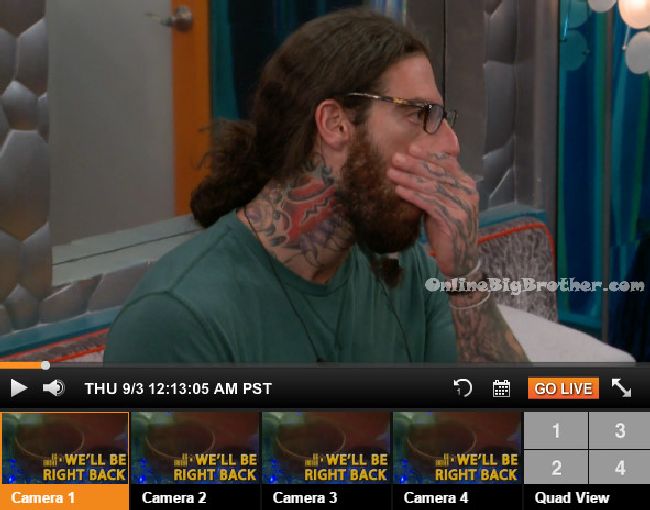 Watch the NEXT WEEK of the Live Feeds for FREE! Click here for your: 1 Week Trial
12:10am In the bathroom – Steve tells Austin that the game is really starting to get to him. Like if James wins who is he going to go after? Austin says he thinks James will go after the twins. Steve says but that still sucks. Austin says its either that or Vanessa's a backdoor. He could come after me or you but logically the smartest thing for him is to go after the twins. I'm not going to steer him in that direction unless I have to. Steve says it just sucks with everyone left, I mean obviously its not me that would be going home but I don't want them to either. Austin says if the scamper squad wins, then we don't have to do that but if Johnny Mac or James wins then what are we going to do there's two of them (twins) playing for 500K there's still going to be one of them left, none of us have two people here. Austin says there are two of them (Twins) at least they can split the money. Steve asks they're going to split it? Austin says yeah. Big Brother blocks the feeds. Steve says thats the same reason they voted out Jeff in season 13. Steve says I just don't want anyone from scamper to go. Austin says me neither, I want us to make it to final 5. Johnny Mac and the twins join them in the bathroom and the conversation ends.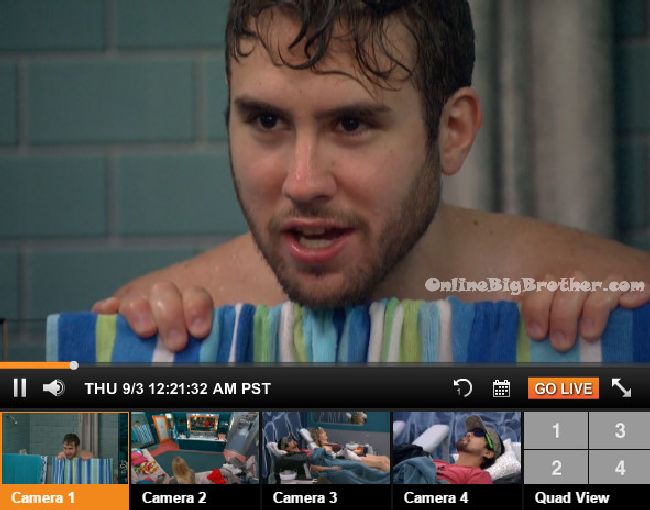 In the kitchen – Austin is whispering with Johnny Mac. Austin yeah that's good we're rooting for each other. More chances. Its a chance game, that's what you need. I like it, the unlikely duo. Johnny says MMMMmmHmmm. Austin says the last expected thing. Julia joins them. Johnny laughs and says he is heading to bed.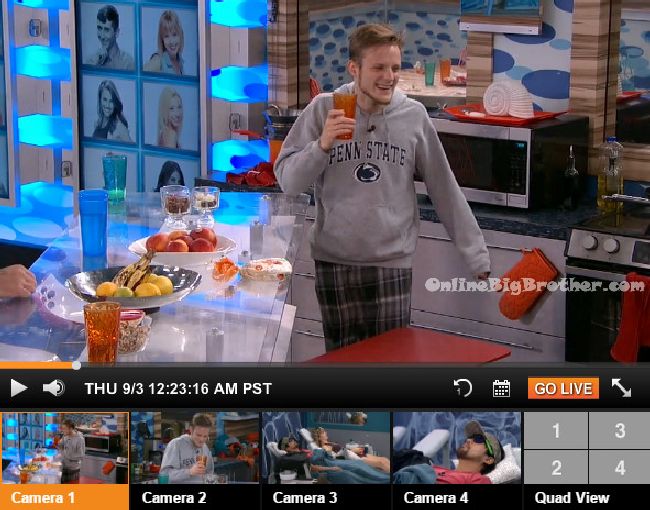 12:25am Julia asks to talk to Austin. She says people have been really sketchy lately and she's worried the votes are going to flip. Why did you stop talking to Johnny Mac when I walked by? Austin says he was telling me who he was targeting next week. It's crazy. Vanessa and Steve.. he said he was going to put up. Which I can't f**king believe. Julia says I'm just paranoid. Austin says no you're fine this week. Julia asks are you sure? Austin says yes. Steve is 100%. But Johnny Mac was cool. That was kind of real cool because I was trying to talk to him about not really using him as a pawn. That's when he was like I'm not using a pawn, I'm putting up Vanessa and Steve. Julia asks is it stupid for me to ask are you voting for me? Austin says yeah of course, what are you talking about!? Are you kidding me? Don't be paranoid at all. Jesus, I've been trying to do everything for y'all since day 1, like oh my god! Julia says okay. Austin says I couldn't do anything like that to her. Julia says I just hate when I walk by and its like awkward. Austin says there is no way you're going. Steve would be ridiculous to do it. Julia leaves.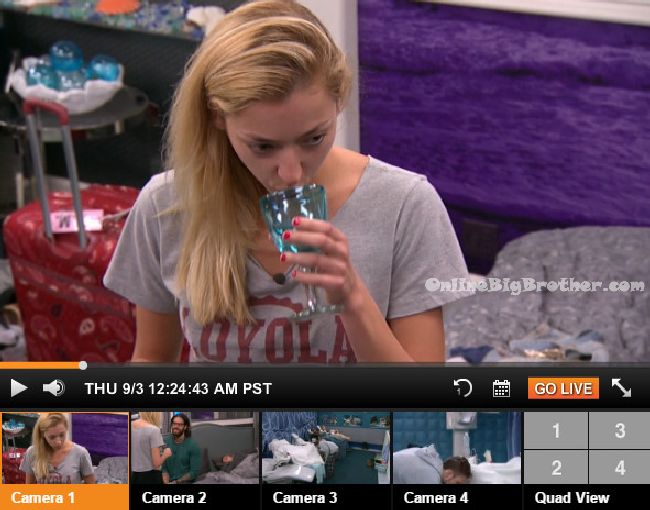 12:27am – 12:35am Austin asks Liz why is she worried. Liz says because you've been acting sketchy this week. Austin says I've been trying to take care of business, this is an important week. Johnny wants Vanessa and Steve. They all need to know I can talk to them as an individual. Liz says I know but then yesterday you were like go to sleep to her. That is not nice. Austin says I thought you guys were trying to make fun of me again. I was kidding Jesus! Liz says wait, whatever. I trust you because I would never talk to you again if anything happened. Austin says Liz are you kidding me. Stop getting paranoid this game eats you up. I would never do that to you. Liz says okay. I would be heart broken if that happened. Austin says Liz I could not do that to you. I promised I would protect you guys. As long as James doesn't win tomorrow I think we'll be okay. Liz says I don't think he will he was so bad at it. Austin says even if he puts both of you up, I could win the veto and take one of you down and then we would have the votes to keep the other one. He might just go after Vanessa. He's alone. There's not enough money in the world for me to do that to you. You shouldn't get paranoid like that. Liz says she (Julia) can't forget what you said to Jason about her. Austin says I didn't say anything about her. Liz says or what he said. Austin says all I said to him, is the same conversation I've been having this week that I'm an individual in this game. I'm not here to make deal for 3 people you can talk to me one on one. So people can think that they can talk to me and put us up and I won't give a sh*t. They realize I'm not Clay, I'm not an idiot. Liz asks do you think James is after Vanessa? Austin says maybe. I might be able to talk to him. I think he is open to make deals.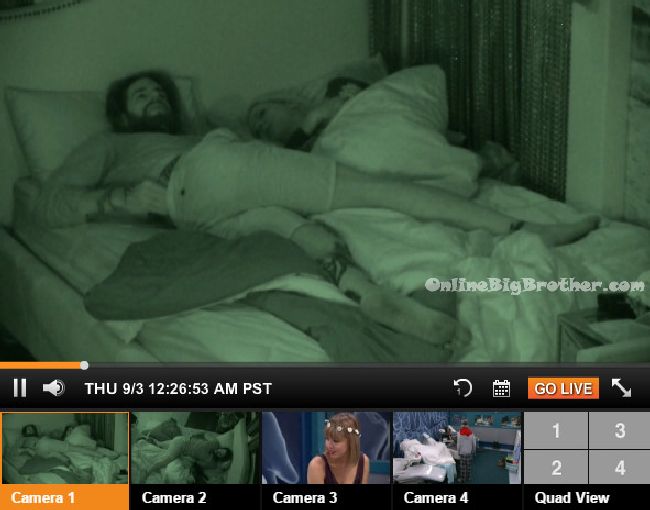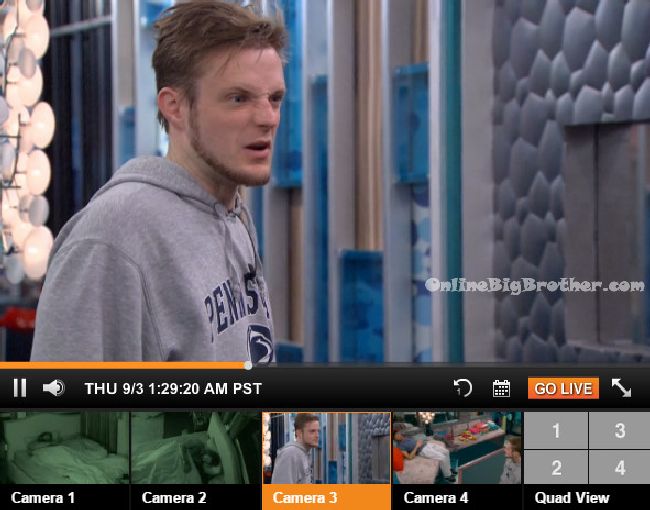 1:30am Bathroom – Johnny Mac talks to Steve. Johnny asks do you want to flip it or no? Steve says I don't know. Johnny says she (Vanessa) obviously doesn't want us to. Steve says I know. Johnny says its a numbers thing at this point. Steve says I know. You want to? Johnny says I don't know. Steve asks what would James and Meg keep it? Johnny says they would keep it but they wouldn't keep Vanessa safe. Steve asks would they keep us safe? Because Austin and Liz are going to be piss!! Johnny says yeah. Steve says PISSED!!! Johnny says I know. Do you want to think about it more? Steve says I don't know. I just don't know. Johnny asks you don't think so? Steve says I don't know. Johnny says because I don't want to end up in another situation like last week. Steve asks where we're on the block next to each other? Why would voting to evict Julia help that? Johnny says because it would give us more numbers in a random competition. Steve asks would it?! Johnny says I feel like James and Meg wouldn't put me up. Steve says but Austin won't put the two of us up anyways. Johnny says yeah. Steve asks do you think James and Meg would put us up next to each other? Johnny says no. Steve asks so why does voting to evict Julia protect us? Johnny says because Meg might win instead of Julia. Steve asks would Julia put us up next to each other? Johnny says maybe. I do feel right now they want to put James up. Steve asks Aus-twins? Johnny says yeah. Steve asks how close are they? Like who's James close with besides Meg? Johnny says he kind of thinks he's close to me a little bit. Steve asks what about Austin? Johnny says I don't think so. Steve asks have you two talked at all? Johnny says not a whole lot, just them campaigning to flip my vote. Steve asks what have they said to you? Johnny says they want to know if I'm with you and I keep denying it. Steve sighs and says this is hard! Johnny says or we just need to win tomorrow, I don't know. Steve says I don't want to have to need to win in a luck comp. That is a terrible idea. Your fear is that Julia would put us up next to each other? Johnny says no but one of us would go up next to James and that one would go home. Steve says I like the you, me and Vanessa threesome. I want to keep her around too. Johnny says yeah. Steve asks are you suggesting a four person deal with James and Meg? Johnny says yeah, if we wanted to flip it. What to think about it? Steve says yeah. Johnny starts to head to bed. Steve says this is between us. Johnny heads to bed.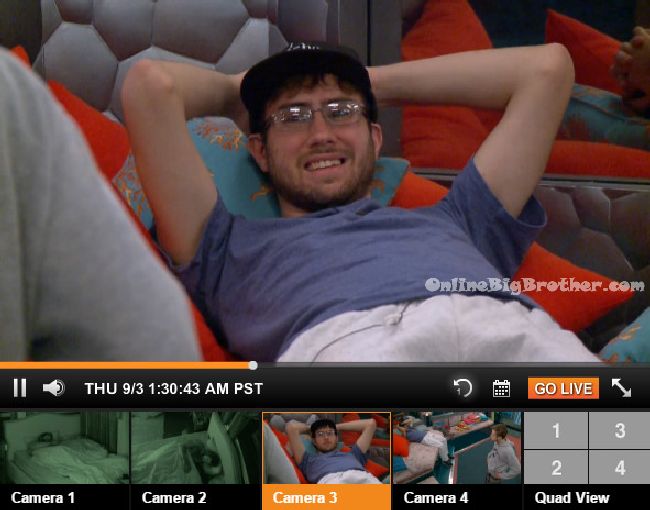 1:35am
Steve says to himself I need to stop talking. Steve heads into the cabana room and says I don't know what to doooooooooo! I don't know! I don't know! I don't know! I don't know! Austin and Liz did protect Meg. And why else did Austin need such a good reason. Austin f**king volunteered Julia to go up. That is a huge move, why would Austin want Julia up if he didn't want to evict her. And I think its because he was the one that put me and Johnny up last time. If I keep James and Meg.. I just want to cry! All I want to do is lay here and cry! I don't know! I don't know! I don't know! James and Meg are so much closer. When Julia put me and Johnny up… All of Aus-twins wants Johnny out. All three of them want Johnny out. I don't know! I don't have enough information. I don't want to be the terrible person to evict Julia but I don't don't want to lose the game for keeping my word. Winning this game is way more important than keeping my word. I said walking in this front door I had no intention of bringing any sense of morality or integrity into this house. Not being moral and not having integrity is a lot worse than I thought it would be. Okay Steven I am okay being a terrible human being. I cannot let the guilt factor of not wanting to send Julia home influence my vote. I can't! I cannot let that influence my vote! I'm going to do what is best for my game. And that's it! And if that involves being a terrible person .. Steve hears someone coming and goes into the cabana room. Julia finds him and asks what are you doing? Scampering alone? I'm nervous for tomorrow. Steve hugs Julia. As she's leaving she says oh sh*t. He waves. She fingers him and says love you.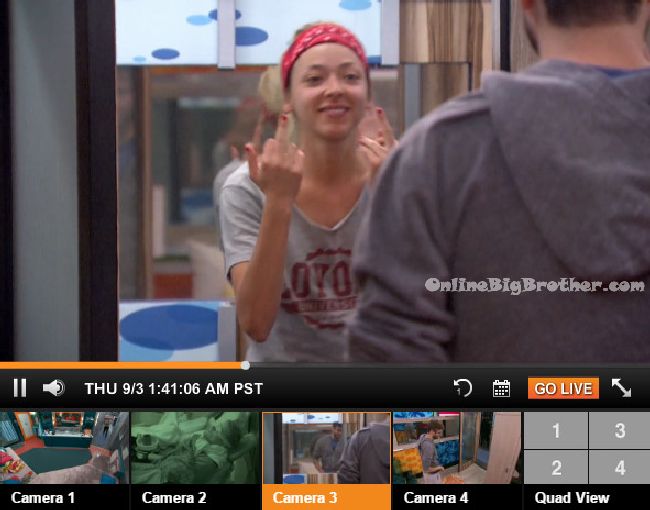 JUJU & Steve @bigbspoilers #bb17 pic.twitter.com/JxS4nw2fDn

— Dawg (@DawgsBigBrother) September 3, 2015

See what they can't show you on TV Try the live feeds for FREE!