POV Holder:
Steve
POV Competition
Aug 8th
POV Used
Yes
POV Ceremony
Aug 10th
HOH
Becky
Next HOH
Aug 13th
Original Nominations:
Shelli and Steve
After POV Nominations:
Shelli and Vanessa
Have Nots
Meg, James and Jackie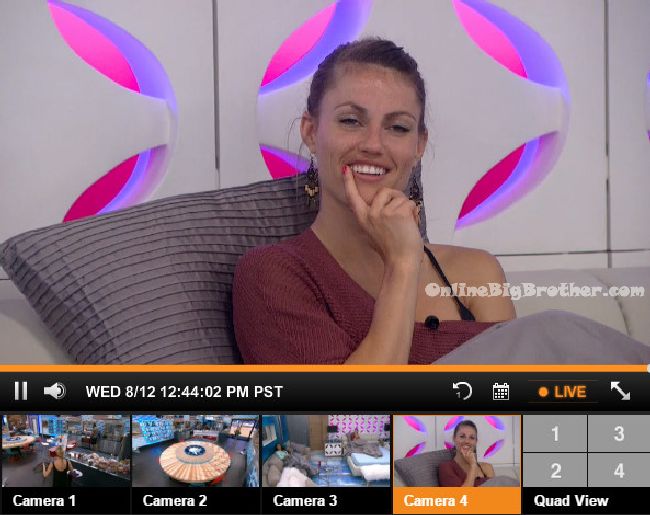 FLASHBACK and watch ALL the drama: Big Brother 17 Live Feed 7 day FREE Trial!

12:40pm HOH room – Becky says Vanessa lied about not wanting Shelli out of the game. She is not beyond lying. Vanessa does not want us in the game. She is pissed. She is not going after Shelli and John. If I don't get taken out by her she will take you out. She is definitely more of a threat to our group than Shelli is. Becky says I just want to erase her (Vanessa) off the screen. (Memory wall) I want to push the eviction button and push her out the door. No, that would get me evicted. I wan to push her so she hits the eviction button. Becky says it just stinks I can't play in the next HOH. I started all this for no reason. Jackie says you know me I hate changing targets.. Just so you know I am throwing down. I want to talk to Austin and the twins to make sure they want to keep us safe. Becky says I just want to punch her (Vanessa)! Jackie says we all have our groups. Becky says oh yeah I realize I am safe because of our group. Becky says I need to just relax I am getting too stress about the V word. We'll just talk to Austin and see what they want to do. We want both these people gone .. how do we make it happen.
1:10pm Havenot room – Jackie tells James and Meg that Becky is coming around. She said that Meg is right. Meg says sure blame me. Jackie says obviously Vanessa gone is better for her but she's coming around for the group. She wants to talk to Austin and see where he and the twins are at. She thinks she can just lay low and people will fire at each other. James says fat chance!! Jackie says you don't want to get any blood on your hands .. like get the f**k out of here!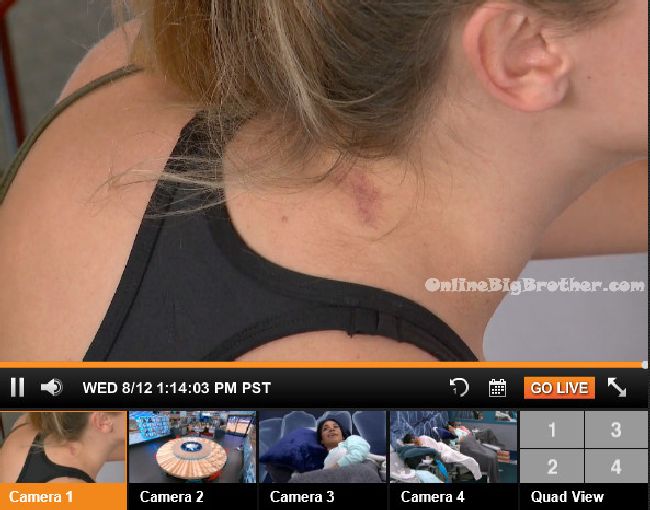 1:10pm – 1:40pm
Julia points out a hickey on Liz's neck. "You look like a hoe!" You need to wear your hair down. Julia says he is marking his territory. Julia asks did you see it the entire time? Austin says yeah, I saw it this morning what was I going to say. The Austwins head out to lay out by the pool. Jackie joins them and says she just talked to Becky and she wants to talk to all of us together. Austin says Jackie says she didn't say anything to me but she's expecting me to vote for her. She said she isn't going after you guys so that means she's coming after me. Jackie says if I win I will put up Vanessa and Johnny Mac. Austin says I would put up Johnny Mac and Steve. Jackie says that's good and then we would vote out Johnny Mac. Jackie says that Becky is worried about you guys being mad that she put up Vanessa. Austin says we're not mad. Meg joins them. They talk about how obvious it is now that Johnny Mac and Steve are working together. Julia says Steve is shaking in his boots. Meg says I think we need to make Vanessa part of the plan. Austin says she's not coming after any of us. I'm worried about Johnny Mac and Steve. Jackie tells Austwins to tell Becky you're not going after her. Austwins says we're not.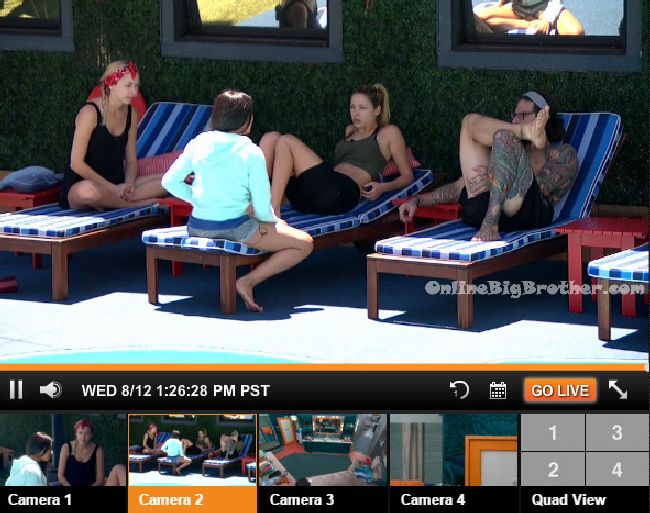 In the bedroom – Shelli is packing her suit case.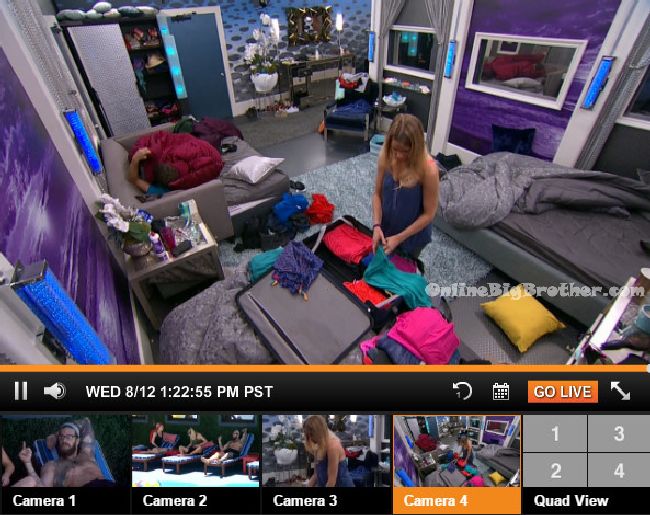 1:45pm – 1:55pm Bathroom – Johnny tells Shelli I just know we're all in trouble. I don't feel safe going into this double eviction. Johnny tells Shelli that Vanessa said she isn't campaigning against you. Shelli says Vanessa is totally campaigning against me. I'm not a dumba$$. Johnny says there's been a lot of scrambling going on. I don't feel good about it. I don't know what you can do. If you go home .. Vanessa, Me or Steve don't win HOH .. then one of us is going home too. You didn't do anything this week yet? You've just been laying low? Shelli says what is there for me to do? Is laying low really me best option? Johnny says I think there's really nothing you can do. This thing with James .. he isn't going to get over it. Shelli says that Vanessa knows things about Becky and she is telling them (James, Meg, Jackie). That's how Vanessa is spinning this and its making Becky the target. I need to talk to Becky about it. It's making me mad that Vanessa is doing this. Johnny tells Shelli to make James believe you're not after him. Do it in public. Johnny says you need three more votes. Shelli asks do you know where Steve is at? Johnny says I can get him.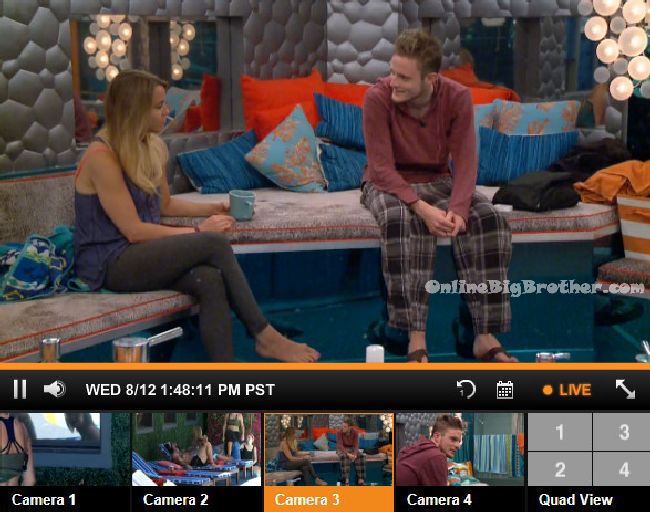 2pm Big Brother announces an indoor lock down. Big Brother is closing the backyard to start setting up for tomorrows Double Eviction HOH competitions.
Comic bedroom – Liz tells Vanessa no need to pack. Vanessa says no I need to. Vanessa tells Julia and Liz about her conversation with Johnny Mac. Austin says we just have to make sure Steve is on board. Vanessa says you guys cannot throw this HOH. Liz says I would never. Vanessa says if we don't win its going to be Johnny Mac and he could f**k things up. Austin says the more we talk the more it makes sense to not even touch you this week and why we need you to stay in.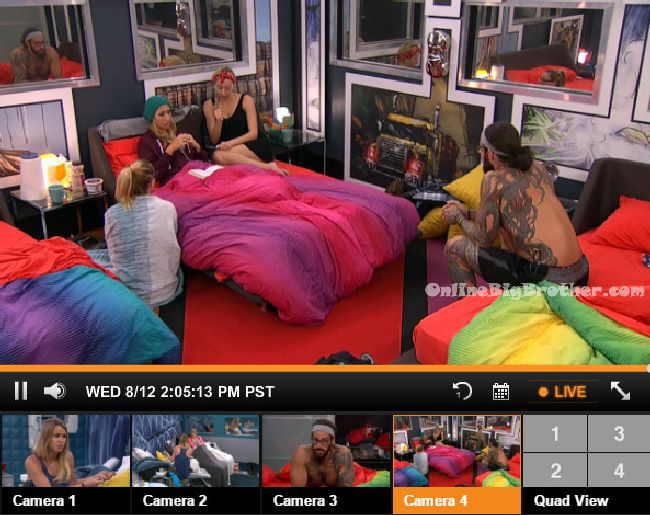 2:25pm Austin and James are talking in the kitchen. James says that at first Becky was pissed about getting Shelli out instead but now she is starting to realize its better. I don't see you guys pulling with Steve. Austin says no we don't trust him. They agree that they think Steve will continue to try and float by a couple more weeks. Austin says Johnny Mac is so dumb .. all of a sudden he is walking around with Shelli.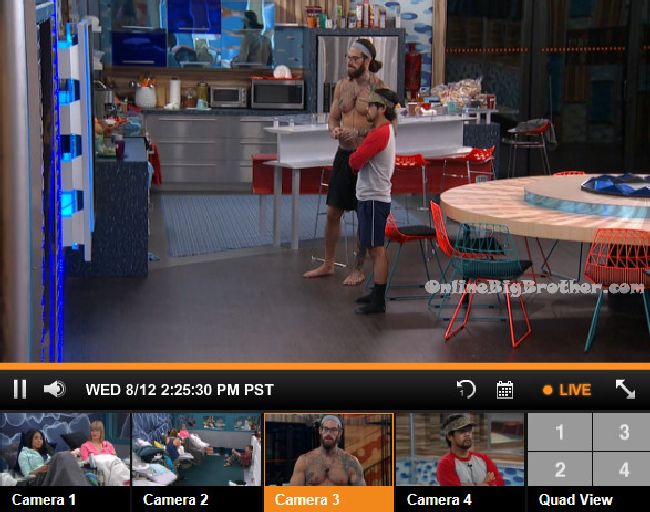 2pm Havenot room – Shelli talks to Jackie and Meg about how she knows and realizes Vanessa is flipping things around. Vanessa is with Austin and the twins. I have no one. The four of them will stick together no matter what. I am not coming after y'all. There are 4 people in this house that have been HOH twice. Vanessa is one of them. I am alone in this game and need people. If I stayed I would never go to them. I just don't see how that is the best for y'all. Jackie asks was Becky giving you information? Shelli says all she told me was that when James was HOH she told us we were going on the block. Meg says our biggest worry is like last week with James and stuff. What we're afraid of is that there are three of us and we could be alternated. Put two of us up and the other is the alternate. Shelli says Austin and the twins are super weak with out Vanessa. JOhnny joins them. He says he walked into the other bedroom to the others whispering and they stopped talking. What the f**k did I do!? Shelli asks why can't we form something here? We need James to come back. Jackie says you need to talk to James. He feels like you're going after him. Shelli says no one is going to make the first move against Austin and the twins. Why can it be all of us, James, and Steve. We get out Vanessa and then go after Austin and the twins. Shelli says he (James) was so close to Clay and that's why we felt so hurt. I'm open to talking but I think its a little weird to say hey lets be buddies but I guess he feels the same way. Jackie says James knows you are coming after him and Vanessa promised him safety. Shelli says Vanessa promises everyone safety. Jackie says I'm not looking past that. She definitely finds loop holes. James joins them. Shelli tells him I am not a scary being and I don't want you to be afraid of me. When you put Clay and I on the block I understood your reason. Each week you clean up and brush off. I am alone now and need someone to work with. Vanessa has 3 strong people that have her back. I want to bury the hatch with you. James says it hurt that you guys were coming after me. I had no issues with you guys I even took Clay to a steak dinner. Shelli says I can't imagine where the idea of Clay and I coming after you came from. There is only one person I can think of that would say that. Shelli says every little bit of this information is coming from the master. I have no one. Meg says we just need to figure out how to keep us all safe.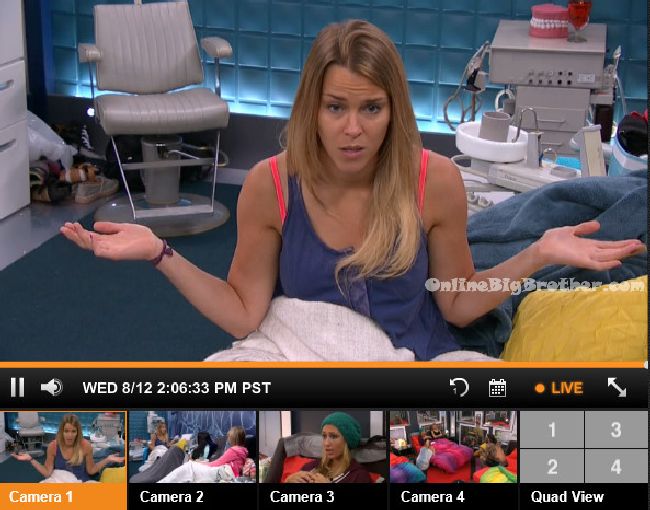 2:50am – 2:55pmAustin talks to Steve. I think its going to be unanimous to keep Vanessa. I think all three of them are going to flip and vote to keep Vanessa. Steve asks what about Becky. Austin says they're pissed at Becky for doing all this. Steve says its great the house is convinced that you and the twins hate my guts. Austin says that Vanessa has a clear target in Vanessa.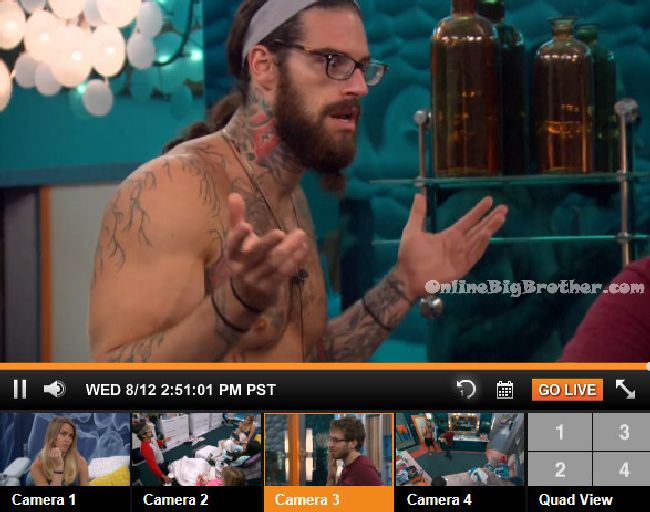 ALLIANCES:
Goblins/Gremlins = Jackie, James and Meg
Generals = anyone allied with Becky
SOS = Steve and Vaenssa
Rockstars = Steve and Jmac
? = Becky, Shelli, Jmac, Steve
Freaks n Geeks = Austin, Twins, Steve, Vanessa
AUS-Twins = Austin, Julia and Liz
"Brass Tacks"  Gobins and Austwins
[polldaddy poll=9015303]