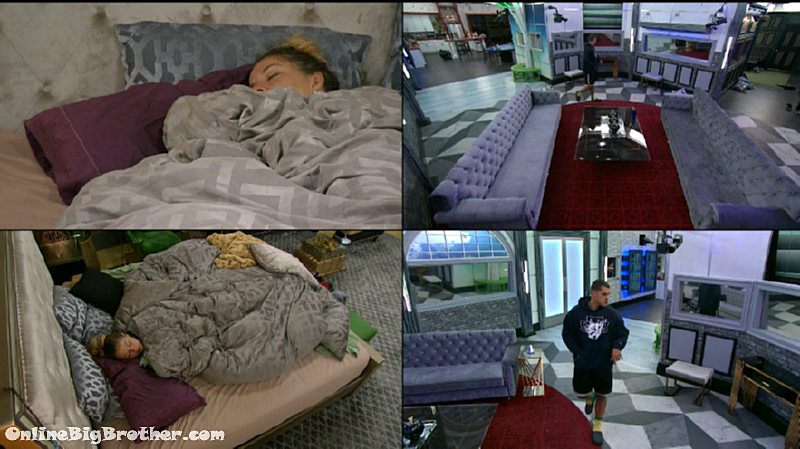 11:30am They are finally awake.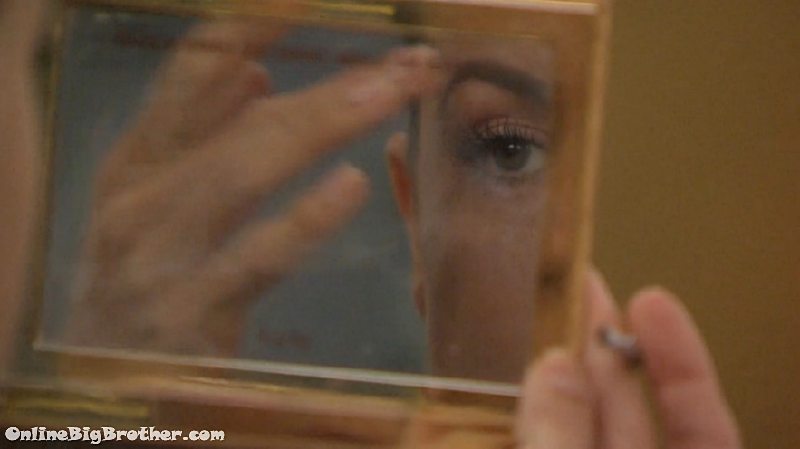 2:05pm Xmas doing makeup..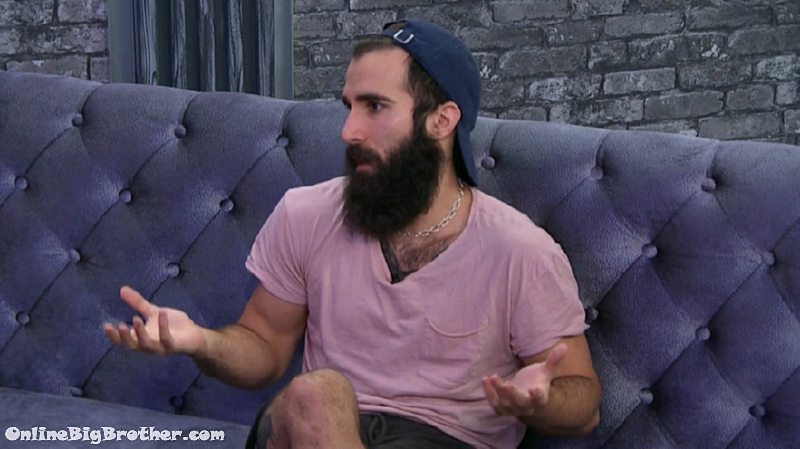 2:05pm Paul talking about owning a clothing company "20 minutes later I got a $200 order from here… I offered it for free.."
Josh – that's dope as f*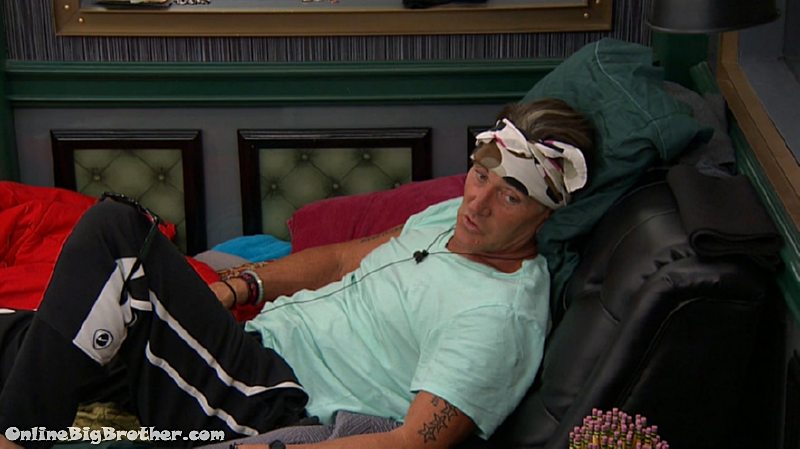 2:18pm Kevin and Jason
Kevin – listen make me a promise and I'll do the same.. If I leave don't let people bad mouth me
Kevin – just say listen man the dude's my friend and he's gone Let's go to the next person we're going to screw over
Kevin doesn't want to go home and find out after he left they were saying sh1t about him.
kevin doesn't think Paul or Josh will..
Kevin – I don't think Alex will .. not know.. you look ridiculous if you do that now.. you look bad.
Kevin – it's a f*ing show.. I told Matt that and he used it..
Kevin says Paul should teach a class on conversation.. Says they can just pull a topic out of the box and let him go on about it, "75% he knows what he's talking about"
Kevin – he knows everything for a young kid that's amazing
Jason – he definitely has an opinion on everything (bingo)
Kevin – this f*ing Paul, I'm telling you, they should have him back for next year every f*ing year Paul should be back (for the love of Kraken no)
Kevin – they're building some kinda big comp out there.. you hear it?
Jason – yeah..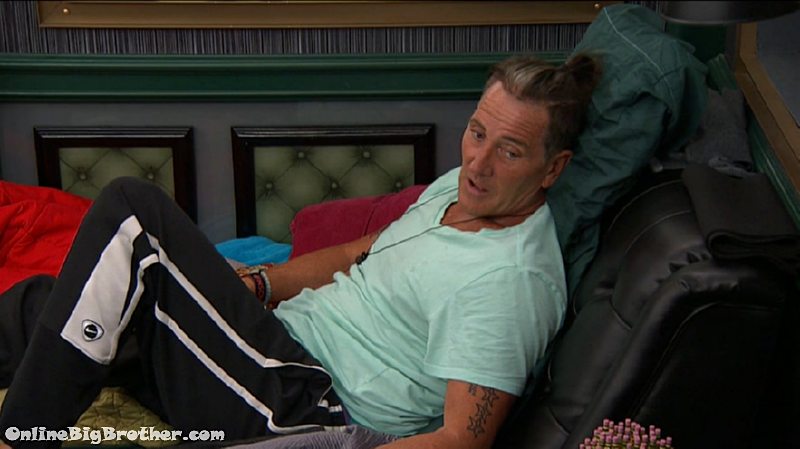 2:26pm (Kevin sums up BB19)
Kevin – here's the thing Jason, you have people who.. who want to go further in the game right now and they know Paul is a BIG player. So they aren't going to ever question anything he says they are going to roll with it.
Jason – right
Kevin starts nodding his head – Yup.. because they're number 1 insecurity is they are going out, right.. and figuring if they do that then he'll stay with them.
Kevin – LIttle do they know Paul wants to win himself you know what I mean
jason – yeah
Kevin – the bottom line is Paul wants to win too so if he has the chance to get somebody out
Jason – that's a smart move
Kevin – exactly right
Kevin – how are you feeling? got a weight off your shoulders
Jason – f*k it.. You don't want to be on the block so the reason you have anxiety because you try to figure out how to stay off the block
Jason – one you are on the block you're just like… well f* I can't do a f*ing thing about it now
Kevin – that's how I feel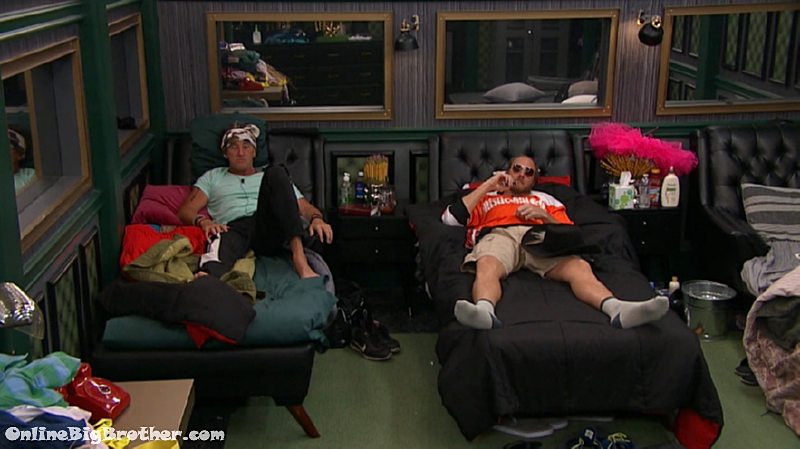 2:37pm
Kevin – I'm going to be honest with you I don't think I'm going to miss this that much.. I did 80 days That's enough man
Jason – I can't believe I haven't lost my mind
Kevin – I did
Jason – I learnt a lot about myself in here
Kevin – I know what you've learned.. you won't leave you f*ing wife a kids for 4 months again
They laugh
Jason – no..
Kevin – never right
Jason – she put that in writing..
Kevin – I don't think they know the deprivation here.. From Tuesday night to Sunday things are closed down
Jason goes on to tell a story about when he was riding bulls and his wife was a full time student at college.
Jason – my wife's family.. dirt f*ing poor..
Feeds cut..
When we're back
Jason – so every morning I would put 20 bucks in her purse because I didn't want her to not have any money, her parents weren't going so send her any money
Jason – her mom didn't even come to her college graduation because she's never driven a car to de moine before..
Jason – for the first 10 years I supplied all the money .. go be a model.. I was working man.. I was making 18 bucks an hour and I was riding bulls.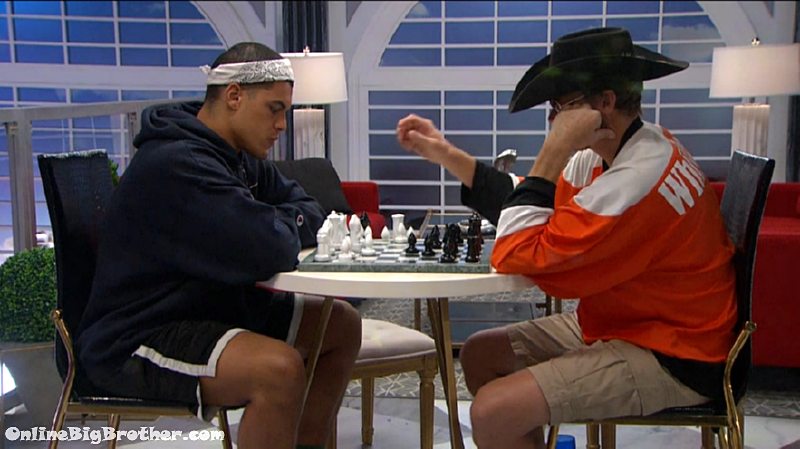 4:35pm Chess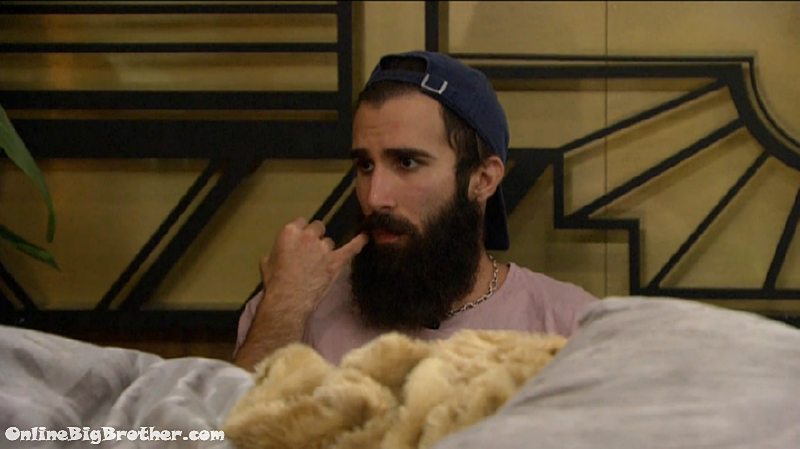 5:25pm HOH Paul and JOsh
Paul – if they play home videos don't get all emotional and f*ed up. Don't let your emotions take over. Understand that we have to make this move tomorrow
Josh – mmmm hmmmm
Paul – or else.. we're done
Josh – F*ed
Paul – it has to happen or we'll literally lose.. I guarantee it (Paul will lose)
Paul – are you good
JOsh – mmmhmmm
Paul – black yourself out on the speech or you'll trip yourself up…
JOsh – it'll be hard.. Fool.. he's leaving no matter what
JOsh – it'll be hard the way I'm going about it.. that's what's hard for me
Paul says if Jason knew he was going home they would have had a more stressful week
Josh says it's been more stressful for him not telling Jason.
Josh – Alex has to go next week
Paul- that's why we're doing it the way we're doing it..
Paul – I'm trying to win.. but you have to keep me safe at 5
josh – mmmmhmmmm
Paul – I'll put Raven and Kevin up
Josh – I don't think that's smart, put her straight up. What if Alex wins the veto
Paul – than Raven goes
JOsh – why would we want to take Alex to 5
Paul – we wouldn't but Alex is playing in the veto no matter what ..
Paul doesn't want Alex "Activated"
Paul – if she's not on the block she necessarily doesn't want to win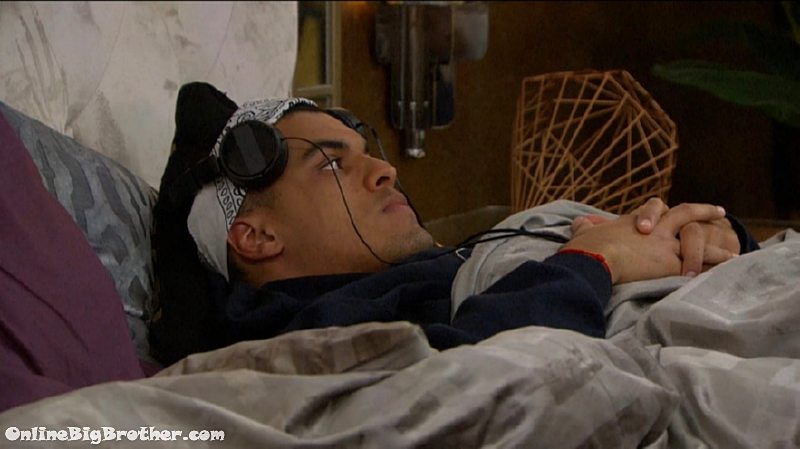 JOsh – tomorrow.. do I throw it to you
Paul – it's up to you.. i would rather you take 5.. (HOH)
JOsh – I'm worried
Paul – Fool, next week nothing wrong can happen, we're fine..
Josh is worried if Alex wins
Paul tells him let him separate and tie in with Alex.
Paul – she underestimates you and Xmas she thinks you guys f*ing suck..
Paul will reinforce to Alex that Josh and Xmas suck and Raven is more of a comp threat.
Paul – Raven voted jason out.. Kevin might turn the f* up.. Kevin's a f*, she still hates Kevin it's not like she's going to love Kevin
Paul – I'll be like if you get Kevin out there's not blood on your hands .. and raven's a competitor.
Paul – I can convince her not to put you guys uop.. That's the whole point of this plan
Josh is worried Alex will rage.
Paul – she just wants to get to the end of the game, She's not going to risk flipping out
Paul says if she turns on the whole house she's out for sure. Points out that Alex listens to all his advice he simply tells her he knows how to get them to the end of the game and convince her to put up Raven and Kevin.
Paul – nothing wrong can happen we control the votes as long as we're not both up there.. that's the whole point of the plan
JOsh says Alex won't beat them in comics
Paul – you don't know that Fool
JOsh – she won't.. she panics
Josh says he wishes they had gone about this week differently.
Paul goes on about knowing Jason mentality and knowing that it would have been worse had they told him.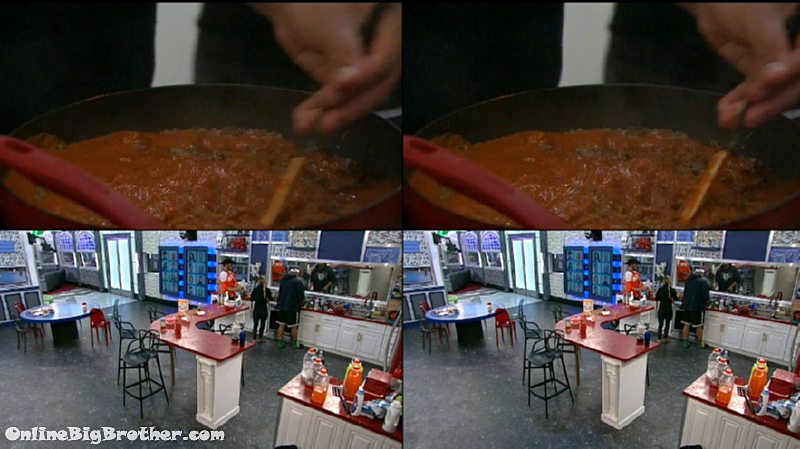 8:06pm Cooking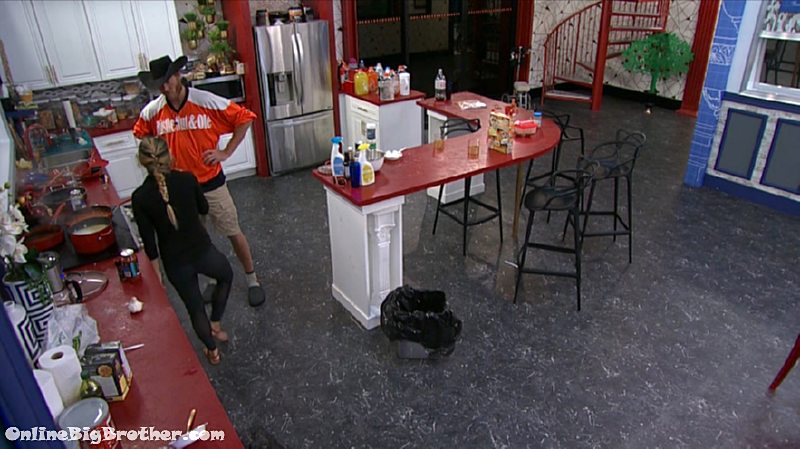 8:16pm Jason and Alex
Jason – we're still on track
Alex – for Dinner
Jason – no.. HOH.. i'm going full tilt
Alex – just go for it..
Alex – Now that I'm thinking about it.. They're (jury) are going to see me lose and if it comes down to who won more vetos. If it's me and Paul they will think choose Paul because Alex keeps losing"
Alex – so I should have just won it was the smartest move for safety (LOL)
Jason – yeah..
Jason – f* the jury votes.. I'm gunning for everything
Alex – because if they (Jury) watch it on mute.. I didn't know they watched it on mute it'll look like I just lost.. they won't know I threw it.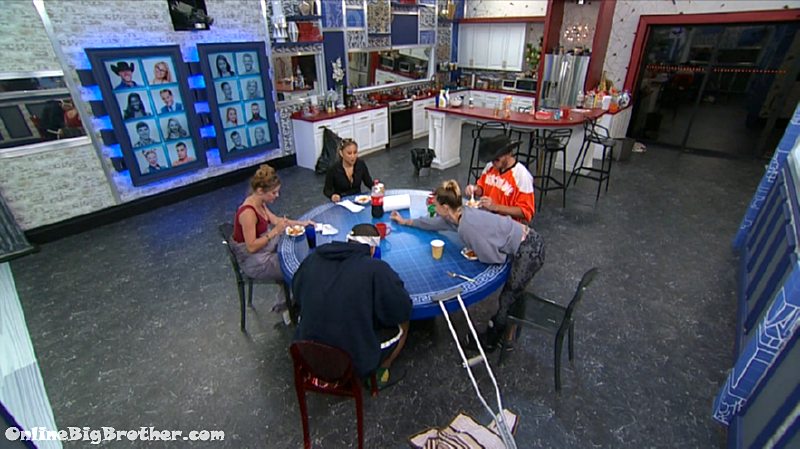 8:30pm Dinner…
If you've enjoyed our live feed updates this season, please consider donating.
Simon and I work 24/7 all season long to keep you updated on everything that happens inside the house. Any amount is greatly appreciated! Your donations go directly to paying the fees required to run this site.
Links to the ranking system
Rank your house guests here
For those of you that like Statistics here are some expanded reports.