If you plan on buying anything from Amazon. Use this link Amazon home
Doesn't cost you anything and we get a small cut.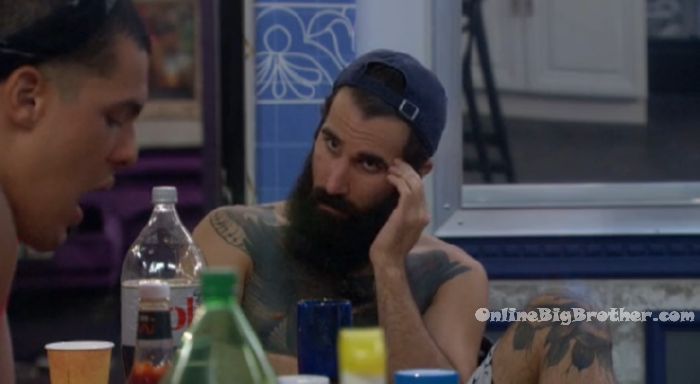 10:05pm Kitchen. Josh, Paul and Alex.
Paul – after big brother it goes down hill… every year there is a new big brother. If you expect to be the next big thing just because you were on big brother .. its not going to happen. Get over yourself. Everyone is always like .. I want to act. Okay have you ever done it before? Because it is an extremely difficult job and ah.. go stand in line. There are thousands of people going to auditions. Alex – it's harder to be myself in here than to play someone else because I over think what I am in there. They don't like the way that I say it. Like when you get in there and they don't like how you say it and I'm like but that's how I would say it. Paul – its not that they don't like it. Its that maybe they want an different energy or angle. It needs to match up with how your demeanor is in that moment. Alex – this is way harder than being told how you should be. Paul – you don't reflect on how you were in every situation. You wouldn't know unless you do vlogging. I used to do snap chat so I kind of know. That and I did it last year and I'm sure my first DRs were all over the place.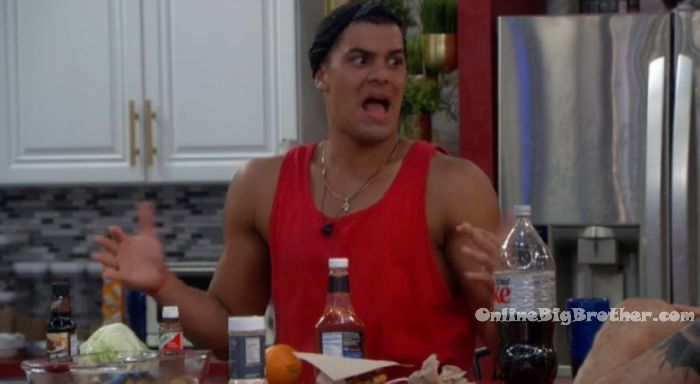 10:25pm
Bathroom. Josh, Paul and Christmas are hugging. Christmas says things are getting tough. Paul – you're okay. It will get a little harder and then it will all be worth it guys. Josh – I just tell myself every five seconds to snap out of it.
FLASHBACK to any point in the season and watch everything you missed:
FREE Live Feed 7 day Trial!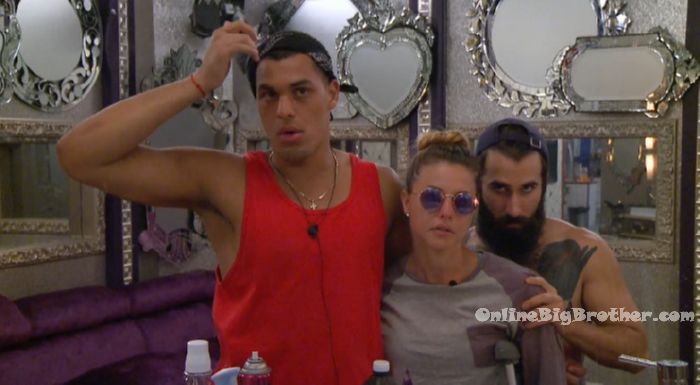 11:35pm Bathroom. Jason and Alex.
Jason – I was just wondering if I could sell this son of a b***h at the wrap party. Like just have a little auction, real quick. Alex – yeah, you could probably make like $100. Jason – well I ain't selling it for $100, it cost me like $260! If I was going to buy a new one I would buy one that cost $500. Alex – I mean you could try. I don't know how much your value is at this point. You have a better chance selling it online. Or going somewhere specific for your meet and greet. You have to remember were not B celebrities or even C celebrities, we're only relevant for what is hot now. So if someone is a huge fan.. Jason – Yeah I just figured they would be there at the wrap party. Alex – I mean you can but how awkward would that be? Jason – I don't know, that's why I was asking. Alex – I wouldn't do it. The reason why people don't like reality tv stars is because it cheapens… you're not famous because of your merit, you're not famous because you did something cool, you're not famous because you did something cool in a nationally know thing. You're famous because you're on a tv show for being who you are. Jason – which is arguably the coolest. Alex – but how annoying would it be to have someone trying to sell something to you immediately after? Jason – that would be a pain in the a$$ but I just want to sell THE hat and I would only do it if I got like $1000. Alex – people might ask you to auction it off for a charity. Jason – Why would I want to give them money?! I am the one trying to make some money here! Alex – I just think people would ask to sell in for a charity. Jason – f**K that!!! I don't trust charities for as far as I can throw them. Alex – yeah.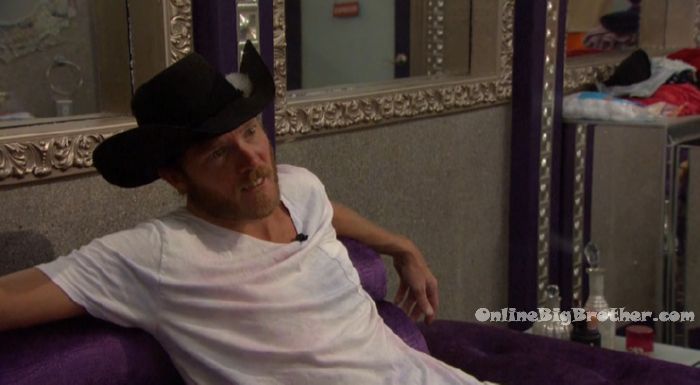 12am Backyard. Christmas and Josh.
Christmas – when he (Paul) says things I don't just blindly agree. I will always challenge him. Josh – that's where I'm at now. Christmas – my first HOH he wanted to me to put up Kevin and I said no I think this is what needs to happen instead. Josh – why Kevin. Christmas – because he doesn't deserve to be here. Him and Raven have done NOTHING! And in the times that she needed to do something like in this veto, she blew it. You don't get to be at the end of this game and be little miss sunshine squeaky f**king clean and win it. I don't care what happens .. if that girl wins it.. Josh – if one of those people win, I will NEVER watch big brother again. Christmas – I wouldn't either. Josh – I'm joking I would. Christmas – for one of us to not win it we would need to fail in the next two competitions.. EPIC EPIC .. its almost becoming impossible. The next HOH is the most important one. Josh – I think I want it. Christmas – what ever you need me to do. Josh – everyone hates her (Alex) in jury. Christmas – just remind her subtly how damn Cody tried to blow up your game before he left. She got into a fight with Elena and she was teammates with Jason. Christmas – Alex can't go further. She needs to go. Josh – He (Paul) doesn't want to do it. Christmas – I don't care, then he shouldn't be HOH. Josh – I'll take it. Christmas – there is no way to keep Alex in this game and for us to be safe. She will come for me and you.
Josh – we've been a dynamic group. Christmas – we've played a clean game. Alex has to be first. Josh – he can control Alex. Christmas – she is not controllable completely and Raven is. Raven hasn't been squeezed yet. She will flip her f**king lid. All you have to do right before a comp is talk sh*t to her. She turns red and she will not be able to compete. You, me and Paul are cool as f**king cucumbers! Bring it! Alex crumbles a little bit but she can recover. Josh – he has her locked in as a jury vote. I told him about the Jason comment and he instantly went and did damage control. I 100% believe he wants us in the top three but he wants to win. Christmas – that's what he should be doing. That's what we should be doing. Josh – we just have a lot more blood on our hands. Christmas – next week if Alex doesn't go, that's not okay with me. I am telling you there is no reason for Alex to stay in the game past next week. I am not okay with it. Josh – he thinks we have Raven. Christmas – okay then let me keep working her. I will take that emotional f**king torture. Josh – if I win HOH, I am straight shooting at her. 85% next weeks veto is BB comics. She is not winning it. Christmas – she came close in OTEV. If he doesn't take Christmas out.. you have no idea the wrath of Christmas will reign down on this house. He will have no f**King clue what happened. Josh – this is a conversation that we have to have. Christmas – I know but this is the plan. The plan that we all decided on. There is no pivoting without us all collectively deciding. The only time we break away from each other is when we make top three. Josh – Okay I am just having this conversation with you because I have been analyzing his whole perspective. Christmas – I've heard the things too but I am not accepting the fact that he (Paul) would throw our games to protect one person (Alex). Josh – he is thinking they're not threats. Josh – he is protecting us but also tainting us.. Christmas – okay I am DONE with this conversation. Josh – why? Christmas – I am pissy about it. Josh – why? Christmas – because I am hearing a lot of things that are not team related. Don't tell me things that are going to taint my opinion of this team. NOT F**KING COOL! So back off on it! Josh – okay, can you hear me out? I don't look at him like that. I said in there you could give me 25K and I wouldn't take a shot at either of them (Paul or Christmas). Yeah he is playing this game but until he crosses me I am going to stick with him like white on rice. Christmas – okay that's all I needed to know. Don't plant seeds in my head that he is not loyal to us. You have to work your angle and I should too. Josh – his game unfolding in front of me does not push me to turn against him. Christmas – I know what he's been doing since I've been on the block. Paul joins them.
12:25am Paul, Christmas, Josh.
They talk about needing to keep close to Raven. Paul – I'll do it. Josh – I could do it too. Christmas – I just need a day off from her. Kevin joins them. Alex, Raven and Jason come out and they play corn hole.
1am Kitchen. Kevin to Jason – There's one damn thing I don't like. I don't like people being this nice to me. Something is f**king up. You know what I mean. When they were mean at least you knew where they were. Now they're being nice, I'm like what the f**k?! Are they being nice to you? Jason – MMMhhnMMm. Kevin – like they feel bad. That's the worst thing we wanted. I don't want no one to feel bad for me. I've still got 7 kids to go home to and a wife. These motherf**kers have got their Instagram to go home to. Jason – that ain't no sh*t.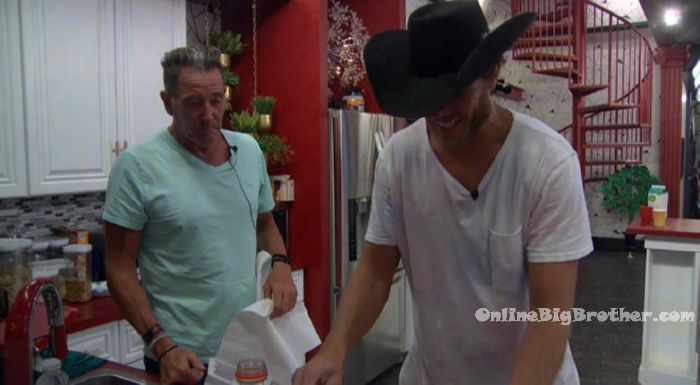 1:12am HOH room. Josh to the camera. I've been trying to talk to Christmas and let her know the game that Paul is playing. Not because I don't trust him, not because I want to turn on him, not because I doubt him. To work as a team that benefits the three of us. I understand the angle that he needs to work as a vet. I understand that he needs to work everybody and I understand he is securing the votes to win. More power to you but if we're a team, I think we should do whats right by the team. As business owners, as athletes, as everything, I think the three of us understand that. She thinks that I'm trying to plant seeds in her head, that I'm trying to create doubt and that I am trying to separate the team. That is not my intent. You can pay me right now as much as I needed 25K, 15K, 10K, 5K to turn on these people and I won't say f**k no. There is not one part of my heart that does not trust Paul. Big Brother blocks the feeds. When they return – Josh – I think being such a huge fan of the game, I can see what a great game he is playing. He is playing an aggressive and intense game. And I f**king love it for him but I am playing against him. I am playing in this house against him and I am playing with him. So in his plan he needs to do something that benefits the three of us. It can't benefit him. The funny thing is he reminds me of my brother. There is no mistrust. There is no me wanting to turn on him. Even though it might sound like that because I don't know how to word it and say it because when I see something I instantly react. But I've connected the dots on his game, his mindset and what he is doing and I want to voice it to her so that we can speak as a team and make sure that everyone of his plans we dissect it and do what is best for the team. She is taking it as that I am trying to create double in the team. That is not my intent. I am not naive. I can see moves before they're made. I can connect the dots easily. I am a team player. I want to win for me and my family. I know he is looking out for the three of us but he is protecting himself. I don't know if I drop it because she has gotten annoyed with me. We've gotten into arguments, we've gotten heated, we've walked away from conversations. I don't know if I have to drop it because she is getting heated. Or if I need to act on it?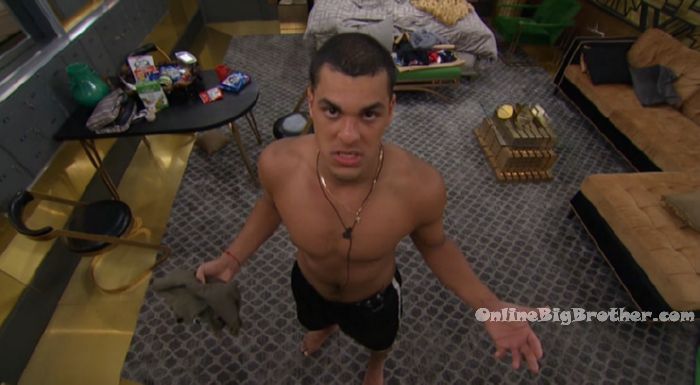 I know that I am never going to turn on those two but I also know that I am not going to sit back and play someone elses hand. Either we play together or we have to sit down and talk. The one thing that the men in my life have taught me is how to separate business from personal. This is business and I am trying to separate the two. I want this so bad but would be happy if one of them wins. I am not going to have my game tainted. I am not going to start playing dirty for no ones game. All we need to do is have a conversation. He has his agenda. It doesn't mean I want to go against him, it doesn't mean I want to clip him. It just means pump the breaks and lets do what is best for the three of us. That's it. I am cranking it the F**K up and zoning in on the top three. Hopefully Paul realizes its about the three of us because I am thinking about the three of us.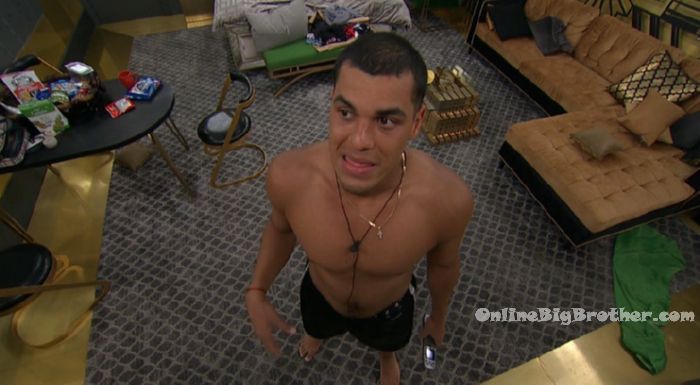 1:20am – 2:20am Paul – I'm challenging you to a nut sack corn eating contest. Paul and Jason playing corn hole standing above the board as they toss the bean bags back and forth at each other.
2:30am Christmas, Paul and Raven head up to the HOH room and tell Josh all about the nut sack corn hole game they've been playing.
If Jase Wirey was on #BB19 @bigbspoilers #bb19 pic.twitter.com/YEpeQLuRO1

— Dawg (@DawgsBigBrother) September 6, 2017

3:05am Backyard hammock. Josh – I've grown so attached to Jason and I know he needs to go. I know he's my target this week but its hard. I don't feel good blindsiding him at all. I feel like sh*t about it. I wish I could tell him. It feels brutal. The way that its being done is not the way that I wanted it to go down. Josh says his favourite players are Evil Dick and Daniele Donato. He was fearless as f**k and that's the way I want to be.
4am All the house guests are sleeping..
If you've enjoyed our live feed updates this season, please consider donating.
Simon and I work 24/7 all season long to keep you updated on everything that happens inside the house. Any amount is greatly appreciated! Your donations go directly to paying the fees required to run this site.
Links to the ranking system
Rank your house guests here
For those of you that like Statistics here are some expanded reports.