Head of Household Winner – Jackson
Have note are:
Nominations are: Christie & Sis
Power of Veto Players are – Christie, Sis, Jackson, Nick (Christie picked), Holly (sis pulled), Cliff
Power of Veto holder –
Power of Veto Ceremony –
Grab your live feeds —-> BB21 Live Feeds Subscription Link
Rank your houseguests —-> Big Brother 21 Ranking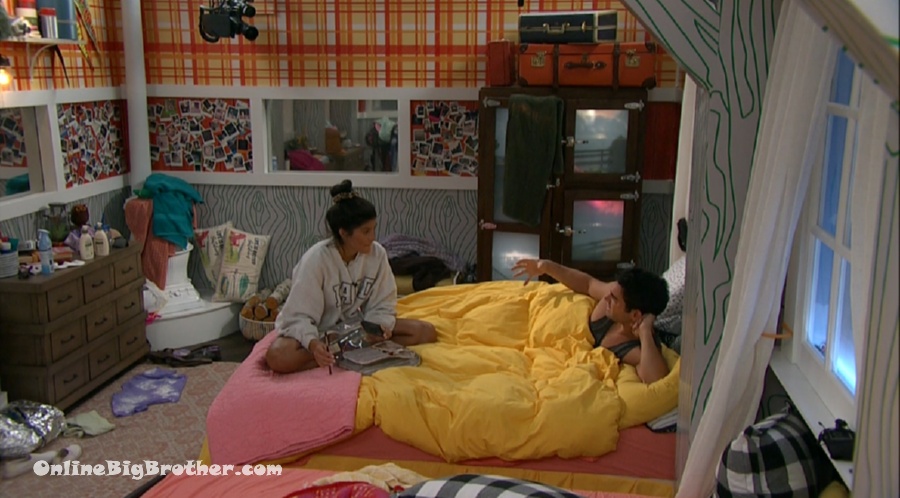 9:09 am Tommy and Sis
Tommy – they have to believe you are a number for them. By the end of the week.
Sis – he really based it on what I said?
Tommy – that's what he said
Tommy explains when Jackson overheard Sis and Christie talking. it was that conversation (before HOH) that made him believe Sis was putting him and Holly up.
Sis – I wouldn't f*ing put them up
Tommy – that's how they felt after hearing that
Sis asks why isn't Nick going up
Tommy – Nick is another strong male competitor if you knock out another strong male competitor you are more exposed.
Tommy – if he makes an ally with Nick he might have Nick fighting for him
Feeds cut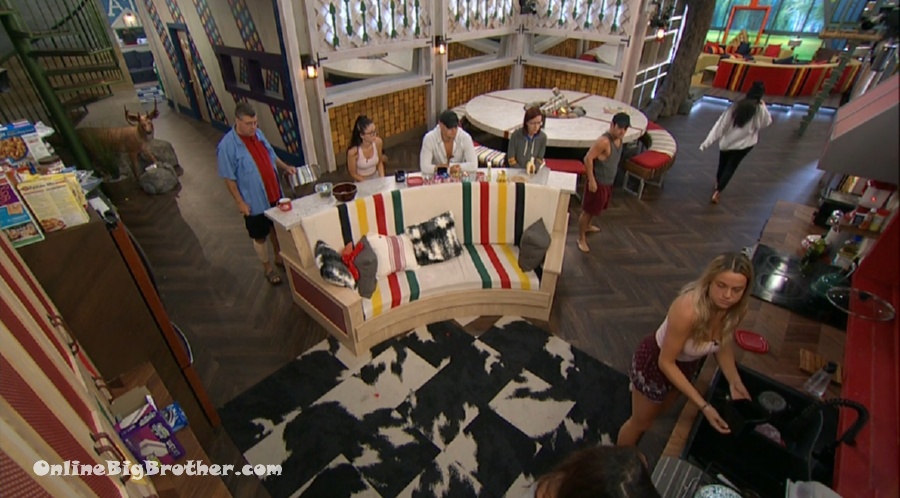 9:27 am Feeds back the power of veto Players are Christie, Sis, Jackson, Nick (Christie picked), Holly (sis pulled), Cliff
Tommy – I'll be hosting so good energy (YES YES YES)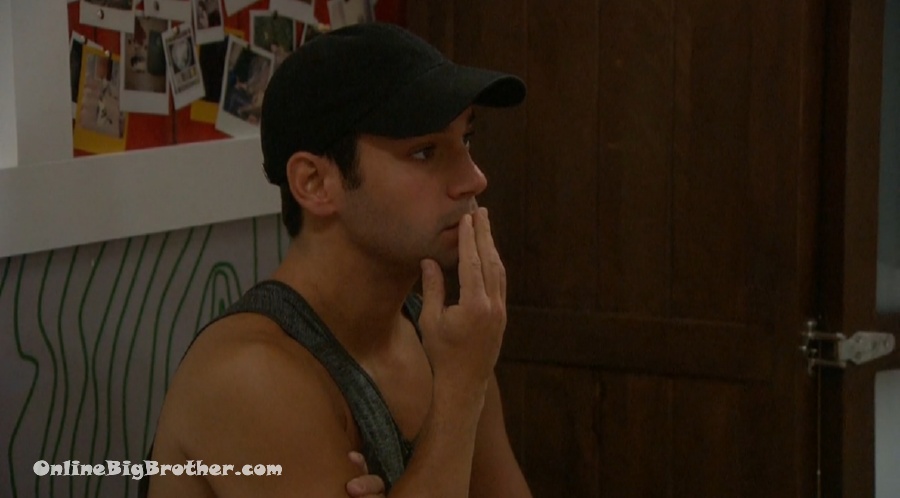 9:29 am
Sis – I'm so mad
Tommy – If Nick wins he's taking you off even though she picked
Sis – he'll leave it the same
Tommy – maybe he will I dunno
Tommy – after thinking about it and talking to him (Nick), SHe (Jess) probably made a deal. One of the two have to go home
Sis – she didn't make a deal she was telling us so much sh1t last night.
Sis says she's not working with Holly"if I stay or If I go"
Sis – the one person I didn't want to get I get.
Christie joins them "It sucks"
Sis – you're going to win
Christie – I know I'm winning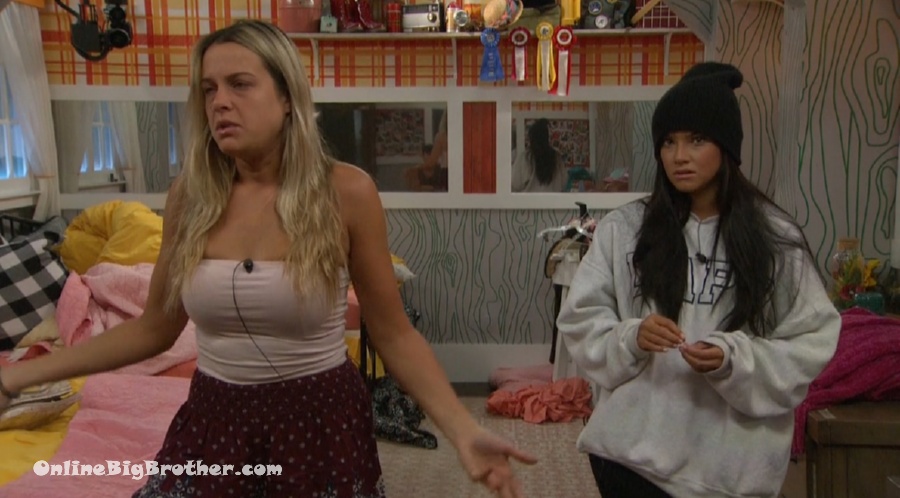 Christie – I'm going, to be honest, I'm not talking to a soul today. Just so you know Nick's working with Jackson and he has been. Every single piece of the puzzle came together last night
Christie – Holly slipped in the meeting the other day he's been making deals with Jackson since the beginning before the HOH competition
Christie brings up Holly saying that Nick threw the HOH comps
Christie – Nick has thrown every game so far he's come in second
Christie – If I go trust each other
Christie- Kat told me before she left.
Christie – If Nick is there no one will win over him he's a snake and he's playing every single person in this house in an alliance with Michie and Holly, I'm telling you this because I know.
Christie – I'm not surprised though I never trusted Nick NEVER
Christie – I need to shower I didn't even shower yesterday I'm such a dirtbag
Christie – I'm just pissed.
Sis calls Holly weak "She sais she would never choose a guy over us. that b1tch said a whole but of sh1t about me .. why is it bad when I say something but she goes around saying 3 things"
Sis – it's f*ing weak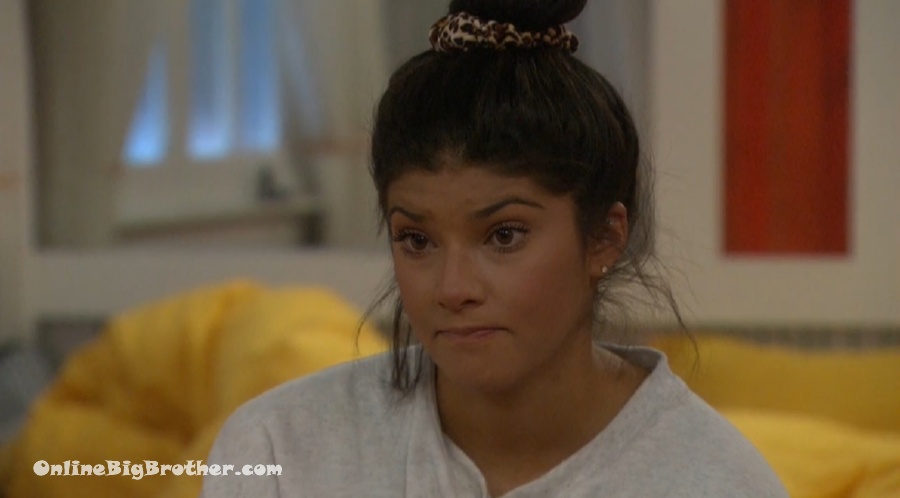 SIS – I know you don't want to hear this but every day the more sh1t I hear about Nick it all just makes sense
Christie – well we'll see when we watch it back
Christie leaves
Tommy says he thought Nick threw the HOH too
Sis – I know
Sis – why do you think he's not up there on the block
Sis – I know I'm up there because she's the target but I still have a chance to go
Sis is certain that Nick is working with Jackson and Holly because he won't be the replacement nomination, he never went up to begin with and he threw the HOH.
Tommy – why is that a bad thing
Sis – he was talking all this shit and now I'm on the block for it.
Tommy – you're right you're right
Sis says if Christie wins the veto "what happens'
Tommy – that's why I want you to stay cool
Sis says even if she stays in the game she's not working with Jackson/Holly he's going after them.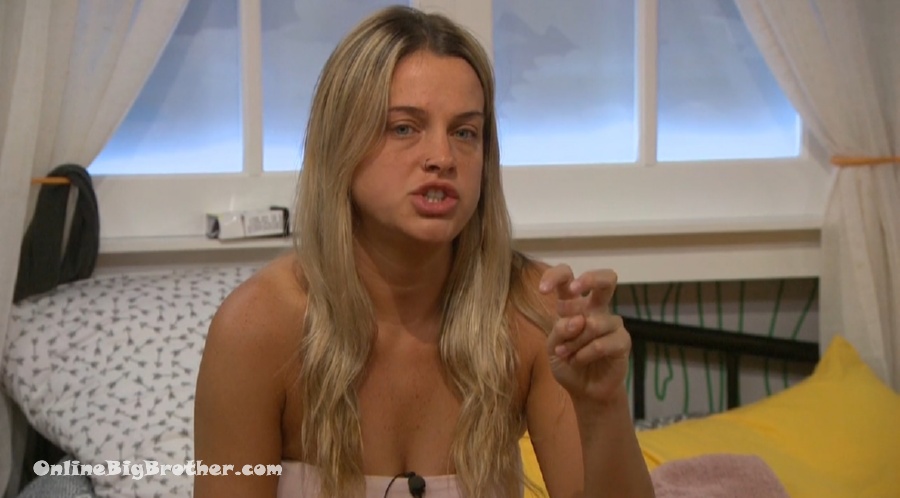 9:35 am Christie back calling Jackson and Holly Liars. Adds that they have Tommy's back their intention was never to get the 5 back together.
Christie – it's all lies (OMG you had a final 6 formed against them)
Tommy says why were they so quick to jump ship again after hearing one thing
Christie – it is what is it you can't get upset there's not point getting upset it's just a game.
Tommy – why am I on the block literally for what I said at the moment
Christie – if I win the veto they may try to punish you and send you home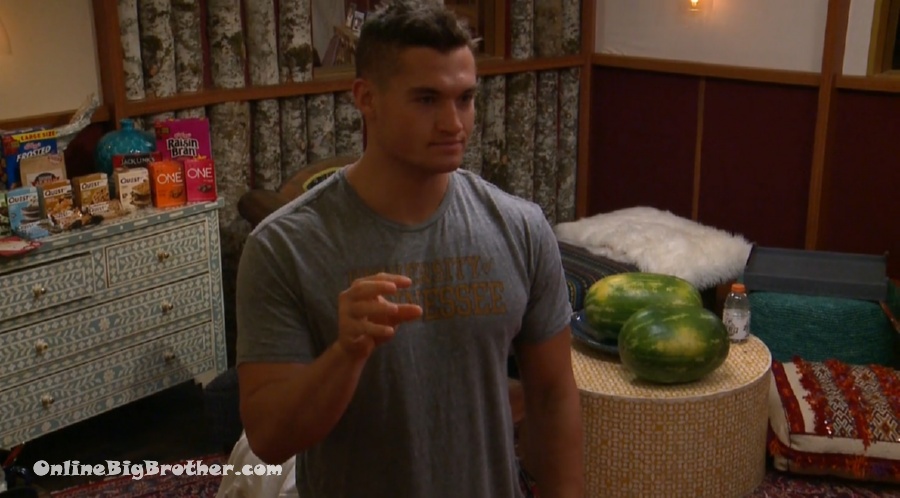 9:40 pm Jackson and Holly in the HOH
Holly – I said good morning to Sis this morning she completely ignored me
Jackson – yeah same
Holly – then I pulled her chip, I guess she wishes she said good morning.. or not
Michie – did you see her face when she pulled it .. HOLLY
Jackson – she's a sore loser
Jackson – when things don't go her way
Holly – yeah, cause it doesn't happen often
Holly – we've been close this entire game. it's day 60 and you can't say good morning..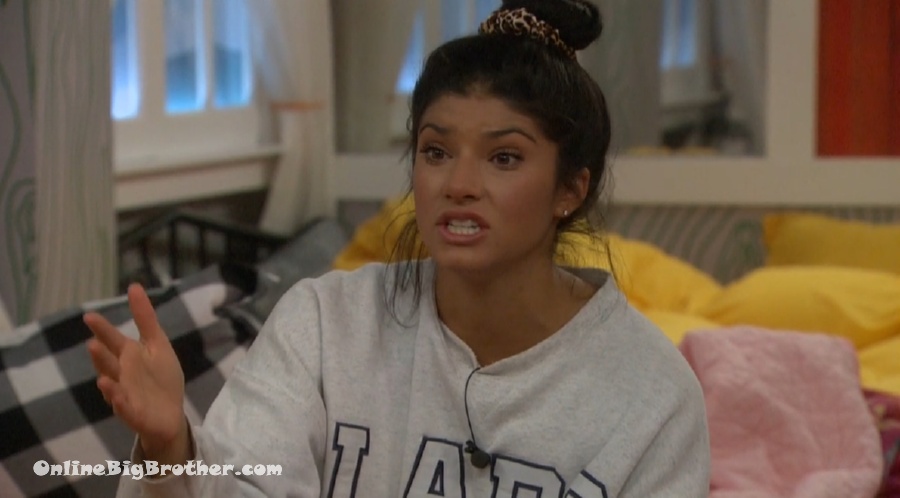 9:41 am Christie and Sis
Christie says he needs to team up with Jess. adds that she knows Tommy has Sis' back but…
Christie – he doesn't care about anything else other than winning.. you just need to look after yourself you need to fight
Sis – I can't stay in this house with f*ing holly
Christie – I can't be in the same room with her it's hard the inauthenticity pouring out of her pores
Christie – if I win this veto I'm meant to stay if I don't I'm meant to get out of this hell hole of snakes.. it is a game.
Christie – I'm so sorry.. we're in this together and I feel bad it has something to do with me
Sis says Holly seems like the type
Christie – I knew from week two her and Jackson was going to go that is why I didn't want to work with them.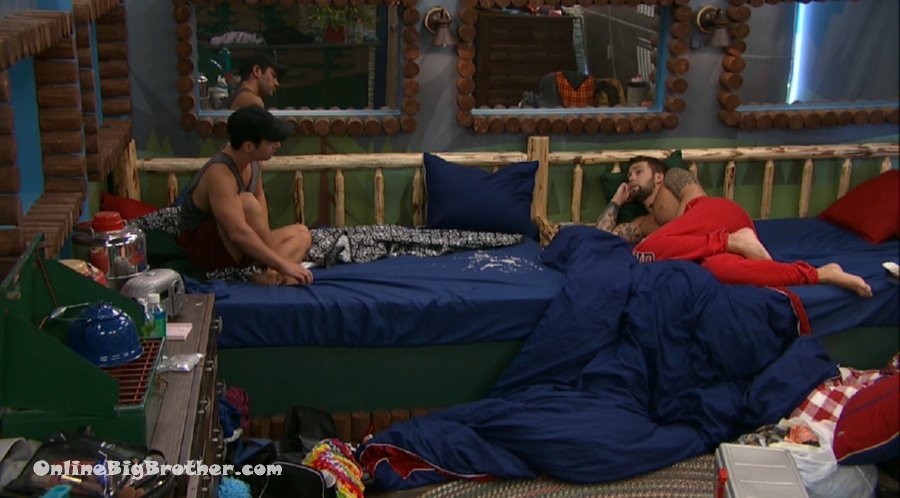 9:45 am Tommy and Nick
Tommy tells him they think he threw the HOH.
Nick – there was no way beating him in the competition I tried really hard I had no energy
Tommy – if you tell me something I'll believe it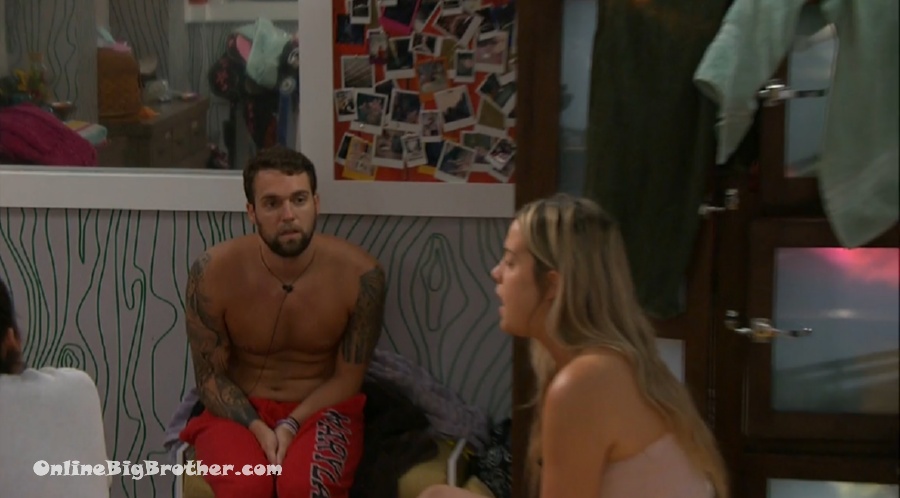 9:47 am Nick, Christie, and Sis
Nick – why are you questioning me…
Christie – it seems really strange that she's on the block. it's not strange I'm on the block it's strange she's on the block..
Sis – I'm not mad at you I'm on the block for my own reasons
Christie – it's strange you are not on the block
Christie says Holly said Nick threw the HOH.
Christie – you were the one that came up with the deal .. (the 6 person last week)
Christie – everyone is whispering when there are deals made (sucks you're not part of them )
Nick says all he did was went up there (HOH) and they told him he's good.
Christie reminds him that Holly "was trashing him" last week
Nick says he's getting upset. "I've been nothing but transparent"
Nick – at this point if you don't trust me. put me up. it's nothing but tiring for me I still get questioned this is bullshit
The girls deny
Nick – you just said it all adds up
They go back and forth on Nick bringing up tidbits of evidence that Nick is working with Jackson and Holly.
Nick – you guys trust Holly more than I do
Christie says she doesn't "I had faith in Holly as a girl"
Christie goes on about how Holly was all for the girls "No showmance" will get in their way
Christie – who is your target, Jess?
Nick – yes
Christie goes on about how Nick is good with everyone "You got to understand why it's unsettling"
Christie – If I win this veto because I'm going to win this veto is Holly going to vote her out (Sis)
Nick says Who Jackson wants gone she'll vote that way.
Christie – that contradicts everything she's said which is gross
Christie – it sucks if you win it I'll go home because you won't use it
Nick – I'm not using jit because of SIS I've had more loyalty to her than you
Christie – I'm going home
Nick – if he doesn't put up Tommy.
Christie – I need 4 votes.
They count the vote she would have three.
Nick – you don't think I could get Nicole to Swing a vote
Nick warns them that "Jess has voted every week the way the HOH has wanted"
Nick – If I win and take SIS down he's not putting Tommy up and you are not going home
Christie – ok, you would really vote to keep me
Nick – I swear to god as long as you're not beside Sis or Tommy
Christie – ok
Nick says if Christie goes the next target is Sis or Tomy, "you going is not good for my game. "
Christie – I just don't want to see him (Jackson) in the end
Nick – Kat was burying me. I'm sick of getting buried I don't drag anyone else's name even if they've done f* up sh1t
Nick – I hear a bunch sh1t and I don't question you guys either
Christie claiming she's never questioning Nick.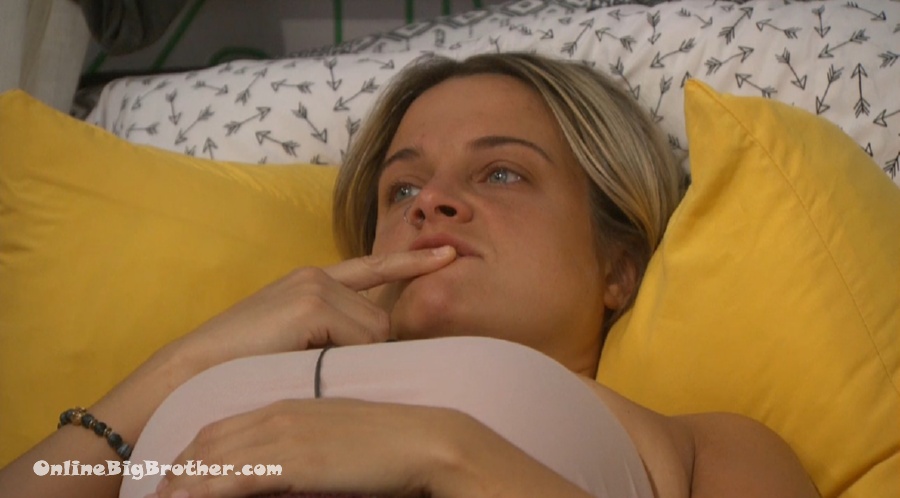 10:28 am 
Christie crying – Nothing is real in here nothing.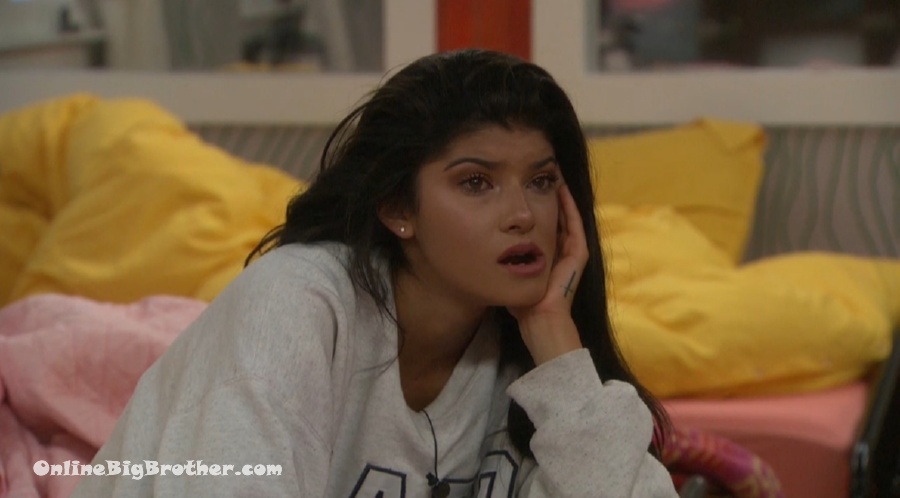 Sis – I'm just hurt. I really value people's friendships
Sis now crying going on about Holly "playing a catty game"
Sis – I would never play a catty game like she is
Tommy says they are feeding each other and getting ramped up "both of you might stay or one of you will be here don't dig the other person into a whole"
Tommy is trying to pull a meeting together with Holly..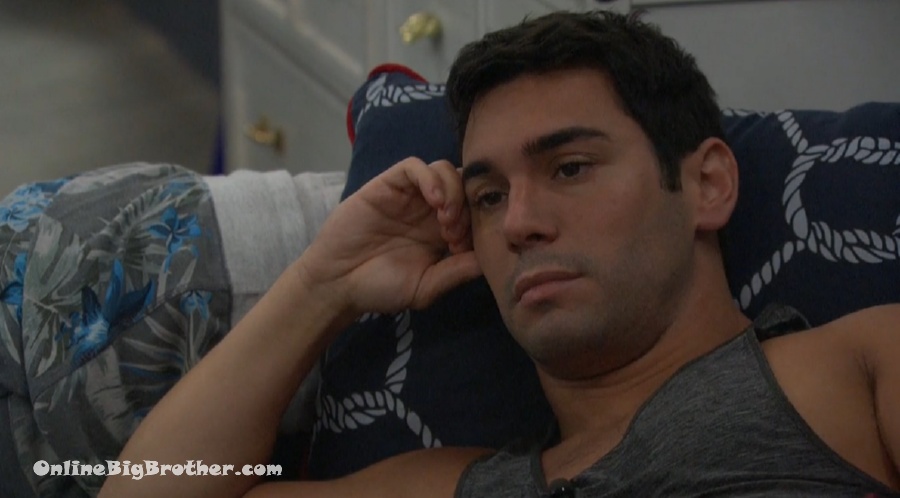 11:07 am Tommy and Christie
Christie – I feel really bad for SIS
T – I know, but she did things too
Christie – she's taking it like personally
T – She's very quick to jump ship
Christie – she feels so personally attacked
They agree it's not personal.
T – he wants you out and that gets rid of a vote for you and adds a vote for you to go. It's strategic that's why he said to her I do trust you I want to see you safe this week
T – I still think it was stupid because it burns a lot of bridges
Christie – does it really
T – yeah it does. It burns Holly's game
Christie – she'll still stand by him
T – he'll be the first to go and until she goes she has someone to hide behind. It's kinda smart
T – it's gross
Christie – it's gross it's not who I am (y'all were hiding behind Jack ZOMG)
Christie brings up having a conversation with Holly where "being an independent women means so much to her when little girls are at home watching"
T – I do think that is true both things can be true (T dropping sense on sour grapes)
T – you too, jumping ship you have to be careful how quick you are. Just because you heard something after that conversation doesn't negate that conversation
Christie – I hate this game so much
T – no you don't
Christie – yes I do. I hate how it challenges us. I hate how it makes me doubt myself
Christie – I fear getting out of here how everything is perceived. How I am perceived. My own emotions my own words
Christie – it's not about winning. I don't even care. it just sucks.
Christie – I thought I would be better at it I really did. I should have known
T – don't talk like that you are a good f*ing competitor. If this (veto) is remotely mental you have it
Christie – yeah or Nick
T – you are going to be fine be strong and believe in yourself
Christie – my heart doesn't feel that honestly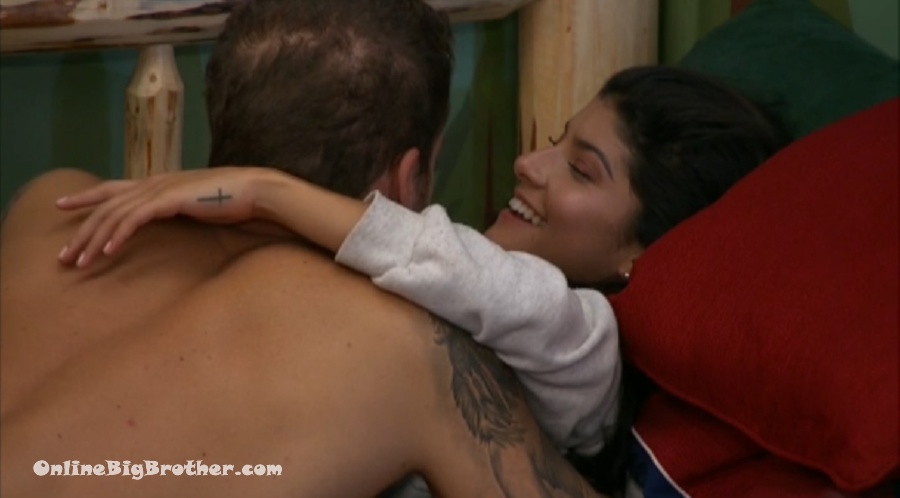 11:44 am SIs, Christie, Nick, Cliff..
Nick talking about how he's going to run up and jump on Bella as soon as he sees her.
Sis continues to rub his back.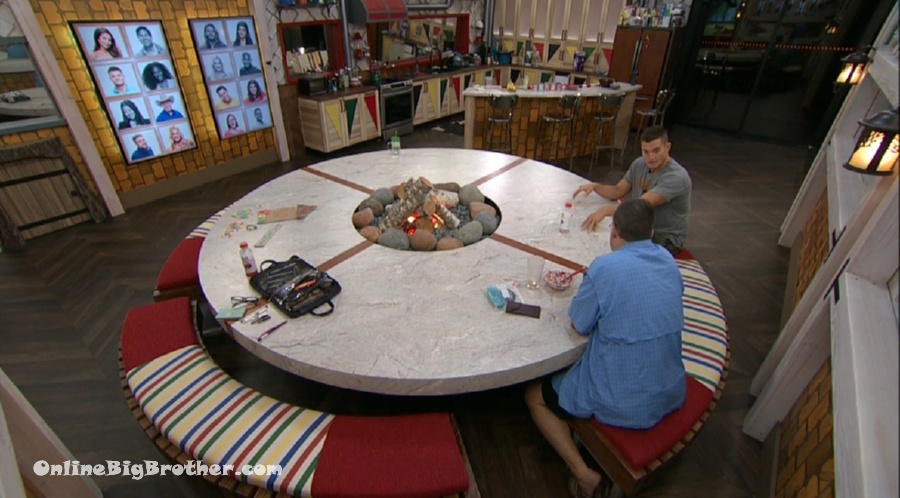 12:30 pm Michie and Cliff
Jackson is explaining his nominations how it removes one of "their" votes and Keeps, Jess, Nicole, Holly, Cliff in the house to vote against Christie
Jackson fills him in on the conversation he overheard in the have nots room between Sis, Jess and Christie. Sis was saying "they have nobody it's just them two.. they don't win HOH they don't win Vetos it's just the two of them "(Michie and Holly)
Jackson – Tommy has worked with them but he's never come after me
Cliff says if he wins the veto he'll do what Jackson wants, "I'm solid with you"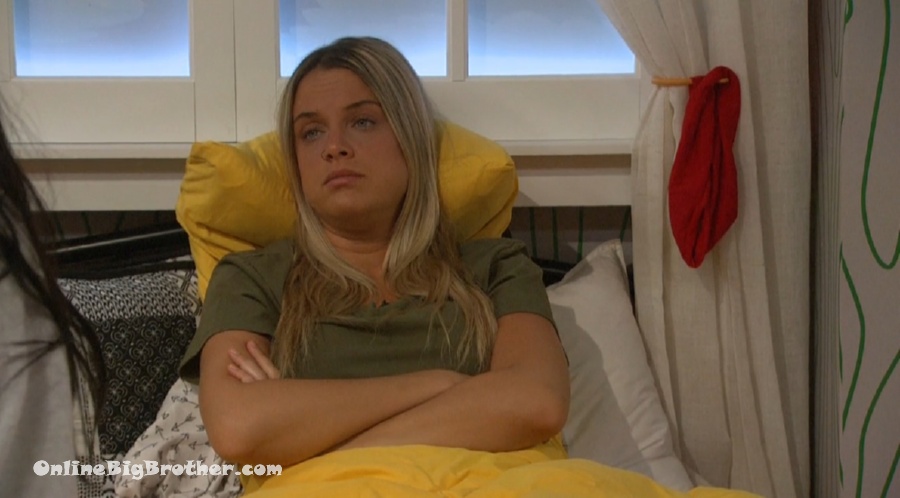 12:38 pm Christie and Sis
C – there's still hope for us both to stay it's slim. The best option is to keep it friendly I know it's hard for you
C – don't stay angry
S – yeah
Christie thinks that Jess will go up not Nick. "she's a girl he wants a girl to go"
1:46 pm Before the feeds go down .. RV crew chatting about past event pre-feeds.
Reliving Kat being woken up Day 4 pt1 #BB21 pic.twitter.com/QumK6SDTJ9

— OnlineBigBrother.com (@bigbspoilers) August 17, 2019
Reliving Kat being woken up Day 4 pt2 #BB21 pic.twitter.com/VnvQJgeb1g

— OnlineBigBrother.com (@bigbspoilers) August 17, 2019
2:00 pm Power of Veto has begun