Head of Household Winner – Jackson
Have note are:
Nominations are: Christie & Sis
Power of Veto Players are – Christie, Sis, Jackson, Nick (Christie pulled ), Holly (Sis pulled), Cliff
Power of Veto holder – Jackson
Power of Veto Ceremony – Jackson did not use the power of veto
Grab your live feeds —-> BB21 Live Feeds Subscription Link
Rank your houseguests —-> Big Brother 21 Ranking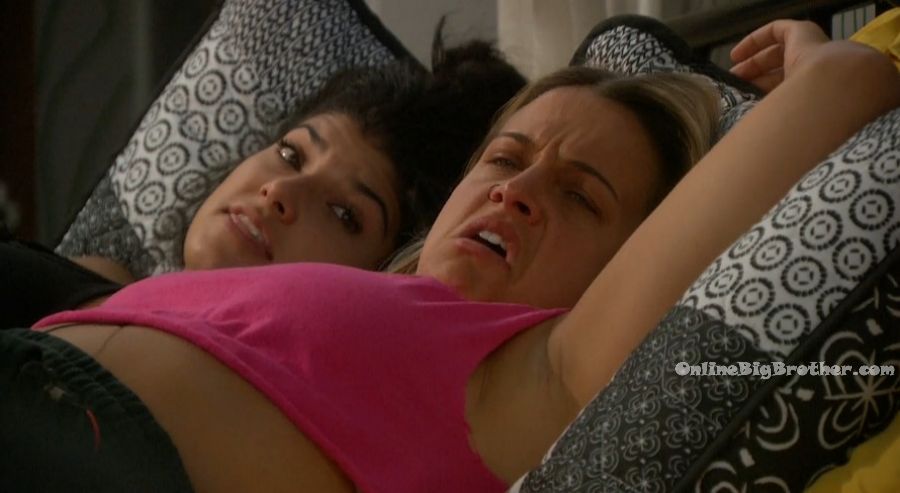 8pm Bedroom. Cliff, Sis, Christie and Jess.
Cliff talks about his wife Sharon. Christie – you must miss her real bad by now? Cliff – yeah but I'm more used to it now and I don't know if its because I see the light at the end of the tunnel. Christie – or that its become your new regular. I'll be there at the wedding when y'all find your forevers. Christie – I'm going to have a black heart when I get out of here. I feel so cynical coming out of here. Cliff – Isn't it horrible, no one is going to trust anyone once they get out of here. Christie – I know.. this game changes you. It made me really cynical. I came in here with flowers and rainbows and now I literally don't trust anyone. I feel like when I get out of here I will be like you're a bullsh*t artist, you're a bullsh*t artist, you're a bullsh*t artist. Maybe that will change again when I get out of here ..and I'll see rainbows again. I don't even have any issues with people.. I just see the manipulation and lies. But I don't have a specific vendetta against someone (Nick) or something someone did .. even Michie .. I'm not mad at Michie not even a little bit. Cliff – after 67 days of not trusting anyone you can't help but carry that over to the real world. Christie – yeah feel a little dark.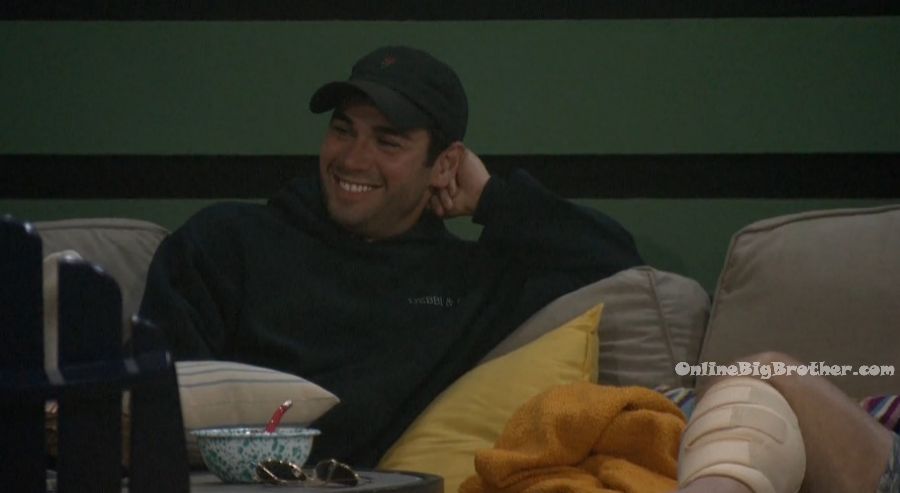 8:11pm Backyard. Jackson and Tommy.
They're talking about how hard it is in the house. Jackson – when you feel like you're on your own its even worse. Tommy – its okay, its going to work out. If its my time to go next week then its my time to go. I will fight. Jackson – I don't think you're going anywhere. Cliff joins them. Tommy – I can't wait to go out after this. I can't want to go out with Cliff. Cliff – I can hold my own. Jackson – I am very intense and aggressive outside of this house. Especially when I go out or do anything. Sleep 2 or 3 hours a night for weeks on end. I will work constantly. Spend 4 or 5 hours at the gym. In here I am very quiet. In real life I am the most vocal person of all my friends. Jackson leaves. Tommy to Cliff – I really do want to talk to you. Cliff – my door is always open. Tommy – I want to see where your head is at. The way I see it the house will be separated into duos.. Sis & I, You & Nicole, Jackson & Holly… and then Nick and Jess in the middle of it. And because Michie and Holly are coming off their HOH .. I don't have any deals with them but I would be naive to think that other people don't. That's why the only thing I ask is that this stays between us. Cliff – that serves us both better. Tommy – because of that I feel like next week is being set up as it is pushing Sis & I to be against you and Nicole.. and I don't want that. I don't want that! I really don't want it. Cliff – I felt the same thing. Tommy – it doesn't make sense, its stupid. That's why I wanted to talk to you because I know I don't want that but I don't know what else to do. I feel like I have to fight and I don't know what the answer is. I have nothing anymore… I've been telling people that I'm in a position that.. Big Brother blocks the feeds.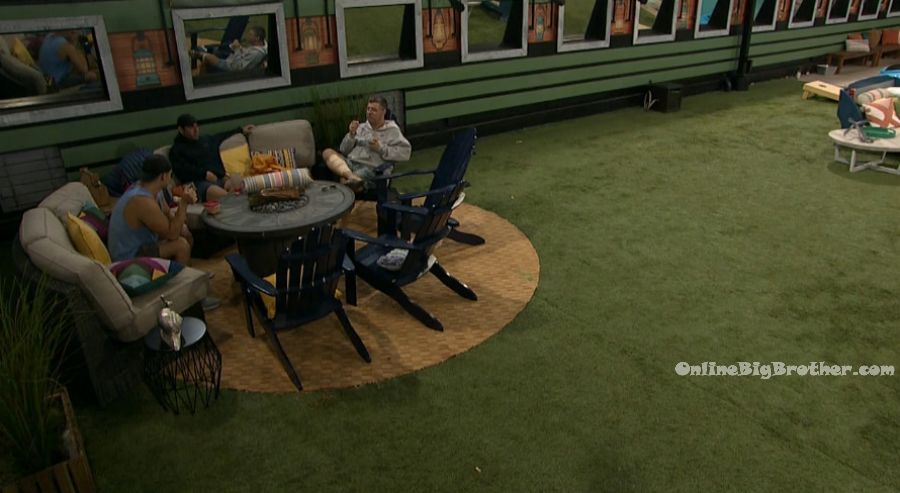 8:26pm – 9:16pmBig Brother blocks the feeds…
9:25pm Still blocked..
9:31pm The live feeds return to Christie, Holly, Jess, Jackson and Cliff are in the kitchen.
In the Bedroom. Sis and Nicole are talking to the cameras about wanting a power or a button or something. Christie joins them.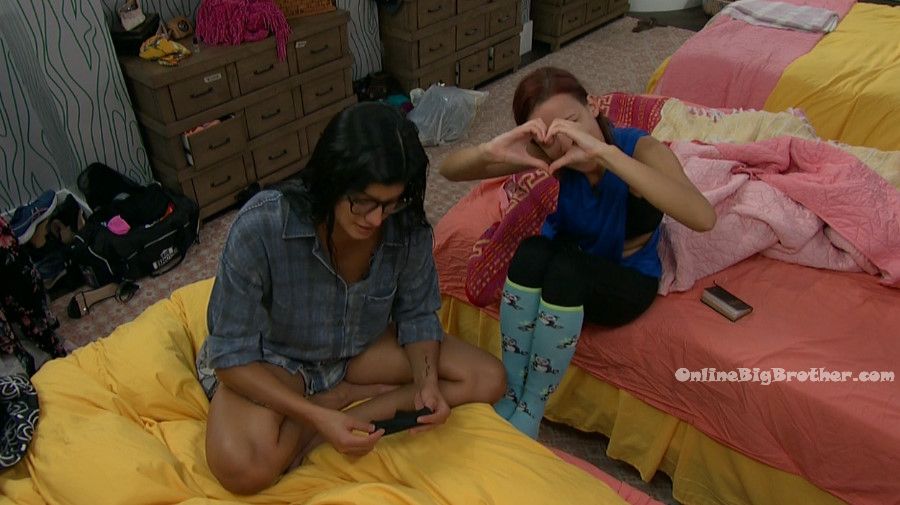 9:53pm Bathroom. Tommy, Sis and Christie show off their plastic surgery faces.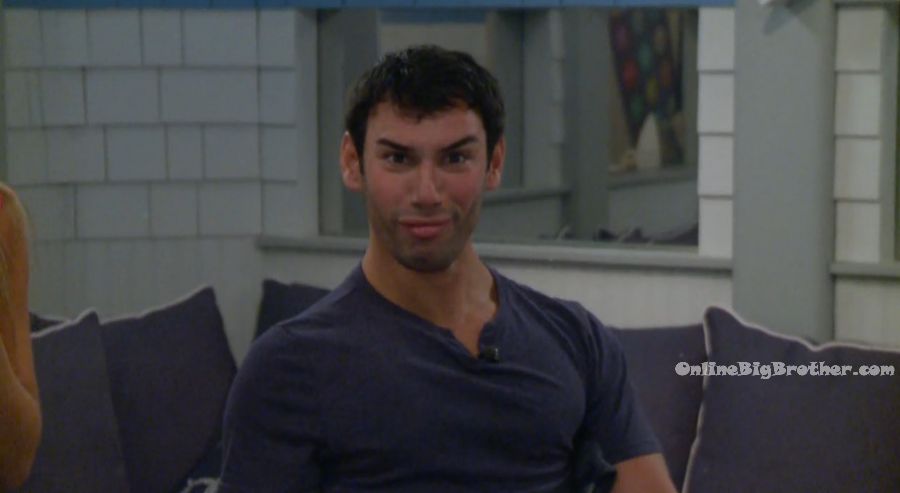 10:50pm Bedroom. Cliff, Nick and Tommy.
Tommy – No matter what happens after this we are going to be okay. It my hurt while we're here or immediately after but we will be okay. Nick – everyone wants to win but only one person can. And I think people want to get far in the game because they're fans of the game. Tommy – yes, that's how I feel. I would love to win but I really just want to get as far as I can. Nick – I feel like top five is a huge accomplishment. Cliff – once you get past 5 .. there are so many little things ..I don't think you win this just on luck. Tommy leaves. Cliff to Nick – if Christie does end up blowing up things the next couple days, don't be worried about me. We're good.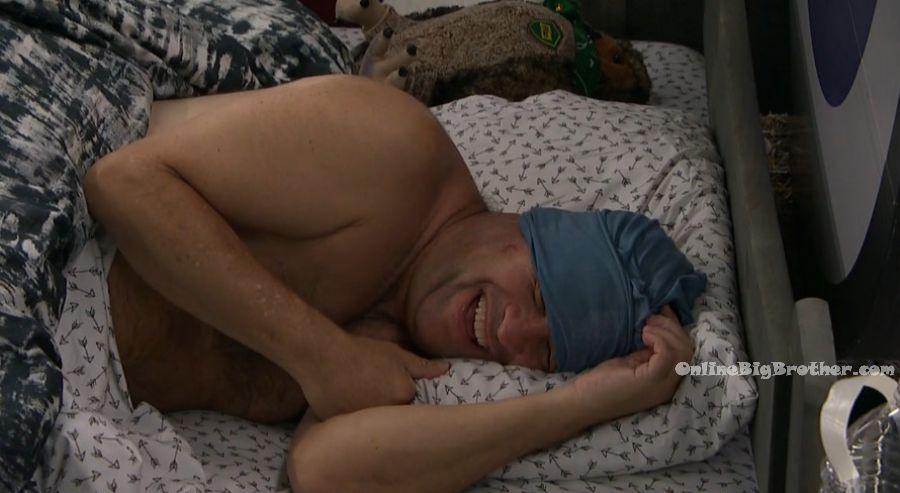 1pm Bedroom. Sis and Christie talking. Sis – if you do end up going, I could literally follow you later that day. There could be a double or there could be a jury battle back. Christie – I have hope, I do not consider myself dead yet. I do have faith. Sis – we won't know until Thursday. Christie – I am starting to feel negative, like I really do feel like America hates me. Sis – No Christie, America does not f**king hate you. You haven't done anything for America to hate you at all. If anything you stand up for what you believe and you stick up for what you think is right. And you call people out on their sh*t. Christie – I don't know because then I think what if Michie is a favorite ..like a f**king favorite. Literally a fan favorite! And America hates me because of the things I said about him. And then to find out that Nicole was crying about us laughing at Cliff. That was after the comp during what wouldn't be shown and people won't see that it was playful and fun. Like to think that, that could be a thing!? Like I literally love Cliff. Sis – that is not a thing. We talk to Cliff so much.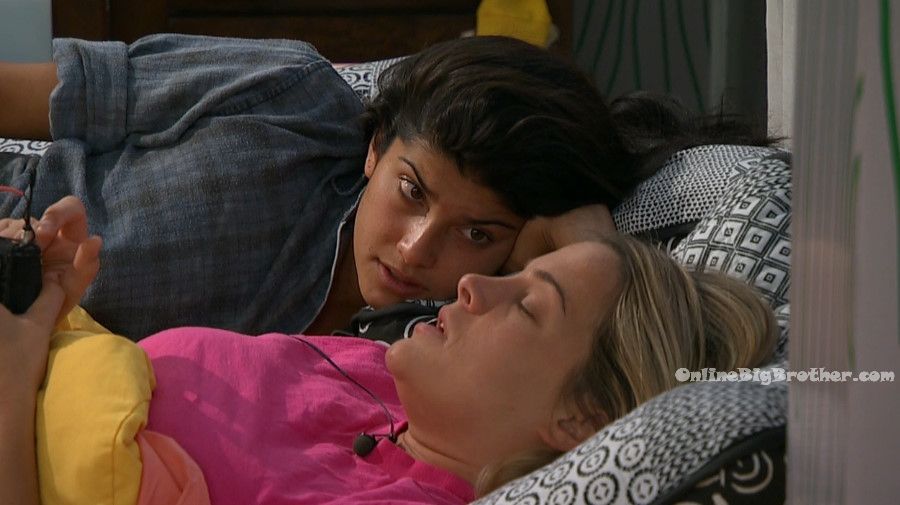 11:25pm Bedroom. Sis, Christie, Jess and Nicole are sleeping.
12am All the house guests are sleeping..