Quick Big Brother Spoilers
Head of Household:  Michael
Nominees: Alyssa and Terrance
POV Players: Monte, Alyssa, Michael, Terrance, Taylor, Brittany
POV Winner: Michael
Veto Ceremony: Veto was not used.
Havenots: 
Lock your ranks in before midnight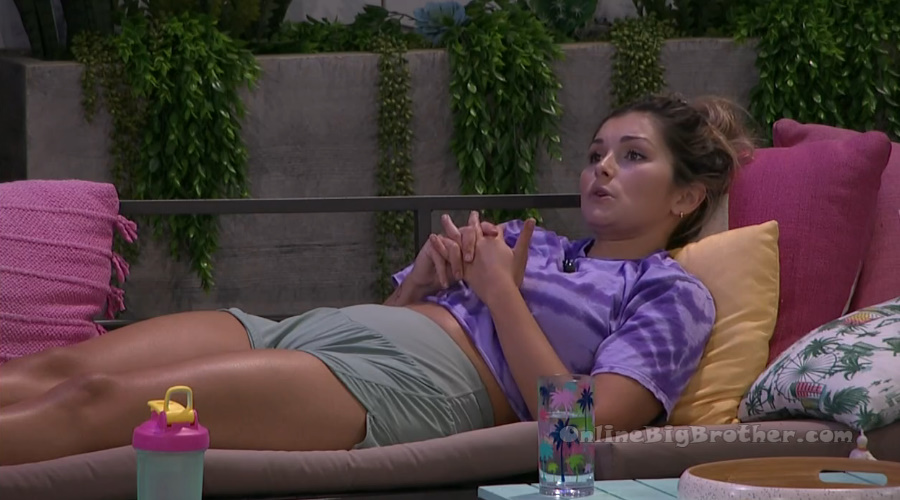 8:08pm The live feeds return from being blocked. The house guests are in the backyard. Brittany and Alyssa are talking about wedding proposals. Brittany talking about her proposal and Alyssa talking about how she would want hers to be. Turner, Taylor, Monte and Michael are playing bocci ball. They head inside the house. Taylor – no second winds tonight. Everyone goes to bed and stays in bed.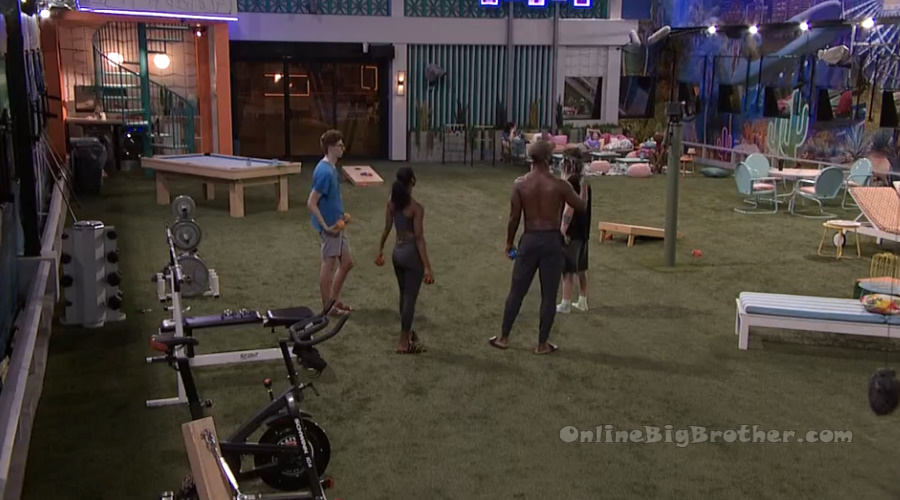 8:35pm Bedroom – Terrance and Monte
Monte – how are you making out? You seem kind of quite today. Terrance – I just feel the energy is different, that's all. So I am just… instead of engaging in it, I ain't going to. Monte – really? Terrance – yeah, I definitely feel it. I ain't crazy! I'm a person that can read energy so I know when motherf**kers are acting funny. Monte – oh sh*t! Damn man, that's weird! Terrance – yeah but I don't trip on it though. That's one thing, I never let anyone else's energy affect mine. Monte – yeah, that is just crazy because from their perspective I don't think people get treated differently when they're on the block. You know so like what is that about?! Terrance – yeah but they do. If that is the person they want evicted out, you automatically know they give you the cold shoulder. But you know, you can't let things like that affect your energy because you have to look at the aspect of.. this is a game and my life outside this is f**king amazing. You know what I'm saying!? Monte – yeah. Terrance – you know I don't let vibes like that phase me because I have to many amazing things going on. Monte – amen to that man. Its all perspective.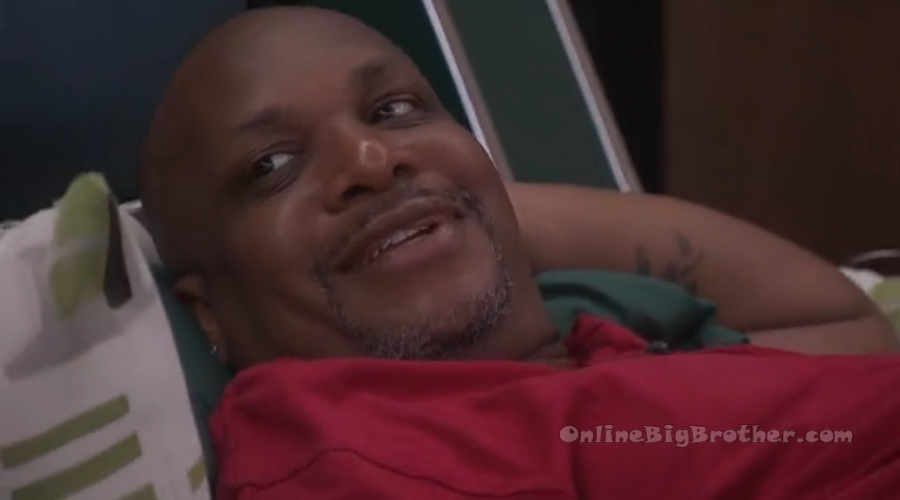 9:50pm Kitchen – Brittany is cleaning while chatting with Michael and Taylor. Bedroom – Monte is sleeping. Terrance is laying in silence. Bathroom – Alyssa is showering. Turner is roaming..
10:43pm Pool time .. The house guests are in the pool and floating on top chatting about random things.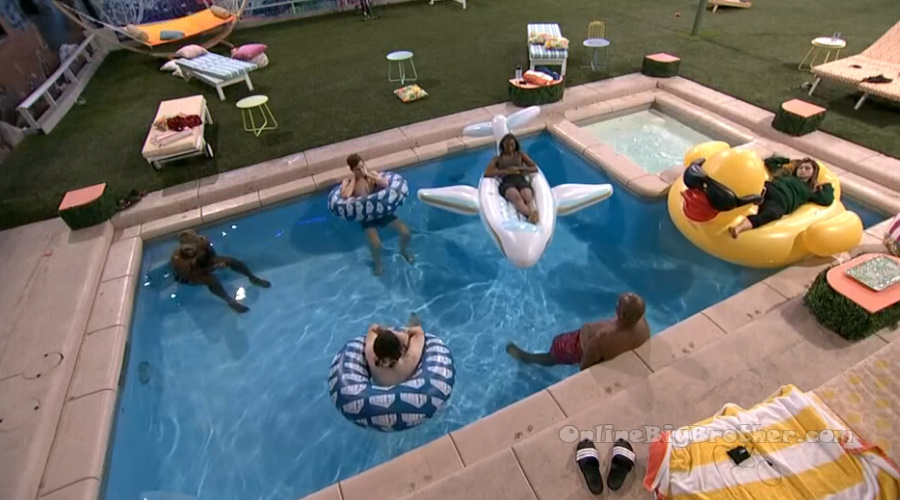 11:45pm HOH room – Monte and Michael.
Monte – I talked to Taylor and interestingly enough when I asked have you checked in with Alyssa.. have you talked any game with Alyssa? And she was like yeah, she did try to mention girls to the end thing .. so she brought it up first without me prompting it which to me felt like a good sign that she wasn't taking that seriously. Michael – yeah. Monte – I felt good with Taylor that she was willing to give up that info. So I don't know if she is taking at seriously or if it was something that she was even considering. I don't think she would tell me if she was considering it. Taylor came to me and then was like are you good to put up Turner next week. And I was like is that what everybody wants? And she was like yeah Brittany is down for that. And I am like okay, are you sure?! And I am like is Brittany doing all this to make sure nobody puts her up on the block? Michael – like if she spills the information first and then someone does it later then it is like yeah I already know that because Brittany trusts me and she already told me that. Monte – so I just don't know if this is the way she is operating and if she is getting paranoid and doing a lot of stuff to cover her own bases. Just the fact that it is getting back to us just doesn't feel good. I think that Brittany is going in circles. Michael – we definitely need to check in. I will definitely try to talk to her and bring it up naturally. Monte – the fact that Taylor brought up the girls thing shows she isn't loyal to that and she is to the four.
12:30am Alyssa goes to sleep.

12:40am Hammock – Brittany and Taylor.
Brittany – I would think worst case scenario is Turner wins HOH next week because Michael can't play. He says that he would put up Alyssa. Taylor – we'll see. Brittany – so veto doesn't matter, there is no backdoor situation so if I had to guess he would put up Michael and you. Taylor – my only hesitation is it would be me and Alyssa hoping that Michael doesn't win veto. Brittany – like Monte said if he (Turner) doesn't go after Alyssa he puts a huge target on his back for the weeks to come. So he could make a big move but you have to stay here. Precisely the reason why we wouldn't make a big move against Michael till the end because whoever gets Michael out is the next biggest target and you have to stay here and you can't play HOH the next week so you're very vulnerable. Its one thing for Michael to be in a must win veto situation .. its another thing for any of us to be in a must win veto situation. That is not so cut and dry. Turner just can't win HOH. You would hope that Michael honoring the promise this week would mean something .. you would hope.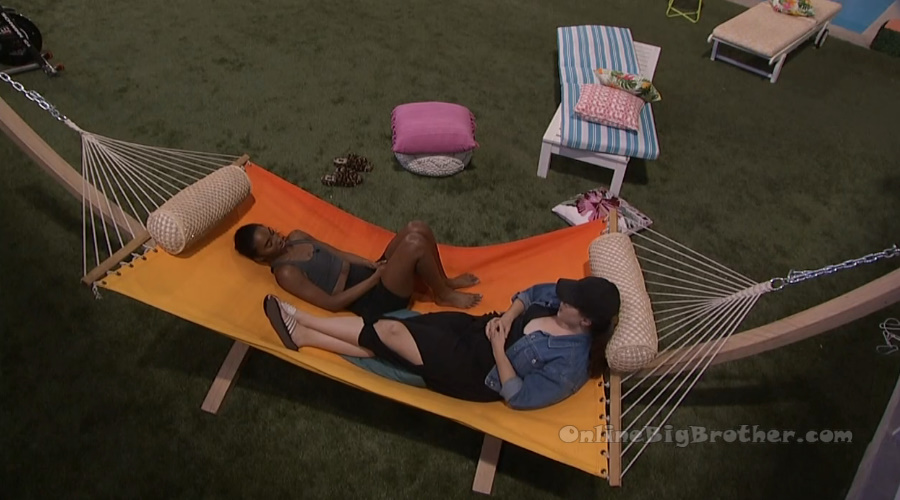 1:10am – 1:40am Backyard – Monte and Taylor.
Monte – was Brittany acting different? Taylor – not very different. She is nervous that you and Turner have a thing. Monte – really? Taylor – yeah. Monte – I mean, I am fine with putting up Turner. This is the thing about Brittany.. her game might not be about a competitive standpoint. She is all up here and that is why she is already going up to Turner and saying stuff like this around saying we shouldn't have a final two. Taylor – out of no where. Monte – matter a fact.. here is a gut check! See if she tells you about it.. if she doesn't and not directly but like hey do you and Turner talk game? See what the hell she says because if she doesn't tell you .. then she is running a muck on everybody. Because if you're one of the closest people that she is working with in the game .. then why would she not tell you that? Taylor – mmmmhmmm.. Turner joins them. Monte to Turner – she has to see that Brittany is acting strange and going one way versus another. I am like are you sure you feel 100% with Brittany? Don't just blindly accepting whatever she tells you as truth. And then Michael has to already be suspicious as it is. But since she's not a comp threat.. Turner – she is just like a … flea. Monte laughs – yo you can't tell anybody I told you that. Turner – yo of course. Monte – Taylor and Terrance think I am the only one that know. But that sh*t is comedy bro!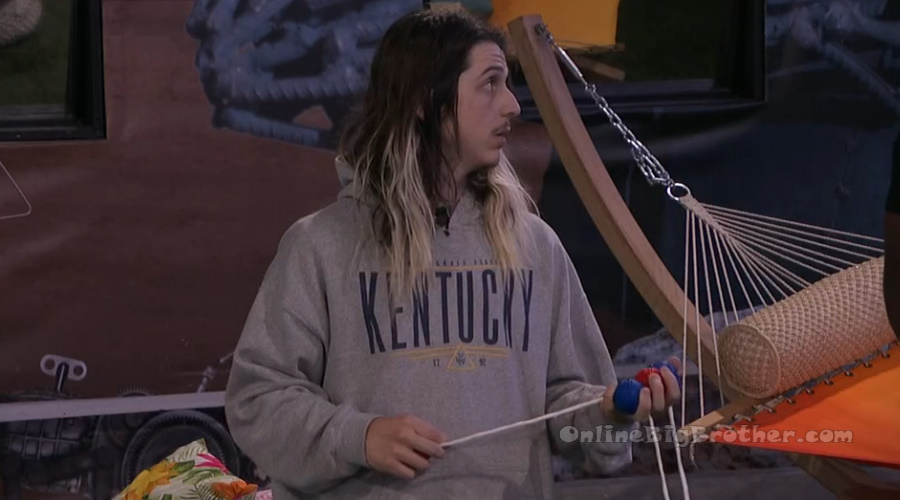 1:50am – 2:05am HOH room – Turner and Michael.
Turner – so I head about the conversation on the hammock about how it sounds like Brittany is playing both sides saying oh Turner should be the target next week. So this is interesting .. me and Monte were talking kind of like what we don't want to happen to Terrance. Sounds like they're going to do it with Alyssa. If they are already counting Alyssa in and then going for the next big target .. we are just like that is very interesting if they are already trying to bring Alyssa down the road. So I was like I will tell Michael about it. Thoughts? Michael – I am so torn. Terrance thing scares me from the fact that like I am worried people are going to be like … like if one of them wins its going to be like two of us no matter what. Like if Alyssa is here or if Terrance is here. I don't think they are going to put them up. Turner – you don't think they would put up Terrance if Alyssa was out this week? You don't think they would find Terrance a threat to their game? Michael – no. Turner – oh damn.. facts! Michael – I don't think they would be working as closely with him but if they're going to take a shot they're going to take a shot. If they leave us off the block .. Taylor is one vote. To me Terrance staying in just scares me more from the perspective of I feel like even if they want to work with Alyssa… they have to realize they can't bring her to the end. So there is a better chance if Alyssa is here that they would turn on her where is if like Terrance was here they could drag him to final 3 and then kick him out. With Alyssa would they even take the chance of bringing her past 5? 4? Turner – yeah that makes sense. Michael – she is very clearly playing all sides. I did not expect this from Brittany.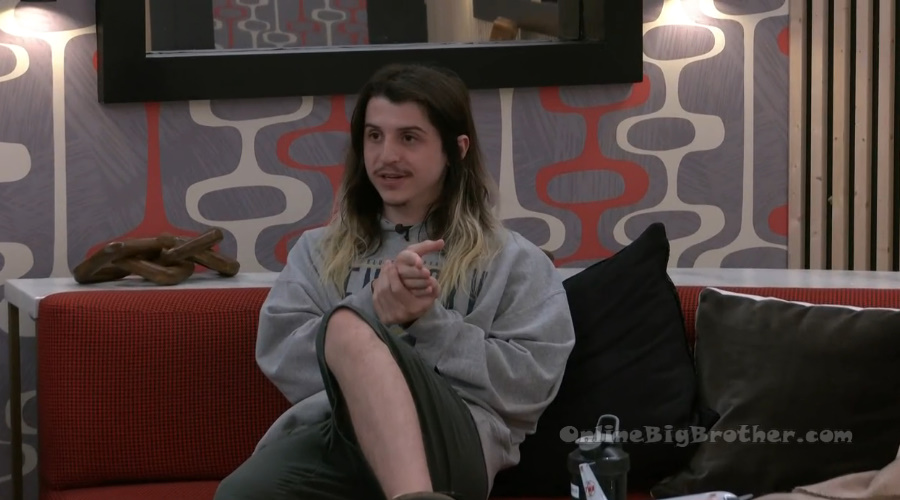 Without reader support this site and these spoilers wouldn't be possible.
Please consider a donation to keep the madness going.
Any amount is greatly appreciated!

oscript>