Head of Household Winner – Jackson
Have note are:
Nominations are: Christie & Sis
Power of Veto Players are – Christie, Sis, Jackson, Nick (Christie pulled ), Holly (Sis pulled), Cliff
Power of Veto holder – Jackson
Power of Veto Ceremony – Jackson did not use the power of veto
Grab your live feeds —-> BB21 Live Feeds Subscription Link
Rank your houseguests —-> Big Brother 21 Ranking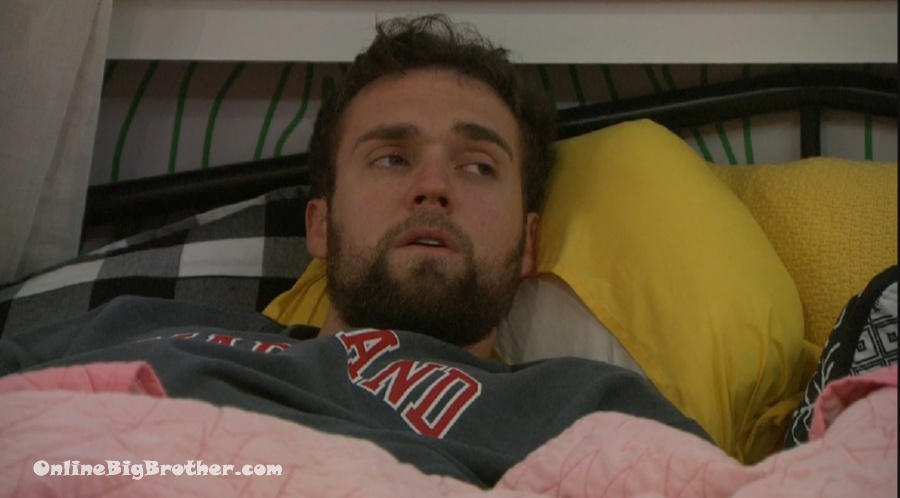 5:28 pm Nick and Nicole
Nick says if the votes 3-3 and Jackson votes in Christie's favour he's losing 2 jury votes. Sis and Jack because of how Jackson went on all week about his target being Christie and then to blindside Sis.
Nick – I really hope she f*ing goes
5:51 pm
Cliff, Holly and Jackson
Jackson and Holly saying how blinded players are at Nick
Jackson saying he's wanted Christie out for weeks because she's so good at this game and her strengths have been a threat to him
Jackson – if those threats can be assets. what assets will Sis offer me?
Jackson – I'll be honest I don't know where you're head is at
Cliff – I'm on board with you guys
Jackson – I don't want to say it in a mean way or a disrespectful way.
Cliff – I think Nigel will break away at some point she's the weak link.
Jackson – Christie is saying she'll take fourth or fifth
Holly – she will be fiercely loyal to us three
Jackson – I could never get her 100%. When we were ion a 6 I could never say we were 100%. Now she's backed into a corner because she has no option
Jackson – I'm not swearing on my family I'm not swearing on a bible my words my word
Cliff says Christie has lied to him before but her actions were honest.
Jackson – I'll be honest with you man if it comes down to a tie I'll break it in Christie's favour.
Cliff – I'm on board with y'all
Cliff says Sis wants to know if she's blindsided.
Jackson says Sis isn't entitled to know. Ther'es a fear of what she might do.
Cliff – with her I'm afraid she'll go ballistic and emotional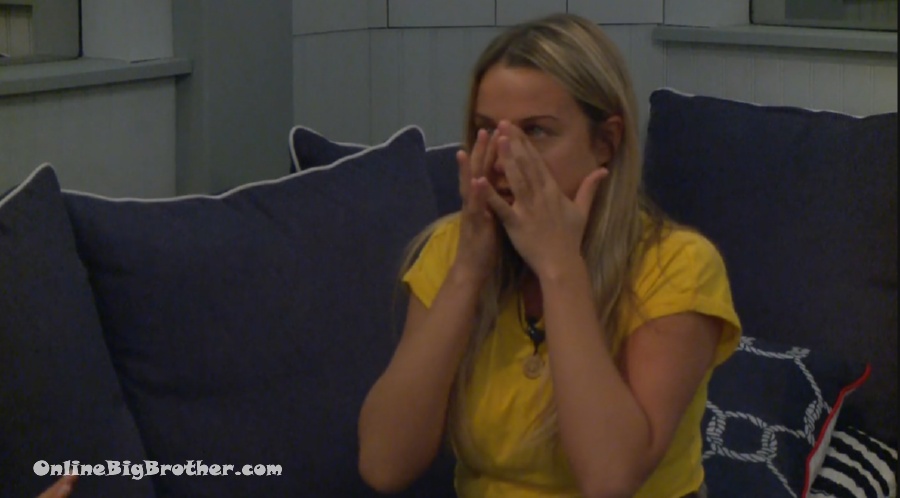 Feeds flip to Christie saying she's always crying.
Sis – I'm saving my tears for tomorrow.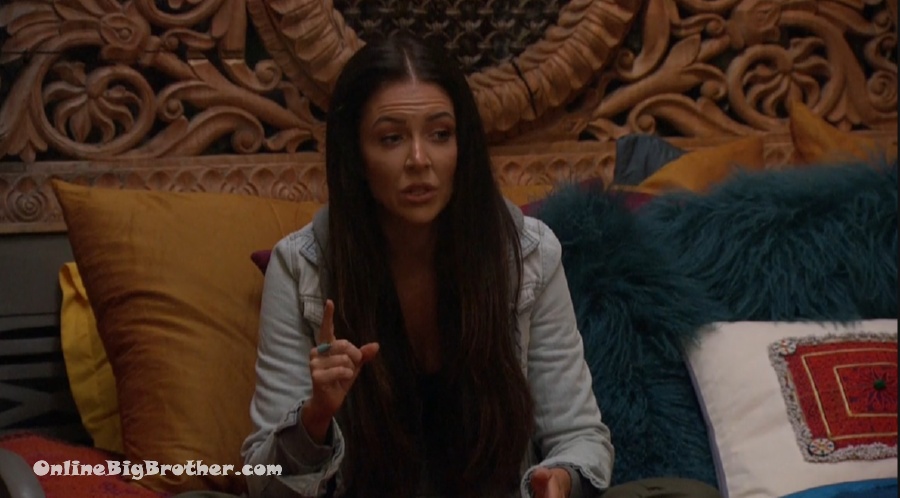 And we're back to the HOH conversation
Holly – yeah she's a freaking threat but I do respect her gameplay I don't want a floater to win
Cliff – I'm onboard
Holly – I hate saying anything in a negative light about either of the girls. I do really love them. I'm playing a game and I want to make respectable moves
CLiff – we have to watch out for each other afterwards because it's going to get bloody. Nick and Tommy is going to be out for blood. I would guess the three of us in here are going to be targets number 1
Jackson – Risky move
Holly – it's a risky move putting Christie up and it's a risky move saving her a$$
Jackson – I like to gamble
Holly – Isn't it amazing the way things change in a week
Cliff – I didn't come here for sixth place
Jackson – sixth, fifth, fourth
Holly – I also though. did not come here to play a game where one person decides what place we all get.. no, thank you. I'm not going to get sixth place because Nick decided (I swear to kraken she said the same thing a week before but was talking about Christie)
Holly – and placed all of us little pawns in a row and himself with a crown on it (OMFG Christie's campaigning worked)
Cliff – he's been a busy little bee
Holly – him and Christie have similar game styles and she is a power player
Jackson – Christie is being forced to have nothing.
Holly – I think she'll be fiercely loyal
Jackson – she has nothing Nick has everything
Cliff leaves says he's on board with them "If anything changes let me know and I'll adjust accordingly"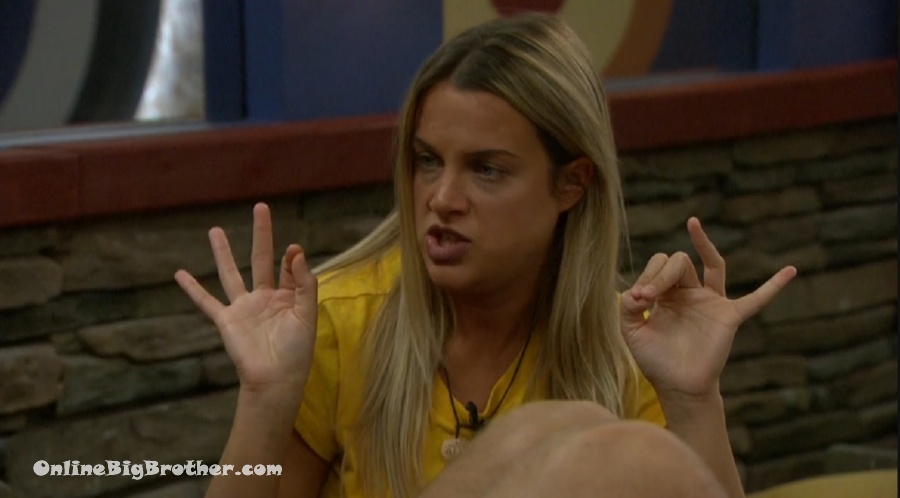 6:22 pm Christie campaigning to Nick
Christie says last night wasn't about tarnishing his character is was about forcing him to win HOH and show his cards.
Christie says it's "frustrating to watch you protect a handful of people but never have to nominate people"
Nick says he really hasn't been throwing HOH's
Nick – I don't have anything against you gamewise or personal wise I just felt like you were coming after me.
Nick – the only game conversations I have are with Tommy, Sis and Nicole.
Nick – I'm not working with Michie and Holly
Christie – Michie is not my target
Christie goes on about being "Very big on Justice and fairness"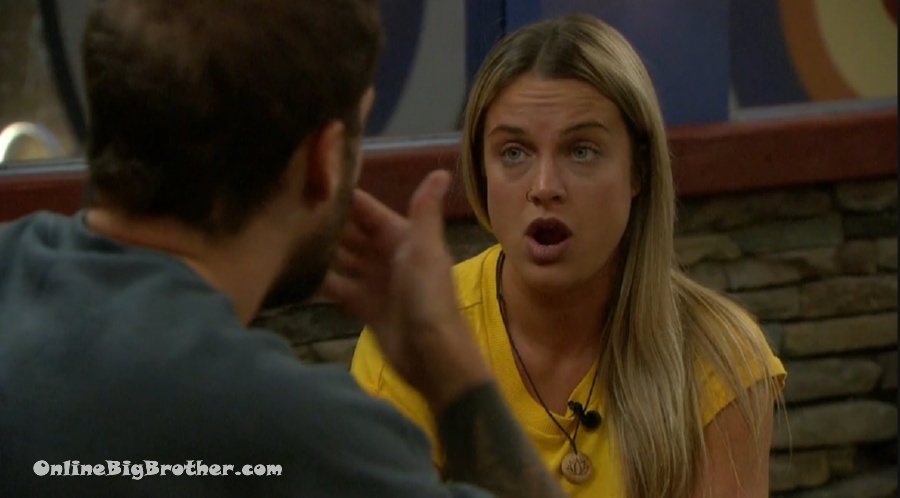 Nick – if you do win this next HOH I get it you have to put me up
Nick – I'm telling you if I do win this next HOH you're still not my target.. Sure you are coming after me but so is Jess
Christie says she kinda has to put him up now after last night. Nick understands.
Christie – I love this game I came here to play
Nick says Christie can resurrect her game like he did when Sam left.
Nick – I'll be honest if you stay I would never not want to work with you I do love you. Granted I did want you out yes.
Christie says if Jackson is breaking a tie and she's making a deal she will honour that deal.
Christie says she's not proud of the outburst
She respects Nick's game and wants to be his friend out of it goes on about how much she loves this game.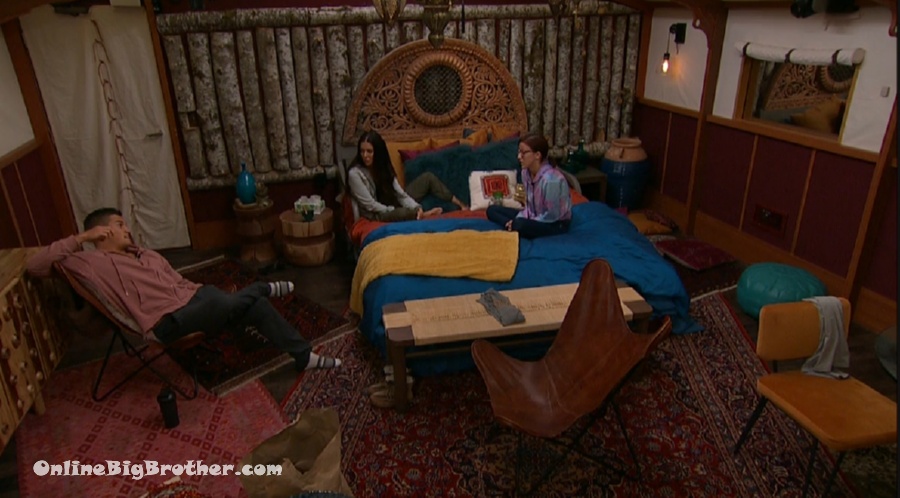 6:35 pm Nicole, Jackson and Holly
Nicole says she'll respect Jackson's HOH and vote the way he wants to. Says that nick might walk around declaring his loyalties it doesn't mean it's a two-way street.
6:56 pm HOH Nicole, Holly and Jackson
Jackson – if it's a tie I'm going to vote to evict Sis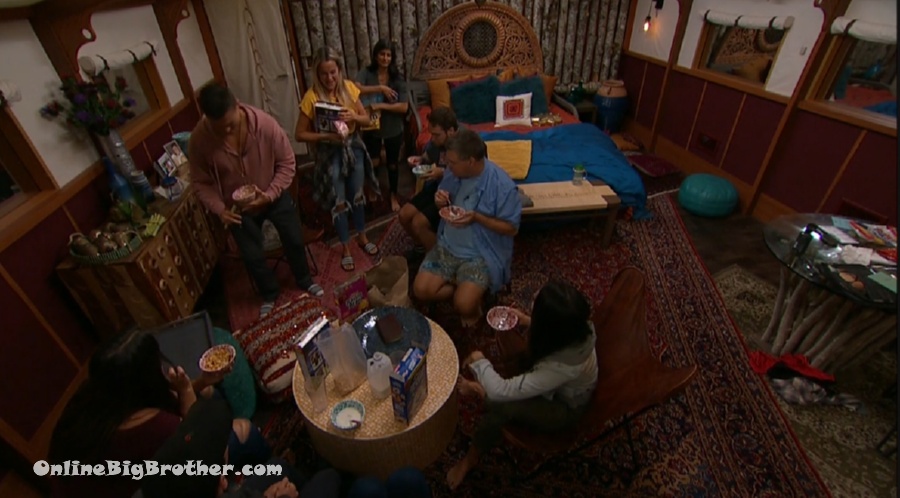 7:12 pm – 7:55 pm Cereal party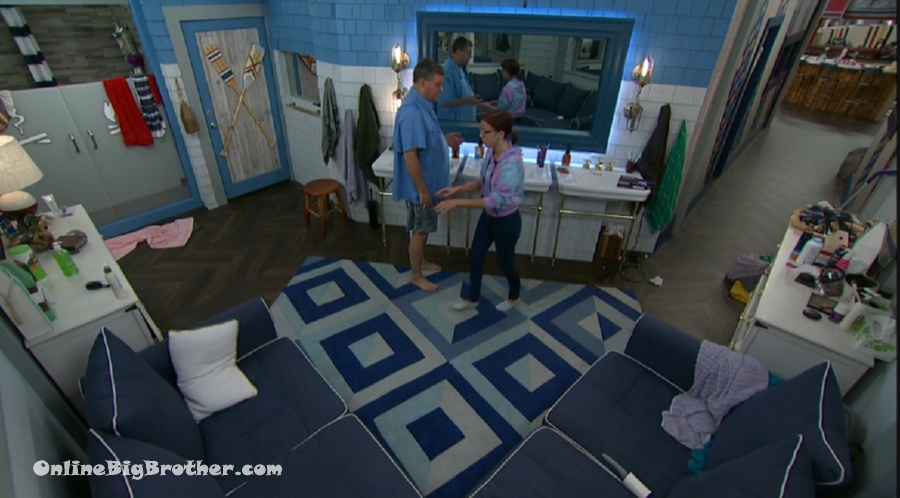 7:55 pm Cliff and Nicole
they're talking about keeping Christie
Cliff – I feel like it's probably okay to go that way
Nicole – I want to do what f*s me less
Cliff – I know I told them the same thing
Cliff – if ti's the three of us and Holly it's a four 2 vote
Nicole – I heard Christie's campaign
Cliff – it makes a lot sense
Nicole – it does
Cliff – if she's willing to take shots and goes after them hopefully makes the target for them they go after her.
They agree they're on the same page.