Head of Household Winner – Jackson
Have note are:
Nominations are: Christie & Sis
Power of Veto Players are – Christie, Sis, Jackson, Nick (Christie pulled ), Holly (Sis pulled), Cliff
Power of Veto holder – Jackson
Power of Veto Ceremony – Jackson did not use the power of veto
Grab your live feeds —-> BB21 Live Feeds Subscription Link
Rank your houseguests —-> Big Brother 21 Ranking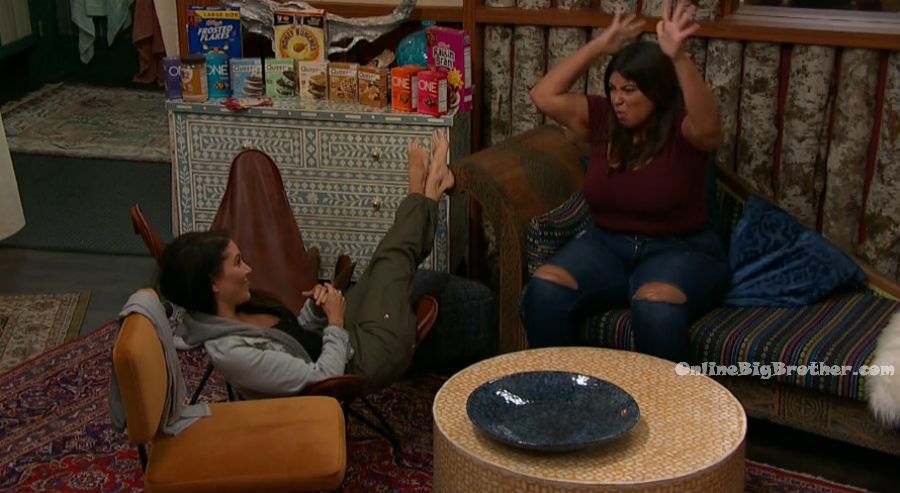 8pm HOH room. Jess and Holly.
Jess is bitching about Nick. Jess – so right now knowing that Jackson cannot play in the next HOH .. I think that he is the only person right now that I trust enough that is ..you both.. physical competitors .. because I am not that person. Holly – yeah but everyone needs the other parts of the puzzle… of the aspects of the game. And its good to have physical competitors that don't have you on their radar. Jess – and Nick's been throwing every competition… and I know he has. Holly – I know. Jess – you can see it. Holly – because he's felt so damn safe. Jess – he over compensates whenever he loses or wants to make a spect.. or when he doesn't want it…whenever something happens he makes it big.. look at me! I'm doing this!! And that's what he does! You know what I mean!? Holly – MMMMmmhhhh.. Jess – when he loses comps .. really!? You're going to be that upset when he gets second place to Tommy? Holly – MMmmmhhmm. Jess – you were safe ..why are you going to be so upset!? Holly – yup! Jess – but you took the 5G's instead of taking the veto from Michie.. so you must have felt some kind of.. but yet you were my backdoor option?! Hollly – mmMMmmhhhhmm. Jess – but you didn't take the veto?! You know what I mean?! Holly – yup. Jess – if Nick gets anywhere within top 6 .. he is taking the whole damn thing. Holly – yup. Oh I know! Jess – because he has played one hell of a game. And the thing is he can't do to you or to me what he is doing to everyone else. He can't cuddle up with us or get in between and be all lovey dovey! Holly – oh I know. Since the beginning I have not bought into that bullsh*t at all. It drives me nuts. I don't respect it. I don't like it. I don't like how he speaks to women. And I hate it when he tells Christie her GS cook (?) smells like halibut. What the f**K!?!!? Jess – it makes me so uncomfortable. He's called women pieces of sh*t. Holly – he called me a B***H. Jess – me personally I don't respect that kind of talk and behavior. However in this situation I told myself I am not going to be emotional. Holly – Sis straight up told me that she is targeting Nick. I said did you not learn anything from Kat? Kat just went through this same thing with Michie as her target and no one believed her and that's why she left. And now Sis's whole campaign is that she is going to target Nick. Its just a repeat of last week. Jess – she used the words that Nick is someone that I trust completely and then I would be stupid .. he's not my final two.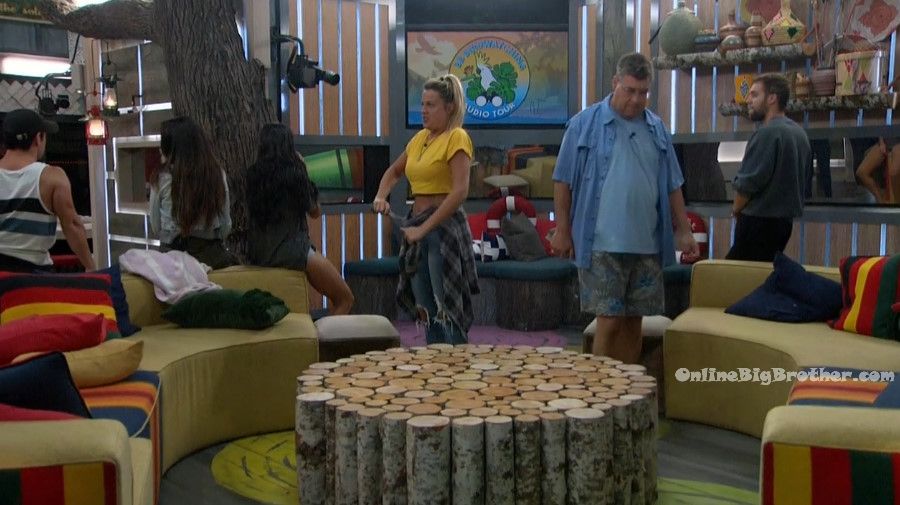 8:33pm The house guests are listening to a message from the "BB Bird Watching Audio Tour". Jackson – that sinister f**king voice. Tommy – we don't know if this is HOH or if its something else. Jackson – it could be HOH in two or three weeks. Message – "House guests welcome to the BB Bird Watching Audio Tour! Feast your ears on the symphonic sounds and calls of these majestic creatures. I recommend you pay close attention to the names and calls of these birds because you never know when they might come in handy." Nicole – we're going to be up all night. Sis – whoever is saying that voice is f**king cool and I want it. "You never know when it might come in handy.."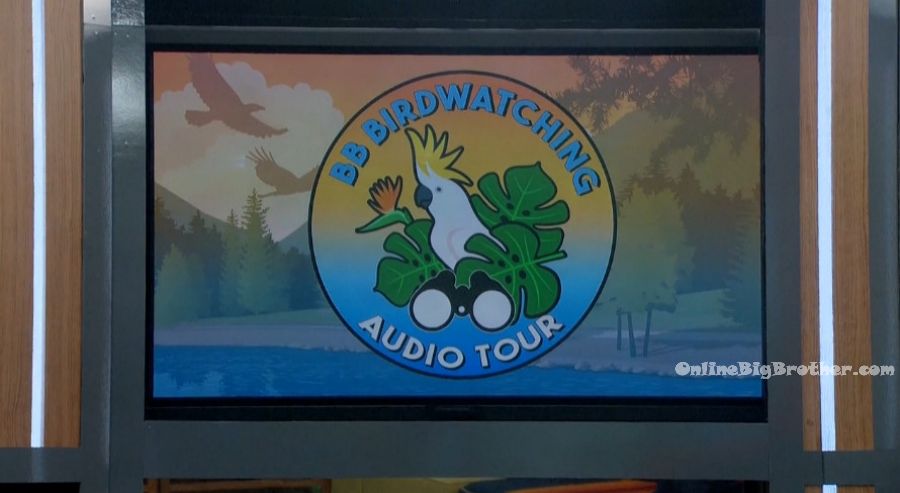 8:47pm Nick, Tommy and Sis.
Sis – guys I am scared I am going home. Tommy – I don't want you to say that and I don't want to react because I believe your intuition because you've been right about a lot of things but I don't want to believe you. Sis – Like I know I have you two right?! Tommy – yup. Sis – Nicole is good. Nick – Nicole is good. Sis – Cliff is good. Nick – he made it seem like he was. Nicole isn't going to keep Christie .. because she knows that she's going to put me and Nicole up together.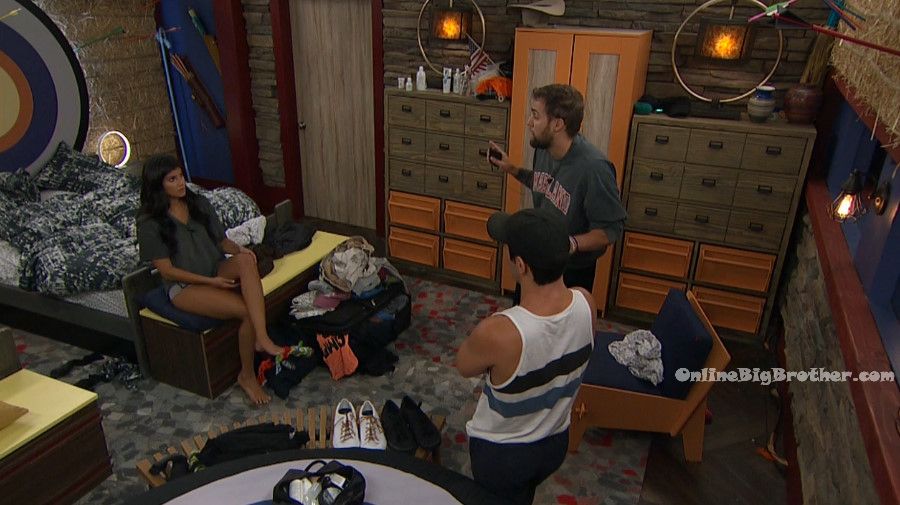 8:50pm HOH room. Jess and Jackson.
Jess – I am going to do whatever you wanted. Its your HOH. I love Christie and Sis equally. I personally don't feel like either of them are gunning for me personally. Jackson – I would agree with that. Jess – obviously the blow up yesterday Nick said that I am his target. And it sounded like he would have put you or Holly next to me. That's what I got. Jackson – and he openly said he wants Christie to go over Sis… so Christie is 9th and he said Cliff would be 5th. So lets fill in the blanks .. he wants you at 8, 7th and 6th .. me or Holly vice versa. 5th is Cliff… He is obviously take 1st .. 2nd, 3rd and 4th. Nicole, Sis, Tommy. And I didn't sign up to play for 7th or 6th. I asked Sis if you were to win HOH what are you doing? Who are you putting up? And I know she's told certain people that she trusts them and wants to work with them going forward.. Never said any of that to me. She couldn't tell me that I would be safe next week or that I wouldn't see the block. She said she doesn't know who she would put up. That is a big red flag for me. Ultimately at the end of the day it on paper it sounds like a better idea to keep Christie. Jess – I don't see anyone going after Sis. Jackson – she told me that she would go after Nick and put him up.. but I just don't buy it. Jackson – would you rather me wait until tomorrow on what I would like? That way you can have plausible deniability for the next 12 – 18 hours.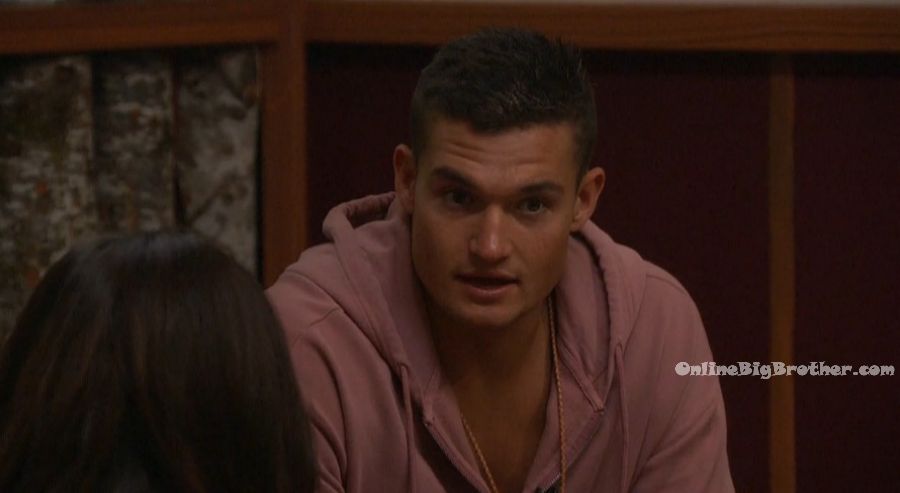 Bathroom. Cliff and Christie.
Christie – Tommy didn't even tell me that he would vote for me… I had him and now I.. don't.. and I know I shouldn't take it personally. I thought that he would be my Holly in this game. It is what it is. If everyone flipped he would to. I had him .. and I don't.. its okay. This is a game.
9:15pm "BB Bird Watching Audio Tour" – No sudden movements a black bird just landed and now is your chance to hear their call (bird call plays). .. ah one of the smartest birds in the jungle.. listen to his unique pitch -(bird call plays). See if you can recreate the call of the crow. No suddent movements a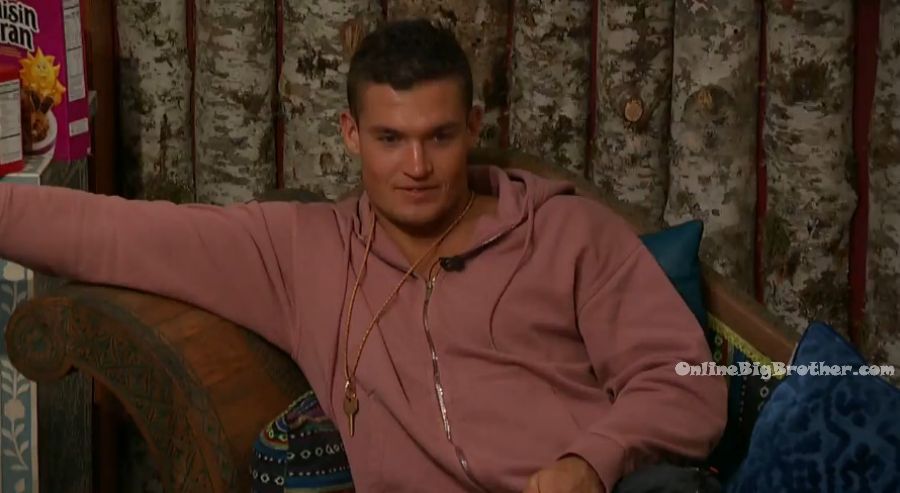 9:57pm Boat room. Sis and Holly.
Sis is crying. Sis – I just hate being in this position. I didn't even do anything to be in this position in the first place. Holly – I know. I still don't know what happening or what is going to happen. You did nothing wrong. Sis – I just feel so mad and I literally want to go off on people but there is literally no point since I am already on the block. Holly – I wish I could rewind this week. I don't want either of you in this position. I thought it was going to be straight forward.. straight forward but not because its you guys. Sis – It doesn't matter what I say or do, no one will believe me. I literally feel like I am in Kat's position.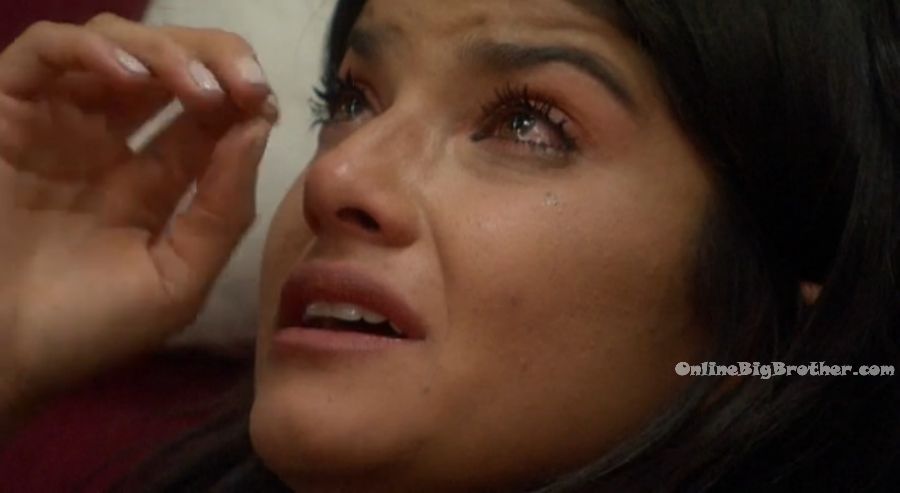 10:12pm HOH room. Cliff and Jackson.
Cliff – I have an issue to talk about. Nicole has heard that Christie's first target, if Christie was to win HOH would be Nick and her up on the block. Jackson – I haven't heard this from Christie .. so this is news to me. Cliff – Christie confirmed it. I told Christie that Nicole and I have been working together and that there is some concern about her so she makes an easy pawn. I can't have her go up .. I feel closer to Nicole and I wouldn't want that to happen to her. But it got me to thinking when we're talking about final 4's or 5's or whatever are y'all cool with Nicole? Jackson – me, Holly and Nicole were talking about that. And that's kind of what I was hoping for. Cliff – I don't know what your discussion with Jessica was like. Jackson – I kept that vague because I know she can run back and forth. I really don't want sh*t to hit the fan in the last hours for tonight or tomorrow. She said she would vote however. She is also a proponent of keeping Christie. Cliff – what are you thinking because I know Holly is and we talked before. And I am okay with that and I think Nicole. Jackson – Nicole would not go anywhere. Cliff – and I think Nicole is going to be okay with that even though Nick is going to be the sacrificial. She doesn't want him up but she understands its the game. And Nick said if it comes down to Nicole and I .. I want you to vote me out. And I said I would. Cliff – I know that Nick is planning on going after you and Holly .. targets number one and two. I just heard. Please don't say anything. Jackson – you have my word that there isn't a snowballs chance in hell that any of would vote against Nicole in that situation.
10:30pm BB Bird Watching Audio Tour -The extremely rare red throated falcon. Listen to her call. Wow now listen to this condor. Well house guests I did not expect to see this next bird.. the pink flamingo… just listen. Jess – F**K me! Christie – this is going to going to be hard.
10:32pm Bedroom. Jackson and Nick.
Jackson – this next HOH if you win .. and I don't have to beat around the bush.. if you win HOH are you going after me and Holly or Chris and Jess. Nick – Is Christie staying? Jackson – I have no idea I am not voting and I told Christie that and I told Sis that. Nick – well you are going to break a tie. Jackson – but I don't want to break a tie and I am not telling anyone what I would do if I had to break a tie because if its not a tie I don't want that person coming for me. Two – I want everyone to do whats best for their own decision. Nick – before the blow up I was going to put up Jess and most likely Holly and if she took herself off… most likely Cliff. And now I am public enemy number one so I am not sure what I am going to do. Nick – if Christie stays.. that would be difficult. I wanted people that were volatile out. For me personally I have a better relationship with you so it probably going to be her. I am going hard for this HOH. I am voting out Christie regardless.
HOH room. Nicole, Holly and Jackson.
They talk about how Christie said she would put up Nicole and Nick with Nick as her target. Nicole – I have no problem keeping her but if her goal is to put me up that is pretty sh*tty. That would be the stupidest thing ever for me to do. Jackson – I am in your corner and I would love to work with you and Cliff. Nicole – I don't want to look back at this and be like I had the chance to get out the person that literally said before the eviction .. I would be the person that she would put up next to Nick. Granted I don't know what Sis would do. But she hasn't blatantly said it either. When someone says something .. how do you say okay .. I am keeping you. Cliff joins them. Jackson – I was just telling Nicole that I have her back and going forward we want to work with you and Nicole.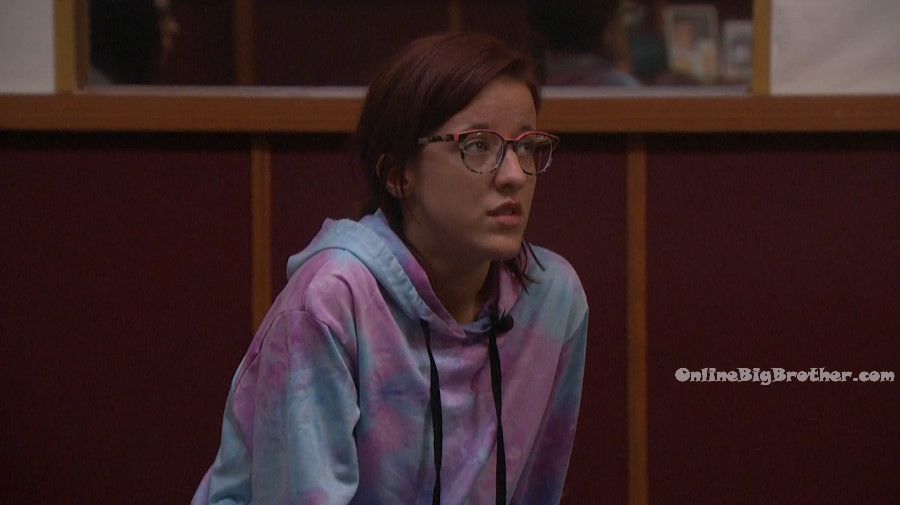 12:10am Bedroom. Nicole and Jess.
Nicole – if next week is a double .. oh my god! Its going to get insane! Because there are so many big targets and so many people gunning for each other. After the double ..I bet its going to be endurance with the four jury members.
12:53am House guests now that its the middle of the night .. there is ever more action to be heard. Listen to this wild snow owl… that is much different than the captive snow owl.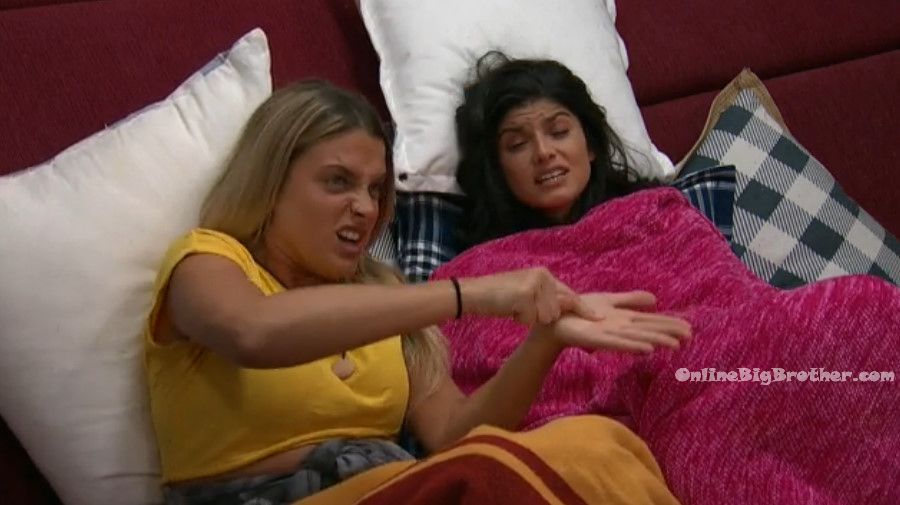 1:25am Bedroom. Cliff and Tommy.
Tommy – I am going to do my best to win this. And as far as this (Him and Cliff) goes .. same status. Cliff gives a thumbs up. I look forward to working with you. Tommy – me too. I feel exactly the same way. Nothing changes. As we go on in this game I love you and nothing changes. They hug. Cliff – I respect the players that love the game.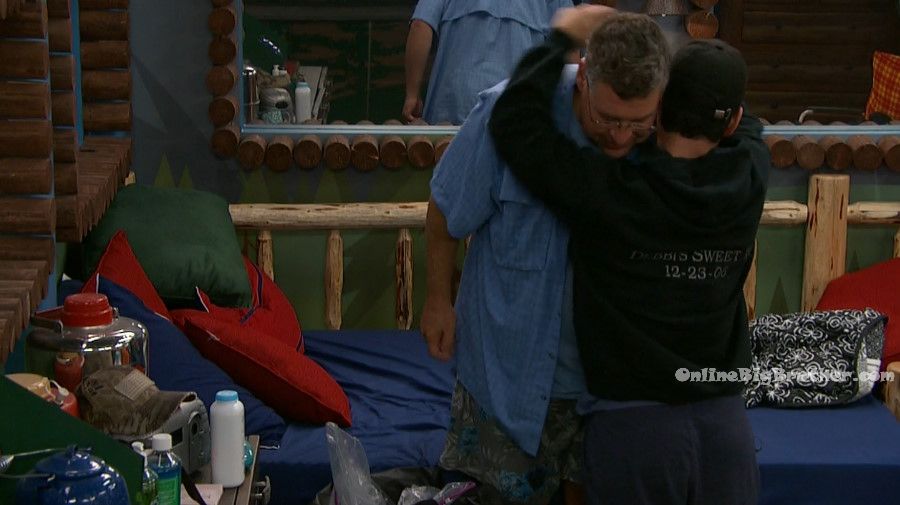 1:40am The house guests are studying the bird calls and messages..

3:05am Boat room.
Tommy, Sis, Nick and Cliff are practicing / studying the bird calls.
3:07am Storage room. Christie and Nicole.
Christie – this game does that to you .. it makes you assume and paranoid and worry and paints pictures that you tend to just believe. And so I just wanted to make sure I came to talk to you. Nicole – and I wanted to talk to you before.. now its all the bird sounds. Christie – so you're freaking out and you're scared. I am gunning for the HOH and unfortunately Nick is my target. I didn't really give anyone else my word besides you and Cliff.. because I really needed your vote. So anyone else is.. I love Jess but she didn't ask me for anything in return.. she didn't ask me for my word. So I don't feel like I would be breaking it. But I know I need to win this. I don't know how much he knows .. but its best to just keep it as I don't know what's happening. Nicole – I am going to keep it as I don't know what is happening .. till right before. I would like to tell Sis and I would like to tell Tommy. Christie – Michie did tell me that if he has to break a tie he would vote to keep me. Nicole – shake on it .. you have my word.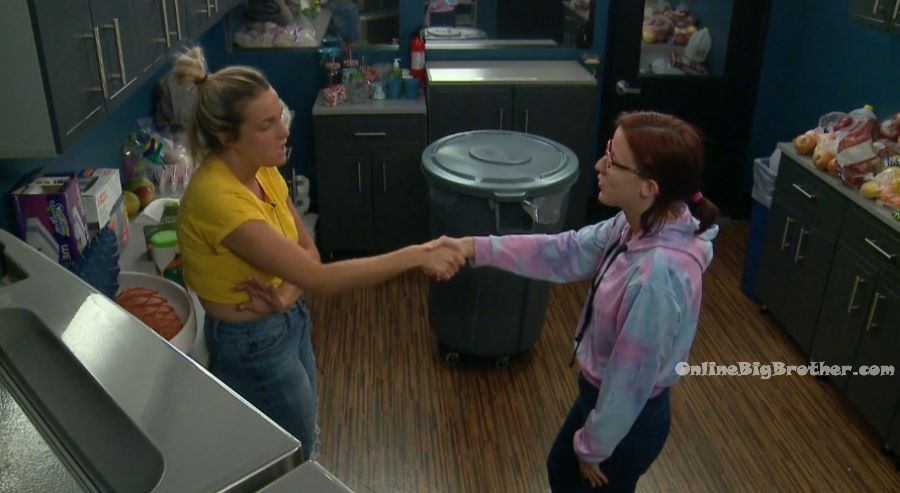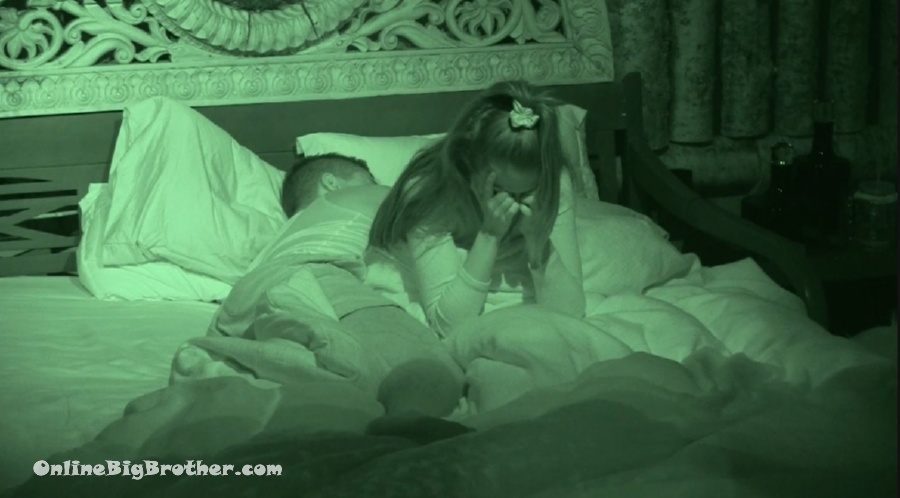 6:04 am Blue robin .. Cheep cheep cheep .. A black bird Cheep cheep .. a crow CAWW CAWW CAWW