Watch the feeds for free from the US using a VPN. We recommend HMA https://www.hidemyass.com/vpn/r16399/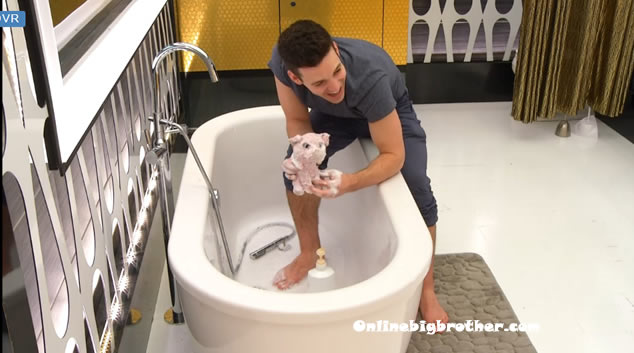 Kevin won the Head of household
Karen, Ika and Jackie are Have nots
Bruno was evicted 5-1
Triple eviction next week
(Videos are taking forever to upload tonight 🙁 )
Demetres and Ika in the have nots
Demetres says if he's on the block come eviction day everyone in the house will know who is target is. Ika says if Demetres is on the block and she's not beside him He'll have the votes to stay.
Ika – me and Dre, you're guaranteed 2 votes.
Demetres – nobody wants us here.. no one
They say with the exception of Jackie everyone has cruised this season.
They agree the entire house should be scared of them.
Demetres thinks Dillon is going to tell Kevin everything they said about him.
Ika – I don't care.. so is Jackie.. I don't care
Demetres wonders if Dre will help them.
Ika – her and William both suck..
Karen comes in temporarily to set up her bed.
After she leaves.. Ika says "Karen is worst than slop"
Demetres says if Kevin had won the HOH and Bruno was still in the house they would still be sitting in the have nots "Shitting our pants"
Ika agrees.
Ika says Bruno was Playing her when he said that Dre was running the show.
Complaining that all Bruno did in the game was lie.
Demetres says the whole house hates Bruno and Kevin.
They regret "Flipping" the house off Bruno and Kevin during the backwards week.
Demetres – pre jury go f*** yourself
Ika's sad because she couldn't win the HOH to protect Demetres.
Demetres tells her she doesn't need to win HOH to put people on the block she's that good
Ika to Demetres – "you're ok.. ok I'll take care of it"
Sounds like there Kevin tried to make a deal with Dre. Demetres wishes he was playing in the HOH.
Demetres – Kevin.. you can take the deal and shove it up your butt
Video cuts.. to Kevin picking William's back zits for 3 minutes.. when it flips back the have nots. Demetres is telling Ika how good she looked today.
Demetres says the entire cast sucks, "I don't want to talk to any of them" (boo fuc**g hoo)
Ika says the people left in the house would be in hell if they got him out, "I would run around this house and crate chaos.."
Ika says Jackie hung around them and gave them her curse.
Demetres – Kevin said he would put up Karen and Jackie
Ika – Kevin's a liar
Demetres – f****g liar
Demetres says they have to bury it with him and form up a group, Dre, William, Ika, Demetres and Kevin.
Demetres – if he gets us out this week… he's a sitting duck next week
Demetres – you guys were saying this before we sent Bruno home it should mean even more now when we have less numbers
Ika – he's a liar..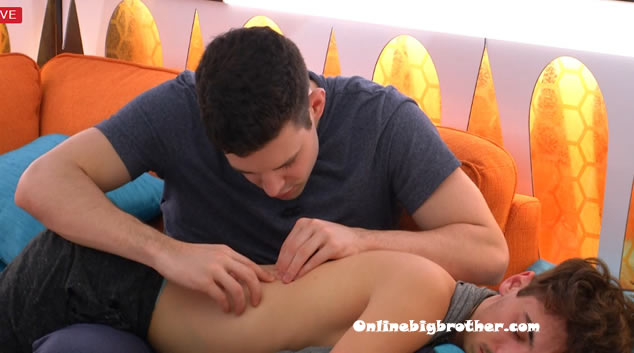 Ika in the HOH
Ika tells them Karen is worst than Slop, "She's already in there saying a bunch of sh1t"
Ika says Bruno tried to campaign to her 1 hour before the eviction. After he told her he had her back in this game he went downstairs and Told Demetres that it was Ika that tried to flip the house week 1 and get him out.
Ika goes on and on about week 1 and Bruno's final attempt to stay in the house..
10:55pm Kevin and Ika in the HOH
Kevin – you and Demetres are the biggest threats in the house right now. If I go after you, that's what everyone else wants. It would be totally beneficial for us to work together. Ika – I know, I do get it. Can I tell you something? We gave Ika a reward that she would not be on the block or be a replacement nominee. And we kept it, and that's Jackie.

10:55pm Dre and William in the red room
11:20pm Kevin tells William
Kevin – I think putting Ika and Demetres up is the best
Kevin says it's a sexy move.
Kevin mentions that Ika and Demetres just put him and Bruno on the block and they didn't want William to use the veto.
Kevin – Ika and Demetres is the play but i'm going to talk to everybody
Dre comes in. Kevin tells her she's safe along with William.
Dre – I just want to give my truth so that you see the difference between stories. Kevin – yes. Dre – I did feel safe with you being the HOH. Kevin – yes. Dre – I don't know what you're going to do but I know you have a lot of trust in Ika and Demetres. Kevin – yes and no. Because I know they've been taking stuff back to Dillon and Jackie. I really feel like they've been trying to pit people against me. Dre – yes. Because after you said we had the votes, I stopped campaigning to Will. You two, Ika, Demetres and I. But I know they've been taking stuff back to other people and that's very concerning. Dre – from the perspective of your game it might be better for you not to go after Ika and Demetres… because that leaves big targets in the house. And the rest of the people will try and go after Ika and Demetres anyway. Not that you're not a big target. You're probably the next big target after them because they're a duo. However, right now how its positioned .. especially after the veto and super power of veto is that people see you guys (Kevin & Will) as a duo now. If you don't want to be a biggest target I think keeping Ika and Demetres are better.
Demetres and Ika poolside

Dillon & Dre.
Dre – I know that… I strongly feel that Kevin is going after Ika and Demetres. Very strongly feel like that but I'm not sure, not 100%. That scares me that .. should I have just won that comp? Dillon – so that you could have done it? Dre – yeah, would that have been better? Dillon – I don't know. I think he is going after them. I don't know. It could be me on the block. But what do I know. Dre – but that's the thing .. I feel that if I did that and its going to be someone else other than them, then its going to annoy me. Dillon – yup. Dre – because I could have done it. As much as it would have hurt me and I would have been sad. I would have maybe felt bad, I could have maybe done it. Dillon – what it didn't seem like he was when you guys were up there? Dre – he didn't say anything. He's trying to say he is going to wait and talk to everyone and see what everyone says and then I'm going to judge an opinion. I think he is saying that so he can cover his a$$ and not .. so no one can say he said this and this. I just told him ..like .. I just told him .. listen .. I don't trust him. I don't want him to go back to them and say Dre said that. I said listen if you keep Ika and Demetres they're big targets so its true you hide behind big targets if you keep them in the house. At the same time if you don't they're going to come after you so its the matter of who comes after who first. I said you see what you want to do knowing that they're the ones that put you and Bruno on the block, obviously. Like we didn't do that. Dillon – there's a reason why Bruno went home. Dre – exactly, so I see no reason for him not to go after them. And a part of me just feels bad. I'm going to do what I have to do for us to stay in here but I just feel bad. Dillon – you feel bad for putting Ika and Demetres up … or wanting to? Dre – MMmmHHmmm. Dillon – its just like you said yesterday .. its just a matter of time before they come after us.. and now is a better time than any. I hope he puts them up. I should have won that competition. Dre – I was trying to influence him without influencing him.. and I was like you know Ika and Demetres have said things that are not true bla bla bla. I feel bad, my heart is too soft for this thing. I want him (Kevin) to get them (Ika & Demetres) out so that we can get him (Kevin) out after.
[polldaddy poll=9734567]
[polldaddy poll=9734569]