Watch the feeds for free from the US using a VPN. We recommend HMA
https://www.hidemyass.com/vpn/r16399/
Spoilers – Bruno Evicted 5-1 (Kevin was his only vote)
Next week is a triple eviction
HOH is endurance kevin won
Bruno and Kevin Storage room
Kevin – we can go upstairs.. Grab Dillon Grab Jackie sit them down say those guys are the enemies
Kevi – Jackie is in with Ika and Demetres she thinks she is but she's not
Bruno – does she believe them
Kevin ya
Bruno – then there's no point .. it's so f****g sad..
Kevin says the reason they didn't put Jackie up as the replacement nominee is the reason she thinks she's with Ika/Demetres.
Bruno – you better not end up in Jury brother
Kevin – I'll try not to
Bruno and Kevin agree they didn't like Dre's personality in the game.
Bruno – I can't even pretend it like it I just can't
Kevin agrees , "Just don't like her.. She doesn't like me"
Bruno says Ika was saying shit about Jackie to Karen and Karen's dumb enough to tell Jackie. If they can make Jackie realize that Ika is trying to pit them against each other.
Bruno – you think Karen would blow that shit up before eviction
Kevin – she might it's Karen

They talk about how bad of a game move Sindy taking Neda out was. They laugh about how they were invisible on the TV show this year.
They talk about how Ika is pitting everyone against each other right now. Bruno and Kevin agree Jackie is buying it.
Kevin thinks Dre is buying it. But Dillon and Karen are not.
Kevin doesn't think people like Ika. There will be fans that appreciate her game.
Bruno says Ika and Demetres are very arrogant.
There's a very strong trio Ika, Demetres and Dre it'll be hard to break that.
Bruno – let's hope there's something tonight, Canada votes.
Bruno – the only play left is get Karen and Jackie to talk
So they can compare notes about what Ika is saying to them.
Ika and Karen Red Room
Ika – do you think you're staying
Karen – I think something's going to happen and I'll be in the jury today for some reason
Ika – isn't that your mind playing tricks on you
Karen – I'm at the bottom now I'm below Jackie
Ika – no you're not at the bottom now

Jackie and Dillon Blue Room
Dillon telling her to be aware that if they don't do something about Ika and Demetres they will win the game.
Dillon – right now we have numbers to ensure..
Dillon says if you're trying to take down an empire and take the queen down you have to take out the strong soldiers.. "Demetres that's you".
Jackie – I like that
Dillon – whoever wins has to understand it has to happen NOW.. he's not playing in the HOH we have to take him out.
Dillon – if he wins Veto he wins Veto we take Ika out.
Dillon – One of those 2 needs to go this week it's imperative for all our games
They agree whoever takes Ika/Demetres out will have a HUGE plus on thier game resume.
Dillon – we have to take them out in order for us to have a chance at winning the game cause they are going to come after us
Jackie – yup.. I wish it was a instant
Dillon – she's going to go off
Jackie – it's going to be scary.. I'm going to be hiding
Dillon gives Jackie some ammunition to say to Ika.
Jackie laughs "you can say that but If I she'll punch me in the face"
Dillon – she's a very vain human being .. Whoever wins HOH and puts her (Ika) up there will be fireworks I can't wait I want it to be me
Dillon says he's got tons of comebacks for whatever Ika throws at him.


Dre and Ika Red Room
Ika says whatever happens they'll be OK.
Dre thinks something is going to happen.
Dre says she wants Bruno to go and she wants to win HOH, "I said Baby Jesus you know how bad I want this.. I call Shaka Zulu because he is a warrior"
Next week all they need is 3 votes to stay.
Ika says even if Jackie wins HOH she'll be fine. Dre agrees says Jackie will put up Kevin and William.
Ika – we just need to get past this week.
Ika calls Kevin a Slimy politician.
They think anyone but Kevin winning and they'll be safe.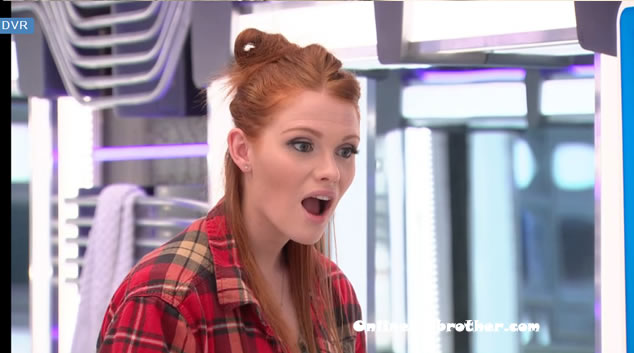 Jackie and Ika BAthroom
Ika trying to get Jackie to put Kevin and William on the block if they win HOH.
Ika says that Kevin 'Sore on his mom that he's not coming after me' (if he didn't get nominate)
Jackie says she's not falling for it anymore she's not taking anything from Kevin seriously. Iak says Kevin was pushing for Ika, Dre, William and Demetres to be a strong 5 and go after everyone else.
Ika says Kevin called Jackie a Liar.
Jackie – LIke Like
Ika – he's a liar.. it's easy for him to make other people look like a liar
Ika and Dillon HOH
Ika says Kevin has been running around trying top make deals and lie.
Ika – He sore on his mom to me, Demetres and Dre that he's not coming after us .. I'm not joking..
Ika says Kevin told her Dillon, Jackie and Karen are his targets.
Ika – when I give my word it means something in this house
Iak – he's playing a very dirty game..
Dillon – you can't be swearing on everything
Ika – he sore on his mom
Dillon – yeah it's crazy
Ika – he sore on his mom.. he did
Ika goes on about how Kevin is trying to get Dillon and Jackie put up.
Ika goes on about how dirty Kevin is. "I can't wait to turn up on his a$$"
Ika now says she won't swear on her kids unless she's willing to go through with it
Ika – Dre needs to know William is not with her.
Ika says she's going to put Kevin and William on the block, "and i'll tear them up with that f***g speech"
Dillon laughs "I can't wait"

[polldaddy poll=9729132]
[polldaddy poll=9729778]
Share it YO!!
Tweet