Watch the feeds for free from the US using a VPN. We recommend HMA https://www.hidemyass.com/vpn/r16399/
Nominations are Ika and Demetres
Kevin and Jackie HOH (In Jackie's defense not a lot of likes in this conversation)
Jackie says Ika scares the living shit out of her.
Jackie claims to be changing her gameplay. She doesn't care that people know who her true targets are except for Ika because of what's happened in the pat with her.
Jackie says the last thing she told Bruno before he left was that she'll take Ika and Demetres out, "I'll do it for him Sindy and Neda"
They agree Ika has been pitting everyone against each other. William against Jackie, Dillon against Kevin, etc etc..
Kevin says he really bought into the peasants alliance. It would have worked out if they got power that week. Jackie claims she never sold them out to Demetres.
Ika and Demetres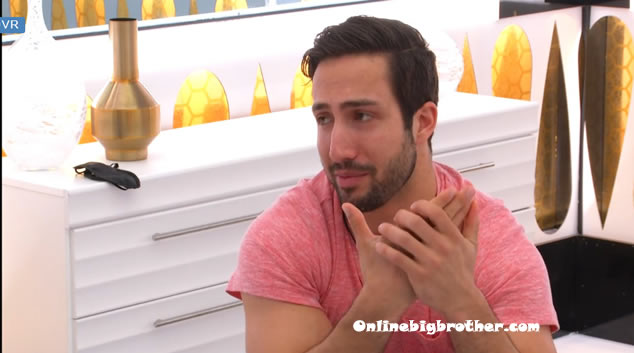 Kevin and Demetres HOH
Demetres says he knows how "this works" everyone is offering Kevin safety so he's going to 1 up it.
Demetres – next week me and Ika win you're off the block no backdoor no bullshit and if you end up on the block POV I'll take you down Ika will take you down
Demetres – and you know I don't have it in me to throw a comp.. I'm too competitive
Demetres – I'm telling you my word means stuff
Demetres – I just want to stay I just want to play..
Demetres says he never trusted Bruno and if he could trust him the 4 of them could have done great.
After Demetres leaves.. Kevin goes "Ohh this game"
William and Kevin HOH
Kevin says next week he's got William playing for him and Maybe Dre. Ika and demetres whichever one stays will be pissed. He doesn't trust Jackie either.
Kevin isn't sure of about Karen and Dillon.
William says Dre won't be coming after kevin.
Kevin – I know Ika and Demetres is the right move
Kevin says Demetres and Ika have promised a lot of stuff this morning.
Kevin says putting Karen or jackie up is a weak move.
William says Kevin will be unhappy if he puts Karen and Jackie.
William – Ika can manipulate a lot of people, Demetres can win comps.. Karen not too much.
Karen and Kevin HOH
Karen says Ika needs someone to hate.
Kevin agrees – "we've all taken turns"
Kevin says Jackie's game is nauseating
Karen – I cannot stand your game.
Kevin – it's awful.. it's terrible..
Kevin says he promised Dre/William that they are safe. "I'm going to put Ika and Demetres on the block"
Kevin adds that Bruno told him if he helps out Karen/Dillon they will help him out. He believes he can trust them.
Karen warns him that William will never betray Dre.
Karen says nothing would make her happier if Ika went home after sh'es been so mean to Karen. Brings up going on the block last week and Ika ignoring her.
Kevin says the blow up they had was the best thing to happen to their relationship. says that Bruno "actually" enjoyed his conversations with Karen.
Karen – I think the kingdom is falling
Kevin – it is, it's going to fall this week
Karen says Dre is hoping he puts Ika/Deemtres up too.
Karen thinks Demetres will stay up against Ika, she's worried that the boys will band together and take out the girls.
Kevin doesn't see that happening Demetres will be out for blood after Ika leaves.
kevin – I want to band together with Dillon.
Karen warns that Dre is working Dillon hard but Dillon trusts Karen more.
Kevin knows Dre is working everyone hard.
Karen says Dre and Ika are very close.
Dillon joins them.
Karen tells him they are going up and Jackie will be the replacement nomination.
Dillon – OK..
Kevin – Ika and Demetres are the nominees… Done..
Kevin says the last 8 hours have been unbelievable the deals people have offered him.
Karen says she's the current person Ika hates. Kevin says it was him for about 10 days.
Kevin gets called to the pantry.
Karen says she's on day 5 of the hatred.
Kevin leaves..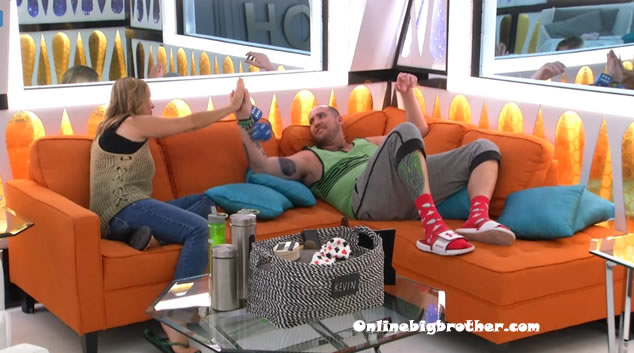 Karen says everyone is pushing for them to go up so game has changed.
Karen warns that he can't tell Dre much right now
Dillon says Kevin and Karen are his people right now.
Karen I trust you.
Dillon – I trust you you're my mom
Kevin Tells Ika and Demetres they are going up
Ika calls him a Mother F****er after he leaves.
After Kevin leaves.. Ika and Demetres go on about not trusting kevin. Demetres seems to be taking it harder than Ika.

Jackie and Dre

Ika says if they leave her in this house it will be their biggest nightmare
Ika – nothing makes me smile more than revenge.. it fills me with joy..
Ika's rampage complete

Dre goes up to the HOH Fill William in on what Ika was saying.. Mocking her.
William says Ika should go f*** herself.
Dillon brings up his encounter with Ika. She was accusing him of throwing her under the bus.
Jackie joins them. They start laughing. They all agree Kevin didn't say anything he didn't tell Ika they all threw her under the bus.

Ika's rampage continues..


The first video has Dre thinking she deserves an Oscar award. Karen and William join her and they start talking about Ika. Karen calls Jackie's game "Flip flop floaterville"



6:01pm Feeds come back Ika and Demetres moaning about Dre being ungrateful for all they've done for her in this game.
(THey had a task involved houseguests licking whip cream off each others faces . Sounds like they may be getting alcohol)
6:25pm Ika and Demetres in the Bathroom
8:10pm Jackie and Dre
Talking about wanting Ika out.
Announcement on the Speakers says the nominations ceremony is in 1 hour.

Kevin tells them he's putting them up.
[polldaddy poll=9734567]
[polldaddy poll=9734569]