POV Holder:
?
Next POV
?
POV Used
?
POV Ceremony
March 24
HOH Winner:
Racehlle
Next HOH:
March 27
Original Nominations:
?
Current Nominations:
?
Last Evicted Houseguest
Paul, Kyle, Anick
Have Nots
Adel, Sabrina, Heather, Arlie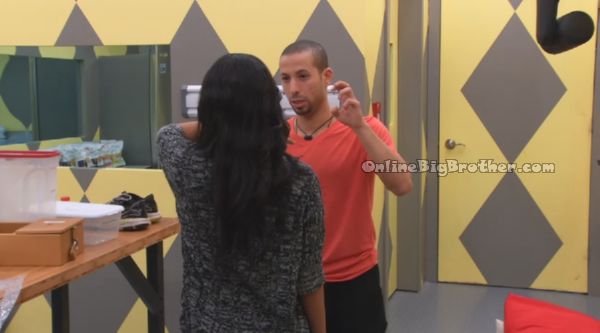 11:04pm Girls alliance (Ika, Sabrina, Neda and Rachelle)
Ika saying she had a gut feeling Sarah was going to flip the vote
IKA stressing says the guys are after her.
Adel wonders if Rachelle can maybe help her.
IKA – "Racehlle is stupid she put you on slop she put Sabrina on slop she left Andrew and Kenny off slop and wants Heather gone she's not going to help this week.. I'm screwed "
IKA – "Sarah knew the whole time they were coming after me"
Adel brushes it off tells her she has him and an entire week to build an alliance.
IKA syas that Sabrina is way closer toe Rachelle than she is.
Adel doesn't care tells her to get in there, "Stay in there and keep chilling.
IKA tells him Racehlle will be putting up Heather and New girl, "They're so stupid Adel so stupid"
Adel says that Sabrina wants New girl out because she is making out with Andrew
IKA – "The cold sore lip one"
IKA laughs "the cold sore lip Andrew.. he picks his nose to eat from it"
Adel suggests she not push Rachelle she can't afford for her to be made at her. Adel says he warned Rachelle to talk to everyone one by one but make sure Sabrina is not in the room.
Adel – F*** Sabrina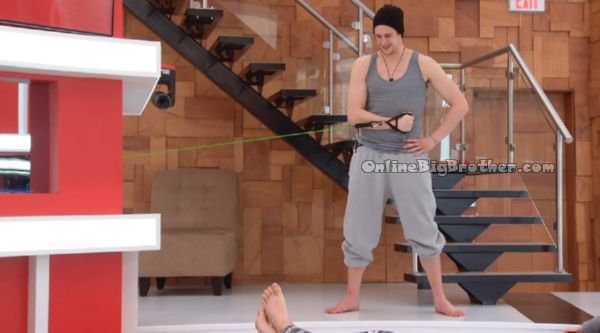 11:00pm Living Room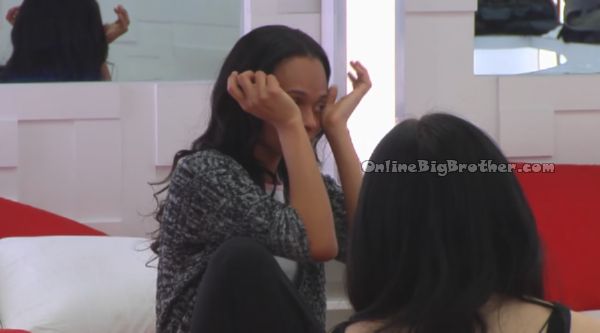 11:26pm Bedroom IKA, Rachelle and NEDA
IKA saying the boys are coming after them they are not targeting Adel anymore. NEDA suggest they leave Heather and target the boys.
IKA – I HATE THEM"
The three girls all say they were getting a weird vibe during the vote.
Rachelle about Sarah "I don't even look at her anymore she's disgusting"
Sounds like the last two in the competition were Sarah and Rachelle. They agree Sarah isn't worth getting rid of this week. They also mention that Heather is a waste of a HOH.
NEda says they are in a good position now that Racehlle has one HOH. IKA "The minute you won you should have seen Andrew and Kenny's faces"
NEDA – "They're faces dropped"
Racehlle says the boys will be really nice to her this week. IKA wishes Racehlle would have put Kenny and Andrew on Slop. Rachelle explains that by not putting them on slop she gains a bit of trust.
They suspect Arlie is bullshitting them the entire time.
Sabrina joins them. IKA says it was a waste of a HOH and she feels so betrayed.
Sabrina says that Sarah was her best friend and she betrayed Sabrina, 'She didn't care that I was exposed"
Ika starts crying again says Andrew got exactly what he wanted.
Sabrina says that Heather told the four girls that voted her out to go s**ck a d**ck. NEda – "Why don't I ever hear this"
IKa starts getting feisty says she'll go tell Heather to go suck something.
Sabrina says that Heather gained 15 now that she is on slop she can lose those 15 pounds.
Sabrina – "you know how you lose 30lbs you chop off your head"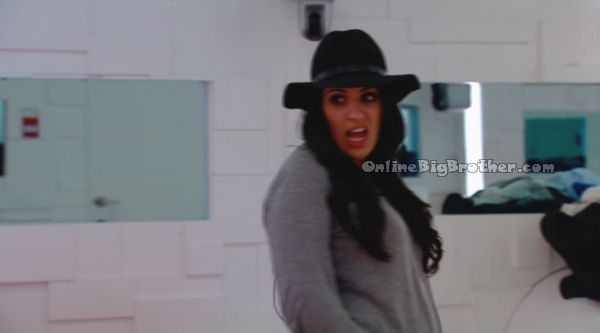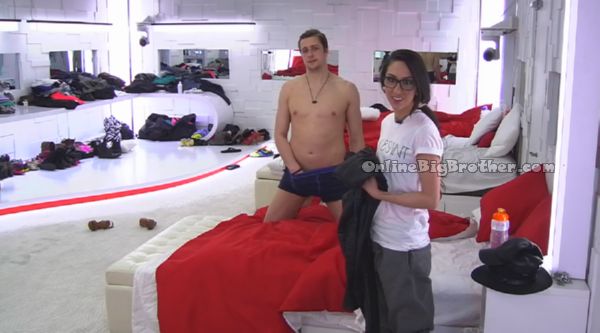 11:48pm Bedroom Sabrina, RAcehlle, Kenny and jon
Bashing heather because she doesn't know who "Howie" is from Big Brother Season 6 and 7. Sabrina – "She claims she's a super fan"
Jon doesn't get it says he doesn't know who Howie is. Kenny says Howie was a big deal.
12:06AM Backyard Arlie and IKA
IKA crying becuase her HOH was a waste she wanted Heather gone. IKA calls Sarah stupid says that the girls she rolls with are not stupid
IKA "Racehlle is a beast.. I'm not going to get with girls that are useless they are not useless" (LOL IKA may be more full of lies than Sabrina)
Arlie says he never thought they were weak or stupid, he stresses that Sarah has never been in any game conversations with him he doesn't believe she is with the guys.
Adel joins them and says Heather going home would have helped the entire house, tells IKA she's safe this week and next week is a entirely new week.
IKa says she hates Heather not only because of her voice but also because she's a coaster.
IKA – "Its the whole house against us and Adel.. even though Rachelle won HOH"
IKA goes on and on about how stupid everyone is. Arlie really plays up how he doesn't know what is going on in the house. He's embarrassed
IKA points out that arlie is at the bottom of the guys just like IKA is on the bottom of the girls. They head to teh hot tub room. on the way there IKA has this to say,
IKA – "If the F*** Bride of Chucky looks at me one more time I'll punch her eyes out"
(Bride of Chucky = Heather)
Want to watch the Big Brother Canada 2 live feeds? Bypass the geoblocking with HideMyAss VPN and be Canadian Anywhere:

(It's tough to watch Big Brother Canada from the US. Circumvent the Geo Blocking and watch the Show and the Live feeds straight off Slice's website. Using a pay VPN is very easy and free of malware, I do not recommend using a free service as these are notoriously trouble. $11.00 A month Sign up here
[polldaddy poll=7898587]