I really wish they would let us watch the feeds on day one as they come into the house. So much is missed :( From what I've pieced together the plan was to get Josh out for trying to expose a "pretty boy" alliance (they were just too damn pretty) and generally causing some sort of commotion. The morning of the vote (or the night before) Latoya appears to be the catalyst to flip the needed votes against Julie. Julie seems to have been disliked by some houseguests, sounds like she outed a lot of alliances, real and fake. Fearing eviction Julie blew up on Josh and swore right before the vote.
It's apparent that Jedson and Tychon are core in a lot of alliances. Latoya also seems to be playing with a lot of people.
Austin Will be nominating Kiefer and Josh. If the power of veto is played this week. Rohan is the expected replacement. I believe the target is Josh but it's still early. If Josh wins the veto I am unsure it's cut and dry with Rohan leaving. There's a lot of game to be played this weekend. :)
I won't be keeping track of all the goofy side quests they add into BBCAN as it just means more feed blockage. there was one today that involved in Kiefer losing his bed he now has to share with someone. Some houseguests also have to eat PB&J all week. It's murky.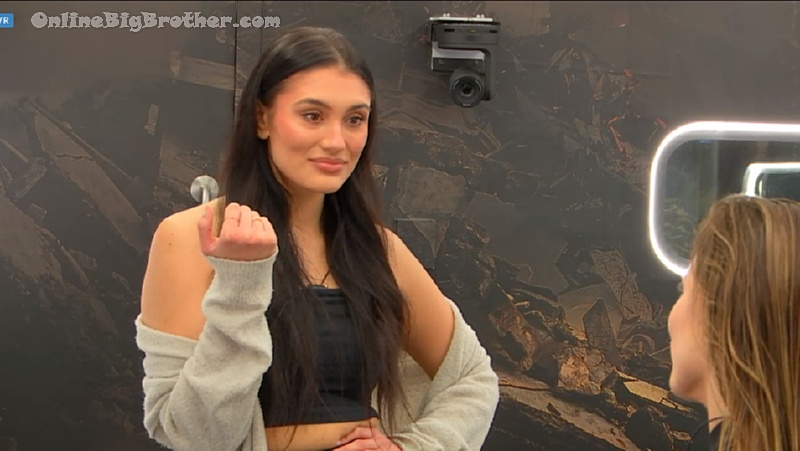 11:30 am Tera and Austin had a chat in the "Destiny" bedroom.
Tera says it was really good for Austin that Julie left. Tera says whatever Austin decides this week she's open.
Austin – you don't have an agenda
Tera – no.. which makes me a little nervous. Are there alliances forming and I'm just not in it?
Austin says she "genuinely" likes their team.
Austin – I don't think I can compete next week (superfan)
Tera – ohh that is maybe how the teams even out
Austin – maybe….. 5 to 7 ..
Austin says on the other team she hasn't spoken more than a couple of words with Rohan. But she still likes him. she says she has no reason to put up Rohan, "At this point".
Tera – did you hear ALL the alliance that came out? there was a few
Austin – I didn't hear all of them.
Tera – I hate even saying them.. I forget who said them it was all chaos
Austin – I heard Julie say some.. I was like huh
Tera – they originally all came from Julie. I don't know if they were real. Apparently, there was a final four with the first four houseguests that had Julie in it.
Tera – I heard the one that was you, Julie, Breydon, and Vic. Within that one there was a final 3 that didn't involve VIc
Austin – that is ridiculous to me
Tera – the house knows Breydon is safe this week.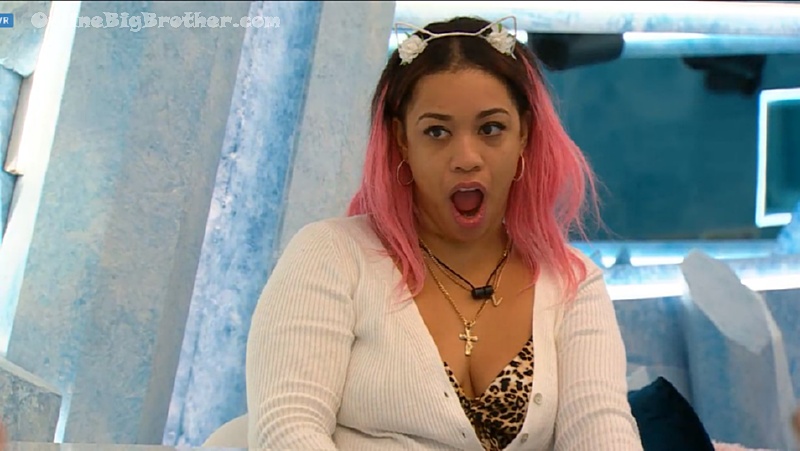 12:45 pm Victoria, Tina, and Breydon have a conversation about putting Kiefer and Josh up. Telling josh he's the pawn.
Josh up to the HOH followed by Kiefer. Josh hinted at Jedson going up and Kiefer suggested ROHAN.
1:28 pm Kyle and Austin
Kyle is asking If Rohan goes up if veto is played. Austin says she doesn't know.
Austin mentions how "they clicked with Julie the first day then never saw her again"
Kyle – we were the first four in I was like ok this could be an advantage to talk literally after the first day I didn't talk to her once.
Austin – I noticed you are cool with Ro and close to Tina and Tera. Those people she's not close to
Kyle says if he has Tina and Tera in his back pocket and she has Breydon, Beth, and Vic
Austin says no one will suspect that they are close "We can keep each other safe on the outs".
Kyle – let's say you put up Josh Kiefer who do you think?
Austin – I don't know.. I did have that initial fear of Kiefer..
She explains her fear is Kiefer might go after her.
Kyle says if she decided to keep Kiefer he can get into his head and "sway him".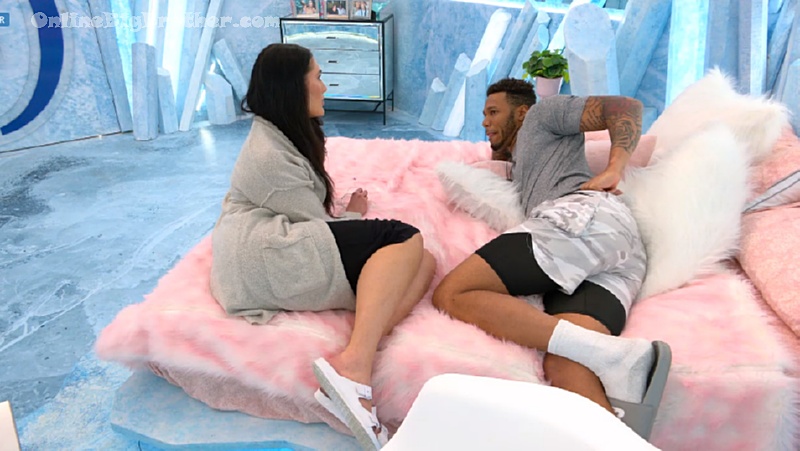 1:52 pm Austin and Tychon
Austin talks about the vote to get Julie out and how that was good for her game. She always felt on the outs with Breydona, Julie, and Vic.
Tychon – Josh already planted 'that pretty boys' in everyone's mind
A – are you tight with Kiefer. My worry with Kiefer is he's also a fan. I don't want to become that target.
Austin says she assumes that Josh goes out if she puts him up against Kiefer. If the Veto is played she's going to have to put up RO.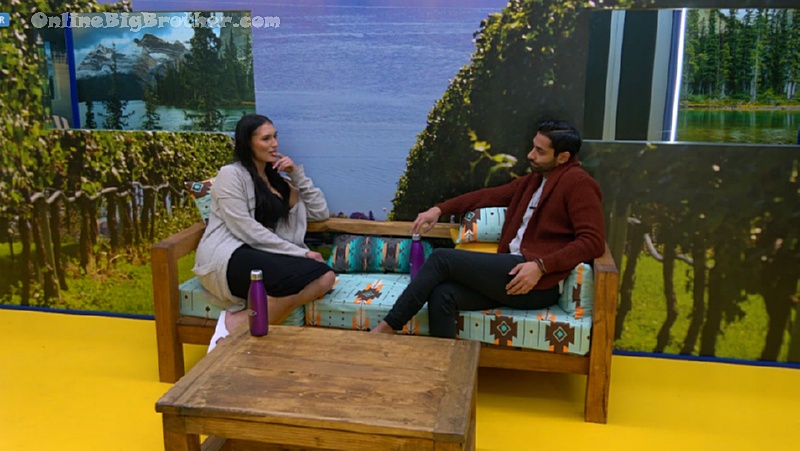 2:34 pm Rohan and Austin  Chit chat…
Rohan – we're good.. I just wanted to get into your head a little bit and see what you are thinking
Austin – I just hope the noms stay the same so I don't have to do it twice
Rohan – I hope noms stay the same too
Austin – they will we just don't want Josh to win
Rohan says nobody on his team will use the veto unless it's Josh or Kiefer winning.
Rohan says he likes Breydon and is going to try and establish a closer relationship with him.
Austin – glad we're on the same page.
Rohan – love it
Austin – love it. I'm excited
R- I'm excited for you.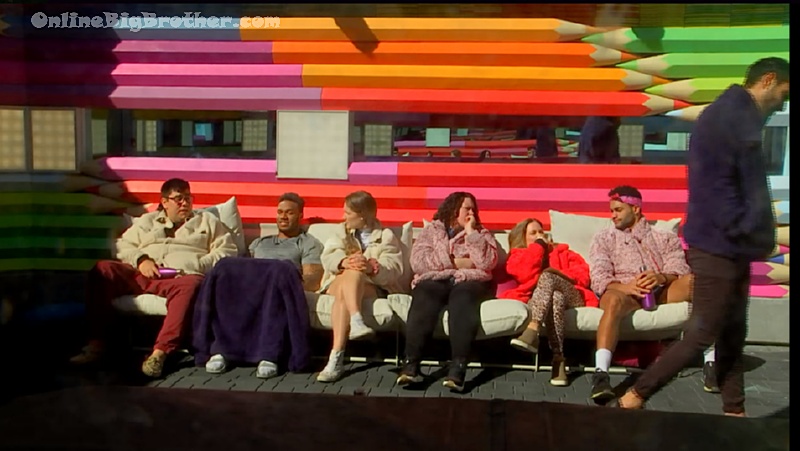 The one thread of sun attracts the houseguests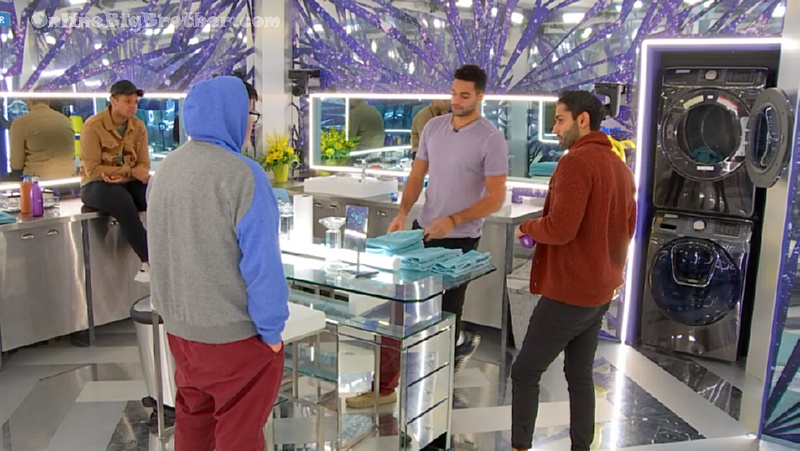 2:43 pm Rohan, Kiefer, Breydon, Jedson talking about how they need to win the veto so it's not used.
Jedson – if I win POV should I keep them the same
Kiefer – keep them the same.
Rohan leaves.
Kiefer tells them he thinks he's in a very good spot doesn't hold it against Austin. Says him not talking to her early on is on him, not her.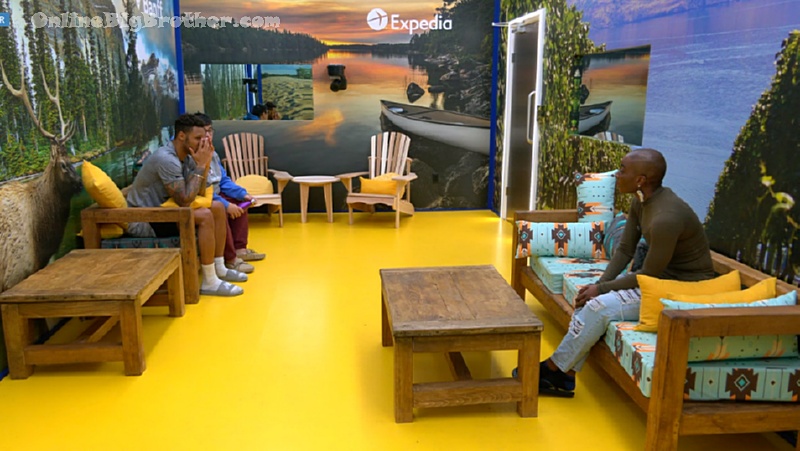 3:30 pm Kiefer, Laytoa, Tychon
Kiefer says he's positive he'll be nominated. Mentions his talk with Austin earlier today. Adds that Austin said the target is Josh 100%.
Kiefer – I said having me there doesn't make complete sense because I am not the strongest competitor I said that's basically the only pitch I don't have.
L – that's a good pitch.
K – we got the numbers no matter what..
Kiefer brings up Austin asking him if Josh comes down who goes up.
K – I said the easiest option would be Rohan
L – yeah .. I would assume
K – She said yeah .. and I would feel good against RO as well.
Kiefer – If you win the veto don't pull me off
T – yeah
K – That would expose. If you pull me off it makes no sense. People ask me have you talked to Latoya? I said Latoya has given me nothing she's stone-cold super real says it's too early.
K – We have to make sure it doesn't look like we're all working together and we are until the six is the six you know what I'm saying? We can't start getting picked off now.
K – If we start getting picked off now are you going to bring someone else in
L – no
T – you just have to make sure not to make yourself a target.
Agreeing they have the votes to keep Kiefer safe this week if he's up against Josh.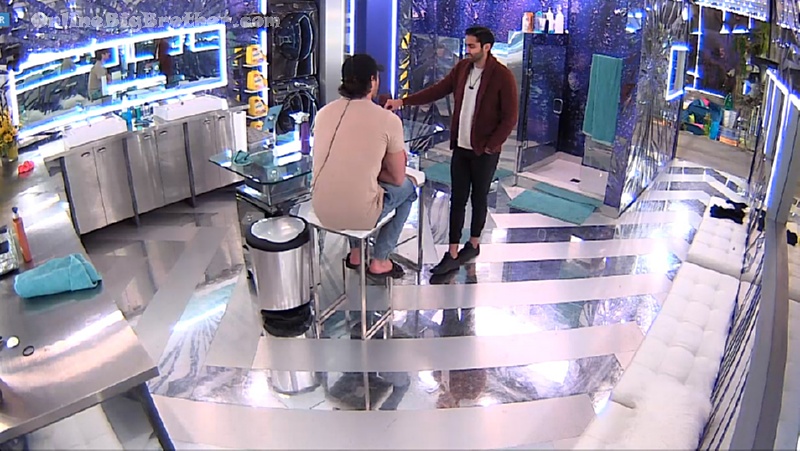 3:55 pm Kyle and Rohan want to keep Kiefer.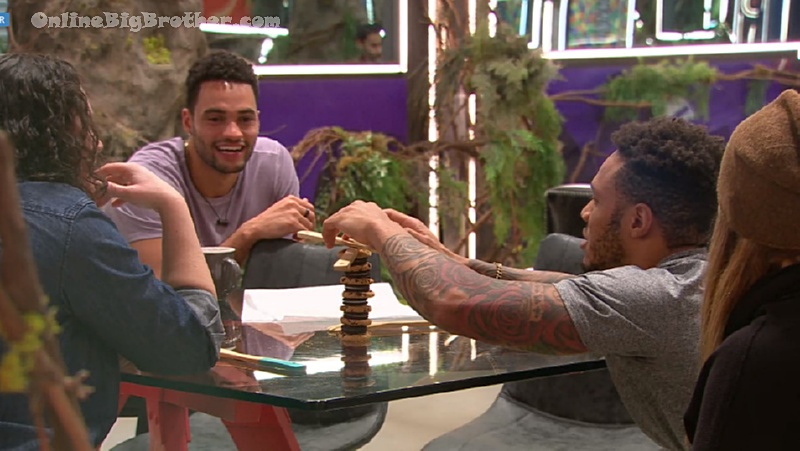 6:00 pm Just some fun before Nominations.
7:20 Beth dances
9:05 pm Feeds have been down for awhile. It's BBCAN who knows if they'll come back tonight.
9:17 pm Feeds come back Nominations are Kiefer and Josh.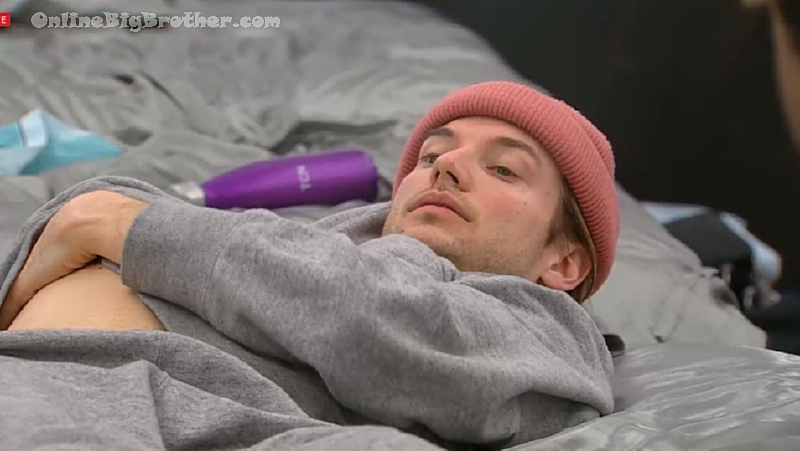 9:20 pm Josh and Victoria
Josh – I told Austin I don't care if you nominated me just don't say anything embarrassing as the reason why.
Josh goes on about it being embarrassing going out second and not being memorable. .
Vic – Kiefer isn't helping his case with the things he says
Josh thinks he's the pawn. Says that he was the easy nomination for Austin to get Kiefer out.
Victoria – you're not the target.
10:52 pm Together working on a song ..
11:31 pm Most of the house is hanging out in the living room. NONE of them know anything about the live feeds. Josh brings up a season where someone was given a h@ndy  and it made it one of the live feeds. JOsh  "Kiefer knows" Bethg "Really?" Josh "I dunno, Kiefer was tuning in"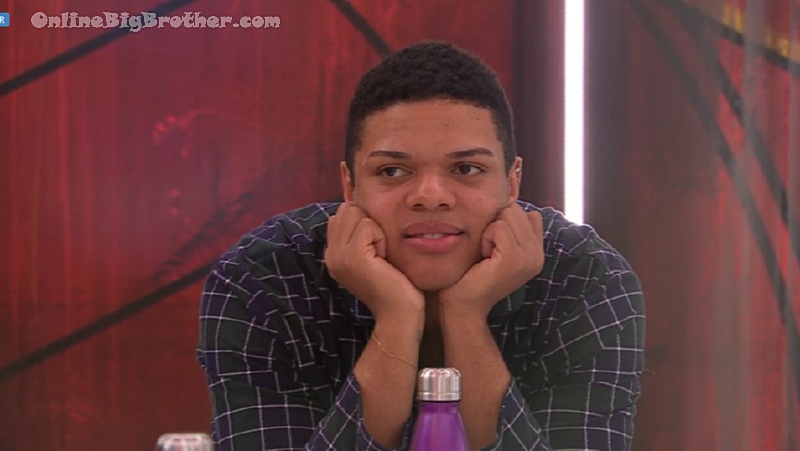 1 am – 1:20 am HOH room. Braydon and Austin.
Austin – I don't know if there is any escaping that everyone knows we're friends. Braydon – I don't know.. because it is what it is at this point. Austin – because everyone is like well you're obviously not putting up Braydon. Braydon – but that's what I hate because that's the same as it was with Julie. And I don't want you to be put in that situation. Did I tell you that I talked to Jed? Austin – no. Braydon – I was like I am really happy with like the 5 of us that we have now. And I was like let me know. And he was like he never had a chance to talk to me like alone about game because Julie was over there and like whenever we talked about possibilities of who to put up it was always like you, Austin and Julie. And I always wanted to put up Julie. And he was like I thought you and her were a lot close. And I was like no. And he was like you name and her's was really thrown around a lot but don't worry we were always going to get Julie out.. like we were never going to get you out. And I was like what?! Austin – I literally never heard your name once. I am like how the hell aren't people targeting Tina and Tera? Braydon – I know because Tera is going to start winning things. Austin – you think? Braydon – yeah, she almost won that one. Austin – true. Braydon – same with Tina.
Beth joins them. Braydon talks about how Keifer has been telling everyone that if he wins the power of veto .. like him ..  he is like I am not using it. Beth – him?! Stop it right now! Braydon – he has been like this is the best thing for our team.. this ensures Josh goes home. He was like if I get house guest choice and I pick you Jed.. and you win..  don't use the veto on me. Don't use it at all. Beth – I hate over confidence like that.. even if he was like the pawn I would be like BYE! Are you insane dude! Beth to Austin – is everyone aware of your plan? That it is the Keif .. that is happening. Austin – I don't even know if that's my plan though. I don't know if I could use that angle and be like listen as discussed your idea of being a pawn like so smart! Braydon – Keifer is such a wildcard with me.