At this point Austin plans to nominate: Keifer and Josh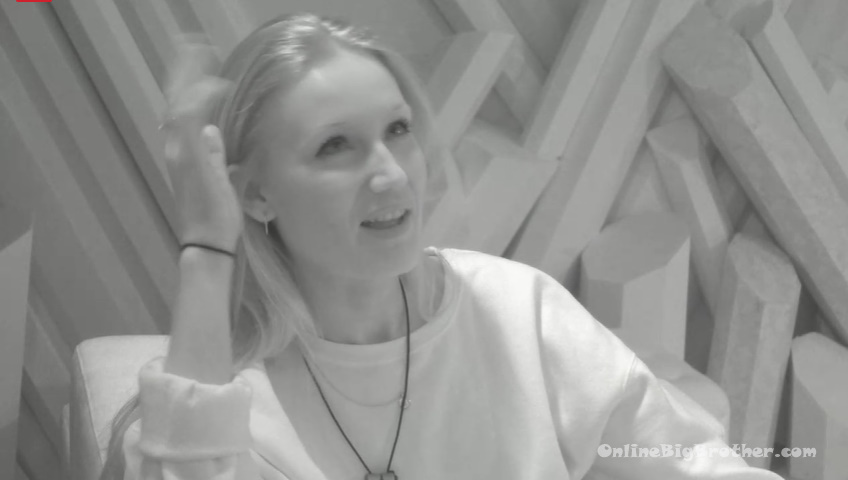 1:50am HOH room. Austin and Beth.
Beth – this is like our best case scenario .. like I am so f**king happy for you dude. Austin – I know. I would kind of like prefer if like thinking now .. if Keifer went. Beth – the thing with Josh is like.. its like a collective group thing. Like if any of us see us talking with him no one gives a sh*t because he is kind of useless now. Austin – yeah. Beth – no one shares any information with him, no one believes anything he says .. like if he were to make up a lie I would be like oh god. Austin – yeah like literally. I just feel like.. I don't think Keifer likes me. Like whenever I speak he doesn't engage with me. Beth – I've noticed. Austin – he doesn't like me. I don't want him around because he is like a wildcard that is a fan of the show. And he would be like lets do something crazy this week and everyone is like thrown off. Beth – oh and everyone would be like where did that come from? Austin – yeah. Beth – and why!? Austin – yeah. Beth – he knows the show. Austin – and he is tight with the guys. And like I have never spoken more with him than today. He was in my room twice. Beth – he was in your room twice? Austin – yeah. Beth – he is freaking out. Austin – yeah. Beth – its too early for people to be campaigning and sh*t. Like relax! Austin – I was like can we have a day!? I am not going to talk, I am just going to let people come to me and I am going to sit back. Beth – yeah. Austin – I am just going to act clueless and get as much info as I can get. Beth – 100%! 100% Dude! Austin – I am not going to be up in peoples faces and be like yeah totally you're safe. Beth – yeah I know. Its actually crazy how clueless people are about me and you too. I f**king love it! We'll keep talking and I will tell you everything .. you know that. Austin – yeah. What do you think that Braydon should do in terms of talking to people? Beth – like who he should get tight with? Austin – Like how do Jed and Tye feel about Braydon .. because I know they didn't like Julie.. which was understandable. Beth – it was literally just Julie. Austin – Because I want Braydon to be okay. Beth – I know .. me and Braydon had a chat up here and I was like dude you need to get close to people. I don't know if he knows how to talk game. That's why I want him to be involved in something that is like me and you.. because he is like good at comps. Austin – I literally said that everyone is looking at Jed, Kyle or Tye.. Beth – in like two days.. instantly gone! Austin – literally. Long term for us we need to be covered from more angles than one. If it comes down to people and social .. they're going to look at Jed and Tye. Beth – which is going to bite us in the a$$ down the road. Like they will take us far. Austin – Jed and Tye? Beth – yeah. You know what kind of sketched me out .. Jed came up to me in the pantry and was like I'm a little nervous. Austin – the six is gone obviously .. and I don't know if that trust is established. You know what I mean? Beth – MMmmhhmm.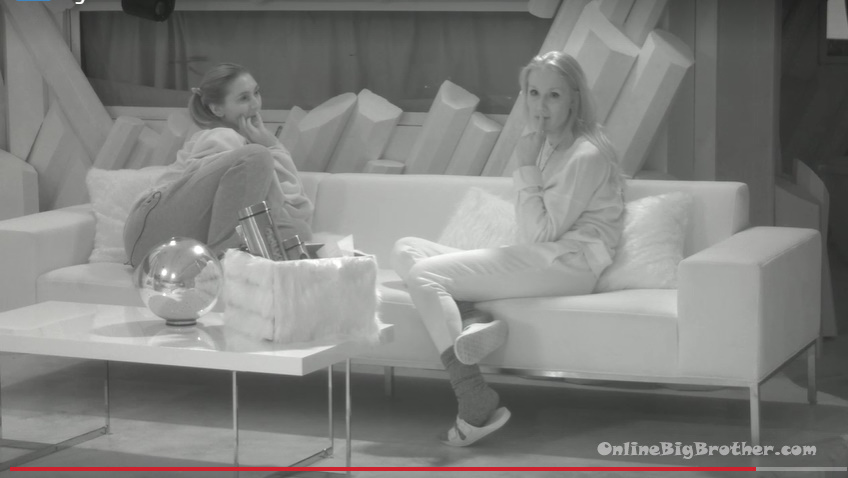 Austin – and like I am happy to be loyal to these people but like I don't want it to flip on me. Beth – I can't! Like I won't! You and me are like playing good games. Austin – yeah I agree. Beth – Every time I walk in a room with Kyle and Tye.. its super super sketchy. Its happened 3 times. Austin – really!? really!? Beth – three times! Austin – I want to be loyal to Tye.. and Jed but.. Beth – but they have other sh*t going on. Austin – 100%! They have a final two. I don't want to get too too far with big huge guys that are going to wipe the floor. Beth – that's why we have to have a secret something else. Like who else is going far? Braydon is going far. Austin – I actually don't feel ask sketchy with Kyle because he has been making it really clear over the last day that he is interested in me. Beth – in you? Austin – yes. Has he been doing it to you too? Beth – no. Austin – ok, because I think the boys are double crossing. Me or Beth or both.. one on each arm? Beth – I am really nervous of Tera .. she's not sketchy she just says things that … she has kind of offended a couple people. Austin – I know. Beth – like without knowing it.. and I am not doing that. We do need other people… just in case Jed and Tye want to f**k off. Like I do want to look at all angles. Like who is going to screw us over. Or one of us because hopefully no one ever finds out we're together. Austin – yeah. Jed joins them and breaks up the conversation.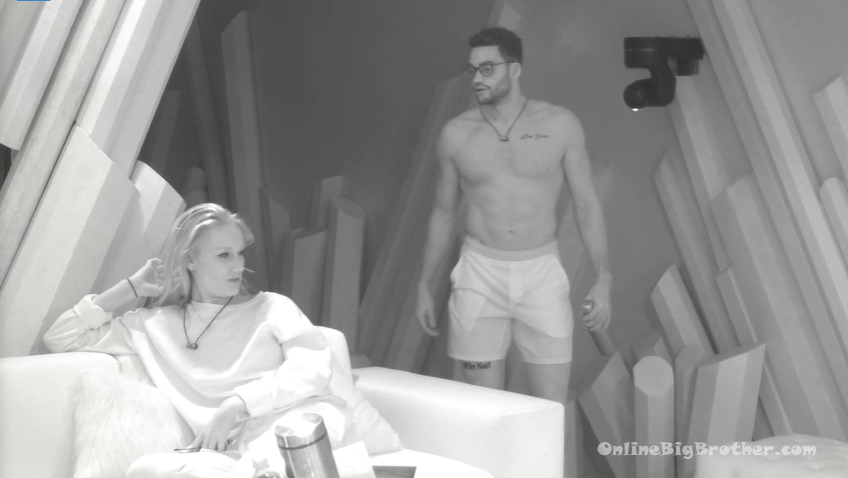 2am Jed and Austin.
Jed – who do you think you're throwing up? Austin – I don't know ..like I need to talk to everyone. So everyone can let me know how they're feeling. Jed – that's fair. Austin – I feel like its fresh. What are your thoughts? Jed – my initial reaction would be Keifer for stepping on toes and Josh but I don't know what will happen over the next week. I mean .. I don't even know when noms are. Austin – me neither. I mean obviously I am good with you. Jed – I don't know. Austin – what do you mean you don't know? Jed – I don't know.. I feel like everyone would sweat in this situation. Austin – we don't need to sweat.. we have the four of us. We had the six of us. So I wouldn't be sweatin'. Jed – at the end of the day it is your HOH but its a team decision so like it can't all fall on you. Austin – I just hope with this veto everything stays the same or I am going to be like f**k! Like what do I do!? I would have no one to choose from. Jed – that would be really hard. Austin – I am really actually shook that Julie said this stuff.. and it wasn't even accurate. Me, Julie, Braydon, and Vic is that what it was? Jed – yeah she told us that. Austin – That literally isn't an alliance that ever happened. I was like LOL. I swear on everything I wasn't in that. Jed – I never thought you were. I think you just chill out and take your time. We literally have all the numbers so whatever you want to do we will do. Its a good position to be in. Obviously moving forward we are tight. And obviously you can't play next week so we got you. Jed and Austin hug and Jed heads out of the HOH room.