Head of Household: JED
Nominations:Tera and Tina Kiefer
The Power of Veto Players are: everyone but Breydon
POwer of Veto Winner: Tera
Power of Veto Ceremony: Tera used the power of veto and Kiefer was the replacement
Have nots: ?????
Big Brother Spoilers – Kiefer is now nominated. He will be evcited.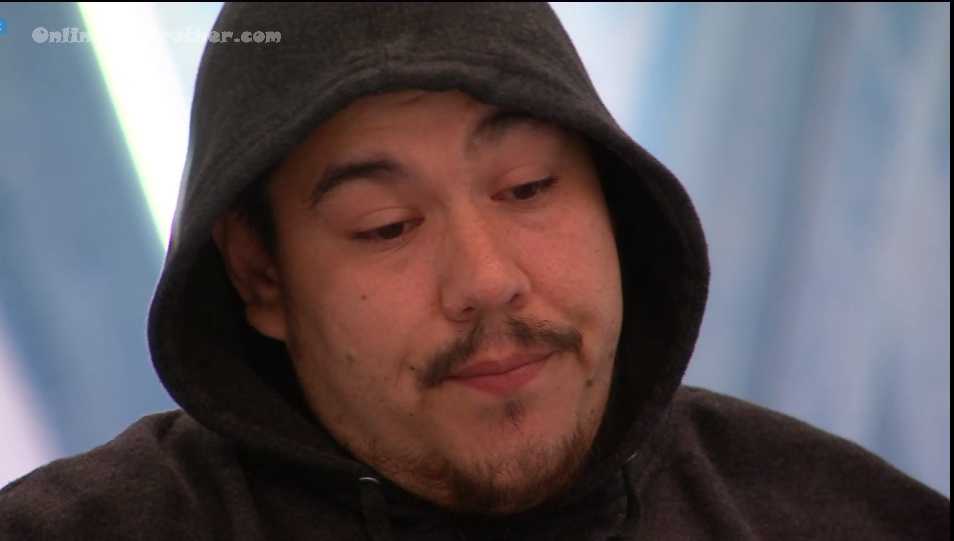 12:20 pm Sunsetters…
Kiefer – I get it.. If you put me up just send me home.. I would have never done this to you guys. I just wish it wasn't you
K – I'm an idiot
Jed – no you are not
K – I am Jed
Ty – you played this game well
K – I'm such an idiot..
Kiefer – I will throw the next HOH I will do what I can. I feel like the decision is already made. If I go up next to Tina why would you keep me? In my head it makes sense.
Jed says they respect Keifer's game so much.
Kiefer says they could have been the greatest alliance of all time
Jed says the alliance crumbled week 3 with Tina
K – do you guys have a name with the three?
Jed – the trio apparently
Jed says they can't have the greatest alliance of all time because Tina faltered.
Jed – once LT went home it put a huge wrench in this alliance
Keifer points out that after they voted to evict him he won HOH
Kiefer – I kept the 3 people that voted against me safe
Kiefer says Breydon floated so hard "I f**ing worked for you guys.. and he gets to have those memories with you"
Keifer – I have to chill with Rohan and Vic
Jed – my number one thing is loyalty my number two thing is don't play too emotionally
Jed says this is a game decision
K – this sucks
Jed – this sucks for all of us
K – can't believe it's me
jed goes on about kiefer beign thebest player
K – the best player wins Hed
K – it's all good I'm just a kid from the rez..
Ty – you will be remembered
K – it hurts.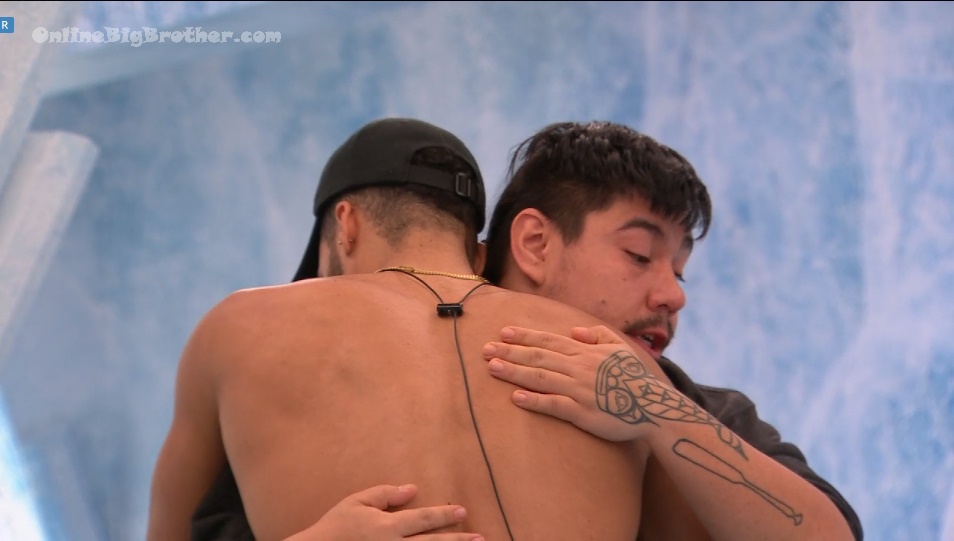 They hug.. Kiefer leaves..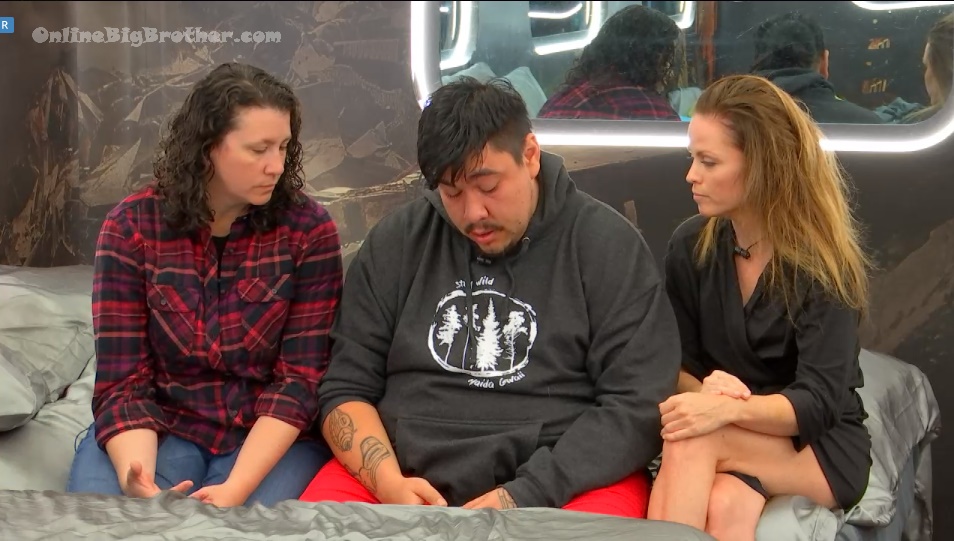 12:40 pm Kiefer and TnT
Kiefer – go get those guys.
Tera – hey there might be a power.
Kiefer – they're not keeping me.. I will look for a power.. it's all good
Keifer says it was a tough conversation in the HOH. "I protected them"
Kiefer – I protected you guys to that is part of the reason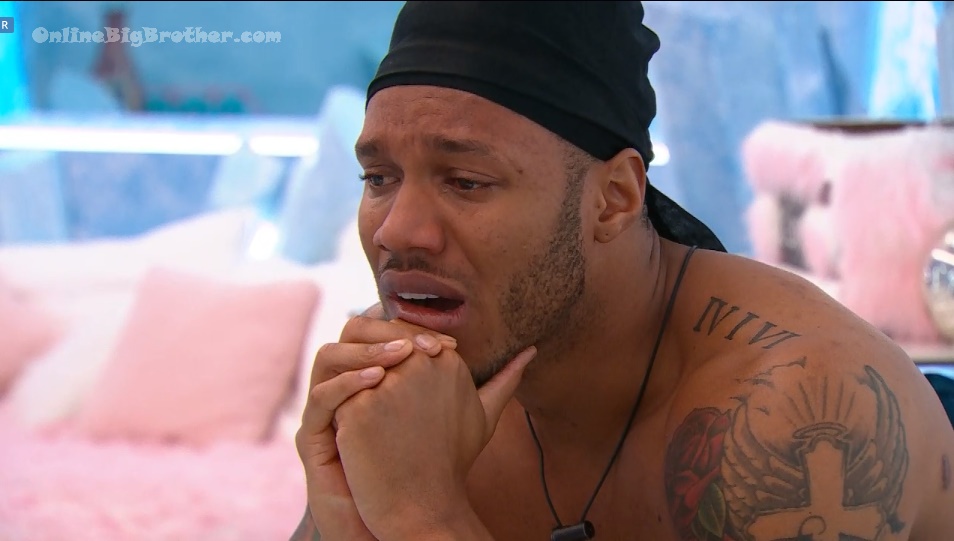 12:43 pm After Kiefer leaves…
Ty – F** this one hurts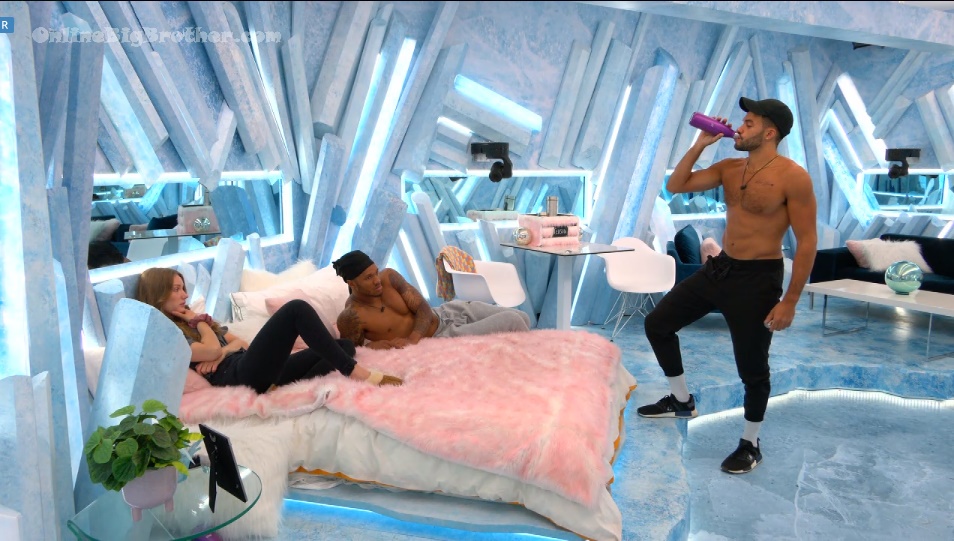 12:45 pm Beth, Jed, Ty
Beth – Kiefer wouldn't have been here right now if it wasn't for us three.. he would have been gone a long time ago. He was a target from day one
Ty agrees says they were Kiefer's shields Keifer had the confidence to make moves..
(ZOMG)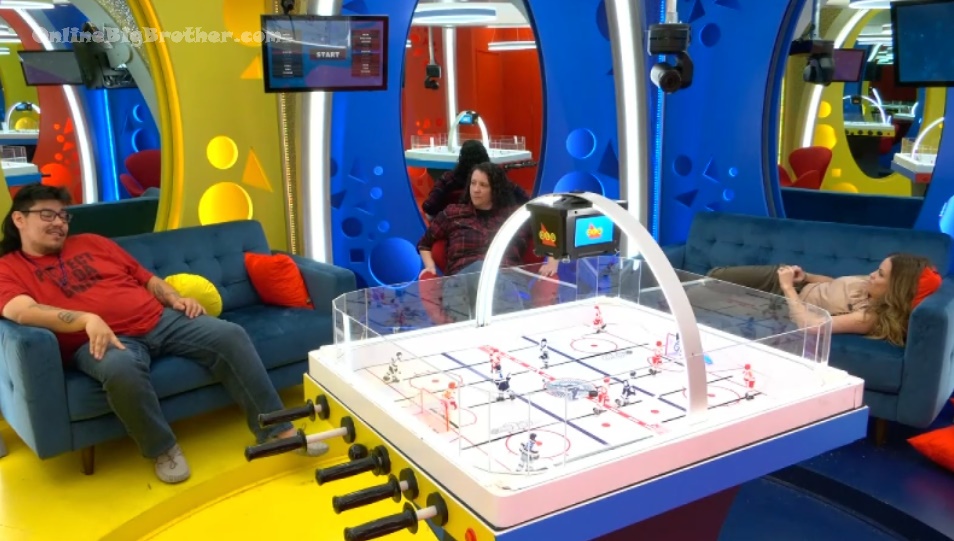 4:44 pm Kiefer, Tina and Tera
Tera talking about them finding a diamond veto "Imagine if we could take two people off"
Kiefer wonders what the game would have been liked if LT stayed and Beth had gone. They agree LT would have been a target every week.
Kiefer brings up Vic coming to him saying she was the invisible HOH and she was considering putting up Beth and Jed. Kiefer says he wasn't against it but he thought for his game better to get rid of Austin.
Kiefer says they told him he's being voted out, "Unless there's a secret power.. I'm done'
Kiefer – I have to win every single competition to survive.. that just seems like work..
5:19 pm Feeds cut..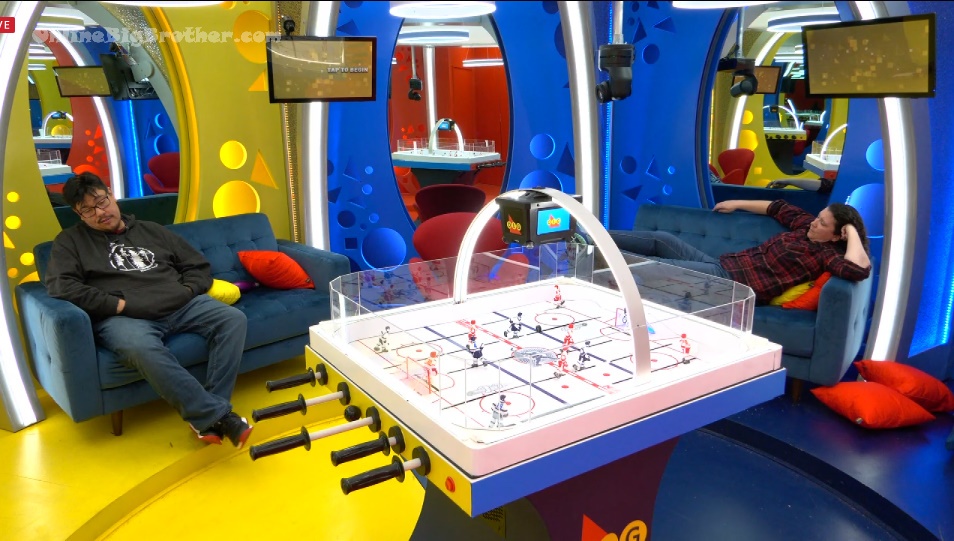 8:00 pm Kiefer and Tina
Kiefer – if I self evicted would I just go to Jury house or would I go home?
Tina – home
K – really?
Tina – Yo don't go to Jury if you self evicted.
Tina asks if Jed and Ty have a final two.
Keifer doesn't know he thinks if Ty has a just he'll cut Jed because he'll want to win. "There's nobody left to make a big move on"
K – two days ago I was sure I was safe
Tina – I was convinced it was Breydon
K – me too
K – I don't even feel like fighting. I want to but I don't.. the writing is on the wall you know what I mean? Why would they put me up?
K – plus they told me
Tina – if you do go on Thursday give Ro sh1t in Jury
K – Ohh I will.. I will go on Thursday. We've been working together since day 2. the sunsetters you don't just put one of us up and not take the shot
K – I had so many chances to burn them. I've lost count on my hands
Tina – they still could have a change of mind
K – seems like they are having a pretty good time
Tina says she talked to Ty last night he told her the plan was to get rid of Breydon.
Tina – I honestly didn't think they would pull the trigger
Tina – how does Breydon benefit their game? How can they use him moving forward?

8:41 pm Current state of feeds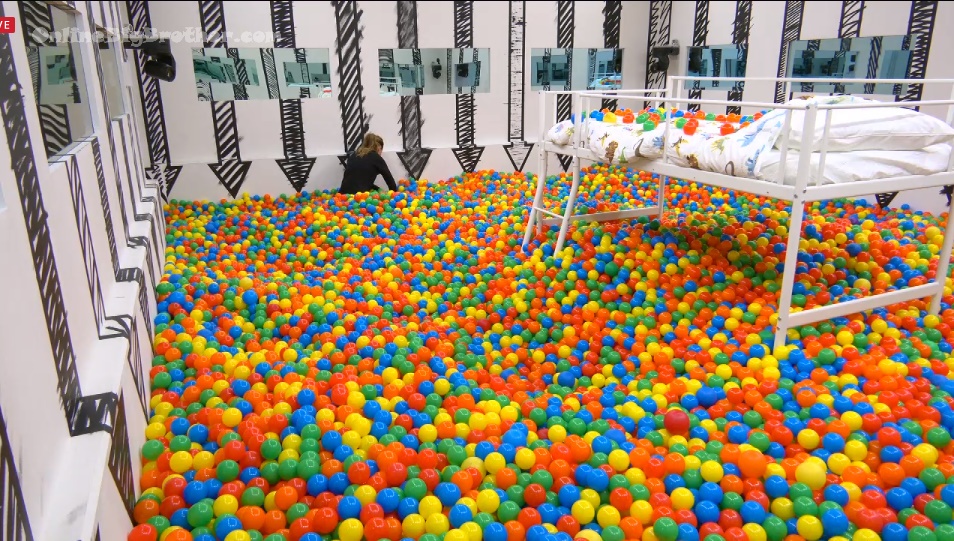 8:51 pm Tera hunting for powers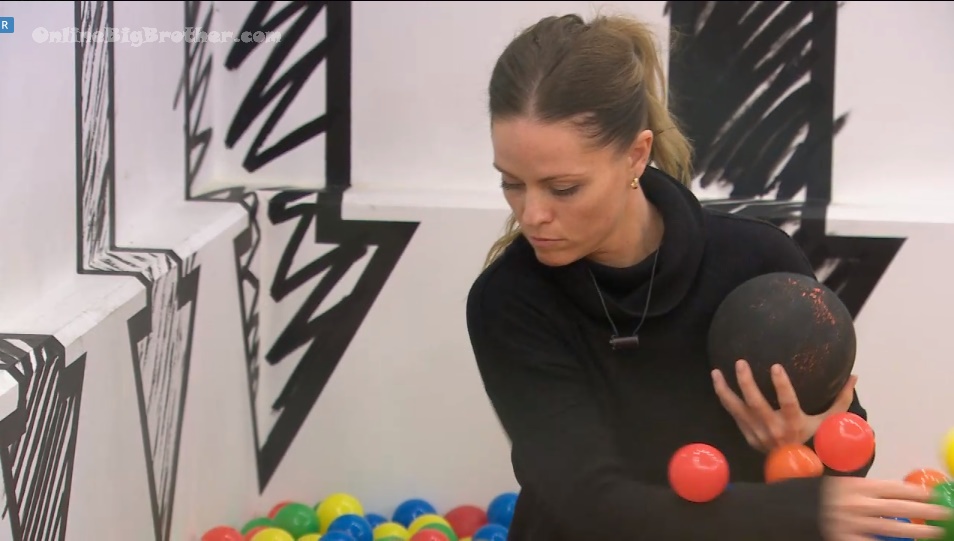 9:00 pm Tera finds a black ball.. Feeds cut.
10:20 pm Beth
Beth – I didn't think I would practically fall in love with somebody in this house. I did not think that for one second. Somebody that will win against me. I will be so happy if Jed won and I got out earlier. If I got out earlier and Jed won this game it would be the second-best thing to happen.
Beth – I will win against Tera but is that easy? Is that too easy?
Beth – I'm worried I'm living in a man's world and they are just going to vote for Jed and Ty
Beth – I've done way more than Ty in this game. WAY MORE and people are still saying that he will win against me. It's so frustrating. How is that a thing?
Beth – or is it more bada$$ to take one of them and beat them.
Beth – if miraculously Tera wins something what if she wins an HOH and backdoors one of the guys I think I will take the other guy with me.
Beth – of course, I want to go to final 3 with Jed and Ty. OF COURSE, I do. Nobody in this f**ing house sees as much as I've done.
Beth says she doesn't trust "Big Brother" has made it look in the edit that she did nothing
Beth – I've done everything for this alliance.
Beth lists off all the things she's done to calm the guys when they "go in too deep" and "Get too Alpha"
Beth – I have come to them with idea after idea after idea
Beth says the guys always take credit for her ideas.
Beth dances around the idea of getting rid of the guys.
Beth – Jed is one of the BEST men I have ever met. To do this too him is insane. this game is so much more than money. It's the deepest game. I don't think people realize how close you get to people in here (with daily banging it can happen)
Beth – these people have become my best friends. Jed and Ty. Someone I want to BE WITH when I leave this place.
Beth – for me to cut him?
Beth – for me to just cut him it's disgusting.. it's a disgusting thought.. I am a bada$$ I am but that … The next step is to get BReydon out.
Beth – I would rather get Breydon out next beside Tina or Tera.. maybe Tina next..
Beth – the boys want Tera out next but I don't think that is best for my game
Beth – I can tell them Breydon is gunning for them.. he had a side deal with Rohan..
Beth – I am a strong woman I fight for strong women that's what I do.. I will win against Tera that is the coolest part.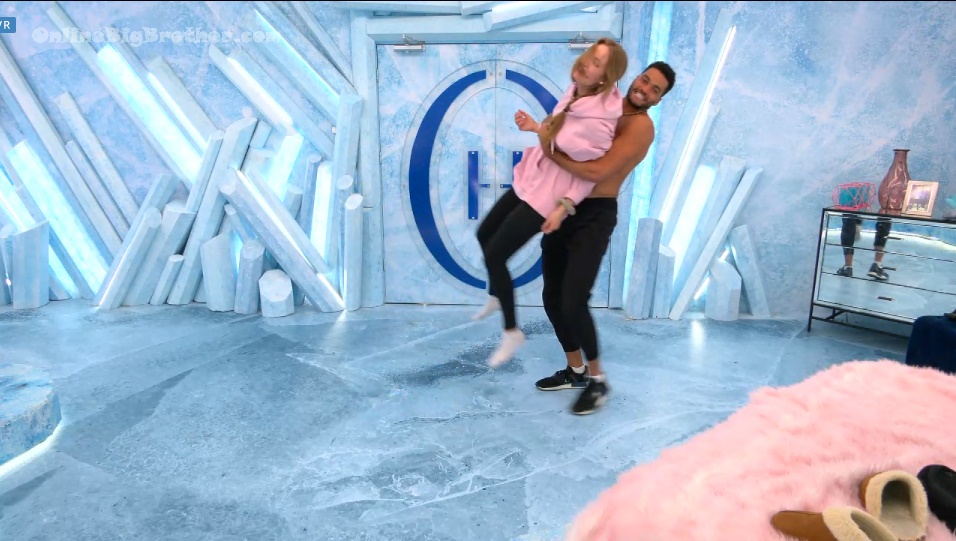 11:15 pm wrestling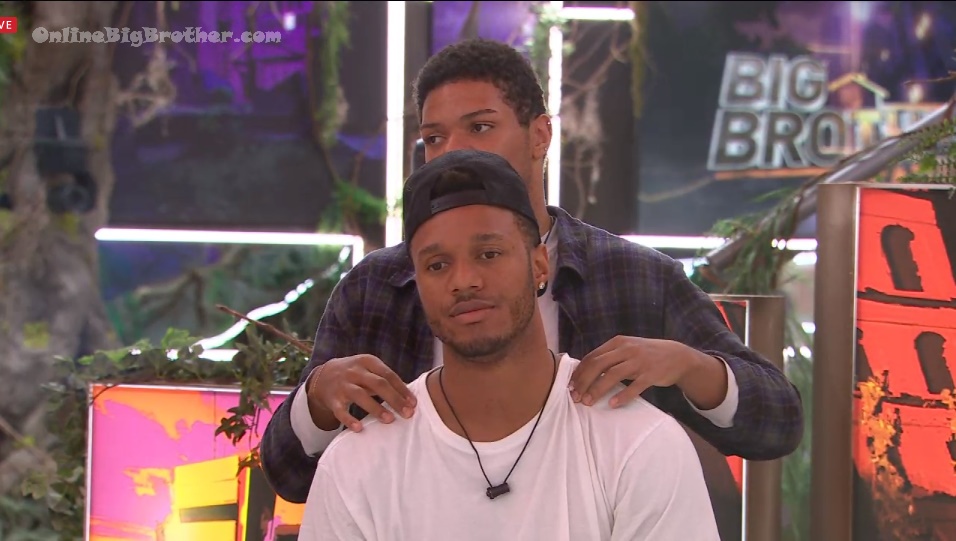 11:25 pm ...