Head of Household: JED
Nominations:Tera and Tina Kiefer
The Power of Veto Players are: everyone but Breydon
POwer of Veto Winner: Tera
Power of Veto Ceremony: Tera used the power of veto and Kiefer was the replacement
Big Brother Spoilers – Kiefer is now nominated. He will be evcited.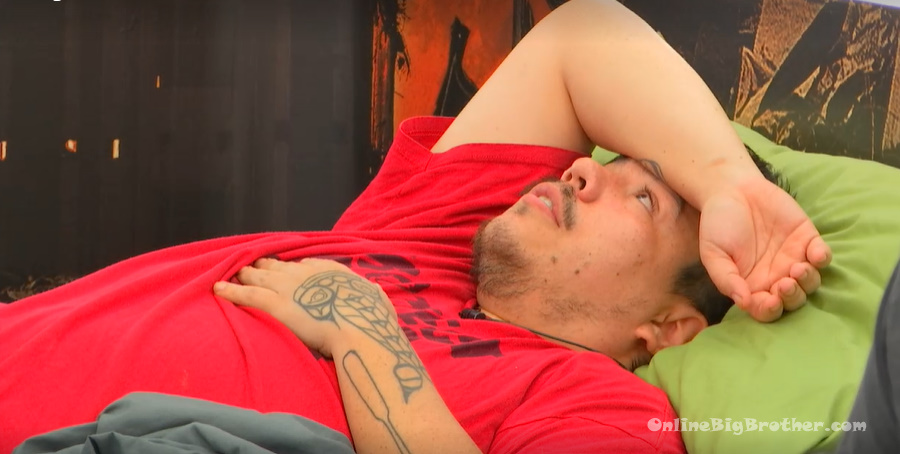 11:40pm Bedroom. Keifer and Tera.
Tera – just find your way in there tomorrow and see if anything happens. See if you find it. I am telling you its where that bed is.. like walk in, on the right side ..the furthest one. I put it down deep. Keifer – Mmmhhmm. Tera – I just don't feel like Ty would feel like he needs to even look for anything. Keifer – yeah, I don't know. I don't have a clue about anything anymore. Tera – keep our eyes open. Have you ever seen someone get a power at this stage in the game that could save them later down the road? Keifer – no. Tera – no right. Keifer – no. I think my only hope is if Canada votes Thursday night after the episode. You know what I mean. Tera – yeah, you never know. Keifer – even then I am just ready.. Tera – I think Breydon wants to talk to you but he doesn't know what to say. Keifer – what do you mean? Tera – he said that he feels brutal for Keif. He said I want to talk to him but I don't know what to say. Keifer – oh yeah well it was me or him so its really whatever. Tera – and that's what I told him .. that this wasn't in your control. Its not that Keif would be upset at you. Keifer – no, I'm not. I am not even upset with them. I am just bewildered. Tera – bamboozled. Keifer – that's good though .. maybe I will chat with him tonight. Tera – we just need to win. Keifer – I have a good feeling that you will win. Tera – I wonder what he would do if he won? Keifer – I don't know. Tera – that's why I would much rather prefer if Tina or I won. Tina – I don't think Breydon wants to ruffle any feathers. Keifer – I think you could play the card .. that Austin would be screaming at the tv if he didn't do anything. You know what I mean? Tera – and if he knew he had our full support. Keifer – all he needs is two vote. Tera – and I'm right here. Any direction he wants. I just don't know how you can trust them after. Keifer – yeah, you really can't. Tera – I never did to begin with. I would love to see them turning on each other! Keifer – yeah, all signs are pointing to they will.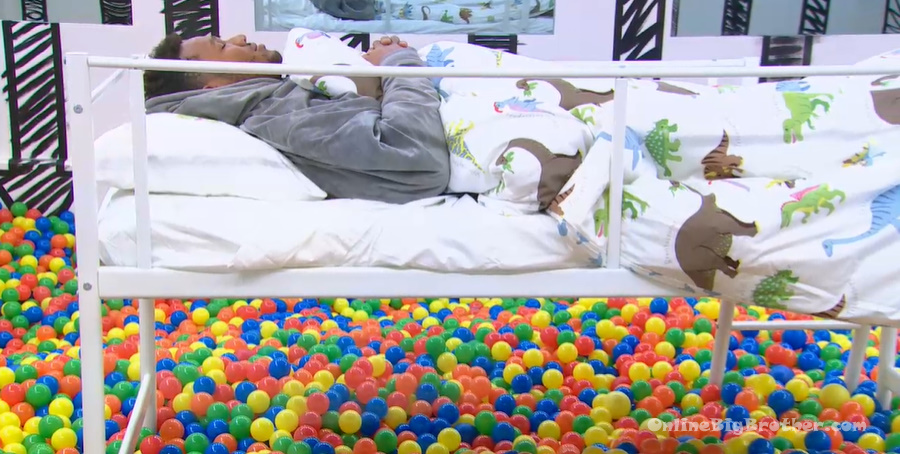 12:50am Ty heads bed with Jed, Breydon and Beth watching and laughing from the door. Ty – this is ridiculous!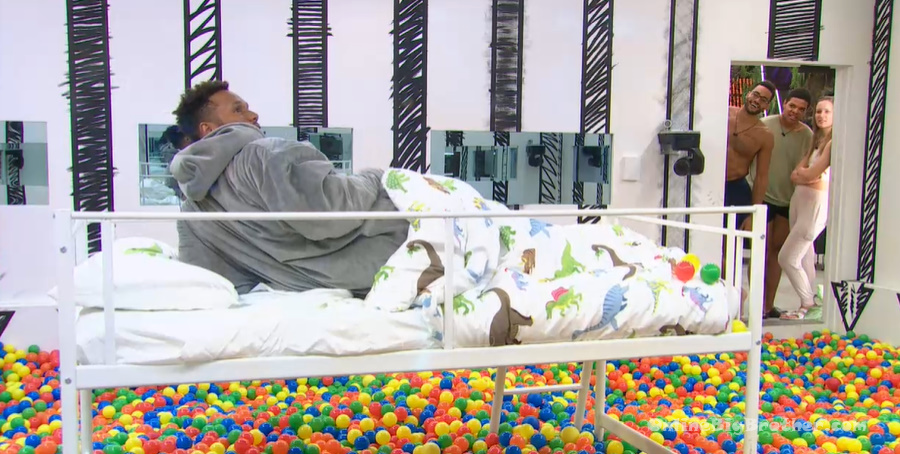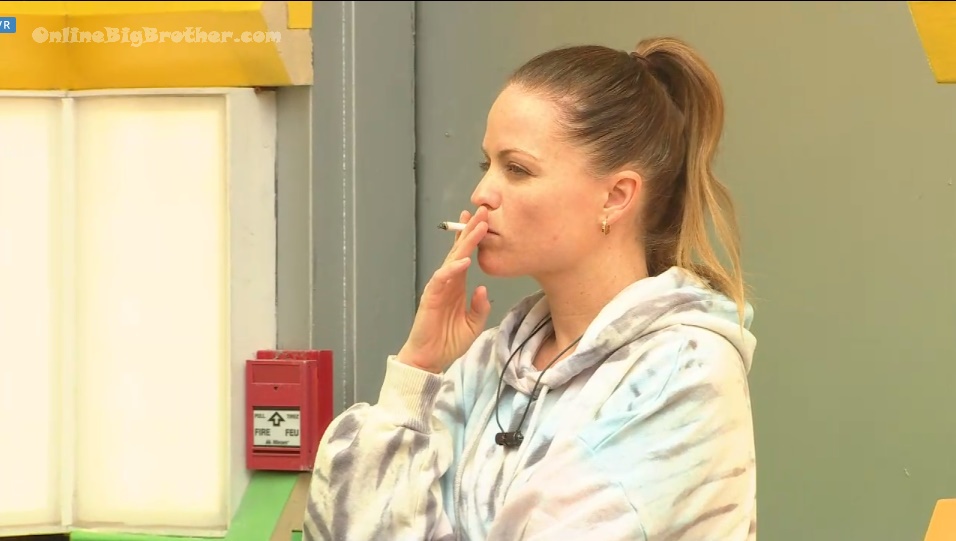 10:10 am Houseguests waking up having darts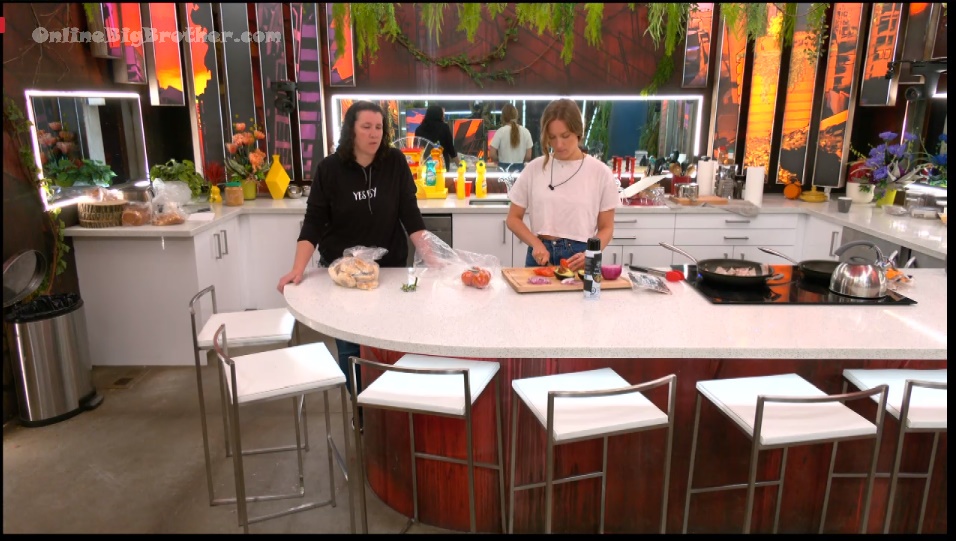 10:20 am Tina and Beth
Beth tells her she's been honest about her vote all season
Tina – I'm not going to campaign. Obviously, my stats are completely different.
Tina – in terms of the end game it's better to keep me
Beth – I know that I need you
Tina – plus we gotta stick together
Beth – this is more of a game move on our end.
Tina – we have to stick toegther. that's my plea to you we have to stick together on this or..
Beth – we're next really
Tina – I'm not going to go into rooms and campaign against him
Beth – If anything changes I will be the first to come to tell you.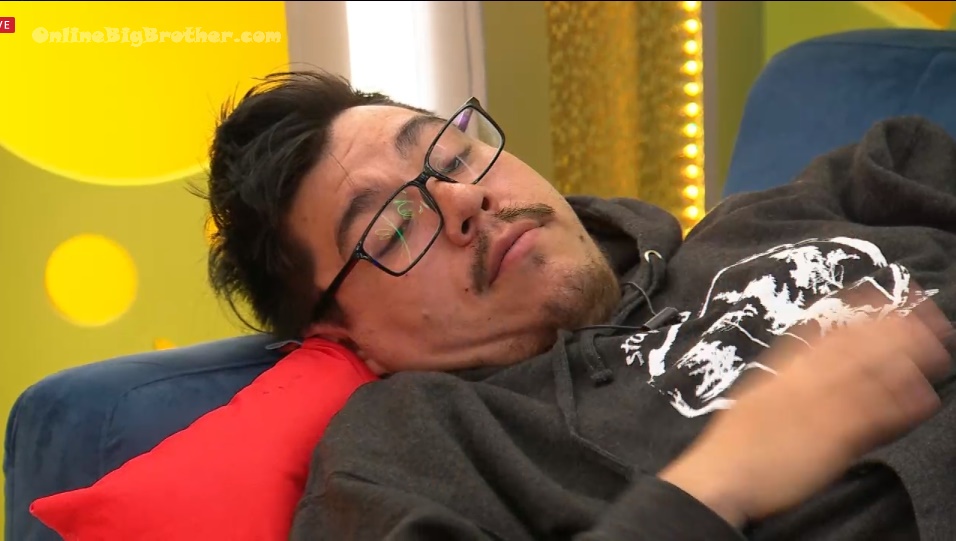 10:40 am Kiefer and Tina
Kiefer going over what he told Breydon last night. Says if they cut Kiefer like this they will cut Breydon quick. Kiefer told Breydon he needs to win HOH. Keifer goes over telling Breydon about the sunsetters.
Kief told him – your best bet is to put up Jed and Beth
Kiefer – Brey isn't going after you guys (TnT).. it's smoke and mirrors.. it's three on three when I leave.
Kiefer – he had no clue he thought I was on my own
Tina – WOW he knows everything now
Kiefer – he knows everything except that you are a sunsetter to
Kiefer – two backdoor I'm a biter Jury and I know Vic is a bitter Jury.
Kiefer – if Breydon, you or Tera get to final 2 you win the game. (based on the assumption everyone is bitter
Kiefer thinks Ty will want to go to the end with Tina and Tera. "He won't be upset if you guys won HOH"
tina – probably not cause then he won't have to make teh shot
K – It'll be you, Tera and BReydon against BETH
Kiefer – I like those odds.
Tina says the triple will come to Kiefer individual today to try and save face.
Kiefer – they want a jury vote that they don't have.
Kiefer says they have three weeks to go.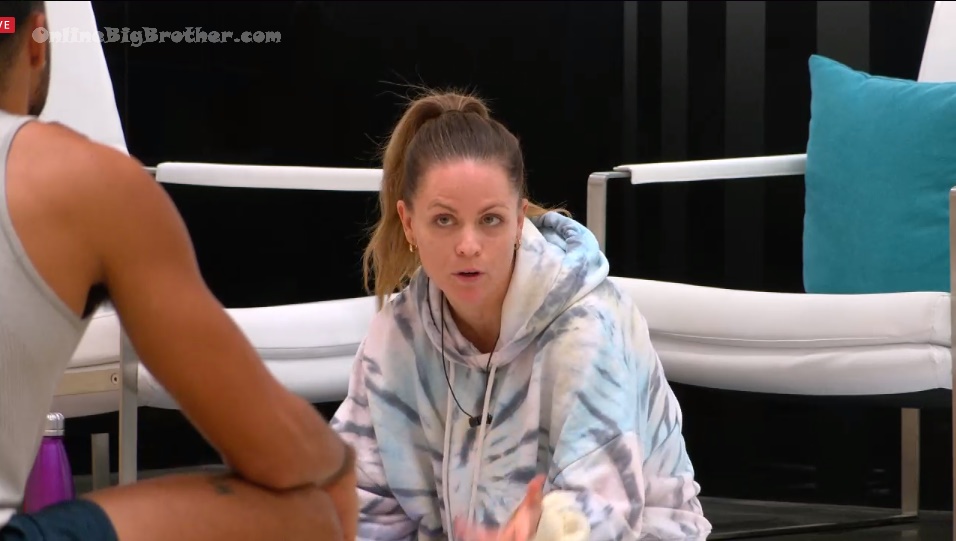 10:50 am Tera tells Jed putting him up isn't the obvious choice if she won HOH>
11:30 am
Tera's been working out..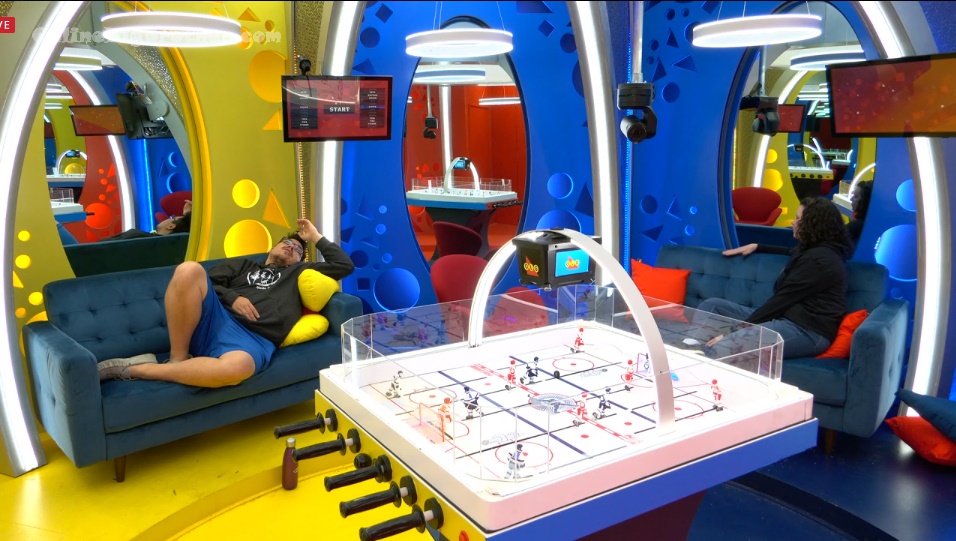 12:18 pm Kiefer still laying in the hockey room. Doesn't want to go make food until Beth, Jed, and Ty leave.
Tina tries to make him feel better by saying that she still might. Kiefer knows he's gone.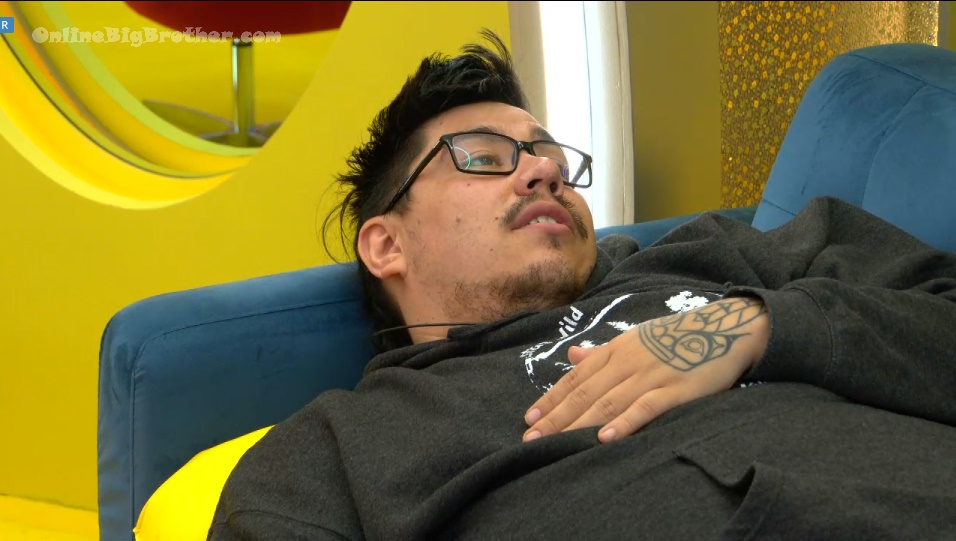 2:00 pm Kiefer and Beth
Beth – the boys made a huge mistake putting you up. For me I think its good cause you were playing a boys game. You were going to take them to three
K – I wasn't going to take Ty
Beth – he's the easiest one to beat right now
K – I'm not about easy. I didn't pick you guys the strongest players in the game for an easy game. I was down for a final 4 showdown.
K – I wanted to be in the best alliance of all time I'm not and you are.
Beth asks if it helps her game got him to be in the house
Kiefer says yes
Beth – then let's talk about it.
Beth – we live in a man's world the jury is voting for those boys to win even if I am sitting next to them.
K – your backdoor to V was a good backdoor. I was NEVER coming for JED
Beth – I don't know if Hed made this move based on Game play or he didn't want to waste it on Tera or Breydon
Beth – he looked at the move I made last week and wanted to do something big as well.
Kiefer says he was always planning on going up against the best the sunsetters. Explains that he always says he's going to win because he wants to stay confident, "Otherwise you turn into Tera'
K – I'm going to be known as the idiot that was backdoored by his closest people
Kiefer says day one he had something with Jed he would have never expected it from him. Maybe Ty but never Jed.
Kiefer – I'm hurt
Beth says Keifer against her would be his biggest hope in final 2.
K – I've done everything I can do there's nothing left.. I need three votes to stay no way Ty keeps me. Tera is not voting out blue line.
K – there is no use to me stirring the pot.. I'm hoping I go to jury and feel better.
Kiefer says he would have put TnT/Breydon up if he won HOH.
Kiefer – it's the worst way to go out.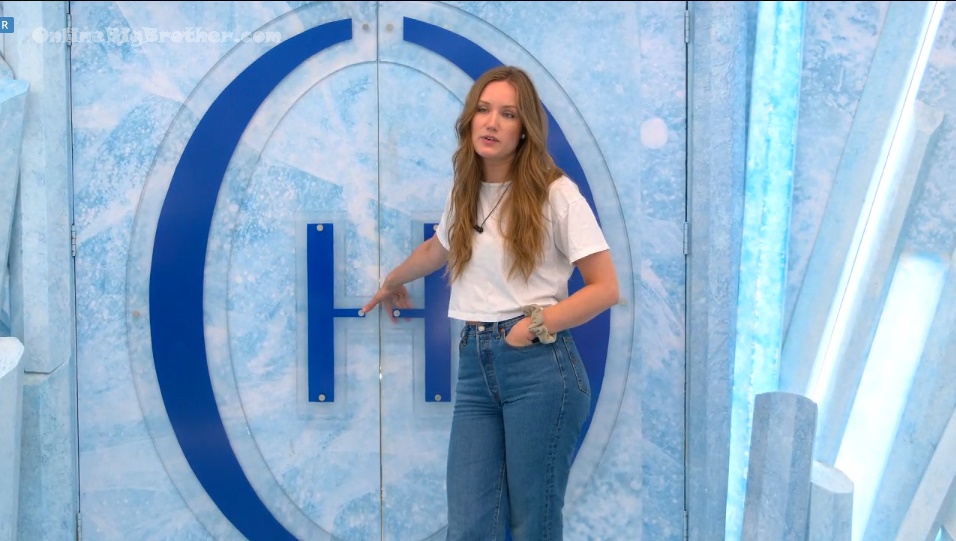 Beth runs up to HOH and Tells Ty and Breydon that Keifer is pissed at Jed