Head of Household Winner – Cliff
Have note are: Tommy, Christie, Jackson, Kat
Nominations are: Jack and Jackson
Power of Veto Players are – Cliff, Jack, Jackson, Sis, Sam, Kat
Power of Veto holder – Jackson
Power of Veto holder – Jackson
Power of Veto Ceremony – JAckson used the Veto on himself Cliff nominated Bella
Powers in the game
Christie – Panic
At any of the next four Power of Veto Ceremonies, Christie can turn the Golden Power of Veto into the Diamond Power of Veto and allow the current veto holder pull someone off the nomination block, but instead of the Head of Household naming the replacement nominee, the veto holder names the replacement.
Grab your live feeds —-> BB21 Live Feeds Subscription Link
Rank your houseguests —-> Big Brother 21 Ranking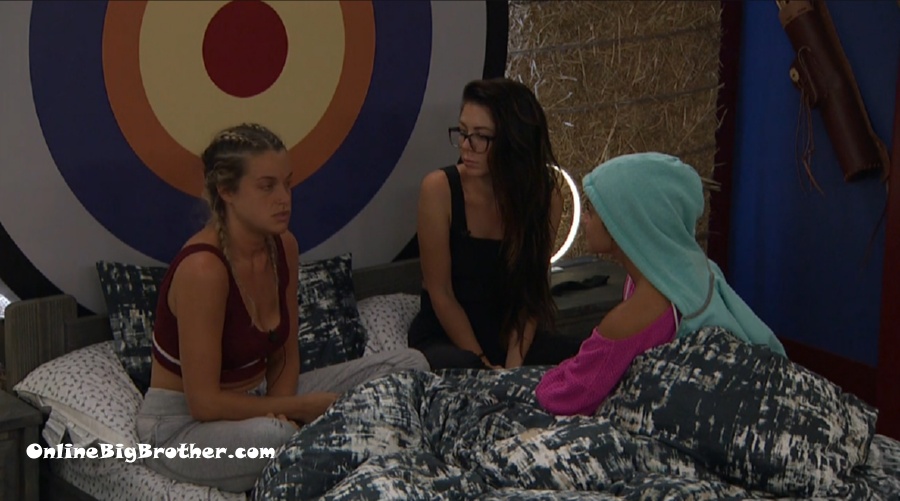 9:15 am Christie, Holly, and Sis
Christie – I am done with him (Nick) and Sam .. he can go f* himself.
Christie mentions Nick's yesterday was to get Christie not to use the power and promise Bella would then trick Christie and ut up a shit shooter.
Christie – it's probably Sam's plan because NIck's not too smart.
Christie – I can't wait to call him out .. we need to get Bella on the block and after the veto meeting I'm going to rost him .. roast him
Christie – he told Kat about his master plan and Kat played along. She told me the whole thing
Christie – CLiff knows because they pitched it to him .. he said he's not breaking his word.
Christie – I can't wait to use my power.
Christie goes on about Nick wanting Tommy up "You're (Nick) a scum bag you make jit sound like you and Tommy are so close "
Christie – they're trying to f*ing play me .. I can't wait to give them the cold shoulder every day ..
Christie is going to tell Nick and Bella she's using the power.
Christie – f* them
Sis – f* them
Holly – I don't thin Cliff loves Jackson as much as Jackson thinks he does
Christie hasn't heard anything but says Cliff is protective of Kat and he doesn't like how Jackson rolls his eyes at her.
Holly – Cliff has talked mad sh1t about Kat to me and Jackson
SIS – I'm f*in pissed .. I'm F** F*** pissed.
Christie – nasty can only attract nasty (Nick/Bella)
Sis – I'm f*ing done dude
Christie says she had a dream and all this happened in this she gave Nick and Bella the cold shoulder. In the dream, Sam broke down and told them he's not really married and his name isn't Sam.
Christie – It's symbolic I can't trust him at all
Christie goes on about Nick and Bella trying to get one of their alliance members out this week. She brings up how Nick/Bella threw out sis' name as a replacement to Jackson
Christie – they were trying to use me to take a shot at jack
Sis – that was stupid
Christie – stupid
sis – that was literally so stupid
Christie – like how dumb
Sis – that was really dumb
9:29 am
Sis – oh my god I want to f*ing rip Bella's f*ing face-off
Christie – I do too
Sis – I hate that b1tch
They go on about Bella not having to even waste her breath campaigning
Sis – she's f*ing done ..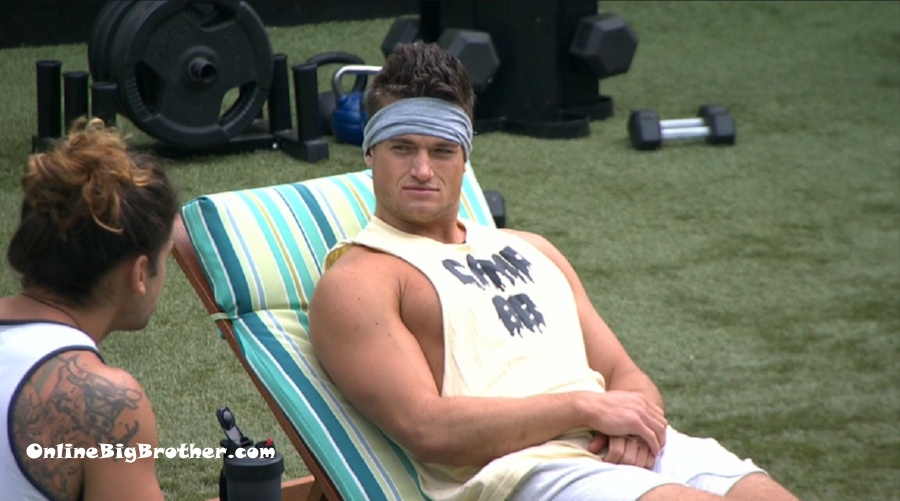 9:22 am Jack and Jackson
Talking about Nick and Bella not being very good at this game.
Jackson – they're like puppies they sh1t on the rug and you have to rub their nose in it they haven't had that yet ..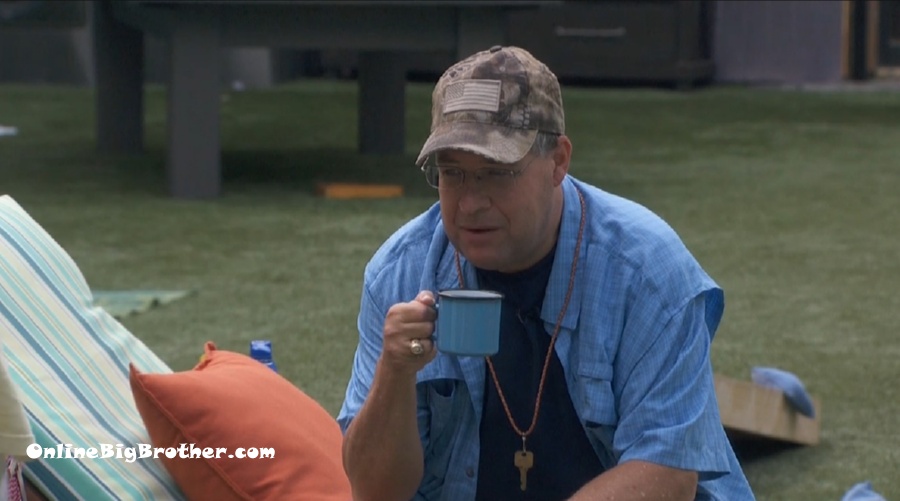 9:37 am Cliff, Jack, and Jackson
Cliff said that Nick and Bella were trying to get him to promise CHrsitie he would put Bella up but then he would put her up .
Cliff – I'm not going to play a game I have to lie about something like that you all know I'm not going to do that
Cliff – If I did that none of y'all will believe me ever again
Cliff – my word is my bond
Jack – you've made yourself a pretty sweet deal (yeah good for you cliff)
CLiff – I took a shot it didn't work no one would expect us working together if you all want to work with me instead of butting heads ..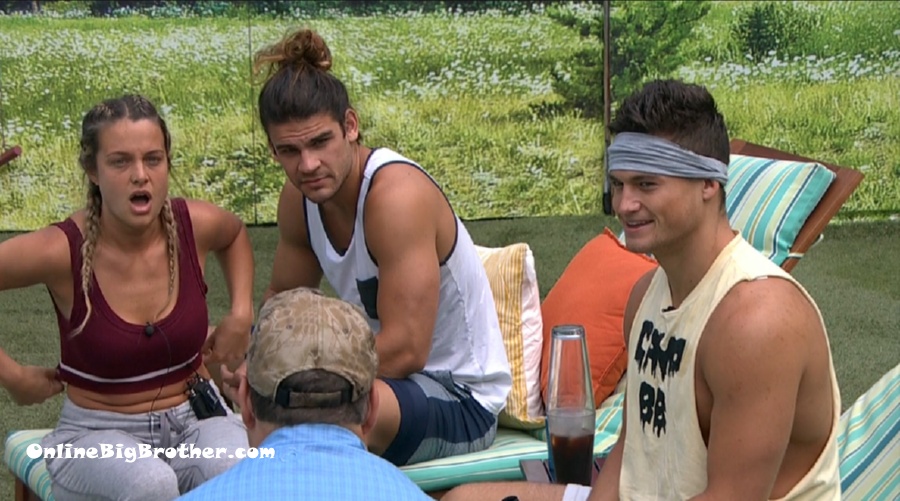 Christie joins them.
Cliff says Bella won't him up at 2:30 am. She's got a great idea
Cliff – when it comes down to making the nominations don't put you on the block put you, sis or Holly
Christie- that hurts me so much .. for someone to go back on a word
Jack – especially since that's all we got in here
Christie – you are going to ask a man of integrity and character to shake on something .. I heard of that earlier Nick was trying to pitch this master plan
Jack now selling to bring Cliff in on working with them to get to a certain point in the game then "game on"
Cliff expresses all he wants is to find some people to work with
Cliff – it's not personal I've been trying to find someone to rely on and work with
Jack and Christie go on about how Nick and Bella have should bad character (their shit don't stink)
Christie says sam and Nick probably pitched this plan to Bella because she's not a master ming
Cliff – you got my word I'm not going to break that. This is the path I need to take
Cliff – I'm not playing that game
Christie – I know I didn't expect you to play the dirty game.
Christie goes on about playing a clean game and integrity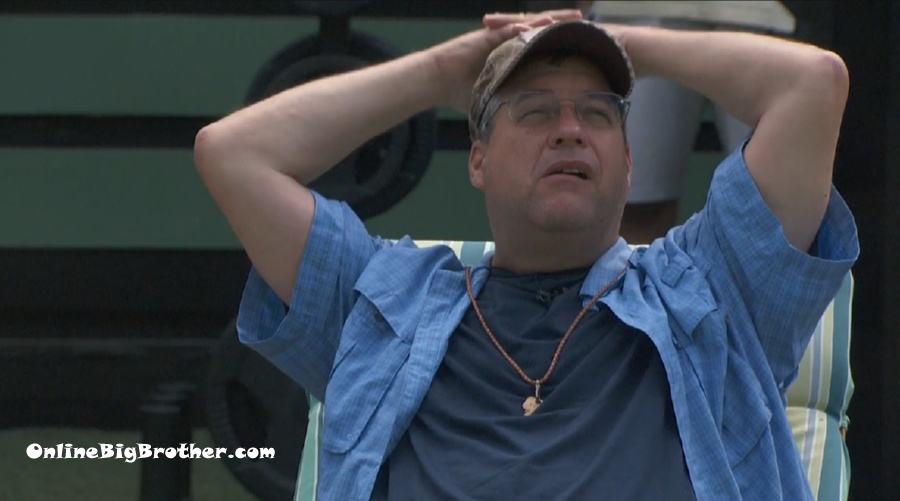 Cliff – I'm sure the fans may not like some of this but I don't care
Christie – I think they love it to be honest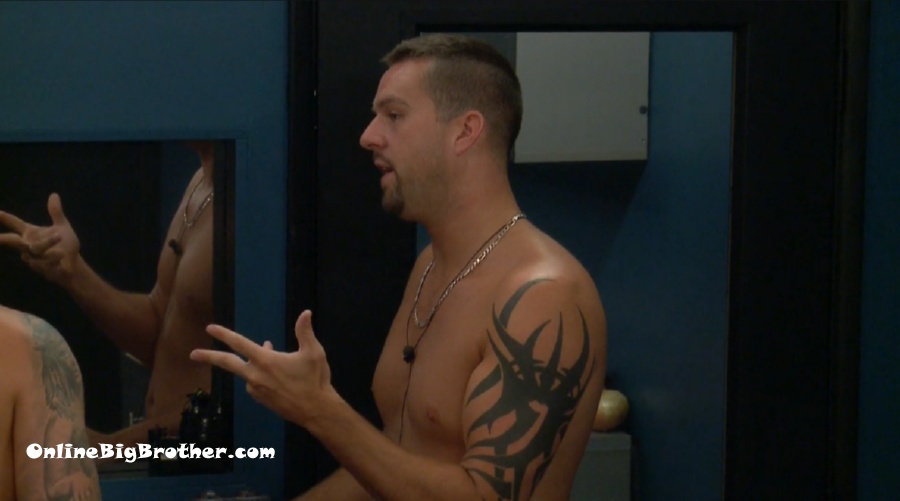 9:35 am Sam and Nick
Sam says everyone is up talking to Cliff. "Nicole said they are going to have Cliff admit to put Bella up because then she doesn't have to use her power"
Sam – no sh1t she doesn't have to use her power cause we're doing her dirty work for her
Nick says Bella went up there and said "would you be cool with lying to them"
Nick – he said as long as he didn't have to swear on anyone.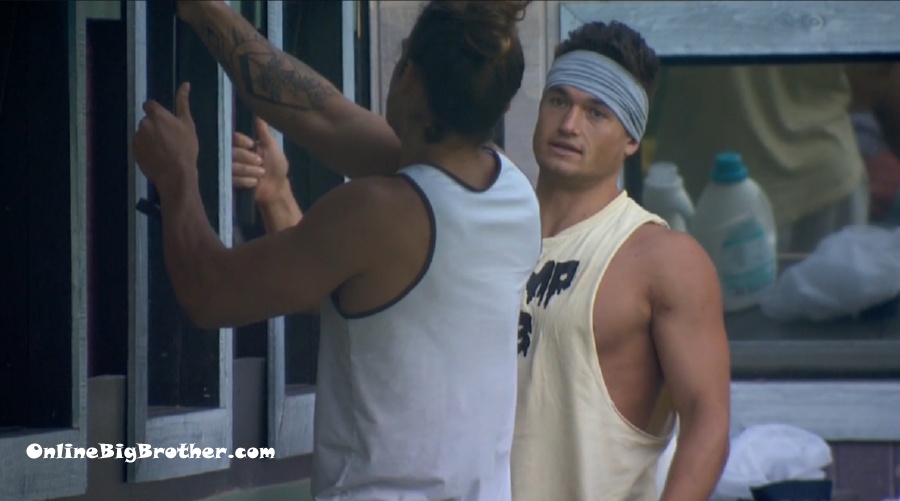 9:57 am Jack and Jackson
Talking about how many social media followers Tyler got last year and how to leverage all their social media exposure from the show into a clothing apparel business.
jack – you have a platform of 250 thousand people when you get out of here minimum
Jack – I would like to make a cost effect tall t-shirts
Jackson – tailored for an athletic build
Jack – quad blend ..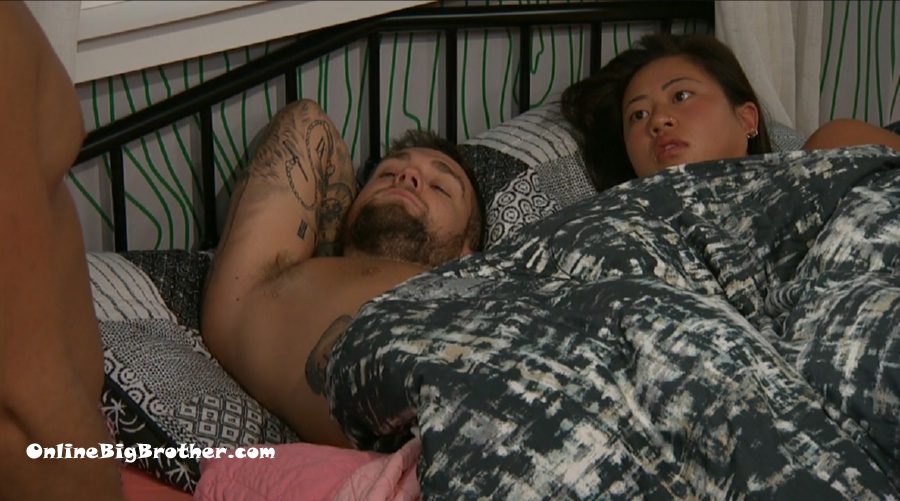 10:07 am Sam, Nick, and Bella
Sam – it doesn't look good they are all out there out in the yard just seems like .. there's no way we get everyone round-up for nothing.
Nick – if this plan works it will be amazing
Sam leaves..
Nick – this is like season 19 where they did whatever Paul said ..
Nick – best chance for this game to actually be interesting now it'll just be the Jack show.. so dumb .. s dumb
Nick – you still could get 5
Cliff loving life as a "cool kid" for the morning #BB21 pic.twitter.com/WqErZM07tu

— OnlineBigBrother.com (@bigbspoilers) July 22, 2019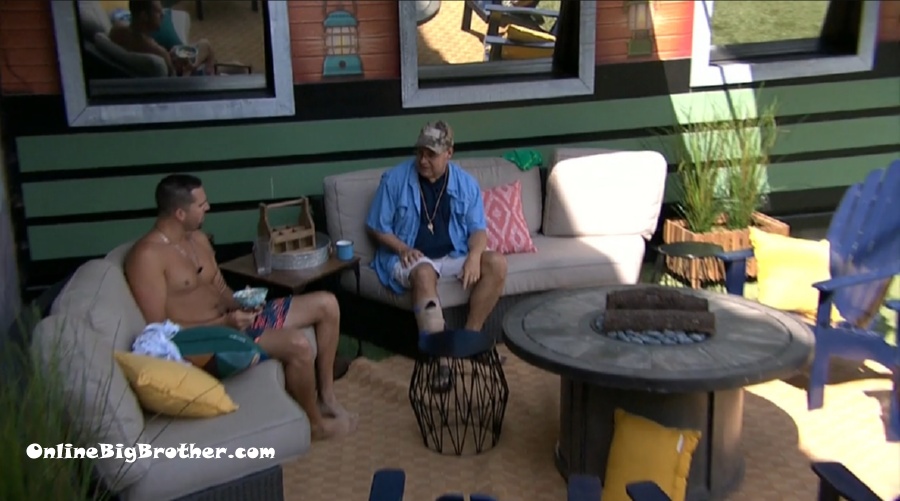 10:19 am Cliff and Sam
Cliff says Christie is going to use the power unless he makes a deal to put Bella up (which he has)
Sam – if you are putting up Bella anyways just let her use the power. otherwise, she's going to have the power for 2 more weeks .. flush it out
Cliff – theoretically I've been promised by Christie she would not use the power against us if someone happened it would be for herself;
Sam – she promised and swore up and down that everything will be great (if Michie and Jack were on the block and not her)
Cliff – I'm just trying to cut some losses and create goodwill on that side by doing something..
Cliff told Christie this morning he's willing to do that. Put up Bella. "I told her I wanted to give you a heads up first because you and I have worked together before"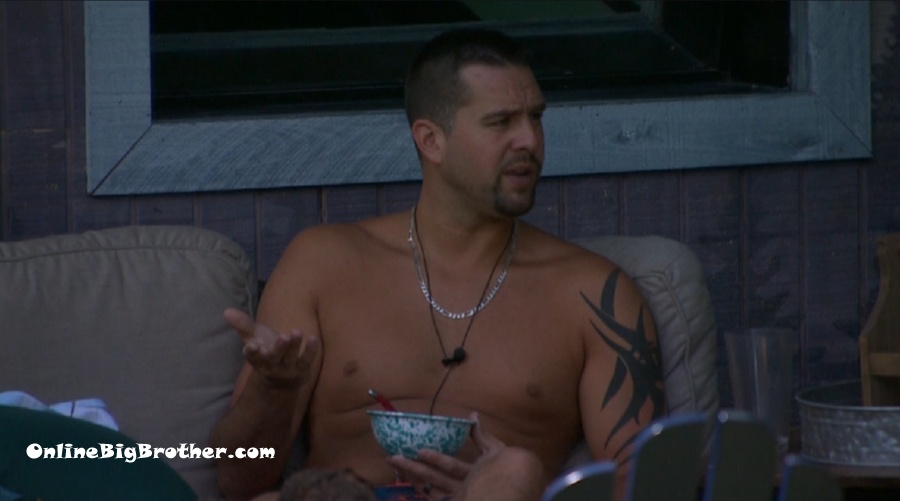 Cliff says the girls will all vote out Bella if she's up against Jack
Sam – Kat's on that side and Nick keeps talking to her
Cliff says no one wants to work with Bella or commit to keeping her in the game because of the Drama bella started with Kat and Jessica.
Sam – It sucks because there's goes a number
Cliff – I know I don't know if we can get it back or not. that's why I was willing to take the shot and a gamble because I know how vital this is
Sam – bella has words and jack has game you are going to vote out someone who will beat you whos a beast at everything or a girl with words who can't win anything it don't make sense.
Cliff – she's playing a personal and emotional game (Christie)
Clif says jack, Christie, and Michie are so very close he's noticing it
Cliff – that's the way it's going to go and it kills me .. if had been 1-second faster.
Cliff – Kat worries me
They agree kat isn't on their side.
Sam says he trusts Nicole and Cliff.
Nicole joins them. Sam making clear how much it sucks they are not even flushing CHrsitie's power.
Cliff goes on about how Christie promised him she wouldn't use her power against them.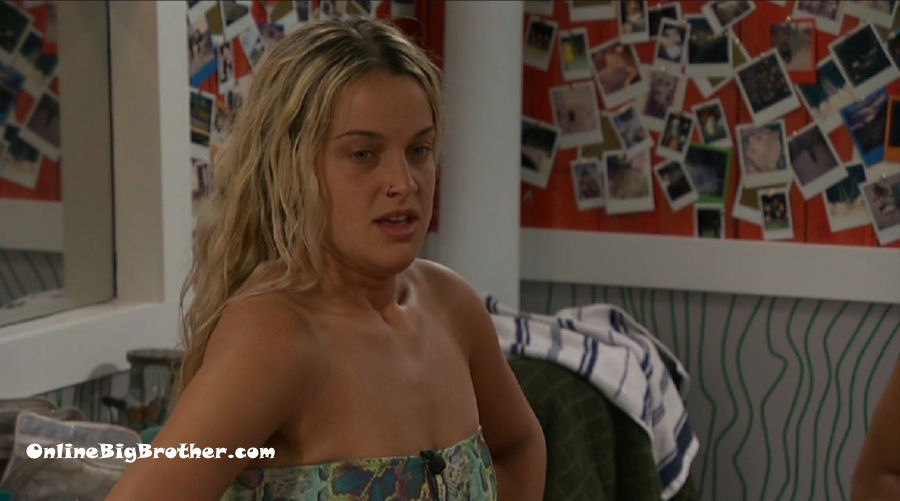 10:45 am Cliff, and Christie
Cliff says Bella asking him to lie means she doesn't know his character.
Cliff – I'll tell you right now I will put up Bella make you that promise.. we're all good
Cliff – water under the bridge
Christie – I'm looking forward to moving forward
Cliff – I'm not going to try and do some last-minute screw you job .. a promise is a promise
Christie – and I'm keeping my promise you are safe we are in this together going forward. Just rest that leg up because we're going to need you soon
she laughs
Christie says Bella and Nick are playing "a dirty game"
Cliff says the only people this will make upset are Nick and bella. They need to make sure Nick understands if he didn't do a deal they were going to use Christie's power.
Christie – I really appreciate this
Cliff – I appreciate it as well it would have been very easy for y'all to say no he put us up that's the dividing line
Christie – I want my power moving forward.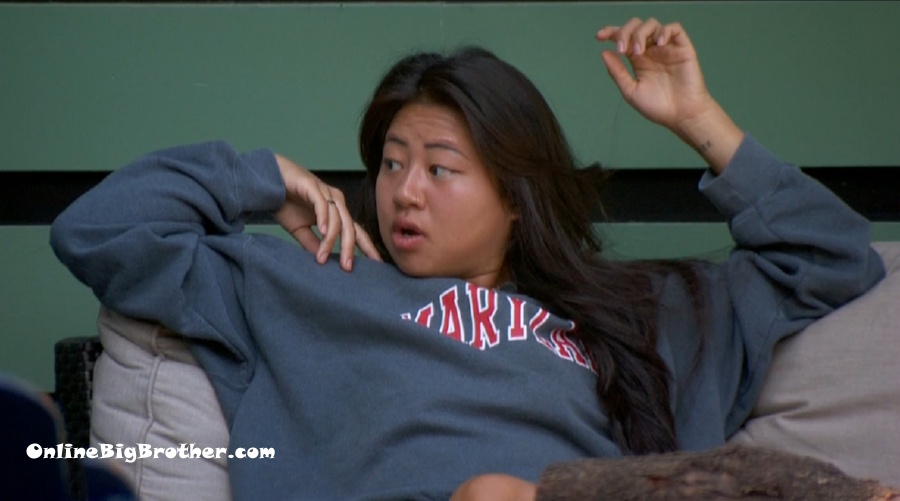 11:00 am Sam gives her a heads up she's going on the block and the power isn't being used.
Bella – wait what
Sam – Cliff made a deal he's putting you up
Sam – dumb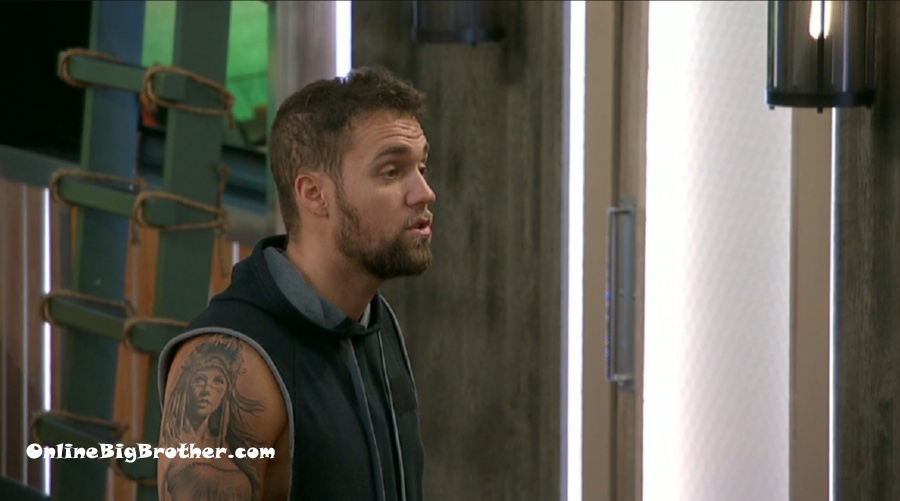 12:12 pm Cliff and Nick
Nick says it would have been better if the got her to use the power, "We got three more weeks left it'll be me, you and Sam"
CLiff – I know
Nick – we're f*ed we're f*ed either way
Cliff says Christie promised
Nick – she's been lying the whole time
Cliff – I may be getting played the whole way through .. she was going to use the power and then all I am is enemy number one
Nick – we're f**ed.. Jack's going to win
CLiff – he may
Nick- I'm not mad at you .. they're all so stupid this is Big Brother 19 all over again, Paul's game again ..there's no point to watch if you are life feeder.
Cliff – I'm not going to break my word this early
Nick – I know because you're a better person
Cliff – there's only two options which one saves my a$$ a little bit
Nick – do you think we can get the votes for her to stay
Cliff- no .. that's the other problem we do not have the votes from the girls Kat
Nick – kat knew about the vote flip they told her
Cliff – really ..
Nick – I just found out yesterday
Cliff says Bella caused a beef between her, Jess and Kat.
CLiff – now they are saying we're not voting to save Bella
Nick – that's fine get her out next week .. we can get Jack out
Cliff – I know, I spent the last few days trying work with me
Nick – it's not about her it's about him
Nick – don't trust kat any more .. I trust you Sam and Bella that's it
Cliff – I know, I'm the same way. I don't trust Nicole, Jess I don't trust kat. I would like to use them but I don't trust them (so join up with 6shooters)
Nick – you gotta do what's best for your game I understand .. If we don't we're going to lose
Cliff – I'm not going to break my word I"m just not going to do that.
12:24 pm Feeds down for POV ceremony