Quick Big Brother Spoilers
Head of Household:  Michael
Nominees: Alyssa and Terrance
POV Players: Monte, Alyssa, Michael, Terrance, Taylor, Brittany
POV Winner: Michael
Veto Ceremony: Veto was not used.
Havenots: 
Lock your ranks in before midnight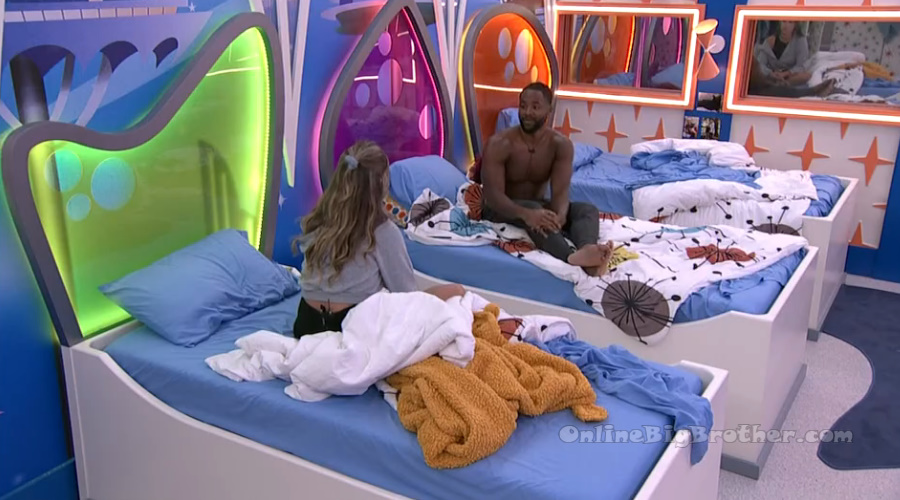 7pm Bedroom – Monte and Alyssa.
Monte – I want to be able to work with you. I have always been actions speak louder than words. That's always been my thing. I want to follow through on my actions to build trust. I hope you do the same and I think that can all be taken into consideration for next weeks HOH. Alyssa – yes 100%, and I know that you are a man of your word and I am a very level headed person. I love the game so if we have to have a conversation I will listen to you 100% and trust you. With Michael this week he told me ahead of time and said listen I have to do this. I am a very emotional person but I am not an emotional player. I take everything with a grain of salt. So next week we can figure that out, I just really want to stay this week. Monte – I am going to be very frank with you I think everybody wants you to stay this week. I don't know what he (Terrance) could say to Taylor, I don't know what he can say to Brittany, I don't know what he can say to me. There really isn't much that is compelling at this point. Alyssa – okay well that makes me feel good.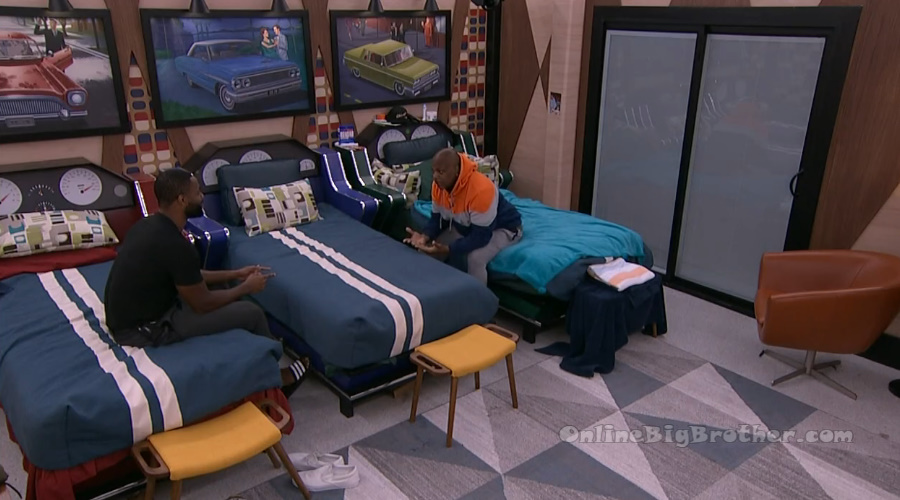 Bedroom – Monte and Terrance.
Terrance – they didn't want us all to work together.. but they thought we were and we wasn't.. but now what if we really f**king do!? Monte – right. Terrance – and that's real talk. And that's what I want to do right now. Me looking at what's going to happen next week is we had the best opportunity to put Michael and Brittany up and call it a f**king day. She told me I had her vote. I just needed confirmation from you. Turner just told me I got his vote. You know what I am saying.. so that's all I need right now. Monte – because all you need is three. You know where I am at .. if I get the confirmation then all three of us can lock in. Then I am completely fine with that. Looking at next week .. Michael and Brittany. Terrance – what else would I do? Monte – no that makes sense. Because what does Michael usually do when he wins the veto? He saves himself and he saves Brittany. So in that case instead of having that situation line up the way that it does have him go down and have a pawn and then have Brittany goes out. Terrance – but if we put them both up and its again 5 against 1 .. because Brittany will want to play hard as f**k to get her own a$$ out of the fire because she knows f**king well that she is going home. Monte – yeah I think that's a clean way. I have been really thinking about this.. because honestly when I look at he whole Michael and Brittany situation I do think to myself .. okay if they were withholding that information for so long.. does that mean that they were okay with getting everybody of color out at some point if Kyle wasn't willing to work with them? But the fact that Kyle wasn't willing to work with them.. meant that they had to back out of that plan. So lets bring Taylor and Monte in to make sure they feel good about working with us.. now that that relationship is severed but they want to keep Alyssa around.. I don't know .. its a conspiracy theory. Big Brother switches the feeds.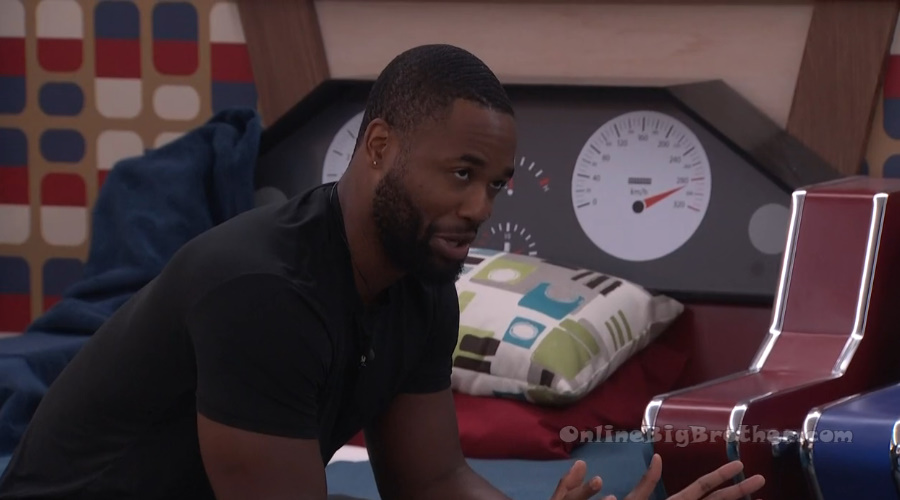 Bedroom – Brittany and Alyssa.
They talk about if a double eviction will be this week. Brittany – I just feel like we're boring enough right now .. like how are you going to get content?! It sounds like they're building something crazy. The only thing I am thinking is .. are they building multiple sets if its a double? Alyssa – yeah. Brittany – we should be prepared for anything.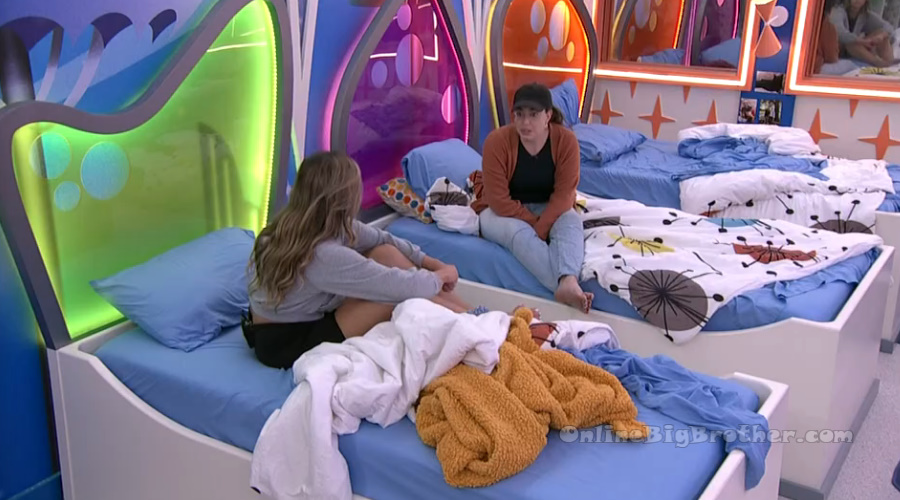 Bedroom – Turner and Alyssa.
Turner – all that I need is to make sure Taylor wins .. and someone is next to Brittany .. whether its you, whether its me, whether its Monte, whether its Michael.. it doesn't matter.. Brittany ends up going home because that keeps us and everybody else that is not playing both sides… every time someone does that and they get out next week. Its f**king insane! And I am not going to mention you at all .. and if Taylor comes up to you to privately to talk.. Alyssa – act like I don't know anything. Turner – I was going to say the exact opposite. Because she (Brittany) has clearly been playing both sides… and well just so that I don't become a target. Because if you don't know anything and I am not going to say your name at all.. because if she goes up to Monte .. Monte knows. If she goes up to you .. you know. Confirms what is going on. So please don't say you don't know. Alyssa – okay, got it. That's disappointing for Brittany and Taylor because I thought that they were like ride or die to the end. Like you're going to throw your closest ally under the bus? Turner – she is throwing everyone under the bus. Its so dumb but its because she's been playing a dog sh*t game.. and riding on Michael's back and wanted something to happen and panicked.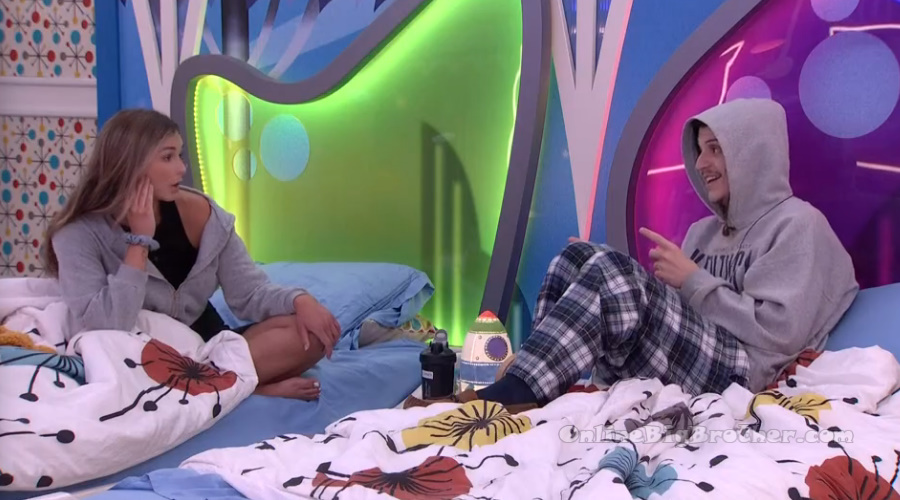 7:50pm Bedroom – Alyssa and Taylor.
Alyssa – in my one on ones I heard that Brittany may have been throwing around the girls alliance to other people. And please don't act like I told you this because someone might approach you with it later. Just say that that was never a thing. Taylor – okay and I have your back. I did hear that she said that and I was like what are you talking about .. so I think that she was trying to say that to get the heat off her back for whoever wins HOH next week. Super frustrating .. but when you get approached please act like its the first time hearing about this. Taylor – okay. Alyssa – when I heard that I was like that is not true and that person was like well she has been throwing around a lot of sh*t. Please don't say anything. I am on the block .. I can't risk anything right now. Taylor – I know. Alyssa – I am just going to lay low and we can handle it next week.
7:55pm Bedroom – Turner and Taylor
Turner – I am very weary about bringing forth this information because I don't want it to sound like I am lying ..but if I was lying this would be the stupidest way to go about it. If this gets out, it doesn't matter because I am telling the truth but I hope it stays between us but if it does get out I will go loud and proud about this. You are very close with this person, so this is why I am very nervous about this.. Taylor – is it about Brittany? Turner – YES it is! This is huge. The other day at 5:30 and I was up till 6 she came and outed your game and Alyssa's game .. and she wanted to do a final two with me .. and I was like one this serves me literally nothing.. with peace and love I don't think this is going to do anything for me. She was talking about how you, Alyssa and Brittany were all in the same room talking about all girls, last girls left and trying to form an alliance of some sort.. Can we confirm whether this happened .. whether you want to or not.. did this happen? You know what you don't even have to say it .. I think it did. She was like you're being left out of this and this is going to target to get out Michael.. and to get out you (Turner)… and to get out Monte in the end. And I was like wow .. awesome. And so this is why she was like we need to be a final two. And I was like no, I don't even want this! I am not asking for any of this! I don't need to know any of this. She was like I think Taylor and Alyssa want to bring me to the end just so that they can beat me. And in turn I was like oh so you can beat me right?! And she was like yes, I think we have a fighting chance against each other. I was like I've played a better game than you.. what do you mean!?!? I am just like what the f**k!? And I was like so its good to bring the best most mid player to the end right!? And she was like exactly. And now you're calling me mid?! She was talking about wanting to get Michael out as soon as possible and I was like what .. that is your boy! And how you want to put me on the block next week.. which I understand .. I put you up. Clearly Brittany is outing your game to me.. and I just want you to do what you will with this information. Taylor – thank you.. I do believe what you're saying. I can pick up pretty quickly when there is a shift between people and I do feel like there has been a shift two days ago.. Brittany has been acting a bit weird. There is some truth and some lies in what you've said. And why would you trust Brittany when she outs all this. I will say depending on who stay or goes this week I was going to put you on the block next week.. but not to send you out the door.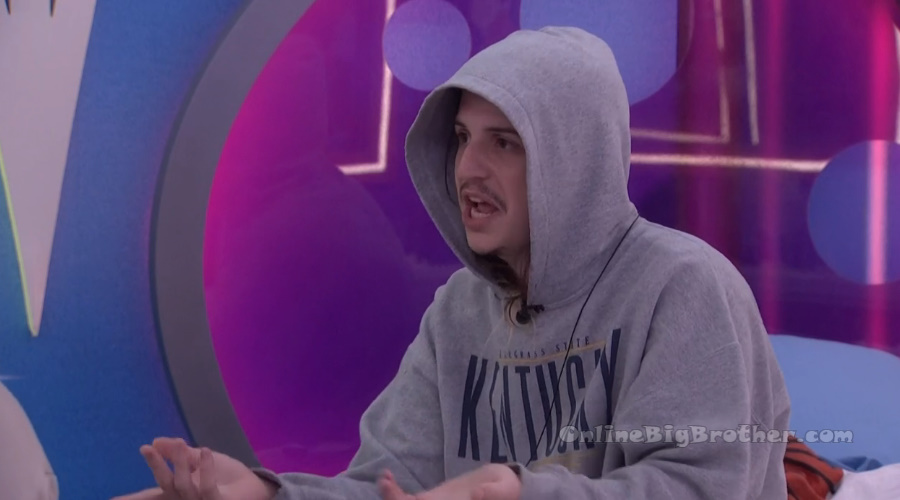 8:17pm HOH room – Michael and Terrance.
Terrance – I know how this is moving .. I haven't had confirmations like boom, boom, boom so and I know you probably haven't had too many conversations with confirmations for me to stay. Michael – I have had conversations where people are saying they're weighing the pros and cons. So I know people are considering it. Terrance – so I guess the only pitch that going into next week, I could have is that I would be a better ally.. Big Brother switches the feeds.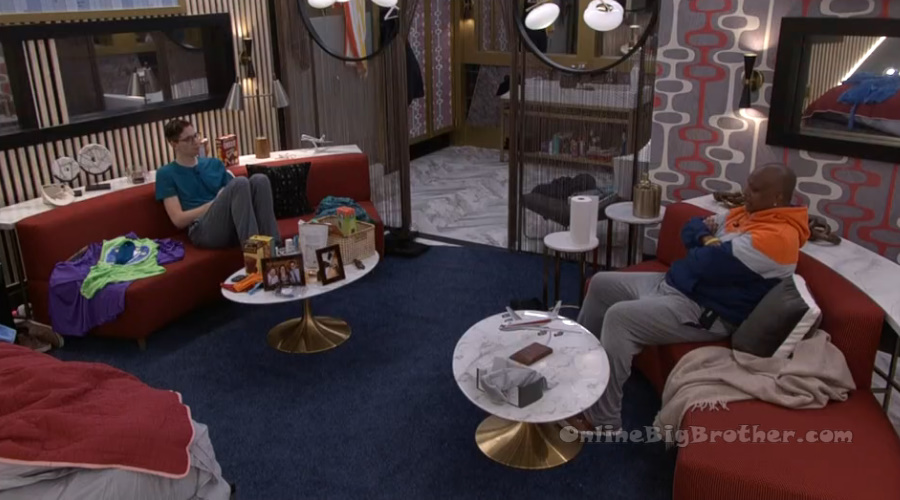 8:31pm Storage room – Michael and Turner.
Turner – I told Taylor about everything. She was not happy about it. And I was like if I was lying I would be a crazy person. I named every specific instance and she was not happy about it. It went very well. Taylor was not happy about it. Michael – I talked to Terrance .. and guess who he said he would put up next week.. You and Monte. Turner – and then to me he is telling me you. He needs to get the f**k out. And then we need to work on whoever the f**k else.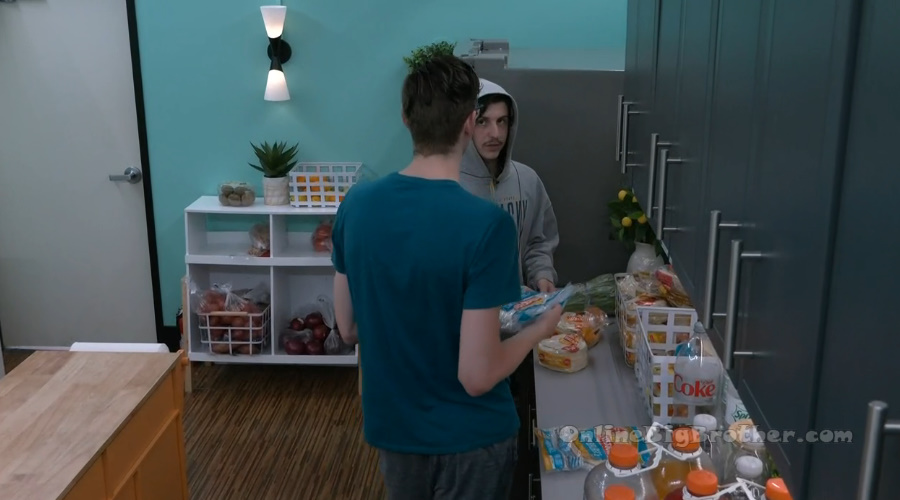 9:10pm Dinner time.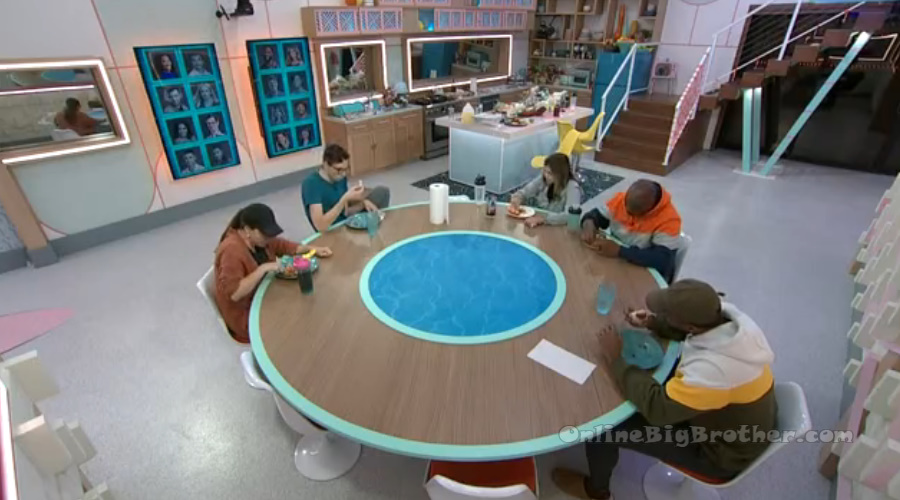 9:32pm Chinese Checkers time..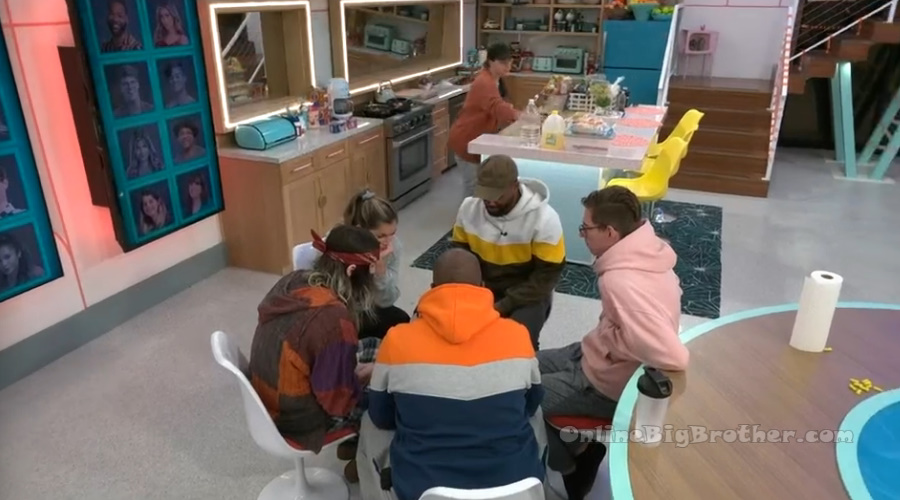 10:15pm -10:40pm Bedroom – Brittany and Taylor.
Taylor – did they pull you in today? Brittany – yeah. Taylor – what the hell is going on? Brittany – just one on ones. Taylor – Terrance told me that you said that you wanted to keep him but you're out numbered and that I am the last vote. Brittany – are you kidding me? His whole things.. he didn't even try to pitch me. He was like I know I am going home. You have to carry the torch. You're going to be the oldest person now and you're the last married one. I had a good run. Taylor – He said like everyone is saying the would keep me but you just won't let go of stuff from last week. Brittany – oh my god .. vote him out with glee. Brittany – you're 100% sure voting him out? Taylor nods. Brittany – and I am 100% voting him out. Pinky promise.. that's all we need. Alyssa and Michael joins them.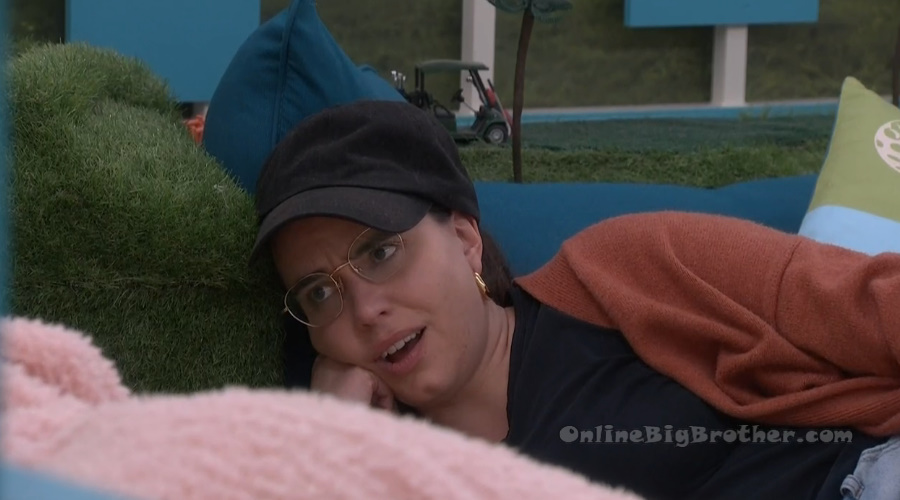 10:30pm Monte is sleeping..

11:35pm Kitchen –
Brittany, Turner, Michael and Taylor are sitting at the island together chatting.
12:10am HOH room – Taylor, Turner, Brittany, Michael and Alyssa are hanging out.
1:40am The house guests in the bathroom chatting.

2:50pm HOH room – Michael talking to the cameras.
Michael – Live feeders ..what a day! What a day .. what a day!? Brittany is apparently running around to everyone ..when she doesn't have to. She really doesn't. She is my number one and I still have her back BUT and its a big one… she is not doing herself any favors and if she is a sinking ship I am not going to go down with her. Plan A is to just win the veto this next week. Not a good plan granted but I will sure try.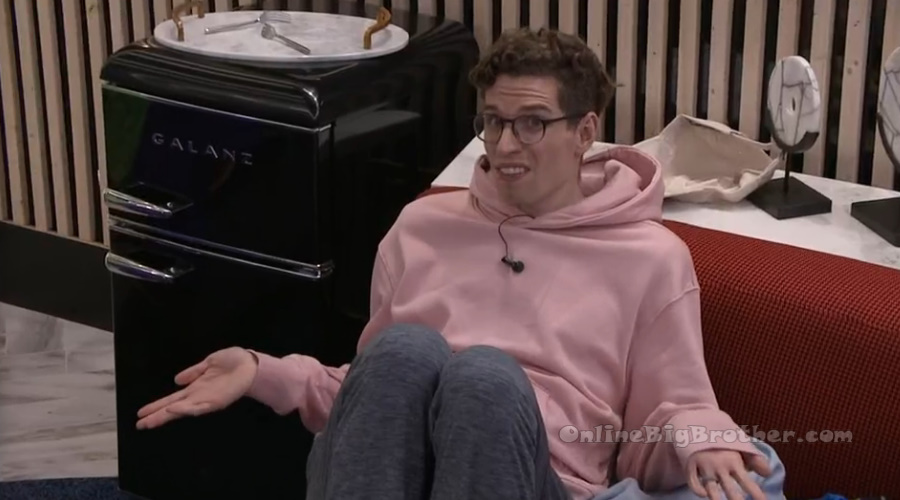 3am All the house guests are sleeping..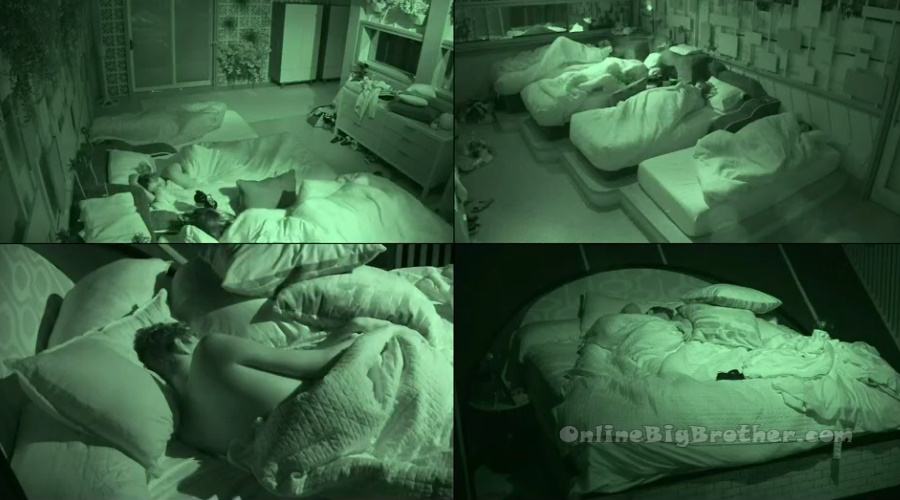 Without reader support this site and these spoilers wouldn't be possible.
Please consider a donation to keep the madness going.
Any amount is greatly appreciated!