Quick Big Brother Spoilers
Head of Household:  Michael
Nominees: Alyssa and Terrance
POV Players: Monte, Alyssa, Michael, Terrance, Taylor, Brittany
POV Winner: Michael
Veto Ceremony: Veto was not used.
Havenots: 
Lock your ranks in before midnight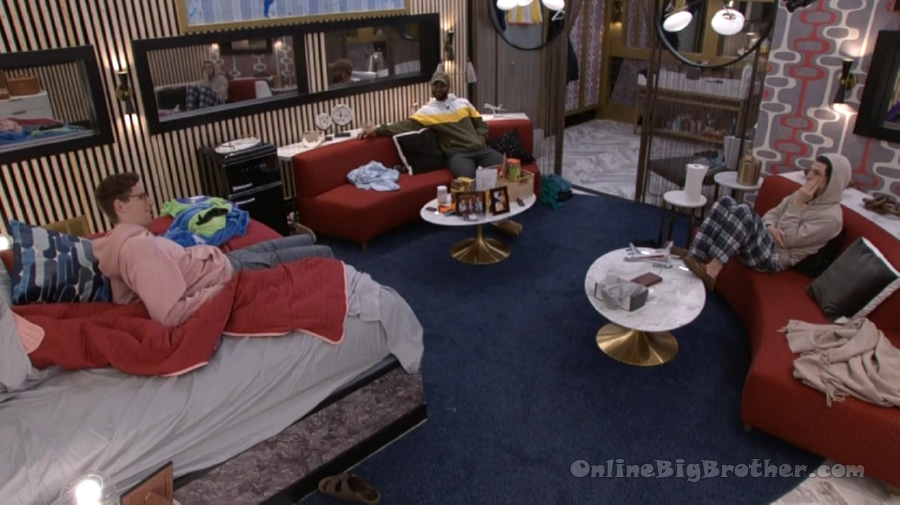 1:45 pm Monte, Turner and Michael
Monte says Terrance had a conversation with Taylor, "trying to make amends with her"
Monte – after that conversation with her he comes up to me and says.. alright BRO I have Taylor locked in, I have turner locked in, I just need you for the third let's make this official.. Blaze Blaze Bla
Monte – Okay sure do you have reassurances with these people?
Turner – he told me he has Taylor and just needs you but If I am in then you are in basically
Monte – that is what he said.. He thinks he has all the votes now.
Monte – he was trying to create mistrust between me and Taylor but at the same time trying to say if there is enough votes then she is down then I am down.
Monte – Brittany is suspicious of me and Taylor
Michael – or she told something to you and Taylor and she's afraid you'll compare notes.
Monte says Terrance is telling them all things that are not true to get them to vote to keep him.
Turner – copy that
Monte – I need to check in with Taylor to hear what the hell Brittany is telling her
Monte about Brittany – It's becoming more apparent that she is doing things to incriminate herself
Turner – if You win tomorrow who are you putting up. If I win I'm trying to think, Brittany and Taylor. Taylor as the pawn or Alyssa as the pawn.
Monte – we need two votes to ensure we control things.. I'm not putting each other up as pawns or anything like that. It has to be some combination of the three. Alyssa, Brittany and Taylor.
Monte – I'm fine with putting Brittany and Alyssa up at the moment. To me Taylor has shown the most faith and given me this information I feel good that I can trust her. Whereas Brittany Not sure..
Turner asks if they are putting up Alyssa and Brittany are they targeting Brittany?
Turner – if you won the veto would you be comfortable with not taking Brittany down?
Michael – Brittany is doing way too much but I don't see her as a competition threat. Alyssa isn't doing too much but I view her as a jury threat. Between the three Taylor is the biggest Competition threat but I still feel confident that you know the three of us can beat her in a competition.
Monte – this is when the game gets tough.

Turner – Alyssa is also targeting Brittany.. she told me.
Michael – There was zero people targeting Brittany in the beginning now everyone is
Monte – everybody wants to put her on the block because of little…. umm… anyway..
Monte – for me I would put up Brittany and Alyssa and if someone uses veto Taylor goes up and move on from there.
Turner – Taylor said she would put me up do you know who she would put up next to me?
Monte – Alyssa
Turner asks who Brittany will put up.
Turner – It would be DOPE if Alyssa won because then she's targeting Brittany then all three of us can play next week
Monte – Alyssa is a free agent like T she can say anything it won't get back to anybody she can trust.. she can do anything because it's not going to hurt anybody she can trust.
They agree Terrance has got to go this week.
monte – he's got to go he's all over the place
Turner – yesterday he goes This week I figured out exactly how to play the game I think I can do good at it now..
Michael – now.. 60 plus days in
Turner – that is dope dude
Monte – Talking too much gets you on the block and gets you evicted..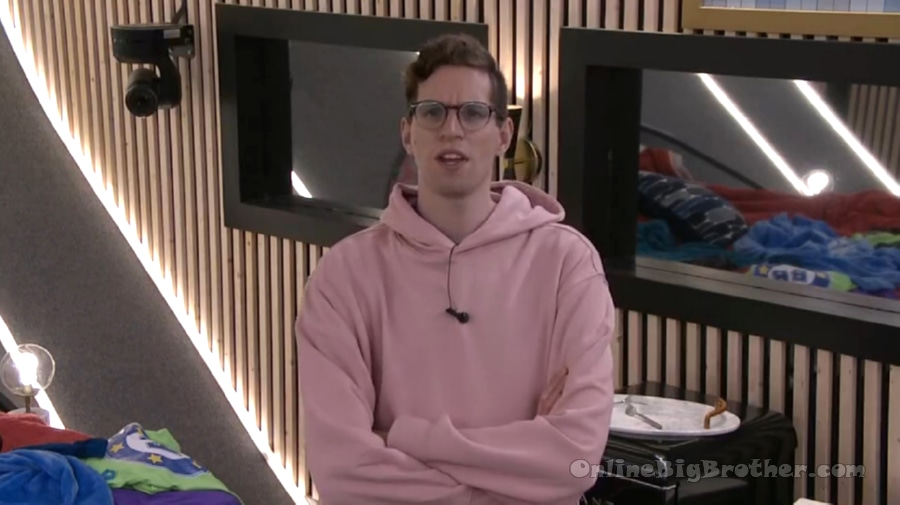 2:05 pm Michael alone
If Brittany goes up and I'm not on the block and I get the veto I'm going to pull her down. Brittany going home does not make sense for my game.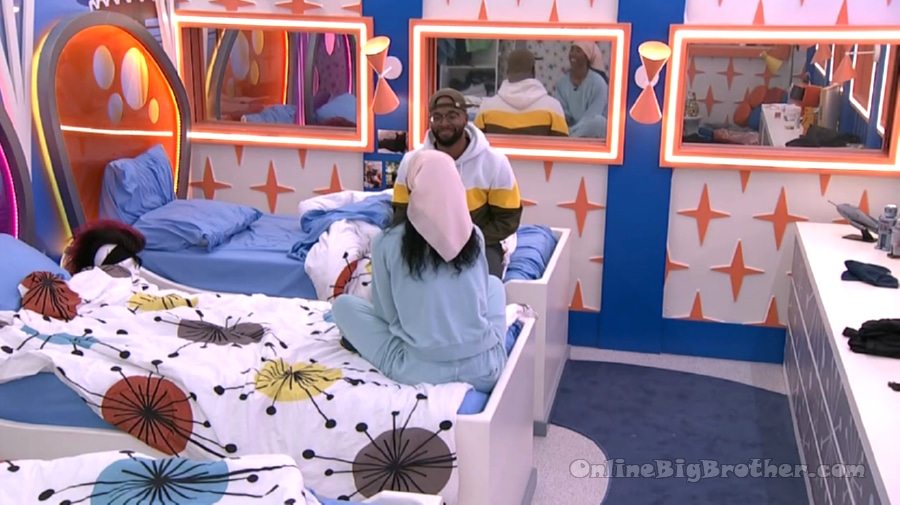 2:57 pm Monte and Taylor
T – when you had your one on won with Alyssa did you ask her about the all girls thing?
M – no she told me
Taylor laughs "I guess Turner told her because Turner told me and wow… IT's exactly what I told you I was in that room and Alyssa was making this pitch to the three of us to make it to the end. I was like, Sure."
T – Brittany is the one that is telling everybody about this apparently
M – Turner told her
Monte says Brittany tried to make a final 2 with Alyssa that same morning. "Said that she wanted to see them go to the end or whatever the hell that was pretty much the extent that is where the conflict arose. Turner is now comparing notes"
Monte – Both Turner and Alyssa are like Brittany has to go on the block next week. I don't know why she's playing so hard
T – Turner said she didn't have a target on her but she's putting a target on herself
T – Okay I feel less crazy. Alyssa told me it was Brittany who was running her mouth about it. Turner told me that is was Brittany
Monte – Before this week shouldn't have been anybody's target but now it's like she has to go on the block. Everybody knows about her I think Turner was even talking about bringing it up to Michael.
T – Turner was saying that Brittany threw Michael under the bus to Turner
Monte – to what extent..
T – saying Michael has got to go
M – she must think Turner is a fool
M – My thought is if I win HOH Brittany and Alyssa..
Feeds flip to Alyssa and turner chatting
When we're back.
Taylor is saying she's been f**Ed by all girls alliances all season long she wouldn't be down for one now.
Taylor – I have a solid four I feel good about you. I'm close to Brittany. Anybody who sits next to Brittany will win the game.
Taylor – I don't make stupid moves I'm quiet.
Monte says Brittany is talking too much "Go to bed and chill.. I don't know why she's going about it this way"
Taylor – She touches the block next week.. with either Turner or Alyssa..
Taylor – who are we voting out.
Monte – Alyssa
Monte – Brittany may be acting like a fool. It doesn't give me any reason to evict but it does give me reason to put her up.
Taylor – I'm not close to Alyssa, none of us are.
Taylor – it would be stupid for me to target Brittany over Turner
Taylor – in a perfect world if somebody doesn't win the veto next week… (take out Michael)
Monte – yeah.. but yes very much if we don't then we'll look like fools
Monte – if I win that veto I'm using that sh1t and if I'm HOH I'll do the f***ing thing my hope would be I'm not public enemy number one next week
Taylor says even with all of Brittany's bullsh1t it doesn't make sense for them to take out early.
Taylor – In a perfect worlds he's gone this week he's gone next week then it's us three and Turner and Alyssa
Monte – Turner is the biggest competition threat.
Monte says if Michael wins the veto next week "we know he won't use it on Brittany. Brittany stays on the block the true target goes home"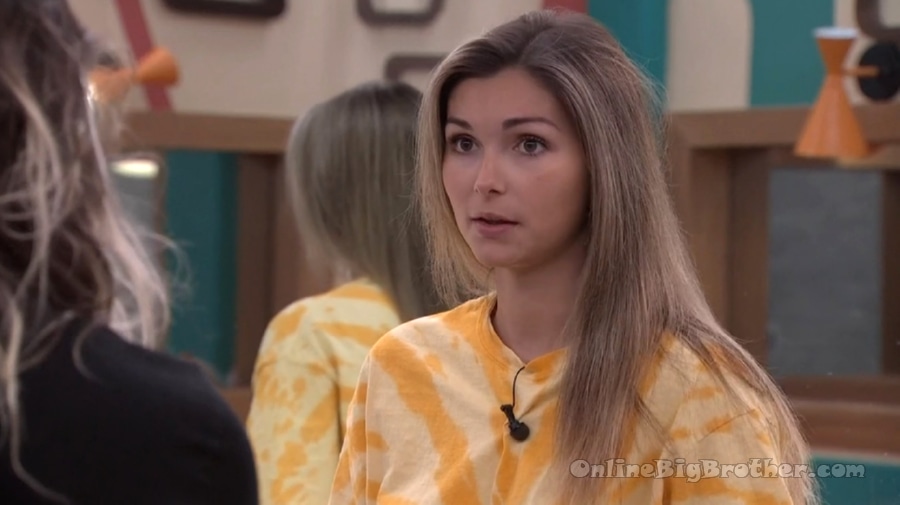 3:04 pm Turner and Alyssa
They're complaining about Brittany right now. Turner says she's been starring at him.
Alyssa – I don't even want to be near here.
Turner – If I win HOH tomorrow I'm putting her up.
Alyssa – would also do that. I don't want to put up Michael but I don't want him to win and take her off. That is the question mark we can discuss
Turner – Brittany told me if Taylor wins I'm going up. I told Taylor that and she confirmed it.
Turner – I just hope Taylor or Brittany don't win
Turner – Terrance BIG time thinks he's staying
Turner – you are totally fine, Terrance is going to be blindsided because he thinks he's staying.
Alyssa – Michael told me Terrance told him yesterday everyone is feeding me bullshit I'm going home
Turner- that's him trying to play into the fact .. Michael doesn't want Terrance to stay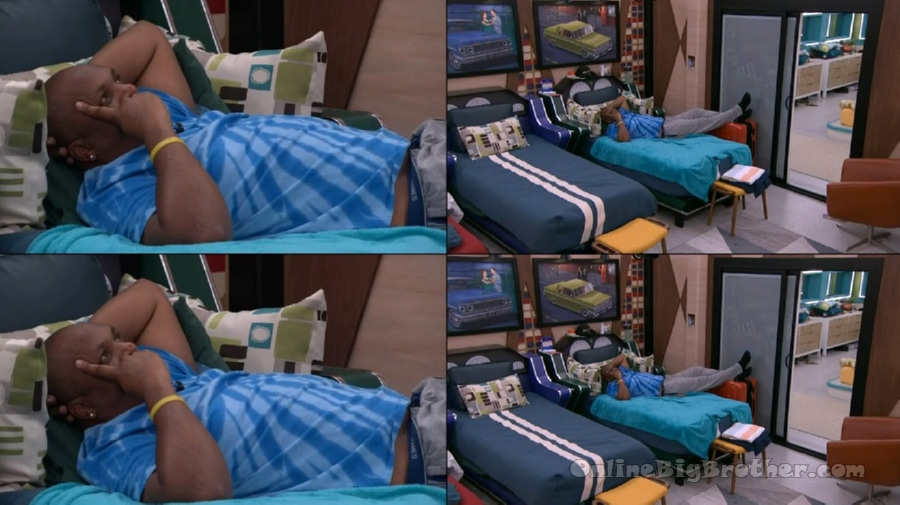 4:08 am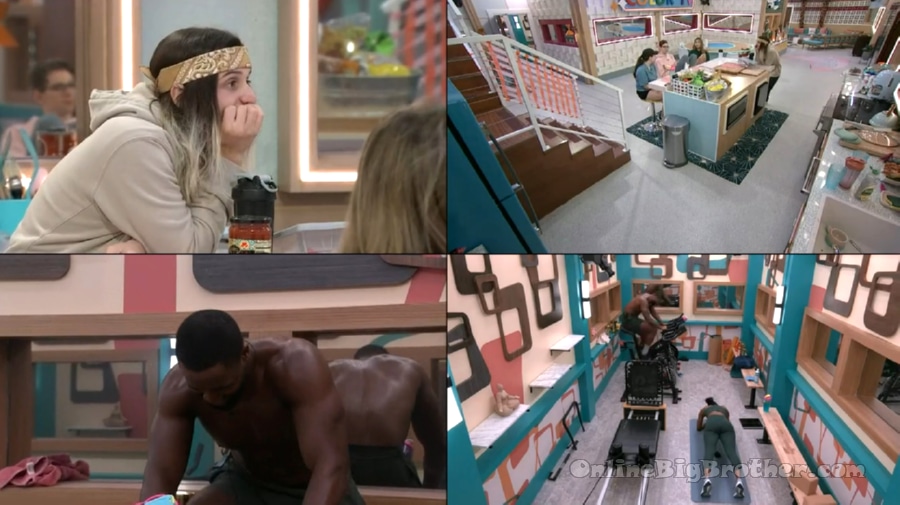 5:12 pm chit chat and working out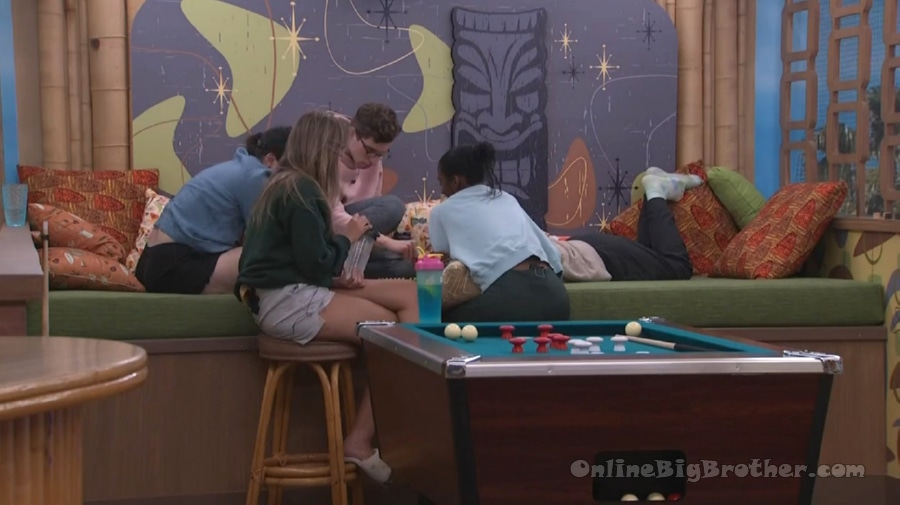 6:00 pm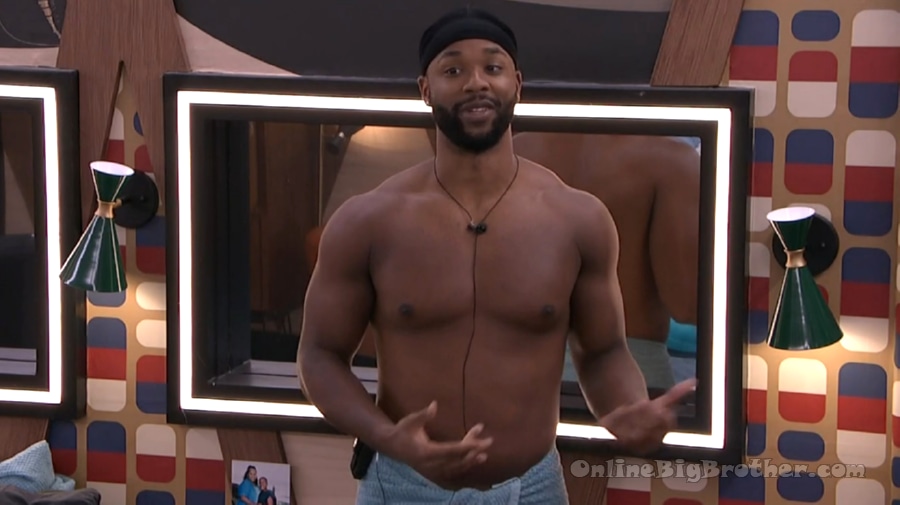 6:10 pm Terrance and Monte
Terrance – I'll tell you this if I don't make it or whatever and you make it to the final and it's between you or her you know where my vote is going
Monte – I appreciate you BRO
T – and that's real
M – Alyssa staying is indication that she can get away with that every week. There's people that get away like that every year. her and Brittany are the biggest floaters of all time. If there is a chance to get out a floater and keep someone I can work with I'm 100% down with that.
M – If I stand up and shout out too much about it then it's my a$$ next week
Monte says Taylor is still upset about last week. "She's holding onto that for dear life" (Terrance trying to save Kyle)
T – that is why I gave her the opportunity last night to air out her grievances..
M – the good thing if this week coming up Michael can't win HOH. So I'm hoping this is my shot to finally come up. If everything goes well..
T – I'll be seeing his ass
M – If I take that shot. I kinda have to. If I take that shot what is my future like the following week. Now I have to win the veto to make sure they don't get any funny ideas about putting my a$$ up for taking that shot.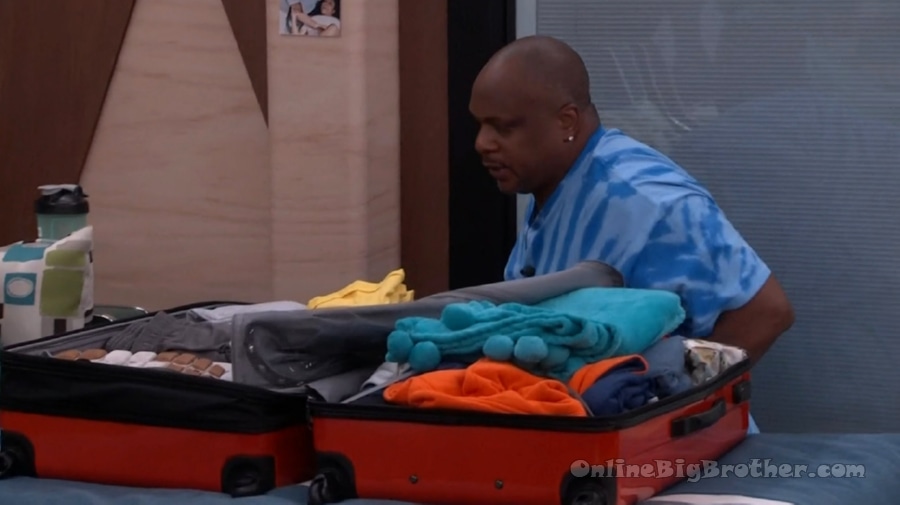 6:27 pm Terrance filling his suitcase up with Blankets?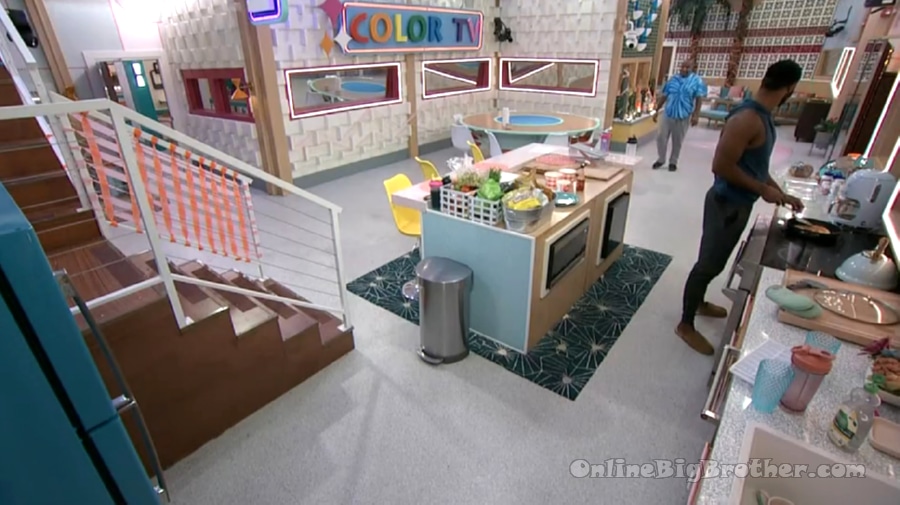 6:38 pm Taylor telling Monte as she walks to the bedroom.
Taylor – come join the downstairs party.. front room party
Terrance passes by Monte on his way tot he bathroom. "I'm a sell out party.. you know my speech tomorrow is toing to be brutal"
Monte- ohh shit
Without reader support this site and these spoilers wouldn't be possible.
Please consider a donation to keep the madness going.
Any amount is greatly appreciated!