Quick Big Brother Spoilers
Head of Household:  Michael
Nominees: Alyssa and Terrance
POV Players: Monte, Alyssa, Michael, Terrance, Taylor, Brittany
POV Winner: Michael
Veto Ceremony: Veto was not used.
Havenots: 
Lock your ranks in before midnight
7pm Kitchen –
Terrance is cooking. Brittany is sitting at the island watching in silence. Meanwhile – Turner and Alyssa are sleeping. After dinner Brittany heads to the bedroom to talk to the cameras about herself. Brittany – if you're watching right now and you're like oh it would be really cool to be in the big brother house. And maybe you see somebody like me and you're like wow how did she get here!? Which I wouldn't blame you! She seems so random and normal. I am random and normal too, I would like to be on the show. And I would tell you that you're right. You do not have to be anything special to be on the show. You don't have to think you're special. Other people might think you're special. And that's cool. They might not even think you're special either.. and still pick you. I honestly don't know if they think I'm special or not.. but I got picked and that is all that matters. Just don't give up. Keep applying. And my advice would be make sure you have some strategies on how to handle stress because it will be very stressful. If you care about it a lot, it will be stressful. Be prepared to be paranoid. I don't think I ever felt like it was like to be paranoid. The best thing for your game is to just lay low and not feed into it. Which is why you see a lot of people "POOCH" themselves.. which is go crazy. But I think I did a good job of that today even though it feels counterintuitive. Tomorrow could be a double eviction.. which would be crazy. I try not to let the negative thoughts get me. Today the thought that I am clinging onto is that I am here. I am in the big brother house. Its day 64 and it still doesn't feel real. I am so thankful to be here. Even though I miss my husband and family it still feels like a dream to be here. All the Dyre Fest people (Kyle, Turner, Alyssa, Joe, Terrance) are liars and cheats.. I am coming to recognize. I was the savage person for suggesting its pure chaos out there.. and that they're going to come in more unified than ever .. yeah look what happened.. and I was right.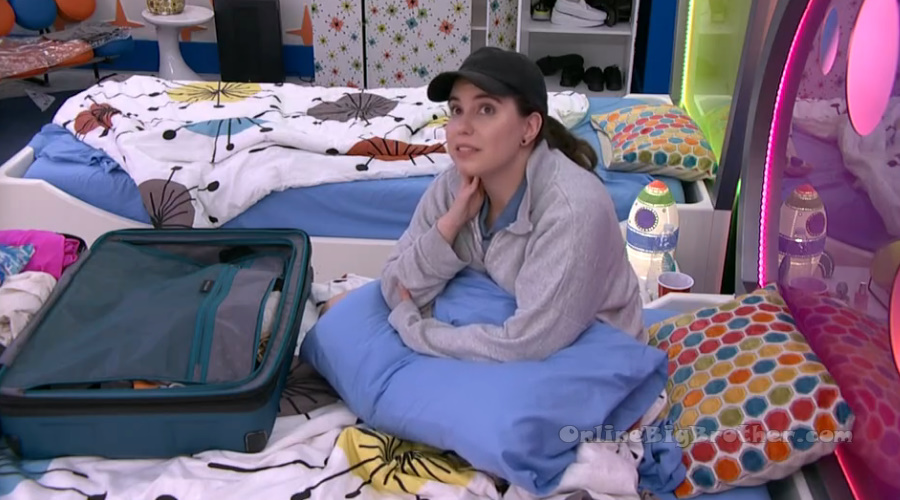 8:30pm Bedroom – Michael joins Brittany.
Michael – how are you feeling this week? Brittany – okay.. I was definitely paranoid this morning. Michael – just in general about the vote? Brittany – yeah. I think Terrance was telling people that I was trying to advocate for him to stay. Which is not the true. What did he tell you yesterday when he talked to you upstairs? Michael – It came across very much like here is the plan that I came up with that you don't want me to stay. Here is what I want to do moving forward. You need another soldier in your army moving forward. He was like if I win.. I asked him what would you do.. and he said I would put up Turner and he was like I wouldn't want to put up Taylor .. so like maybe Monte. Brittany – that's weird. Michael – but also he was pitching me and Turner to other people. Brittany – I literally don't know what his game plan is because he literally didn't pitch anything to me.. he never said anything to me. To me it was all like well I am going home.. like goodbye. Like him going out this week is because he is going after you and Taylor.. and I like Alyssa.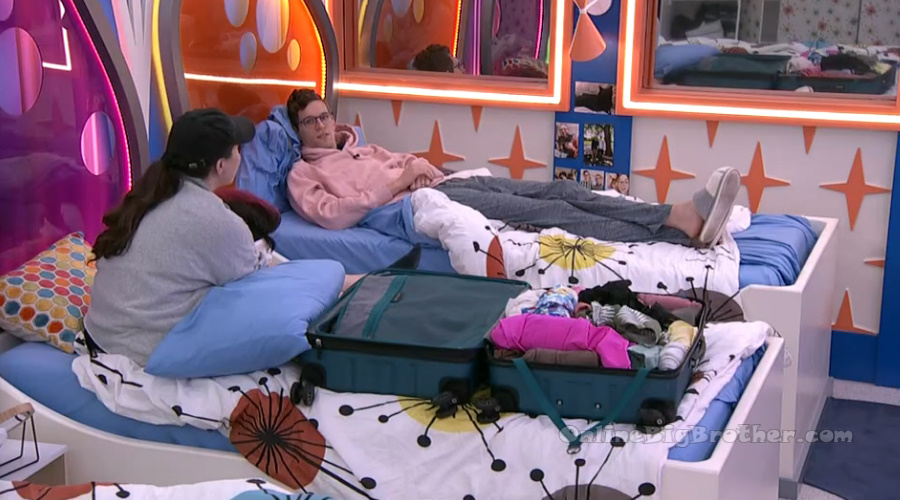 8:42pm Bedroom – Talyor and Turner.
Turner – if you .. tell me if this is just too forward of a question.. If you win HOH .. where does she (Brittany) stand? But like would she go up if you won HOH? Taylor – its something I would actually consider.. whereas I would never have considered it before .. but I would actually consider it. Turner – She also told me .. which I forgot to mention .. that there was also a final four big brochella. Taylor – did you also tell Monte that? Turner – yeah. Taylor – okay good, I just want to make sure everyone is on the same page.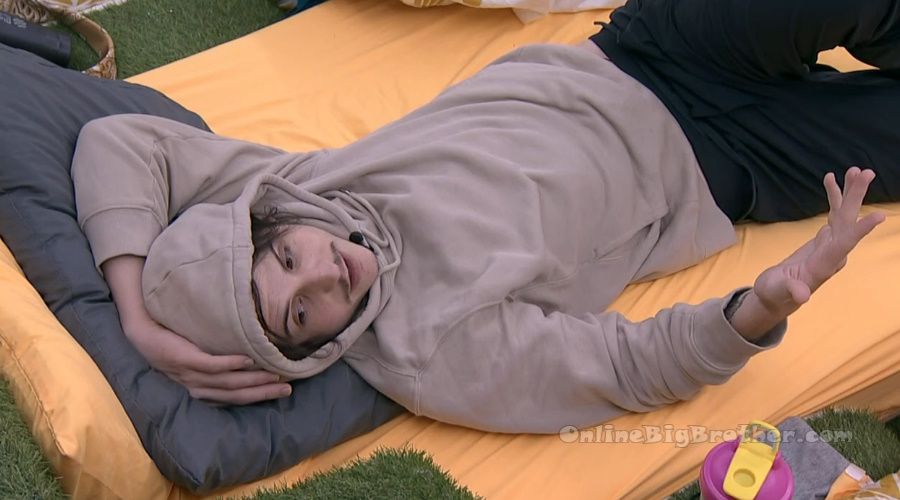 8:55pm Bedroom
Taylor alone talking to the camera. Taylor – Turner cannot win next week. Even if Brittany is (running her mouth) .. She cannot go next week because that is not good for my game. I don't have to trust her but I need her in the game. Turner has to go! Alyssa has to go. Ideally next week I win the veto.. I can have Turner and Michael next to each other..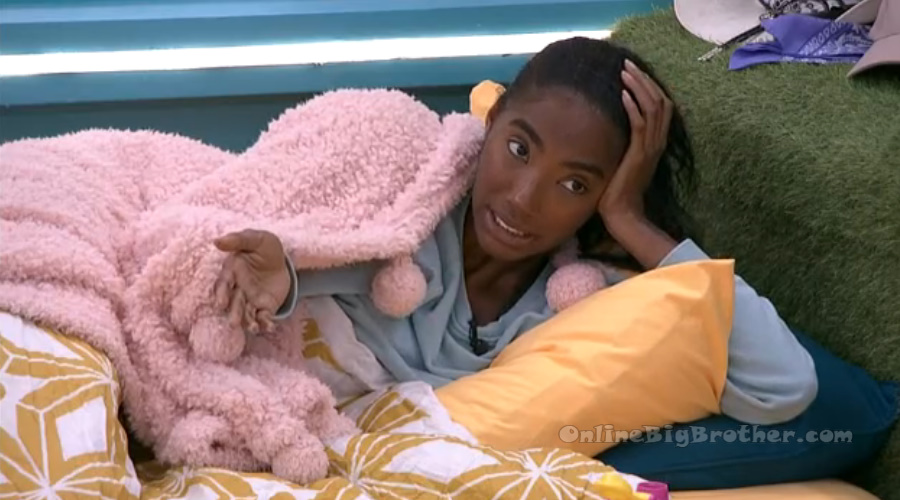 10:09pm Kitchen – Michael, Alyssa, Taylor and Brittany are sitting around chatting about random things.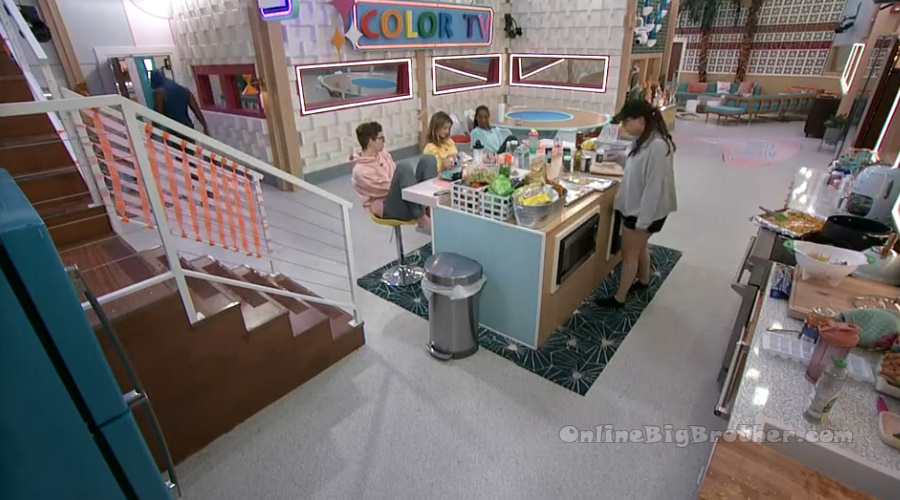 10:18pm – 10:25pm Bedroom – Turner and Monte.
Turner – I talked to Taylor when I woke up so I figured I would cue you in on what we talked about. Monte – yeah. Turner – She was just like … we just talked about the Brittany thing and she asked if I had talked to Michael yet. And I was like yeah I filled him in on it a little bit but I will probably talk more with him later. She was like I will probably target her (Brittany) next week but she was like I want everyone to be on the same page. Monte – okay, cool man. Turner – how did your talk go? Monte – same. I said that the whole house was going to be on board with her at least touching the block but as far as who the target is.. whether its her or Alyssa. I don't really care .. you know what I mean!? Just knowing that we have justifiable cause to put her up makes our jobs a lot easier next week. I think some mix match of one of those three being up on the block depending on who wins is fine with me. Turner – I would probably maybe build some trust with Taylor because I am close with Alyssa.. I would try to somehow get her up as a pawn. She would be relatively annoyed if she ended up going home if I did that but I think because me, you and Michael are on the same page it wouldn't make a different anyways. Monte – the only thing I am worried about is if one of us wins the veto .. and don't think I am flip flopping but.. Turner – no, no we're on the same page. Monte – If we had Taylor on our good side next week .. like say if I win, I don't put up Taylor .. Alyssa and Brittany are up and say f**k it .. I win the power.. you win the power.. use it and then we put up Michael. The following week, at least Taylor will fine knowing we didn't put her up this week. Have her in our good graces and then have Alyssa as the target.. Taylor also said that she is willing to take that shot. Turner – she said that to me too.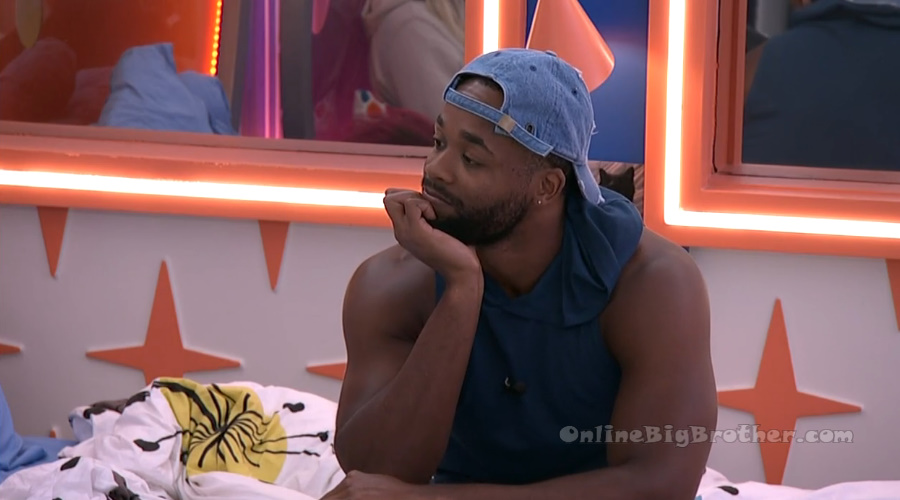 11pm – 11:30pmEveryone but Terrance play hide & seek ..

Without reader support this site and these spoilers wouldn't be possible.
Please consider a donation to keep the madness going.
Any amount is greatly appreciated!