Head of Household Winner – Nick
Nominations – Jessica Nicole and Cliff
Vote Intentions – Nick wants Nicole, 6shooters want Cliff
Power of Veto Players are Nick, Jackson, Jessica (picked Christie), Cliff, Kat
Power of Veto winner – KAT
Power of Veto Ceremony results – Kat uses Veto on Jess. Nicole is the replacement.
Powers in the game
Ovi – Nightmare (Dead unless he comes back?)
During the night, Ovi could secretly wake up the house and call a new Nomination Ceremony, with the Head of Household naming two new nominees. The original nominees would have immunity for the week. The power is able to be used for the first six Nominations.
Jack – Chaos
After chips have been drawn for a Veto player draw, Jack could force a re-draw for the players. This power could only be used once and is able to be used until there are six players left in the game.
Christie – Panic
At any of the next four Power of Veto Ceremonies, Christie can turn the Golden Power of Veto into the Diamond Power of Veto and allow the current veto holder pull someone off the nomination block, but instead of the Head of Household naming the replacement nominee, the veto holder names the replacement.
Grab your live feeds —-> BB21 Live Feeds Subscription Link
Rank your houseguests —-> Big Brother 21 Ranking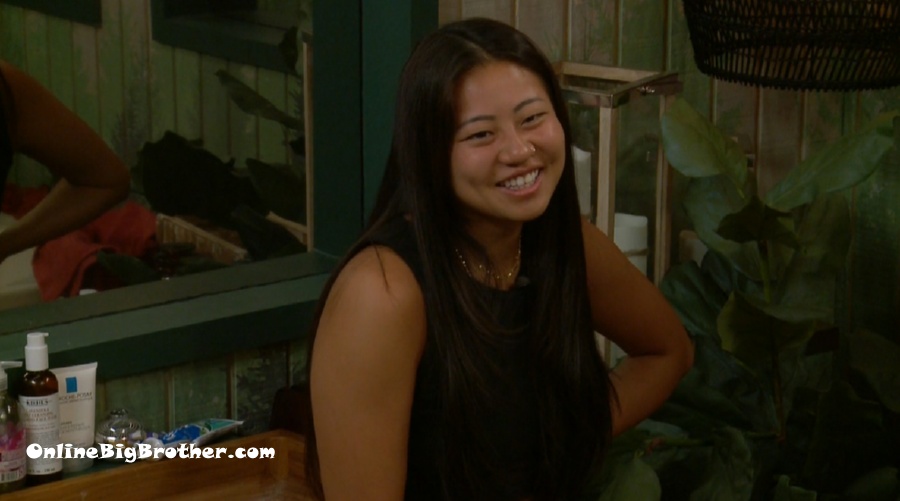 11:00 am Sam and Bella
Sam going on about his work "old dominion" and how great of a company it is. Goes on about how they really look after their drivers and it shows in the morale of workers.
He brings up that he's an administrator on their facebook group page it's 800 people all drivers.
Sam – I bleed green I love Old dominion
Sam – coming in here I didn't think I could win but as things are unfolding and the two vetos and stuff. Now all of a sudden I'm really starting to think to my self like.. maybe I'll win..
Sam – it's really weird I didn't come on here with high hopes at all I didn't thin kit would go that well..
Sam – so now I'm thinking there's hope in the future now.
Sam – I could not imagine getting voted out sitting in the jury and having to vote for Jack or Michie like NO
Bella – over my dead body
Sam – that would just suck .. it's not even someone fun
Sam – if it was Christie alright that's a little better. If it was Brhistie and Tommy, alright they play a good game got the big targets out
Bella- if it was you and Nick that would be really interesting I would have to vote for Nick
Sam – you would, what about the children
Bella – Tommy and Christie area always mediators which reflect good for them but now Christie just want this whole thing
Sam – Jack, and Michie don't know Christie wants this whole thing and if JAck, Michie are on her side
Sam – I feel like she's more going that way and that's what scares me
Bella – yeah. .. I hope .. yeah
Sam – we gotta pull her back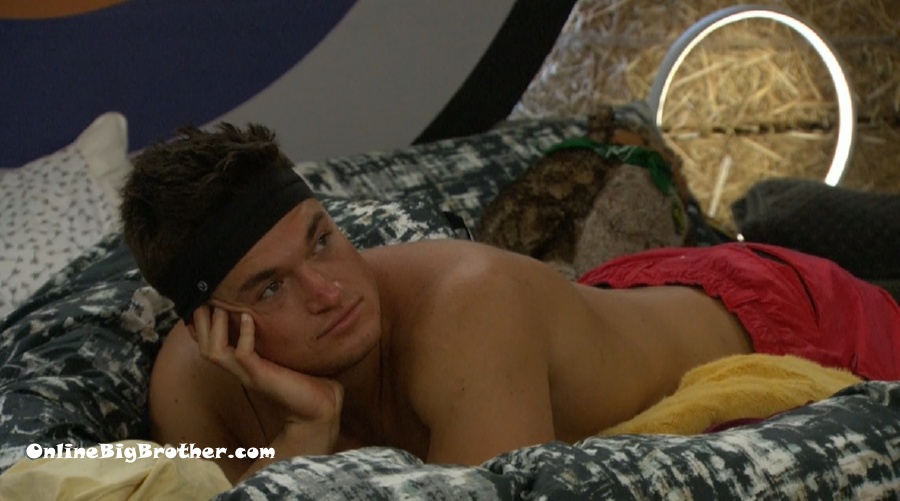 11:00 am Christie, Jackson, Jack, Tommy
Christie still talking about yesterday and her freak out.
Christie says "legally" she had to tell Bella and Nick the details of her power after she mentioned it and sketched it out.
Christie – I was never really clear on the rules .. not 100% sure of the specifics I was under a wrong impression regarding one of the things
Christie – I was instructed if I was choosing to tell people that's fine but I have to be clear .. I had to man .. which sucks but I don't f*ing cares it's only good for 3 more
Christie says she's gunning for HO and taking a shot at Nick and Bella
Jackson – we can put them both up we don't even have to backdoor
Christie – they literally think they can play us (lol)
Jack – all they have to do is not win HOH and it's all over
Christie – whoever has the veto they get to choose who is the replacement.. so even if Nick wins HOH and he's psyched about his nominees and he's got t2wo of us up there and I win the Veto ..
Christie – lets say you guys are on teh block Bella wins the HOH but I win the veto I take someone down and I put Nick up
Christie – god forbid Bella wins HOH she's like on to us and nominates two of us as long as anyone in our alliance wins the veto or anyone we trust
Jackson – Kat, Jess
Christie – jess is mmmmmm
Christie – we select who goes up and we have the numbers to send that person out
Jackson – how great would it be if Bella wins HOH and Nick goes home
Christie – now that they know about it they will be terrified to put any of us up
Jack says after they flip the vote this week Nick and Bella will be against them they will pick a side.
Christie – then I dare bella to win and put us up because if any of us win her boyfriend is going up
Christie – BOOYAH
Christie – I'm nervous Tommy doesn't want to send either of them home so can you talk to him
Jack – no Tommy does trust me he's just terrified of Sam.. Sam is his enemy in this game
11:34 am Sis, Christie, Jack
Chit chat. Sis says she wants to climb up on the backyard fence she feels trapped she usually likes to do something new every day and she can't in here.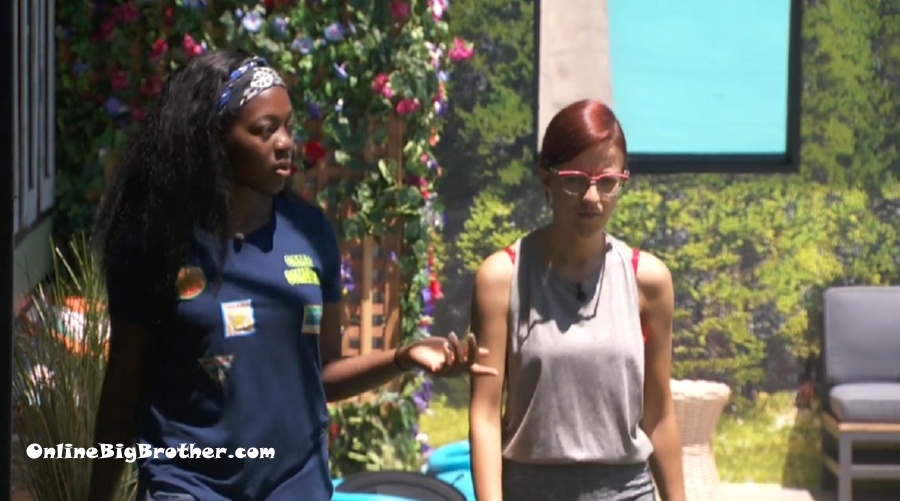 11:52 am Kemi and Nicole
Mostly chit chat..
Kemi – They are literally always talking sh1t you know the type of people that talk sh1t and literally get mad when you talk sh1t about them .. shut the f* up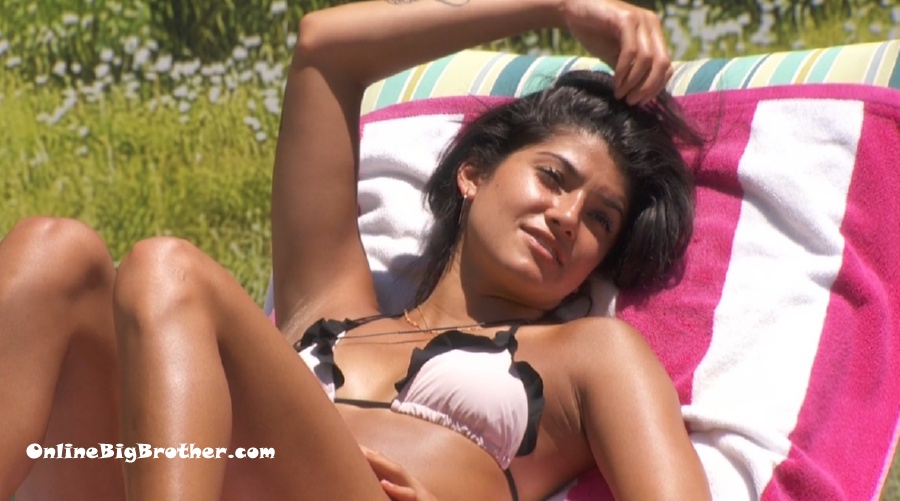 12:28 pm Sis, Tommy, Christie
Chit chatting about after the show renting a boat and sail around Europe going to music festivals (these are rough times for some)
Tommy – wouldn't that be fun
Sis – that be f*ing cool
Tommy – that be so cool
Tommy – like hire someone to take us on a boat. Hire a chef and two drivers
Christie – A captain a chef and a butler
Tommy – we sail around Europe together
Sis – my best friend, her dad is Sylvester Stallone (Sophia Stallon) and every summer they just in the yacht they live on it for like a few months and they go around
Christie – are you friends with her
Sis – uuuhuh
Christie – she's your friend
Sis – yes my best friend
Christie – is Sylvester Stallone's daughter?
Sis – mmmmmhmmm
Christe – wow how cool
Sis – they go to Saint-Tropez and they just live on this f*ing yacht they have chefs
Tommy – yeah that's the way to go
Tommy – we could probably do it for a week until we spent all our lasagna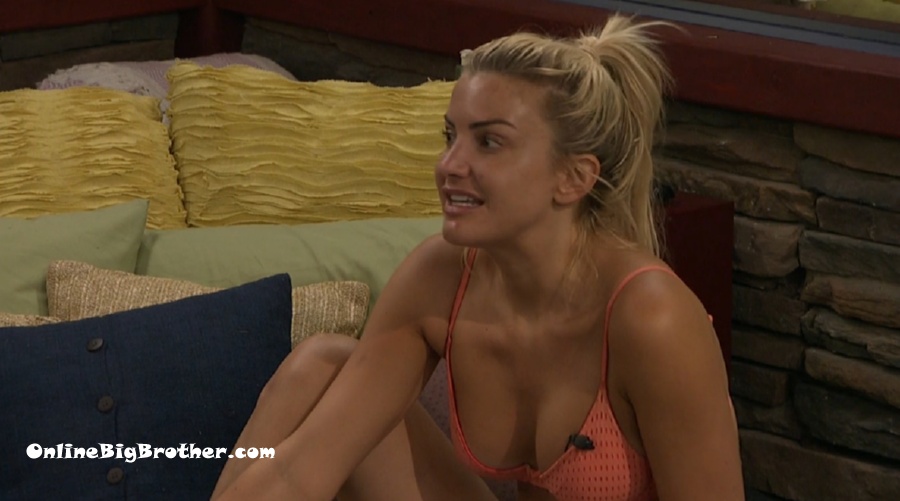 12:35 pm Holly and Kat
Holly – she (sis) tells Nick she would date him in the real world
Holly – she told Nick that umm.. that if she got to him first she would be dating him
Kat laughs
Holly – she tells Jackson that she wants to marry him after this in the real world. How have you not heard any of this
Kat – I don't know
Holly – It makes me uncomfortable. please don't tell her
Kat – I don't sis' energy she brings.
Kat – I feel like you guys flirt with her all the time I never hear her flirt back
Holly – no she flirts back but very secretively. She's always whispering stuff like telling them (guys) they are sexy
Kat – if she does flirt with Jackson you are a much better catch
Holly – no .. hello
Kat – I don't think sis .. I love her. If I would win HOH. Like I wouldn't because she's in my alliance but she's the one I wouldn't really want here
Kat – she's just very negative
Holly – In the real world after this I would date them. She says that to all of them (the guys)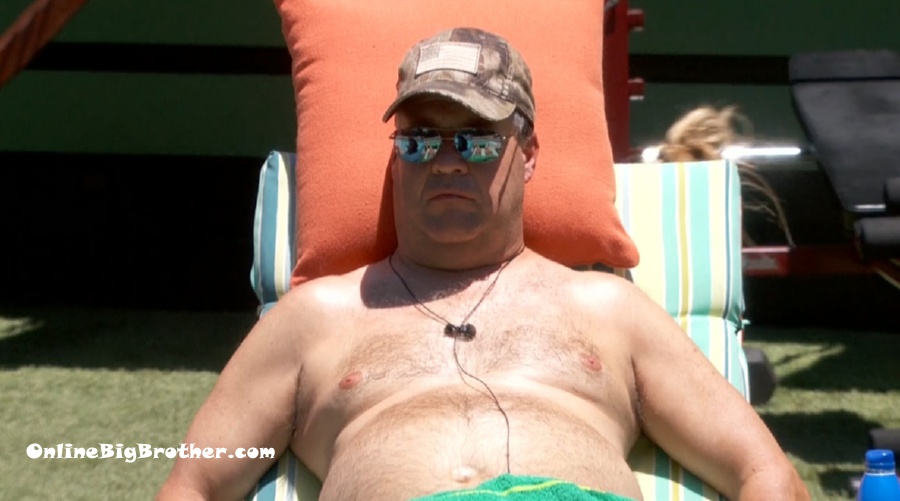 1:18 pm Everyone outside lockdown.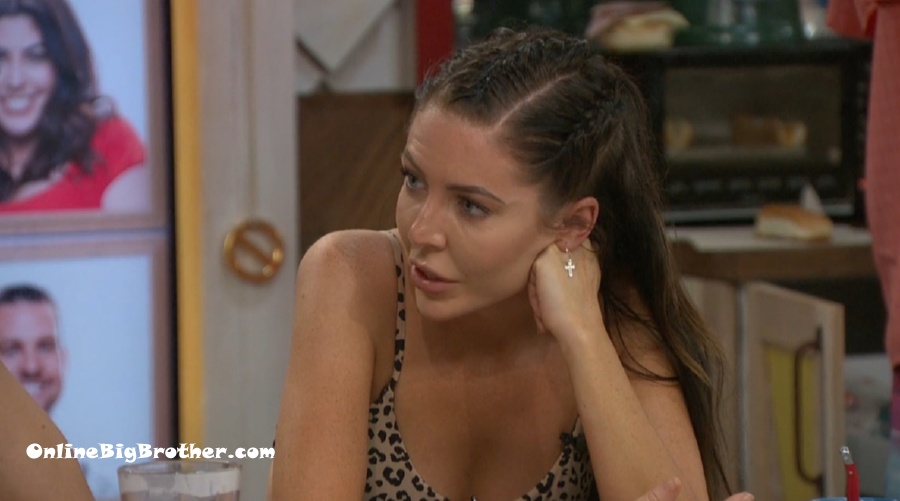 2:20 pm Holly and Jackson
Holly says she's worried about looking boring but she doesn't want to do something that is out of character for her.
They whisper about Sis
Holly – Kat says she's worried Sis will look like a b1tch on TV
Jackson – she's annoyed 24 /7 she's always angry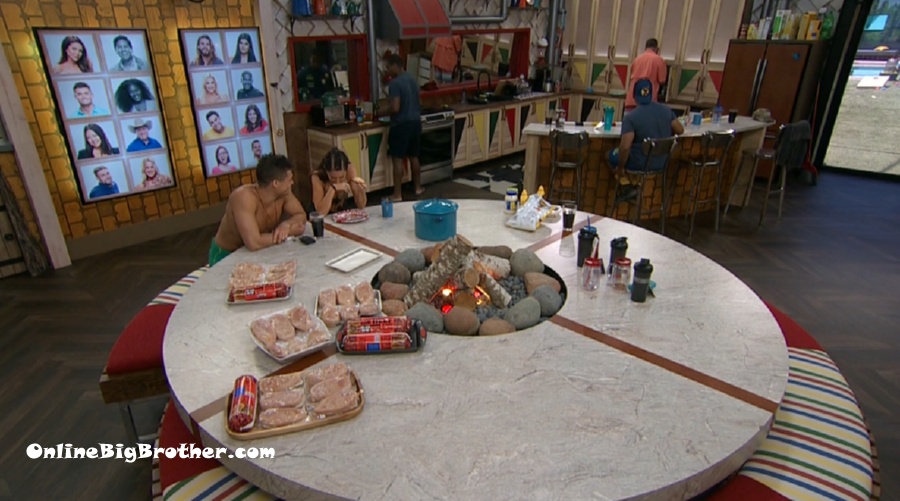 Looks like meat city tonight