POV Holder:
Paulie
POV Competition
Aug 6th
POV Used
NO!
POV Ceremony
Aug 8th
HOH
Victor
Next HOH
Aug 11th
Original Nominations:
Michelle AND Zakiyah
After POV Nominations:
Michelle AND Zakiyah
Have Nots
Bridgette, James, Corey
Watch the next week of the feeds for FREE – 1 week Trial!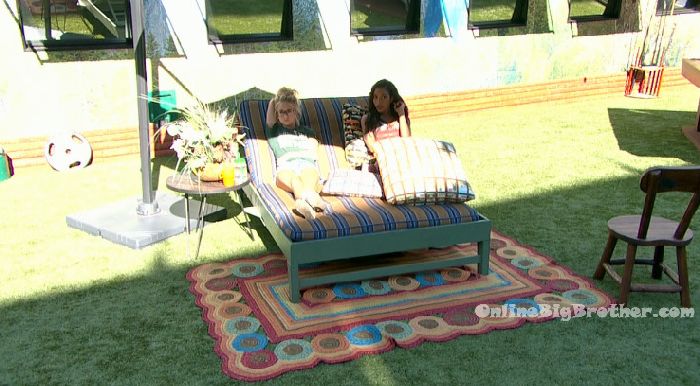 5:15pm – 5:30pm Backyard – Nicole says Meech has not asked me if I'll vote for her. She hasn't asked Paulie either. She asked Nat, James and Corey. Maybe she thinks James is vetoing my vote. Paulie joins them. He says he is done trying to talk to her (Meech). I tried and then she called me out.
5pm HOH room – Meech and Vic. Meech asks who do you want to go home? Vic says I honestly want Z to go but I don't vote. Meech says I honestly think we can do it if James uses his thing. Vic says yeah, it just depends on who he uses it on. Meech says I think he is scared to use it on certain people. Some people want me out because I said I would blow stuff up or something. Meech says you know I'm not coming for you or Bridgette. And I mean it. I wouldn't be coming for Paul. Vic says yeah I think Paul knows that. Meech says its all about numbers now and having the numbers to stay. Do you trust Paulie, honestly!? Vic says yes. Meech asks even though he backdoored you? Vic says yeah, it was because of the alliance of eight. Meech says he (Paulie) is just really good at getting in peoples ear. I want you and Bridgette to go far. He (Paulie) has a really good social game. He is only looking out for him and his game. Vic says if you don't win comps in this house you don't have much power. After you win comps you need the numbers. Vic tells Meech to campaign. Meech says it just depends on if James has the balls to veto the two votes. Vic asks have you talked to him about it? Meech says yeah and he seems open to it. I don't want that getting out there though. Do you know where Paul stands? Does he trust Paulie too? Vic says yeah. Meech asks really, so he acts like he has your back but he would cut you. Vic says I want you to stay. I know Z would gun for me. I just can't fight too hard for you. Meech says I don't want to see Paulie at the end. He's gotten coaching by Derrick one of the best big brother players of all time. Its kind of an unfair advantage. Vic says his I think he was coached by Derrick and Cody. Meech says If I do leave this week, I will definitely go calling him out. Definitely! As I walk out the door. I'll say if you guys don't get him out. Vic says and you could have the round trip ticket too. Meech says I am coming back with a vengeance too! Be careful of who you trust. Meech says you know the vets get 25G's just for being here.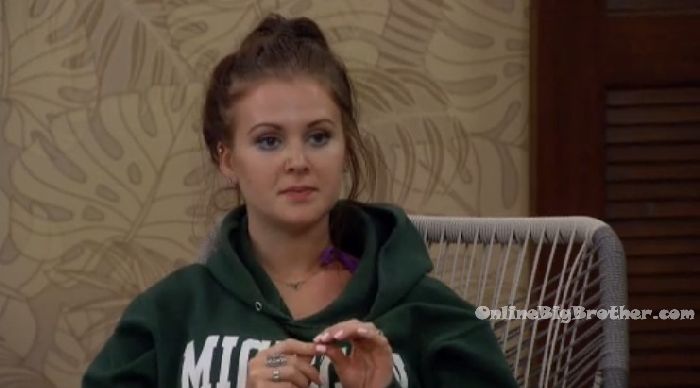 5:30pm – 6pm Meech says I'm going to pitch to Paul that if I go who is the next biggest target in the house. That and if I stay they can use me as a pawn. And maybe that I would throw the HOH. I'm obviously emotional and don't do well under pressure. Lets just hope I can rope some people in. Vic says if not hopefully you have the round trip ticket or you come back in a jury buy back. Meech asks if I am going can you just let me know? Vic says he will. The conversation turns to talking about life stories from outside the house.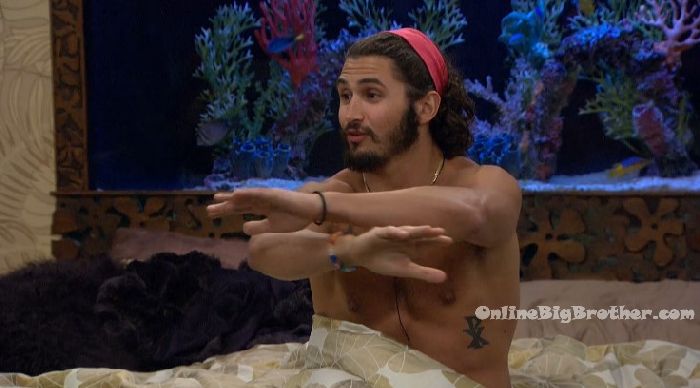 6pm – 6:20pm Safari room – Paul and Bridgette. Paul says in the short term I don't think either would go after me. Bridgette says we'll we all have to go after each other in the long term. Paul says I know I mean in the short term. Bridgette says I think its just funny that the whole house flipped in a day. Bridgette says I'm not convinced that Z would be next weeks target if she stayed. Paul asks why would you think that? Bridgette says I just thought those two people would be next for working with DaVonne. Paul says she Meech said she likes and won't go after you and Vic which is funny because you and her haven't gotten along and he put her up on the block. Bridgette says I want her to try and pitch to me and see what she says.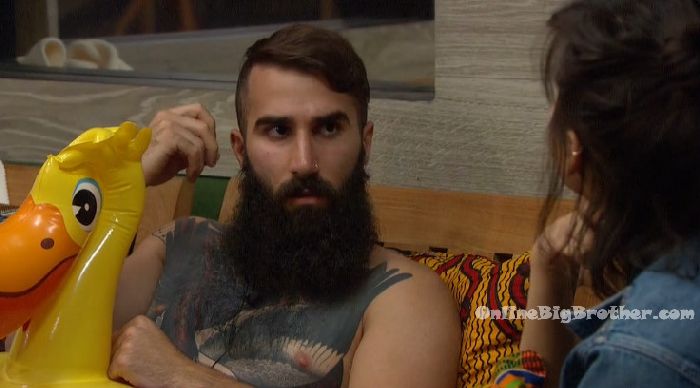 6:35pm Bathroom – Meech says all I would need is both of you (Nat & Bridgette) and James. Bridgette says James won't use his power strategically (to keep Meech) unless he believed people were on board. Bridgette you're a super fan right? Meech says there is nothing I can do besides blowing up their game on the way out. But even that won't get through to people. Natalie says everyone is too scared to make big moves. Meech says I'm going to call everyone out and say they're scared .. except you and Bridgette. Natalie says I'm not scared. Meech says yeah that's why I said not you two.
7:20pm – 7:55pm The house guests are playing pool, working out and lazing around chatting about random things. Victor is cleaning the kitchen. He says he does it for no one else but himself.
[polldaddy poll=9491180]
[polldaddy poll=9491957]