POV Holder:
Corey
POV Competition
July 16th
POV Used
?
POV Ceremony
July 18th
HOH
Paulie
Next HOH
July 21st
Roadkill Competition Winner:
Tiffany
Original Nominations:
Tiffany, Natalie, Corey
After POV Nominations:
?, ?, ?
Have Nots
James and Natalie
CBS All Access: Live feeds are only $5.99 per month – Try it FREE for 1 WEEK!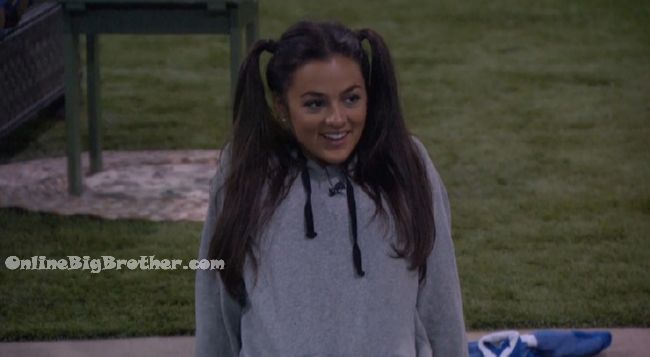 12:51am Hot Tub Da'Vonne, Natalie and James
Da'Vonne is worried about being nominated.
Da'Vonne and Natalie say they will not f*** James over
Da'Vonne – I know I got you I got Michelle .. ahahhaah
James- BIG MEECH
Da'Vonne says BIG MEECH will never vote against Natalie she told Da'Vonne that.
Natalie – Yeah I would never vote against her..
Da'Vonne counts the votes.. "Zakiyah say she has my back.. Paul say he has my back I'm just like theres a lot of stuff going around and this game is not for people who aren't strong minded.. If you are easily influenced.. You'll crack in this game.
Da'Vonne says "They" have been going around planting some serious seeds about her.
James – trying to get you to crack
Da – no , trying to get these people to turn against me … all kinda seeds.. The things he's saying is false information I hope the people are strong enough to read the BS because if they are not.. I could be GONE..
James- well I hope this doesn't happen.. If it does you did make it further than last season
Da'Vonne – we're not going to say that james
Natalie – we're not putting that into the universe
Da – that's right
Da thinks Tiffany is "Gone"
Natalie says that is what everyone has been saying.
James – so Tiffany is 1000% doing it (putting Da up)
Da'Vonne – 1000%
Jame s- I figured she would go after Nicole.. Because Corey.. You know the next best thing if I can't get Corey I'll get Nicole..
Da thinks it's a bit of Frank and Tiffany's concoction, "Frank on into her ear and told her Da has been playing you da is this, that, or other.. I don't understand how I play her in anyway.. I don't tell Tiffany anything.. Nothign.. You know what I mean I don't trust her.. I know what her sister did "
DA – I feel like we only have personal conversations.. Where i'm trying to calm her down
James says in this season you get caught talking to people you are not supposed to talk to you are in the line of fire.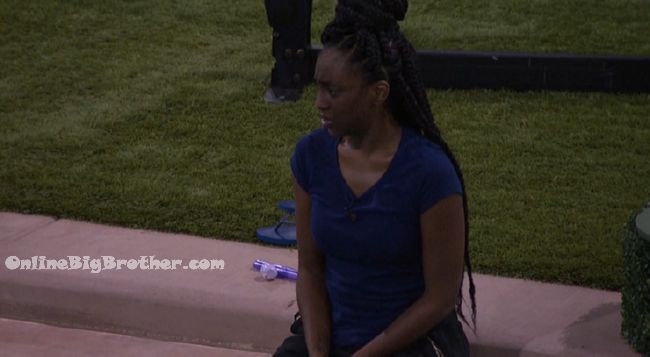 Da'Vonne says Tiffany went to Corey, Nicole and Paulie and told them DA'Vonne is going up, her reason is da'Vonne is a "Super strategist" she's playing everyone in the house, She's in all these alliances..
Da'Vonne – I've won 1 competitions really"
Da goes on about there's no alliances in the house there's just pairs..
Da'Vonne names out all the pairs (Usual suspects) in the house says Michelle and Paul are a pair.
Da – I have a cool relationship with Michelle.. If anything would occur she would tell me.. She even made a statement tonight..
Da explains Michelle telling her once Tiffany goes Frank will be going after the showmance.
Da – that leaves me, her (Meech), you (Frank/Nat) off the radar.. So i'm just like OHHH please let this work out
James – Frank's gunning for PAulie .. they are trying to get Paulei out next week.. Paulie knows that..
Da – Paulie can't play next week I feel like they are banking on you to win HOH next week
Jame s- who
Da – that team (Showmances) .. banking on you to win HOH who else is strong enough to beat Frank..
Da'Vonne wishes she had talked to Natalie earlier but Natalie was attached to Bridgette and Da'Vonne never trusted Bridgette one bit
Natale – I'm friendly with everyone that's just the way I am.. On a personal level I didn't know she said those things..
Da – When I heard her say those things about you and Bronte.. I got confused..
Nat – what do you mean
Da – Ohh she said you guys are a wreck and you she always has to calm you down
Nat – oh that's nice
Da – Ohh you didn't know that..
Nat – no
Da – oh .. I thought you knew that .. ahhh .. of course you can't repeat that
Nat – she just tries to get information out of me.. I don't know anything to give
James- I tell you what you need to know ..
James comments that Zakiyah is running up stairs with paulie.
Nat – they're cute
Da – they're adorable
James mentions how this season is so much more intense than last season.
Da – it's ridiculous.. I've heard so many things about me today.. I'm like where I'm at
James – where I'm at
Da says Tiffany has been going around saying she's going confront her but she never did.
Da adds that now Tiffany ios sleeping with Bridgette
Nat warns that Bridgette knows the game very well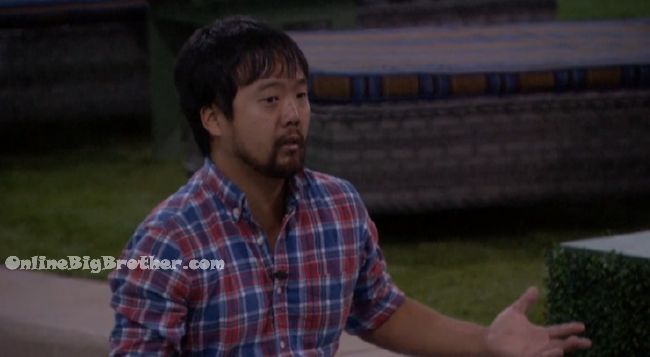 James doesn't understand why paulie didn't win the Veto says that Paulie had a chance
Da – I don't understand why they didn't throw it to me I had a reason to keep the noms the same.. If corey goes down I go up. That doesn't look sketch on anybody else's part.. But.. that didn't happen so I just have to trust. That's all I have to do Trust…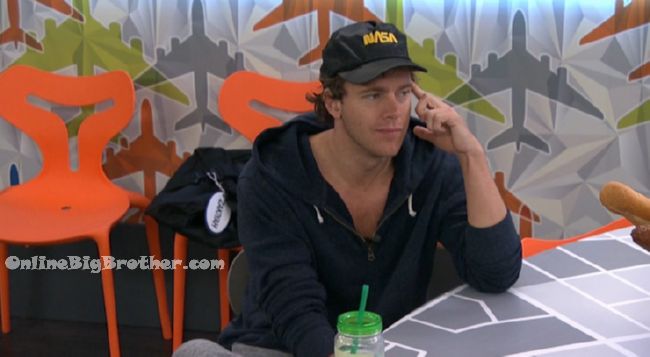 1:06am Frank and Bridgette cam 3-4
Frank – I'll give it to Tiffany she did a good job working paul today
Zaikyah walks by says Michelle is America's Favorite because she's so funny
Frank tells BRidgette sometimes ZAkiyah really annoys him.
Frank – one thing if people have a issue say something about it.. All that Beef was because I popped them in the Butt a couple times.
Bridgette – why you popping people on the butt Frank
Frank – I'm not anymore.. I was even.. You know it was completely platonic
Frank – That's the way I was with my mom and Nanne
BRidgette – someone said you called Da'Vonne a slut
Frank – I never did that
Bridgette – that was told to me twice
Frank – by whom..
Bridgette won't tell him
Frank – thats bullsh1t
Bridgette – I thought it was
Frank – I've never ev3er.. That's absolutely absurd.. When did you hear that .
Bridgette – about a week ago
Bridgette goes on to explain that someone spread it to Natalie that you popped Da'Vonne in the a$$ and called her a alut and she started crying
Frank – that's absolutely absurd.. She came out of DR already seemed upset. . And I popped her on the butt that was right after I won roadkill .. It was a happy moment I wanted to tell her she was safe.. You know.. I didn't..its not like I'm handing it like this and grabbing ass (See gif below)
Frank – I kinda did it like that… almost hurt a little bit (See gif below)
Frank ass slap variants #BB18 @DawgsBigBrother pic.twitter.com/4d2dB9epAi

— OnlineBigBrother.com (@bigbspoilers) July 17, 2016
Bridgette says Da'Vonne spread some sh1t after that incident
Frank explains how after he apologized… "What a piece of sh1t"
Bridgette says the girls Bronte and Natalie were upset with Frank as was all the other girls
Frank – I never called Da a slut but she's a f****g piece of sh1t, how about that
Bridgette – you heard it hear first
Frank – that's just definition of character it's unnecessary
Bridgette – the women of the house made me feel like I was with a guy that belittles women and sh1t..
Frank – you know that's not the truth
Bridgette knows adds that they started it early in the week to put the target on Frank.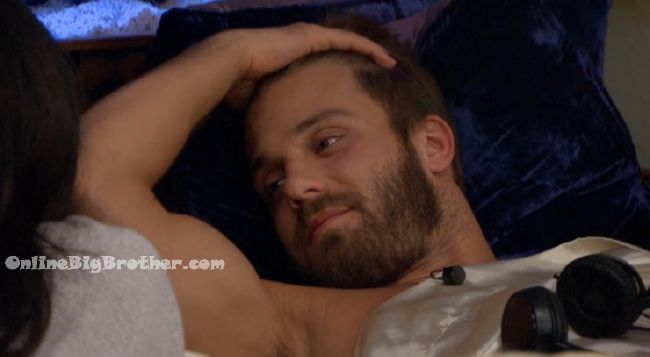 1:21am Paulie and Zakiyah
Paulie – he's a man way ahead of hears years.. The most brilliant guys I know his wisdom runs deep.. Badass motherf***r the stories of him as a kid..
Paulie – he's a damn stud
Zakiyah – I wonder what he's thinking now
Paulie – just want to make my family proud..
Paulie – If I can be 1/2 the father he was I would be a damn good father..
Paulie says he works his a$$ to the ground so his parents can be "Chillin"
Zakiyah talks about her mom and how she looks up to her..
PAulie and Zakiyah HOH
Zakiyah feel she is slacking off on the show because she has won yet
Paulie says if she knew about the competitions 3 months before and she could have practiced and didn't then she should feel like she's slacking
Zakiyah says her mom is a super fan
Paulie laughs says his dad and Brother even Derek told him "Do not win comps" early on "Opps"
PAulie says as long as Frank is in the house he's shielded but once Frank's gone…
Zakiyah brings up that Michelle got quiet with her today, "She got in her feelings.. Saying everybody has somebody.. Somebody got in her head"
Paulie – when was she saying that
Zakiyah – not too long ago.. She was like I don't care I just had a moment..
Paulie – She's a cutie
Zakiyah – She is, I think even Paul is cute.. I was like you better freakin talk to him before a the hoes pop up… A lotta hoes going to be coming after him..
Paulie – her personality is hilarious
Zakiyah – she's funny as hell.. She's blunt I don't want to say blunt I don't want to say she's not tactful.. I dunno
Zakiyah says after the show she doesn't see her and Frank being cool. At first she was excited because they were lived close back home but now hell no.
Paulie – you wearing a bathing suit
Zakiyah – you going swimming
Zakiyah – I can't swim
Zakiyah asks him what his soccer program is called.
Paulie – PCFC.. Paulie Calafiore Football club .. all ages.. The name of my entertainment company is Royal entertainment.. HAshtag make it Royal
Zakiyah – I'm not saying it sound bad.
Paulei offers food..
Zakiyah – I feel heavy.. I'm a women.. I feel thick.. I feel jiggly
Zakiyah – You feel that.. it jiggle
PAulie – I don't mind that
Zakiyah jokes that PAulie is wearing panties.. "You supported"
Paulie – I feel supported but plenty of room.. i'm not cutting off circulation
Paulie – I don't like underwear
Paulie goes on to say he never use to wear underwear until he got a girlfriend and she would yell at him to put some on because 'Everyone can see your d1ck". Paulie explains he wore tight jeans.
Zakiyah – everyone can see you're little bulge (hahah)
Paulie – I was like don't you want people to know you're boy holds it down.. and she was like no that's only for me
Zakiyah – Damn
Paulie says there's no difference between that and a girl wearing a sexy dress, "My assets just as good"
Paulie adds that is how he was when he was younger.
Zakiyah – you want to be be my friend
Paulie – I want to be your friend
Zakyah – we can never cross any boundaries
they giggle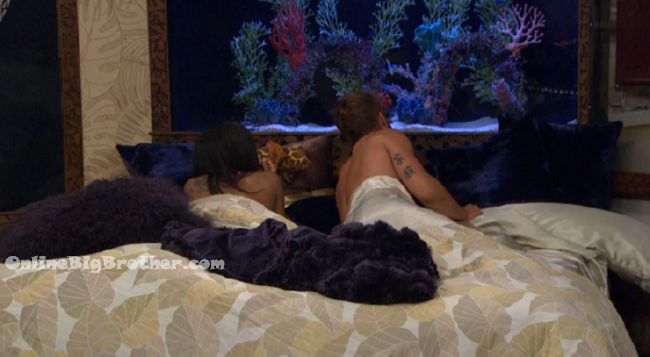 They are watching the fish sounds like theres a fish near death just kind floating around the coral. Another fish is nibbling off it.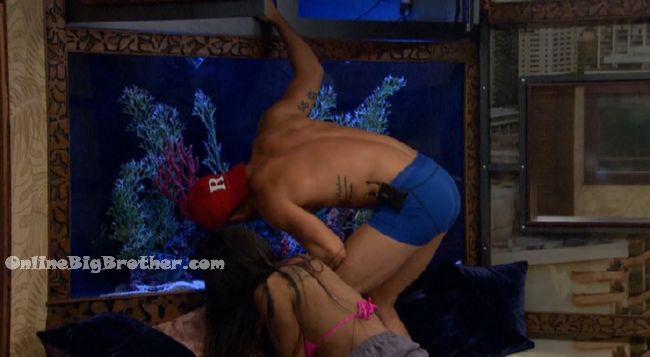 Paulie taps the glass 'C'mon little guy fight.. c'mon buddy fight fight'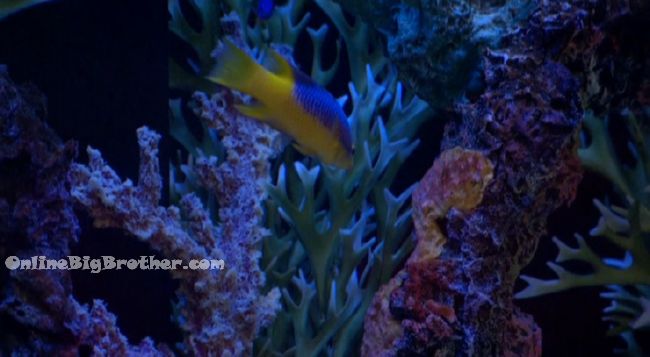 Paulie – Hey.. what are you hungry you b1tch.. "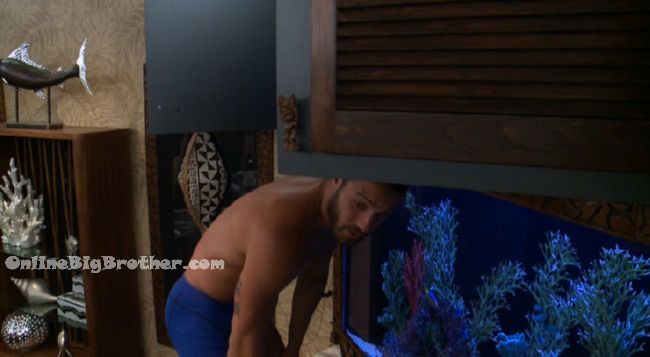 Paulie yells for production asks them how he saves "This damn fish"
Paulie tapping all over the tank "Cmon.. cmon dory" "Is there any stick or something to stick in there.."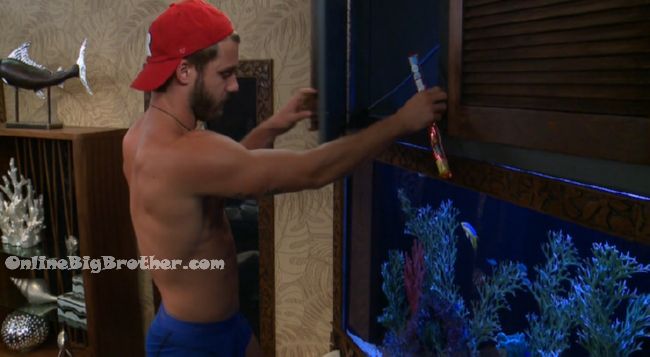 Big Brother – Stop that
Paulie – hey man there's a dead fish I'm trying to save dory she aint moving
hey i said stop that
Paulie – the fish is stuck in the coral
Zakiyah – the fin is still going..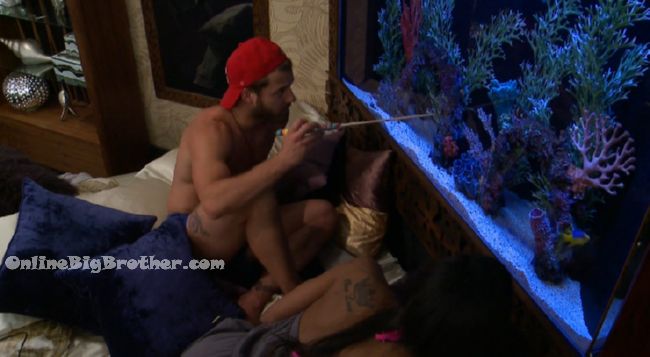 Big brother – "Paulie what is it about STOP that you don't understand"
Zakiyah – we're trying to save the fish
PAulie – the fish is going to die ..
Paulie – they might be sleeping.. there's another stuck in the coral … you see it
Zakiyah ya ok.. i guess they're just sleeping..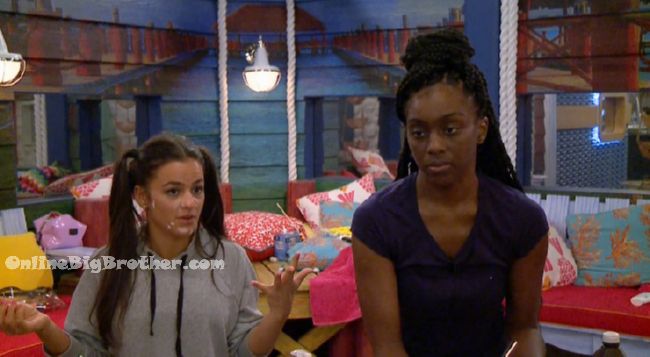 1:37am Cam 3-4 Natalie and Da'Vonne
(Hard to hear because Da is washing her hands.. )
Natalie is saying she respects Da. (I think she also mentions JAmes and her being a good match)
Da – and I respect for you to.. You came in here to do things the right way
Natalie – we really click
Da – it's adorable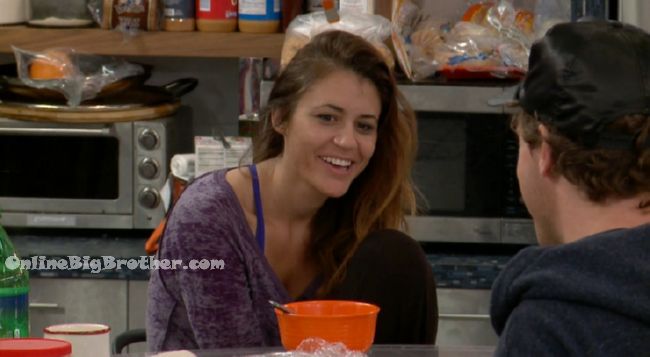 1:47am Frank, Bridgette and Tiffany
Chit chat about music.. Frank blows a giant fart apologizes says he's extra gassy lately.
Frank can't believe Bridgette hasn't seen Gremlins..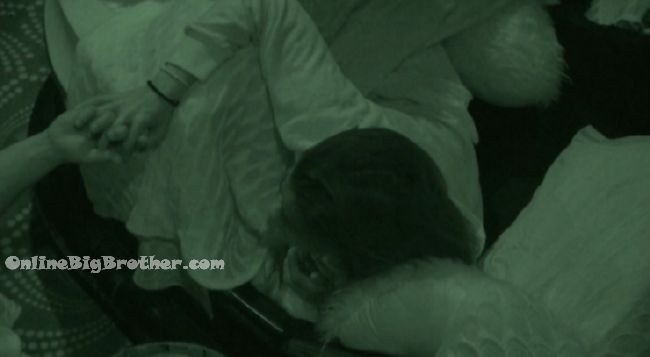 1:58am cam 3-4 Natalie and James
Nat – why is it so cliquey..
Nat whimpers that the have nots room is scary..
James makes a scary voice and she squeals.. "JAMZS"
JAmes – I'm sorry babe…
Natalie – I cannot sleep alone..
James- I'm here .. you want to stick out hands out the car and we can touch fingertips (PIc) (LOL this is too cute)
James – we're a good team.. I know you won't mess me over..
Nat – I would not do that to you
James- I won't' mess you over..
James – worse comes to worse me and you end up in jury together that would be pretty cool
Nat – we'll have so much fun
Nat – I feel good about being on the block now that one day was tough
James – you're doing good you're almost there..
Nat – I'm nervous for my friends and my family my mom is going to cry
James farts.. "It slipped i'm sorry"
Nat – you and Frank..
Nat – I don't know what I would do without you in this game
James – If Da'vonne is going up and Tiffany do you think they are going to send you home over them
Nat – no cause I'm not a threat.
James – I never voted against Bronte
Nat – James – I never doubted you for one second
Nat – it's so obvious who voted and who didn't
James – he knows now.. I just wanted to get the heat off us because we obviously didn't do it..
James says as long as Frank and Paulie are mad they'll make it to Jury.
Natalie makes a big deal about them just making it to Jury and making it as far as they can.
James says her social game has improved a lot because she's not attached to the other side.
James says Paulie is a real standup guy "He's not scared to look someone in the eye and be like your my target"
James says if he ever won he wouldn't target Paulie.
Nat – I know you would make the right decisions.. I would never second guess your decisions
James- I would never second guess yours
James- you're a really sweet girl Natalie
Natalie – You're a really sweet guy James
James says the VEto ceremony is on Sunday, 'Tiffany told me she's not putting me up.. Like today she's like JAmes I'm not putting you up"
James – I told TIffany today I won't vote against Natalie
Nat – i'm blessed with good vision
James – you got bedroom eyes.. I could stare at them all day
Nat – really.. I love when people comment about my eyes.. Nobody ever comments on them Because they're brown..
Nat – I use to want to be blonde hair blue eyed so bad
Natalie says she has a strong strong inkling that someone from pre jury comes back.
If someone comes back i'm hiding
James- if Vic comes back i'm hiding
James doesn't think it'll be pre-jury he think it'll be after jury..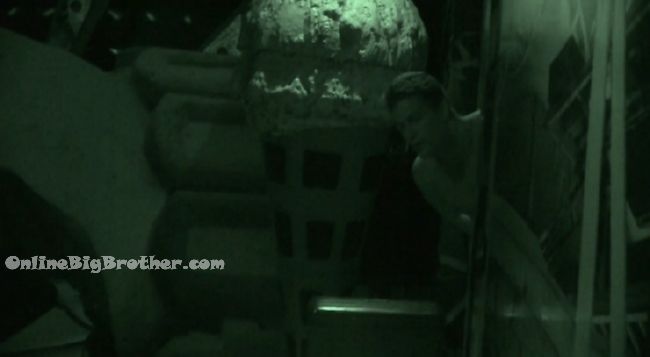 3:14am Corey, James and Natalie Have nots
Corey – HEY..
Nat – oh my god you scared me
Corey – Sorry… were you saying that to me
Nat – what
Corey – were you just saying that to me
Nat – what was I saying
Corey – wait.. It sounded like someone said.. Are you OK … are you OK with that..
Nat – No.. I just got out of the DR and I walked into the room
Frank (from the other room) "you alright BRAH
Corey – ya
Nat – sorry
James- what happened
Natalie – In don't know
James – did he just sleep walk.. I think COrey is just sleepwalking..
Corey Sleepwalking "sorry, were you just saying that to me, are you OK ru OK with that.." #BB18 @DawgsBigBrother pic.twitter.com/cbCxmpHzV5

— OnlineBigBrother.com (@bigbspoilers) July 17, 2016
THey go back to sweetie talk
James says he was said because she was gone.. "It would suck if I was in here by myself.."
Natalie and JAmes saying they are scared in the have nots
They start talking about movies.. James says he likes Nicholas Spark films
It could be worst James and Natalie this could be in the have nots.

4:15am Everyone is sleeping…..

🙂
7:27am they are sleeping I should be..
8:45am Still sleeping
9:30ZZZZzzzzzzzzzzzz

9:53am zzz
[polldaddy poll=9471428]