POV Holder:
Chrisitne
Next POV
Sept 4th
POV Used
?
POV Ceremony
Sept 1st
HOH Winner
Caleb
Next HOH
Sept 4th
Nominations:
Nicole and Christine
Have Nots
Derrick and Nicole
POV Players
Victoria, Nicole, Caleb, Cody, Christine and Derrick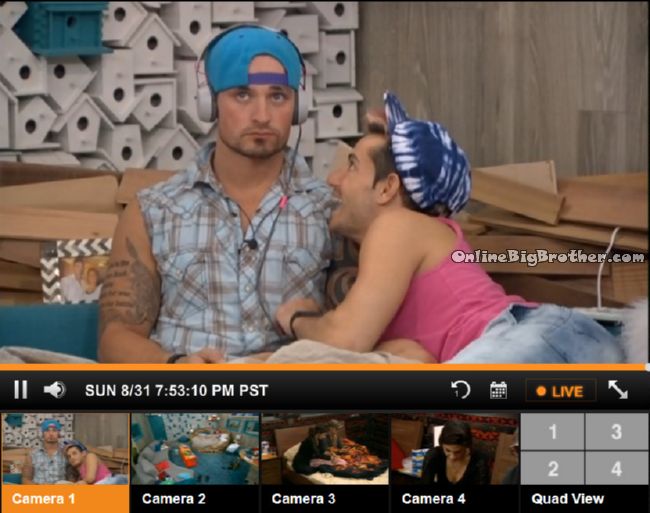 7:52pm HOH Caleb, Frankie and Derrick
Talking about the person with a megaphone. Caleb just heard all their names didn't hear what was said. Caleb says at this point he doesn't care what people say.
7:54pm Nicole and Victoria
Talking about how horrible Christine's laugh is.. Nicole is trying to figure out what to say in her speech tomorrow, "Something off the wall"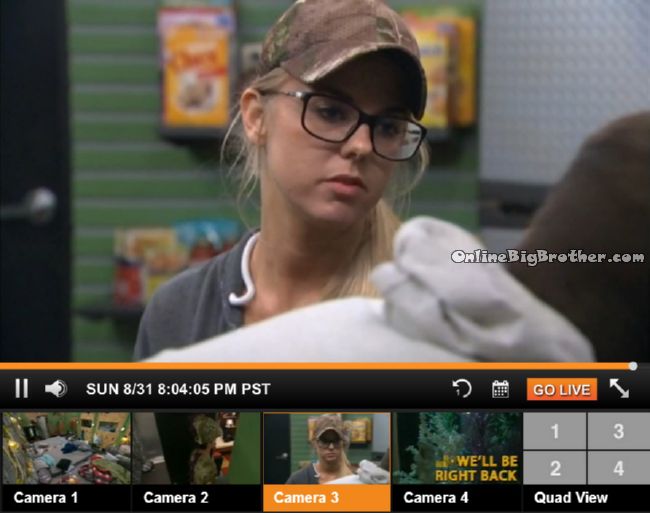 8:03pm Storage room Derrick and Nicole
Derrick – Hey do me a favour to… stop acting like you are going home.
Nicole – I am going home
Derrick – I know but.. don't be quitting because honestly I've been doing some talking I don't know if it's working.. but don't quit until tomorrow. can you do that for me at least..
They shake on it.
Nicole – thanks
Derrick – don't thank me yet wait until tomorrow i'm trying very unlikely but.. I have been dropping subtle hints.
Caleb comes int.. after he leaves..
very unlikely i've been having conversation.. I'll know for sure tonight
Nicole doesn't get what he means what are the possibilities he's saying
Derrick – Just let me do my thing .. If it doesn' t work
nicole – at least it was worth a try
Derrick – maybe I'll tell ya tomorrow.. i'm just having conversations that's all..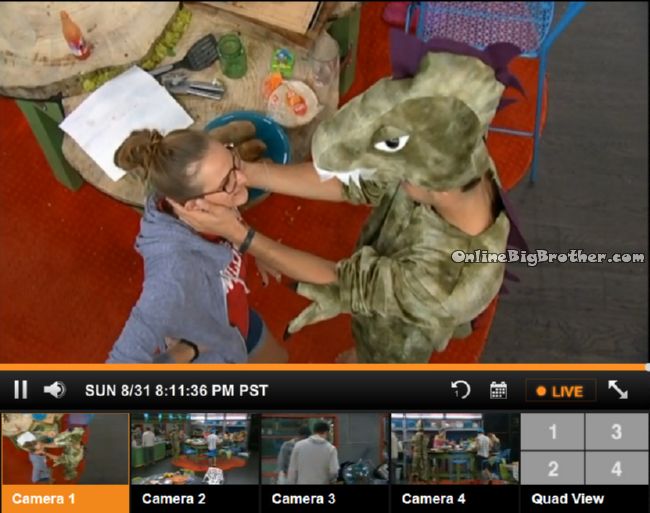 Dino love
The Live Feeds are archived. You can go back and watch everything that happens
Try It Free! Subscribe now to the official BB16 Live Feeds

8:17pm COdy in the shower saying how one side of it is NASTY.
Caleb scares Cody..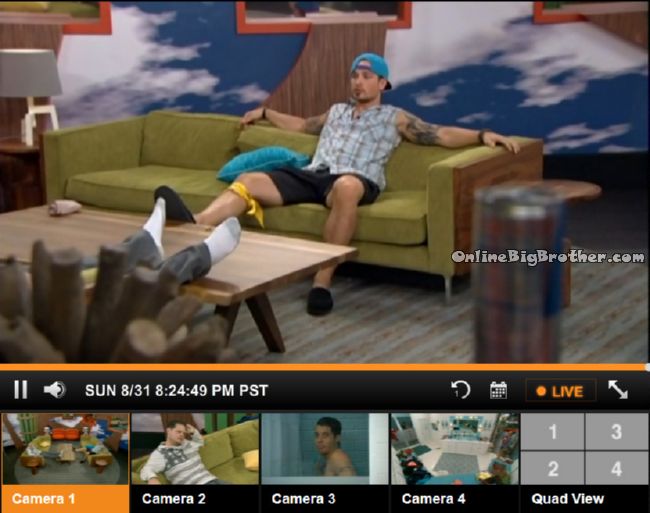 8:24pm living room
Derrick and Caleb talking about what they heard in the backyard.
Derrick – Crazy my heads just spinning.. thinking about what we were talking about.
Caleb – it makes sense
Derrick – I don't think Frankie would come after me and you .. I really don't think he would
Caleb – It's not that he's coming after us he's Crushing us in the DR.. he's using us basically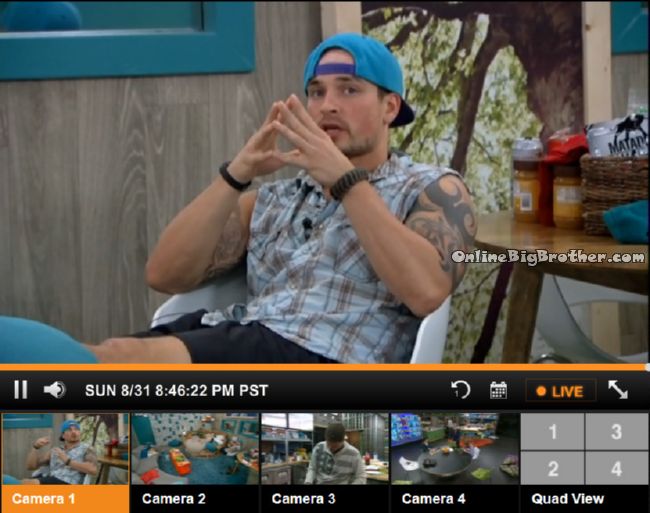 8:47pm Caleb and Cody HOH
Caleb wants to do what's best for his, Cody and Derrick's game.
Caleb – is Nicole going to target Christine
Cody I think Nicole will target Christine.. you're pretty much putting up Frankie that's saving her life in this game.
Caleb – do you think Frankie is going to pull the trigger on us right now
Cody – the next HOH he wins he's going to do it.. it could be the next one
Caleb – Nicole could win the next HOH and Slam us up there.. who are we going to beat the easiest.
Cody – Frankie is a monster
Caleb – Nicole is not showing
Cody – her life is on the line and she's under performing in competitions.. and she knows her game is on the line
Caleb is bothered by Frankie whispering to people. He's also pissed that Frankie ran to Nicole and told her Caleb was trying to keep Donny.
Cody – he's covering his a$$
Cody – if Nicole stays and we just sent home Frankie that was her number one target.
Cody says they need to find out from Nicole who her target would be with Frankie out of the house.
Derrick – I don't think i'm her target I don't think you are her target
Cody – If Frankie strays he would put us up next to each other… after this week you only need two to stay.
Caleb – Ideal we send Frankie home first Christine wins the next HOH sends Nicole home
Cody – Christine will target Nicole 100%
Caleb – it will be all of us versus Nicole in the next HOH
Caleb – best scenario we send home Frankie, Nicole wins she puts up Christine if Christine wins she puts up Nicole.
Cody – Nicole wins the next week Victoria and Christine are nominated
Caleb – we're guaranteed final 5
Derrick – Completely down with sending Frankie home.. but if Nicole wins HOH she puts up Caleb and Christine and if Nicole gets cute tries to get Christine back
Cody – I don't think Nicole would risk that.
Derrick – I'm down.. if Nicole gets cute and tries to flip the house.. She has Victoria you know
Caleb – over you
Derrick – I don't know
Cody – I don't think so
Cody thinks Frankie would put Caleb and Cody up
Derrick doesn't think he would do that next week
Caleb thinks he will, why waste a HOH their late in the game he's going to take a shot at them.
Derrick is sacred about putting Frankie up if Nicole wins HOH she'll put two guys up.
Cody says one of them are going up but he thinks Nicole will put Christine up. Caleb says Frankie will put up two guys for sure.
Derrick still scared runs scenarios that two of them go up. Cody says if two of them go up one o them 3 is going home.
Derrick – what are you saying to Frankie when you put him up
Caleb – going back to the beginning you threw me under the bus. you were trying to work with Christine.. just the other day after the POV you were whispering to Christine how you were going to make it to the end and we all suck and the end of the day if you want the next hOH you will put me up.
Derrick – if he's going on the block he's going home..
Cody – if he's on that block there's nothing period
Caleb – in a double eviction are we more likely to beat Frankie or Nicole
Cody -he has smoked Nicole in every competition.
Caleb – we have to put that friend thing aside.. frankie I love you to death..
Derick you ready to do this boys
Frankie comes in tells them the food is ready.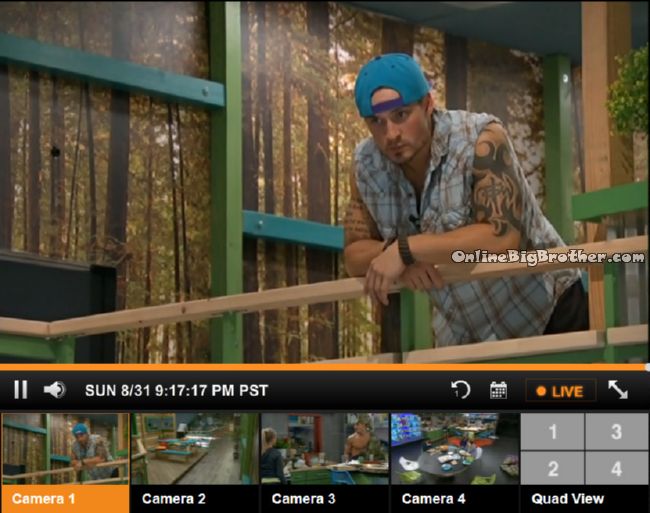 9:17pm Caleb waiting for Derrick they have a Chess game planned for tonight.
9:32pm The chess game concludes.. Caleb to Derrick – "You're one piece there ran right through me.. it won't happen again"
9:53pm Derrick wins the second game, Caleb – "I just suck.."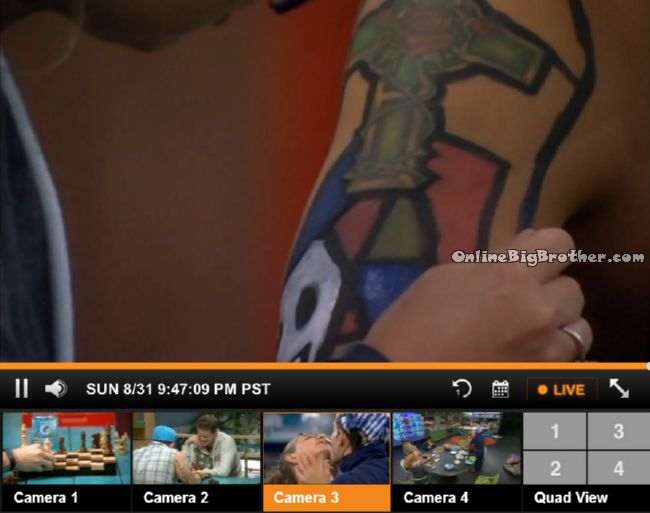 9:51pm Kitchen Chit chat playing with the play dough and the paints. Nicole improves upon the tattoo on Cody.
If you're enjoying the live feed updates this season, please consider donating.
Dawg and I work 24/7 all season long to keep you updated on everything that happens inside the BB US house. Any amount is greatly appreciated! Your donations go directly to paying the server and bandwidth fees required to run this site.
[polldaddy poll=8274218]