POV Holder:
Next POV:
Sept 1 (Saturday)
POV Used
POV Ceremony
Sept 3 (Monday)
HOH Winner:
Ian
Next HOH:
Sept 6 (Thursday)
Original Nominations:
Current Nominations:
Have Nots
Last Evicted Houseguest
12:50am – 1:05am UP in the HOH room, Frank and Ian area talking. Frank tells Ian about Britney wanting him out after agreeing to a deal. Frank keeps telling Ian that he is alone now and that if he didn't win this week, he would have gone up. Frank says that they can work together but understands Ian not wanting to take him to the final 2. Ian explains how the numbers are going down and that he needs to think he needs to start thinking about final two and about who would be willing to take him. Ian says that he doesn't want to have to win the final HoH. Frank says that he can help Ian. Ian says if we're both up, I don't want to have to go against you in a veto. Frank says that the only person he trusts is Jenn but he would like a third person to trust. Ian says the one person I trusted unconditionally is gone. Frank tells Ian that if they are in the final two, Ian would get Britney and Dan's vote. Ian asks Dan's? Frank says yeah, Dan hates me. Frank tells Ian that if they are in final three and Ian cuts him, he would still give him his vote and says that he would understand. Frank says that he would take Ian to the final two. Ian says I do want you here Frank, it's other people who don't. Frank says he feels he is well liked. Ian tells Frank that Shane and Danielle are the only two off limits for nominations. Frank says that the thing he didn't like was how everyone pressured Ian. Ian says that Jenn was part of the people wanting Frank up. Ian tells Frank that he is going to bed. Frank heads back down stairs.
Big Brother Live Feeds: FREE 3 Day TRIAL!
1:30am Frank is talking to Dan and Danielle about his talk with Ian. Frank says that he thinks it will be him and Dan or Jenn up on the block. Frank says he knows it won't be Danielle or Shane. Danielle asks Frank how he knows that. Frank says the deal Shane made was for Shane and Danielle. Frank says that Joe told him that his (Joe's) key will be in the box. Dan says oh, okay so not Joe, Shane or Danielle. Frank says that he thinks Jenn rubbed everyone raw by using the veto. Frank says that maybe I'm wrong; I don't think it's true, but I thinks everyone in the house still wants me out. Dan leaves the room and heads up to HOH room to talk to Ian.
1:45am
UP in the HOH room, Ian tells Dan that the deal Shane made for himself and Danielle. Ian says he is on board with the quack pack and says the only people he wants out this week are Frank and Jenn. Dan says that the quack pack sticks together. Ian agrees and asks who do we want up there Frank or Jenn? Ian says that he thinks it's better to get rid of Jenn because Frank can't play for two weeks. He says that only Joe would be playing against the rest of the house. Ian tells Dan that he is nominating Frank and Jenn, but says that he is keeping our options open. Dan tells Ian that he knew Britney and him were super close and that he knew Danielle and Shane were super close. Dan says that he felt alone. Ian says that he would like to work with Dan and keep that Renegade's thing going. Ian says the only thing is in final two you might beat me. Dan tells Ian that he would get the votes. Dan says that no one will give Dan first place again. He says that he is resigned to that.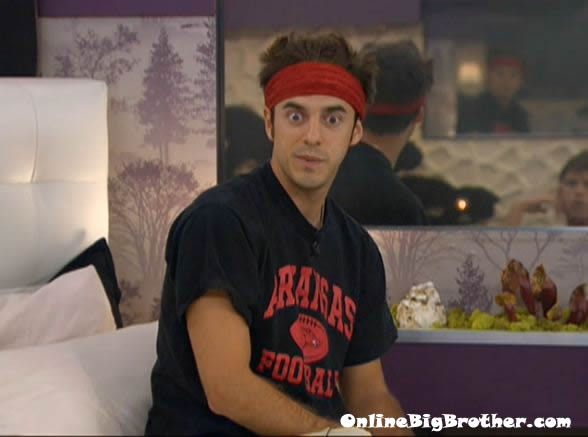 Ian says that if we are back together you have to cut the s**t, no more telling Danielle she is dead to you! Ian says that there is a reason I said Franks social game is s**t, there is a reason he is nominated every week. Ian says that if you go against him, he treats you like trash. Ian says that he is up here kissing my a** because I won, but as soon as I put him up, he will be back to treating me like trash. Ian and Dan start studying the events of the house. Ian tells Dan that he has to come up to the HOH to study every day. Dan ask Ian if he wants to do the Renegades. Ian says well the quack pack is safe but I'll give you an answer by end of week.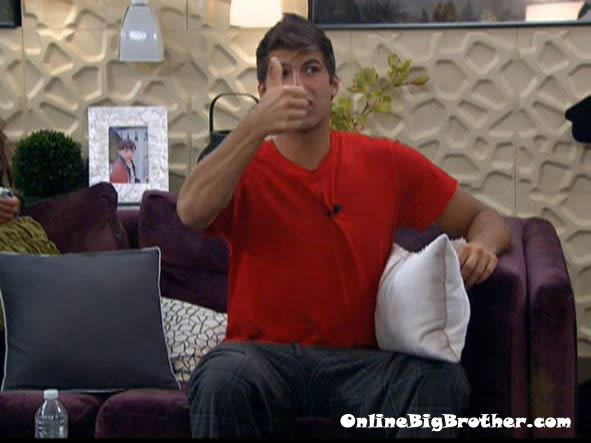 Watch what happens, AS it happens: Big Brother 14 Live Feeds!FREE for 3 Days, then ONLY $14.99 per month!
2:10am – 2:45am When Frank gets called into the diary room Dan goes to get Danielle and Shane and brings them up to talk in the HOH room. Ian tells them that Frank and Jenn are going up on the block and that Joe will be the replacement if one of them wins the POV. They all stand up do the quack pledge for the quack pack. Ian comments on we may not have Britney anymore but the quack is back! And we are going for Frank and Jenn! Dan heads down stairs.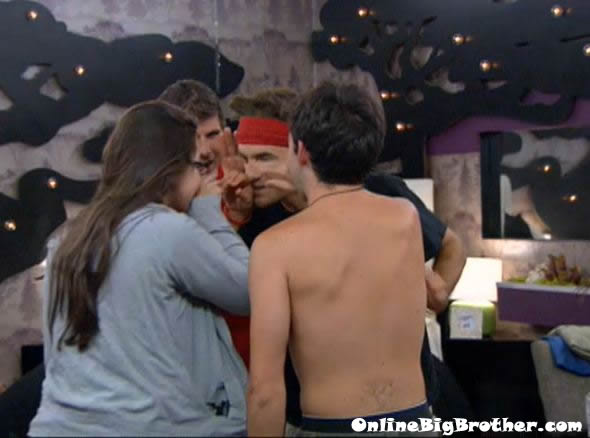 Danielle tells Ian that Frank is convinced that Ian wants to play with him again. Shane says that Frank is convinced he already won this game. Shane points to Danielle and Ian and says that they are the brains of the quack pack and then points to himself and says that he is somewhat brains too. He says that Dan is the social. Shane heads down stairs. Danielle says this doesn't leave me and you, did you tell Frank about your deal with me and Shane? Ian says that he told Frank that you and Shane are off limits this week. Ian tells Danielle that nominations without Frank is like Easter without eggs. Dan, Danielle and Shane head downstairs to go to bed.
5:30am All the house guests are still sleeping..
9am – 9:40am Big Brother wakes up the house guests. When the live feeds come back everyone is still sleeping… Joe then gets called to the diary room. Joe comes out and then Shane gets called in.
Share it YO!!
Tweet