POV Holder:
Next POV:
Sept 1 (Saturday)
POV Used
POV Ceremony
Sept 3 (Monday)
HOH Winner:
Ian
Next HOH:
Sept 6 (Thursday)
Original Nominations:
Current Nominations:
Have Nots
Last Evicted Houseguest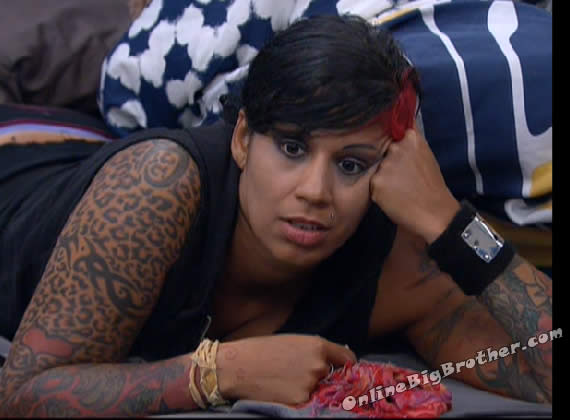 10:35pm Cam 3-4 Bedroom Danielle and Jenn
Jenn is saying it's either going to be herself and Frank or herself and Dan. Danielle says that if it's Dan and Jenn they will get the POV and get Ian to put up Joe. Jenn adds if it's Joe and Frank they have the numbers to take out Joe and as long as the Power of Veto doesn't get played they are in a really good spot for next week. Danielle is going to try and get Shane to sleep in her bed so people don't think her and Dan are talking.
Danielle and Jenn saying that Britney calling dan Judas wasn't funny. Jenn calls it a NO-NO. Danielle: "Jerry got hate mail for years for that Comment" Danielle and Jenn b!tching about Britney being depressed and acting mean after the POV was played. They felt bad having fun last week because Britney would get snarky. Danielle says it so much nicer to hang around Jenn because she's so mellow. Jenn start bringing back the idea of a girls alliance and how the girls are going to be strong till the end.
10:55pm Cam 3-4 Dan and Danielle
Dan telling her they need a quack pack reunion.
Dan: "I'm getting too old for this game"
Dan says they need to get Frank out. Dan: "Think I should tell Ian the deal I made with Frank that I told Frank I was going to go after Ian… Just to clear the air" Danielle: "I dunno" Dan thinks that Joe and Frank are their best bet.
Dan thinks Britney was trying to be funny. Dan is bothered by Britney saying she didn't have a big enough ego to host her own funeral. The Judas comment didn't bother him but the ego one did. Dan says that Jenn is looking pretty scared. Danielle says that Jenn is just acting scared. Danielle hates that they have to act mad at each other she misses talking to him.
Dan tell her she has a great shot to make a run to the end. He thinks she's the only one out of whose playing that can win the next HOH competition.
11:02pm Cam 3-4 Shane and Dan
Shane is saying that he talked to Ian before he dropped out of the HOH and Ian promised him that Dan, Danielle and Shane were safe this week. Dan is surprised by this. Shane adds that either Frank and Joe or Frank and Jenn are going up. Shane hopes it's Frank and JOe. He says he likes Jenn doesn't want to see her go.
11:20pm cam 1-4 kitchen Trumpets sound and Joe starts hula hooping. Everyone gives it a try. Everyone more or less sucks at it expect for Shane who is really good..
11:13pm cam 3-4 Joe and Frank Storage Room
Joe is saying he's starting it right now he's going to work Ian hard. Crazy joe thinks If Frank and Jenn go up they have the votes to save Frank. Frank asks him how so. Joe explains that Danielle, Shane and Joe. Frank doesn't think Danielle will vote out Jenn over Frank. JOe: "Then lets get Jenn and Dan put up Danielle will vote Dan out" Frank just agrees with everything crazy powerhouse joe is saying. Joe gets pretty pumped up about it tells him that he's going to really push to get Dan up. Joe has noticed Jen's shitty attitude coming out. She's going to sabotage herself if she keeps it up. (Jenn was acting very down but now she seems to have integrated back with the other players)
11:52pm Cam 1-4 Ian gets his HOH room.
Shane: "Ahh Ian your mom is shot"
Ian: "Thanks"
Ian holds a brown crystal in his hand. It's a bismuth crystal he grew.. He explains the process. He bought a chunk of bismuth and heated it up poured it in a crucible.
Ian: "got Pierogis.. potato and cheddar. "
The letter is from Ian's mom. She talks about Ian getting to enjoy a HOH room this week because his last win was during the double eviction. Ian reads: "I had to explain to grandma why you didn't get a HOH room last time.. You been a fan of this show sine you were 10 .. Don't be afraid to make hard decisions that will benefit you. Dad is very proud of you and he wants you to go all the way.."
12:08AM everyone leaves the HOH room
Ian gives the Hula Hoop a try.. only him and Shane know how to do it. (Image Link)
12:20am Danielle Giant Rash (Image Link) (looks like it's taken over most of her neck now) Frank joins her at 12:22Am they start talking about being on the block. Frank is getting sick of being nominated.. Danielle tells him that he's not nominated yet. Frank thinks it's inevitable. He doesn't know who it will be, He's thinking it's Frank/Jenn or Frank/Dan. Frank asks her who she will vote for. Danielle doesn't know she tells him to wait until he gets put up. Danielle remind him that she puked during the competition. She has never felt that sick from motion sickness. Frank: 'Oh I forgot you puked" Danielle: "I puked twice actually in the garbage bag.. I hope they took it away"
12:25AM Dan's hairy arms he's a werewolf in sheep's clothing (Image Link)
12:31AM Ian is upstairs int he HOH room. Joe is saying goodnight to everyone so he heads up to the HOH to say it to Ian. While up there he asks Ian if he's being nominated. Ian tells him Joe is safe this week his key will be pulled. Big Brother over the speakers says "IAN It is against the Big Brother Rules to discus your nominations" (WTF! ) Dan, Frank and Danielle are in the bathroom douching out. Dan: "I guess Joe didn't just go up there to saw goodnight"
12:40AM Joe goes to bed early.. the tumpets blow..
12:43AM Cam 1-2 Ian and Frank Ian tells him that if he was Frank he would be sweating it. Ian says the selling point for Frank is that he cannot play in the next HOH so it might be an alright idea to keep him one week.
Share it YO!!
Tweet