POV Holder:
Danielle
Next POV:
Done for the Season
POV Used
POV Ceremony
Sept 13 (Thursday)
HOH Winner:
Danielle
Next HOH:
Sept 12 (Thursday)
Original Nominations:
Current Nominations:
Dan and Ian
Last Evicted Houseguest
? (no idea who they are)
Superpass Big Brother 14 Live Feeds: 3 Day FREE Trial!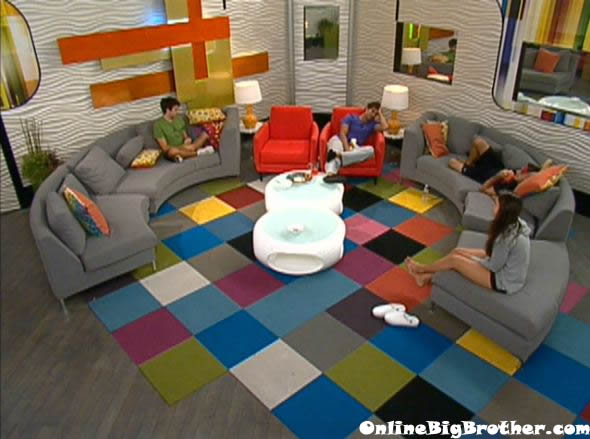 12:20am Dan, Danielle, Shane and Ian are all in the living room talking about who to set Ian up with. Dan says what about Sharon from big brother 9. Ian says that is actually realistic, yeah that is very much my type. Dan says that she super nice I meet her at the wrap party. Danielle says Renny. Ian says oh come on! Danielle says it's a joke. Shane says Kathy. Ian says she is way too boring. Shane says what about pre-marriage Britney. Dan says something. Ian asks Dan what he said; I will kill you in the sleep! What did you say? Dan says nothing you were good friends. Danielle says that she loves how Ian threatens people, "I will rip your face off!", "I will kill you in your sleep!" Ian says that he would be so mad if he was portrayed in that way to Britney. Dan and Danielle both say that he wasn't. They talk about how Lane and Britney were portrayed.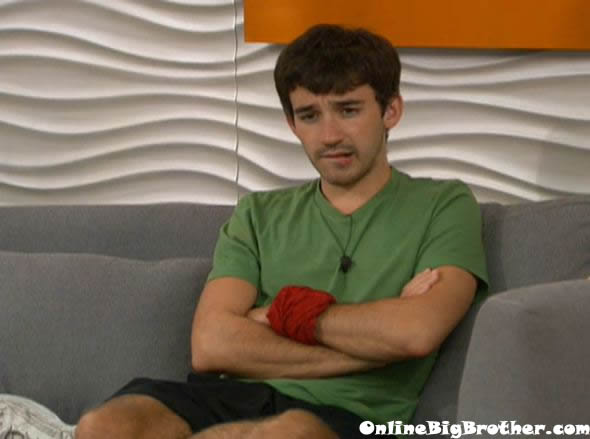 12:35am The conversation turns to talking about past events of the house and then about Survivor. They start talking about how surprised they were about tonight's eviction. Ian says that Jenn was so salty when Julie announced the early eviction. Shane says that she had no reason to be salty. He says that she only won one challenge and had no reason to win it. Ian recounts the events of POV she won and how she burned her clothes and took slop for the rest of the season for no reason.
Re-Watch ALL THE DRAMA on FlashBack: Big Brother 14 Live Feeds – 3 Day Trial!
1am – 1:35am They all head up into the HOH room. Danielle re-applies Dan's bandages on his hands. When she finishes they start talking about how they named the alliance Quack Pack and how Britney vetoed Ian's first name "Team Outrageous Fun". Ian comments on how Ashley was a miss fire. Danielle says if she hadn't gone, she never would have gone home. Ian says that Ashley wanted to win HOH just for the snacks. The conversation turns into talking about ghosts. Ian gets called to the diary room. Ian leaves. Shane says just so you all know if nominations stay the same, I don't know if they are but I am 100% on board with voting Ian out. Shane says that he thinks Ian knows he is headed out the door. Dan asks what Ian said. Shane says that Ian said he was scared and he said no one in the jury likes him. Shane telling Dan he is safe and Ian knows he is leaving. Dan says that this is what he wanted, us three (Shane, Dan, Danielle) to the end and then to just play it out. Dan goes into the bathroom and tells Danielle good job! Dan heads down stairs. Danielle starts telling Shane that Dan knows about her being a nurse but that Dan doesn't know Shane knows. Danielle talks about how she might tell Ian privately tomorrow.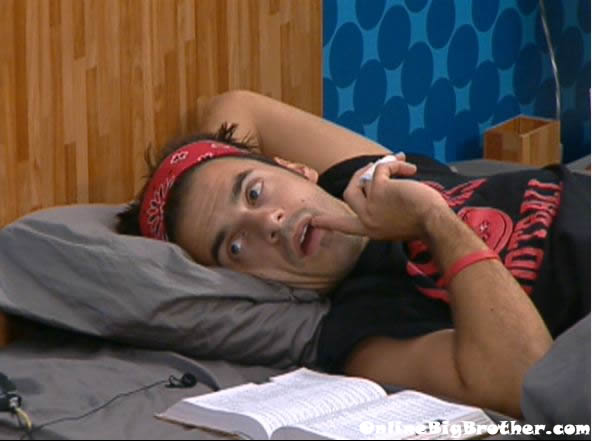 1:40am
Dan is alone in the kicks room. He starts talking to the camera and asks do I take out Shane or do I take out Ian? I don't know". Dan says that he is worried about Danielle taking Shane to final two if he is still there and then says no. Ian joins him. Ian gets into bed and says I think this is my last night here. Dan asks why do you say that? Ian says I just think they are smart enough to realize. Dan asks realize what? Ian says that their odds of making it to the final two are a lot better without me. They might not do that but I just get a sickly feeling. Dan asks how you thought of everything, every possibility? Ian says they could vote me out or you out. Dan asks is there any other possibility? Ian says like Shane goes up and then he is voted out. Do you honestly think she would do that? Dan says probably not. Ian asks if there is any way they would keep me over you. Dan says not logically because everyone knows they can beat me in the end. Dan says just know that I didn't let Memphis go down. I just don't want to see you down, we will see what happens. Ian says that if they had more time maybe they could make it work but he thinks the vote will tomorrow. Ian says I am not giving up but I don't think she will put Shane up. Dan asks do you trust me? I think if you continue to be positive and that you continue think you are going, I will see what I can do. I don't want both of us going to her about it. Dan says that he doesn't think he can win the second part of the 3 part HOH. Ian says that he thinks he would be hard pressed to win either of the first two parts. Ian asks what do you think my changes are for staying? Ian says not so good. Dan says I just need to know you can beat her in the second part of the HOH. Ian says I don't know what that has to do with it but okay. Ian says that it would be fitting if he left tomorrow because Britney left fourth day 69, and so would I. Dan says that he would vote for the best player. Ian agrees and says even if Shane votes me out he would still consider him. Dan and Ian talk about the past events of the season.
FREE 3 Day Big Brother Live Feed TRIAL: Join Now!
1:55am Meanwhile, Danielle and Shane are up in the HOH room bed talking. Shane tells Danielle that we have got to beat Dan at his game, socially. Shane tells Daniellle that he realizes that Dan hassles her a lot and when he gets in on it too he sees that it is too much for Danielle to handle. Danielle says that she is thinking of using the veto on Dan tomorrow. Shane says that he thinks Danielle should tell Dan that she is mad at Shane and use the veto on him and to confirm their final two deal. Shane says that he wonders if he should try and pitch a final two to Dan. Danielle says that she thinks that is too much, he'll know it's fake. Danielle says that she thinks Dan is too smart and they have to be careful not to let him catch on that her and Shane are planning on going to the final two with each other. Shane says if she goes out third then he will take care of her. Shane calls her a numskull for thinking he would make a final two deal with Dan. Danielle says that nobody in this house can beat Ian in the finals. Shane asks do you realize if you win tomorrow's HOH you will have more HOH wins than me? Shane tells Danielle that he isn't going to throw the competition unless Dan comes off first. Shane says that's saying a lot if I throw you that first HOH. Shane says that he thinks Danielle will beat Dan at the second part of the HOH. Shane tells Danielle that no matter what happens at the HOH he is going to act distant from her tomorrow for at least a little while to throw Dan off.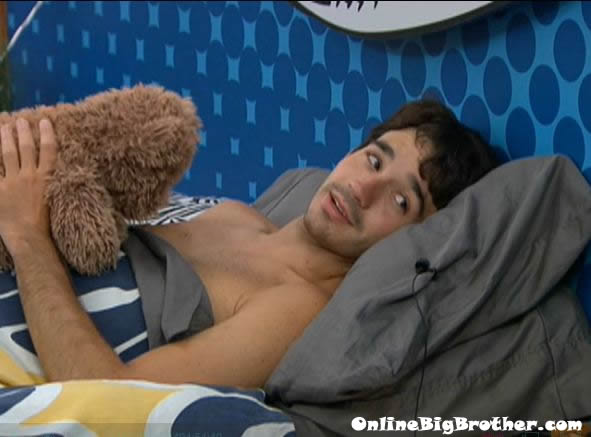 2:30am Dan and Ian continue to talk in the kicks room. Dan tells Ian that he thinks he is probably the smartest person to be in the Big Brother house. Ian says that he doesn't know. Ian names off other house guests that he thinks are smarter than him, like Michelle, Matt Hoffman and Brendon. They continue to talk about the past events of the season. Ian tells Dan that he thinks he is gone tomorrow. Dan asks Ian what Britney told him. Ian says that she said beware of the mist, winning against Dan in the end would be the hardest win for me. Dan asks Ian if he would take him to finals no matter what. Ian says yes, I would talk you to the final two. Dan tells Ian he is excited for Ian and Memphis to meet. Ian says it is a cool takeaway from the season, being a part of the Renegades and to briefly be part of Chilltown.
3:10am Shane asks Danielle if she ever thought she would make it to the final 3? Danielle says no but that she prayed every night and was so surprised when she won that last HOH. Danielle tells Shane that he has a very good heart. He tell her that she is very selfless … that not the word I am looking for. Shane says that he is worried about his hands tomorrow if it is an endurance. Shane tells Danielle she needs to hang on. Danielle tells him that she can't wait to see their kiss after pirate ship HOH. Shane starts talking about Dan and how he has already won the game. Shane brings up how Dan treated Danielle during the funeral and says that it was uncalled for. Danielle says that Dan is the one who is going to get the blood on his hands for sending Ian home. They talk about how they don't think Britney, Frank or Jenn would vote for Dan to win the game. Danielle asks Shane if Dan has come to him yet and tried to offer a final two deal? Shane says Dan hasn't brought that up yet. Danielle and Shane both agree that they are taking each other to the final two. Shane tells Danielle that he is 100% taking her to the end. They both say good night.
3:30am All the house guests are asleep.
5:20am They are all still sleeping..

Simon and I work 24/7 all season long to bring you all the live feed updates and spoilers, please consider donating. Any amount is greatly appreciated, your donations go directly to paying the server and bandwidth fees needed to run this site. Donation Link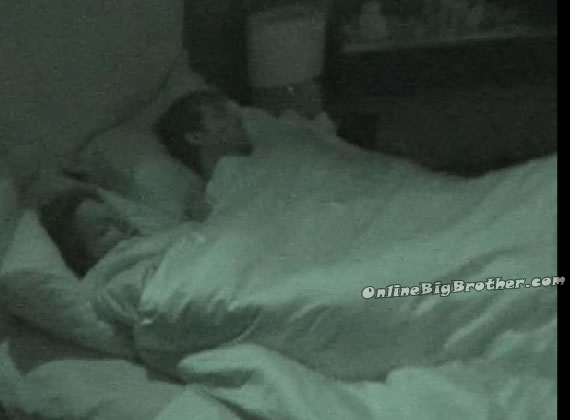 8:36pm Cam 3-4 Sleeping with the beast to win Big Brother 14.
Share it YO!!
Tweet