POV Holder:
Danielle
Next POV:
Done for the Season
POV Used
POV Ceremony
Sept 13 (Thursday)
HOH Winner:
Danielle
Next HOH:
Sept 12 (Thursday)
Original Nominations:
Current Nominations:
Dan and Ian
Last Evicted Houseguest
? (no idea who they are)
9:29pm Cam 1-2,3 The 3 guys
Talking about jackass playing Medicine ball dog ball, stapling notes to themselves, Human shark fishing.
Ian explains human shark fishing, one of the guys on Jackass pushed a humongous fish hook threw his cheek. Rhen while attached to a fishing line the guy jumped into shark infested waters. Shane: "They gotta be drunk to do that.. That guy got bite in the leg.."
It keeps going and going about jackass.. Then switches gears and moves to Viva La Bammn..
Dan starts talking about the youtube video Game Cube Smash (https://www.youtube.com/watch?v=Hfmx4sZNhXU)..
Dan wonders how Joe would have done in the POV this morning. Ian thinks he would have done bad but thinks Jenn had a chance to win it. Ian mentions to them that Jenn came in second for competitions a couple of times.
Dan asks them the most likley floarter to win this thing.. Ian says Joe, Dan says Ashley. Dan wonders how well Jojo could have done later in the game. Shane thinks Jojo's personality pisses too many people off. Ian agrees says Boogie couldn't stand her.
Dan gets called into the Diary Room. Danielle comes out and Joins shane/Ian. They ask her if she's going to use the veto. Danielle says she's not going to say. She explains to them how tomorrow works. She gets up tells them if she's using it or not and if she uses it she selects the person. The one person left not on the block gets to the single vote to evict. Danielle tells them she doesn't get a vote so don't bug her. Ian points out that Danielle gets to decide who stays to final 3. Ian also mentions that there is 3 people in the Jury house that hate him already having to vote another person out doesn't change anything.
Danielle smiles tells him the jury doesn't hate him.
Dan joins them..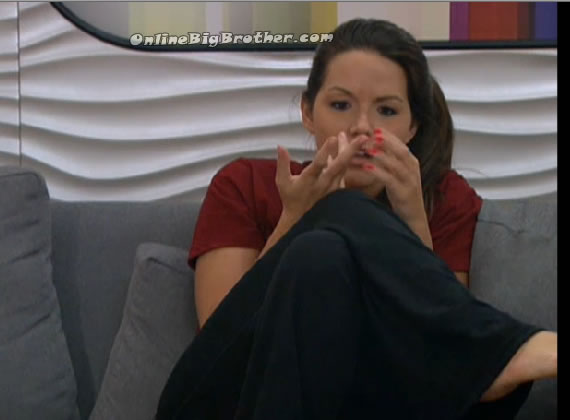 10:16pm Everyone in the living room
Talking about the Jury house. Ian wonders if AShley and jenn are "Getting into it". Danielle thinks so they didn't leave on good terms. Ian explains he meant "Getting into it" Ian implies romantically. Shane doesn't think so says that Ashley wasn't gay. Ian thinks they were interested in each other.
Danielle: "there was 2 bi girls.. Jojo and Ashley"
Dan: "That's the twist"
Shane: "Willie was Bi to" (Shane laughs)
Dan tries to feed her some sweets..
Danielle: "Its bad for me it goes straight to my A$$"
10:44PM Cam 1-2,4 the guys random conversations about nickelodeon and the aggro crag.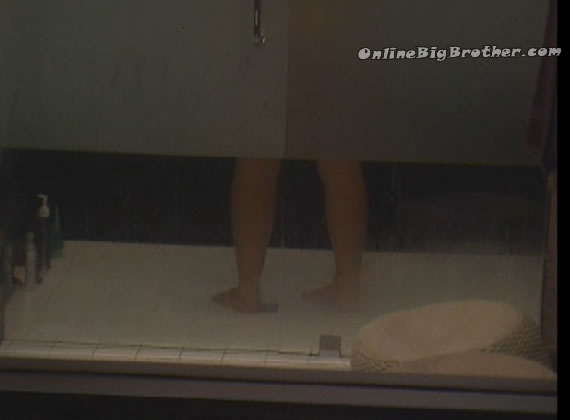 10:45pm Cam 3 Danielle taking a shower.
10:47pm Cam 3-4 Ian and Dan
Ian says he's hard press to win against either Shane or Danielle in the final 2..
Ian: "Either I am going or my best shot is"
Dan: "Who do you think is your best shot to win out of me or Danielle"
Ian: "You.. it's going to be a biter jury.. I'm voting for who played the best game either male or female"
Ian is certain he needs to to win the final HOH to have a shot to win. Dan says at least he'll win America's Favorite. Ian doesn't think so he thinks it'll be either Janelle or Britney.
Dan: "No way dude.. If America doesn't vote for you I'll be shocked.."
Ian: "All I did was get rid of frank"
Dan: "It's a combination of things.. your competitions, Diary sessions, standing up against Frank"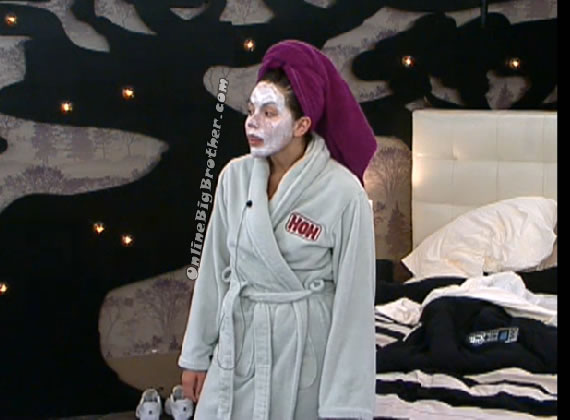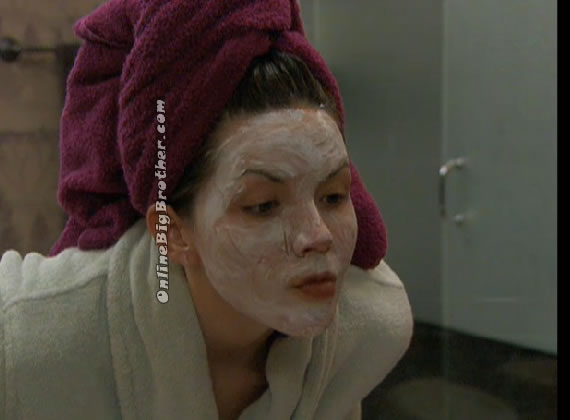 11:17pm Cam 1-2 Ian and Dan Living Room
Ian says it doesn't look good for him.. he's not going to give up but right now he's got a "Sick feeling about things". Ian mentions that Shane told him that he didn't want a person to win twice so he's holding onto that.
Dan asks him who he would take to Final 2 if he wins the 3 part HOH.
Ian: "I will take you because I have a chance.. Dani will take Shane to final 2 and she won't beat him"
Ian :"Between the 2 (Danielle and Shane) as of now I would vote Shane to win.. they both have had it tough but Shane had it harder"
Dan: "He was a target since day one"
11:37pm Living Room everyone
They are talking about picks for All stars.. They wonder who the "older Guy" would be
Dan says Jerry.. "he's an allstar.. he's number 3 in the game but number 1 in your heart"
Ian says Boogie is an allstar.
Dan explains that Jerry won 2 HOH's and a POV he's number 1 in our hearts. (Jerry is a beast.. the original Powerhouse)
Ian picks for allstar females (More of the groups picks)
Danielle Reyes
Janelle
Danielle Donato
Danielle (BB14)
Jordan
Rachel
Shelly (lol everyone in the room says no so they pick POrsche… Damn people listen to Ian shelly was a awesome player)
Dan says they now have to separate those players into good and evil.
Danielle jumps in and says that Janelle would be evil. Ian laughs and says Janelle would be good, Shane and Dan agree.
Guys picks for Allstars
Frank
Evel Dick
Jeff
Dan
Boogie
Hoffman
Ian says that Adam would try to get back on but they won't let him. Ian doesn't think enzo would be let back in, Dan agrees says Hayden would be the one picked to come back (WTF hayden was crazy a$$ boring.. enzo was awesome)
Shane thinks that Ian, Dan and himself would be asked back. Ian says it really depends on where he is in life. He wants to finish his degree first.
11:56pm Cam 1-4 Dan is plugging his new book "Punch it"
Danielle keeps talking on and on about coming back for Allstars she doesn't think she'll come back next year but the following year she would.
Ian mentions how awesome it was that the wake up music this morning was duck tales.
12:03AM basic math formula discussion..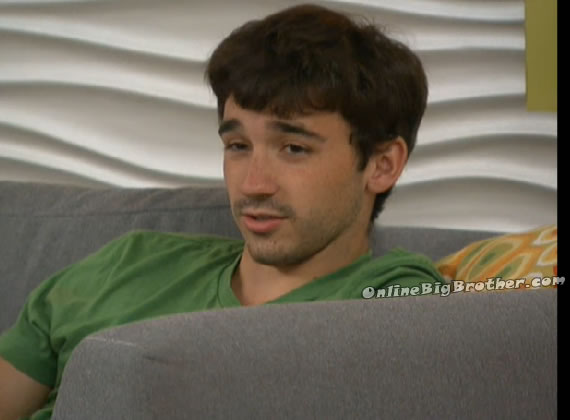 12:17AM Cam 1-4 Everyone in Living Room Ian telling them about a girl on his floor that was cute and liked Pokiemon cards. He didn't go on dates with her because as a R/A int he dorms he's not allowed to.
Share it YO!!
Tweet