First HOH
Dan
Second HOH
Ian
Third HOH
 ?
Final HOH
?
Last Evicted Houseguest
SHANE
Superpass Big Brother 14 Live Feeds: 3 Day FREE Trial!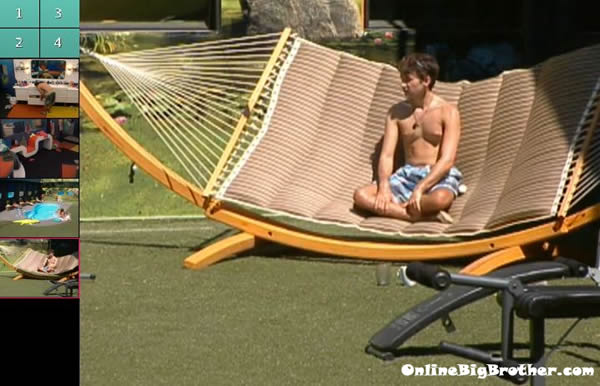 11:50am – 12:10pm Danielle is out by the pool tanning. Ian is rocking in the hammock. Dan joins them. They start talking about past competitions. Danielle comments on how in the one POV she had to say congrats Frank and production told her in her ear that she had to say it with more enthusiasm. Ian comments on how he hated having to tell Frank congrats on winning HOH. Danielle starts talking about The Talk interview this morning and says that she wished Julie Chen would have told us that we were well liked. Danielle asks if in this next round it means she gets automatically nominated? Ian says yes. Danielle says that means I just tied Frank for 5 nominations. Dan says no, Frank was nominated 6 times. Ian agrees. Danielle says that means I tied Joe. Dan comments on how their families are probably in the air already. They talk about who from their families are will be coming.
Big Brother 14 Live Feeds 3 Day Trial: Watch the backyard interviews after the Finale for FREE!
12:15pm – 12:20pm Dan comes out into the backyard. Ian gets called to the diary room. Dan says unbelievable! Danielle asks what? Dan says nothing, they're just stirring s**t up. Dan asks how many DR sessions do you think we have done this season? Danielle thinks about 10 per episode. Dan thinks less. Danielle says maybe like 5 times 30 episodes so 150 DR sessions. Danielle says they got you pretty heated. Dan says yeah, and I don't ever get annoyed. Dan says don't tell me what to say. Big Brother keeps telling them to stop talking about production. Big Brother switches the feeds to TRIVIA for a minute. Ian comes back out into the yard. Dan tells him he is sour. Ian asks why? Dan says because of that. Big Brother cuts the feeds again.
12:30pm – 12:55pm Dan asks Ian what reality show he would like to be on besides Big Brother. Dan starts joking with him about wanting to be on Average Joe or Gilligan's Island. Ian says that he would probably want to be on The Amazing Race or Survivor. Danielle comments that she almost got on reality show The One but that the producers thought she would be better on Big Brother. Dan starts asking Danielle if she will sell or keep her Big Brother bag. She says she isn't sure. Dan says that some guy is going to buy every piece of Danielle's memorabilia and put it all on her bed and roll around on it. Ian says that Danielle or Kara would be most likely to have a stalker. He then says probably more likely you would because you lasted longer. Danielle says oh geez.. Dan bugs Ian to say his email address. Ian says that its public record and anyone could easily find it. Dan keeps bugging him for it. Ian says that its ITerry@tulane.edu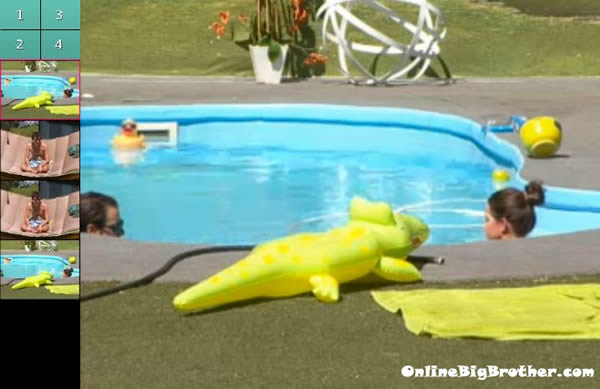 1pm – 1:15pm Dan asks Ian if he will look up photos of Kara's Playboy pics? Ian says um, yeah. Dan asks Danielle if she will look up her photos. Danielle Poor Kara. Dan laughs. Danielle says she would look at the cover and the other modelling pics she's done. Danielle heads inside. Dan asks Ian if he is nervous about tomorrow. Ian says yeah. Dan asks why? Ian says because I have to make a final plea to the jury and sit in the orange chair. Dan asks if Danielle has made a final plea to him to take her. Ian says no, not since the other day. Ian says it sucks that she says whoever cuts her loses. Not cool. Dan agrees. Ian starts to say I'll cut her … Danielle comes back out into the yard and the conversation stops.
1:30pm – 1:57pm Big Brother switched the live feeds to the we will be right back screen. Then the live feeds switch to TRIVIA…
2:20pm TRIVIA..
2:52pm TRIVIA Continues..
3:30pm – 3:40pm When the live feeds come back, Ian is in the kitchen. He grabs a beer and says s**t we have a lot of beer, I am going to have one. He heads out into the backyard and asks a sleeping Danielle if she wants one. Danielle says no. Ian says he loves having a beer. Ian goes to the hammock and starts swinging as he drinks his beer. Dan joins them out in the backyard and they talk about playing beer pong tonight. Dan joins Danielle on the couch like he is about to nap as well.. No one is talking..
3:40pm – 4:20pm Ian continues to swing in the hammock and mumble to himself. Ian then heads inside to eat left over chicken parm. Dan and Danielle are lying out on the backyard couch. Danielle asks if Dan is alright? Dan says that he is fine. They both lay in silence. Danielle tells Dan that she can't tell if he is awake or asleep because he is wearing dark glasses. Dan says that he is asleep. Ian comes over to join them. Dan wonders if their loved ones are here yet. He says it would be nice to know if they are okay. Dan comments that if you cut his veins today there would be sodium chloride. I'm just salty today. Danielle asks if that is because of the DR? Dan says yeah, it's everything. He says it's that and being f***ing locked in.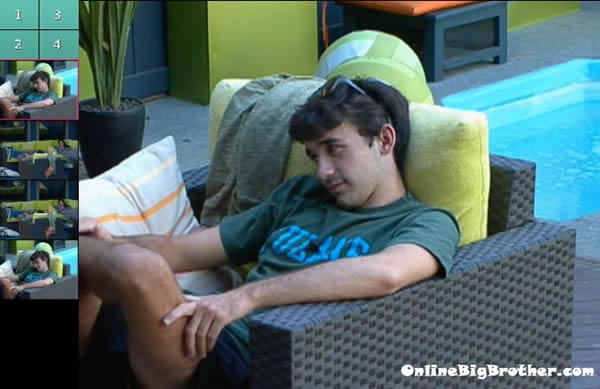 Here is a portion of CBS's The Talk, where they discuss Dan's game play and if lying is ever okay.
Below are a couple Big Brother Canada Promotional Videos to get excited about since BB14 is just about over.
Big Brother Canada Casting Call Promo Video:

Big Brother Vancouver Casting Call Video:

Simon and I work 24/7 all season long to bring you all the live feed updates and spoilers, please consider donating. Any amount is greatly appreciated, your donations go directly to paying the server and bandwidth fees needed to run this site. Donation Link