POV Holder:
Next POV:
Sept 1 (Saturday)
POV Used
POV Ceremony
Sept 3 (Monday)
HOH Winner:
Ian
Next HOH:
Sept 6 (Thursday)
Original Nominations:
Current Nominations:
Have Nots
Last Evicted Houseguest
12:15pm When the feeds return, Ian opened Pandora's box and said that it said if you open it you may have the beat Christmas ever. He says that he opened it and there was a Christmas tree and it said all the gifts were his. He says that they were all just a bunch of toys. Frank says so you didn't get a veto? Ian says no just a bunch of toys. Danielle is blowing up an inflatable alagator. Apparently Jessie Godderz was in the house. He told Frank to shave his chest. Jenn talks about how Jessie drank all of her lactaid milk. She says that she told him that's all she has and he said he would help her out with it. Jessie took all their beer and junk food and gave them healthy food. The house guests are trying it, Ian runs to the kitchen sink wanting to puke it tastes so bad.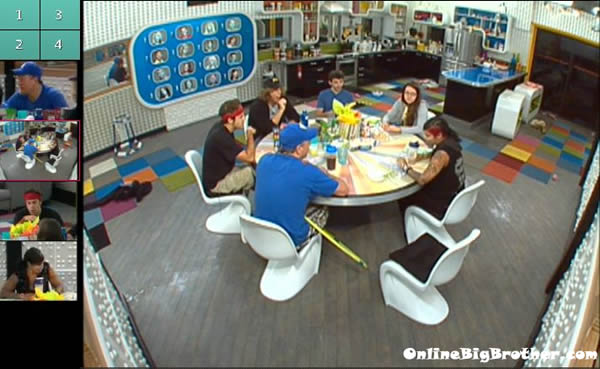 12:25pm – 12:40pm Big Brother opens up the backyard. The house guests realize that BB gave them a new hammock. They tell Ian that it's a Christmas present for him. They comment on how the BBQ is gone. Jenn says that Jessie wasn't a fan of Joe and his cooking. (LOL) Dan talks about the other seasons Jessie was in and how he didn't get too far. Dan says that he was going to rag on him, but figured he wouldn't that we would just take our poison and not make it any worse.
Superpass Live Feeds FREE 3 Day Trial then:
Watch the last month of Big Brother 14 for ONLY 50 Cents a DAY!
12:40pm Jenn and Ian are talking in the backyard by the hammock. Jenn trying to fish for if she is going up on the block. Jenn says that there are a lot more people in the house that are just cruising. Ian says that his decision will be strategic and not personal. Ian says that he knows who she is talking about and says that he doesn't respect a floater or people that don't make big moves. Ian tells Jenn that she is a hell of a competitor. They end the conversation and Ian goes inside to get his swimsuit on to go in the pool.
Joe comes up to the HOH to talk to Ian. Joe says that the bottom line is that obviously we are allies but something that bothered me was that you might put me up as the replacement. Ian says that there is the temptation that if I put up one of the others, people might be tempted to get one of them out rather than the target I want out. Joe says that he is assuming Frank is the target unless the he gets the veto. Ian says yeah. Joe tells Ian that he promised Britney before she left that he would be one of Ian's closest allies. Joe and Ian shake hands and Joe heads down stairs.
1pm – 1:15pm
Ian heads outside and talks to Dan and Frank about the presents he got like a telescope, a volcano, crystal rocks, spinning globe, floating UFO, pool stuff, a mask and snorkel, clothing, etc. Frank says was there a diamond power of veto hanging from the top of the tree. Ian says no. They talk about how the hammock must be part of his present too. Ian figures it's probably about a grand. Frank talks about how Jessie was ripping on him and how he (Frank) was about to do a rap about him to burn him but decided not to. Ian says that he is glad he wasn't down there because he figures he is the type of kid that Jessie would have beat up in high school. Joe says no he is a little guy like you and used to get picked on so that's why he worked out and got bigger. Ian says oh. They talk about how Jessie was in a Santa suit. Ian says that he was going to joke when he came down that he got a date with Michele from his Dan's season but decided not to. Dan says that Jessie called him a stooge. They talk about how Jessie was nervous. Joe says yeah he was shaking. Ian says there was one present from J Crew that said it was from his parents. Dan wonders if they will ship the hammock to his house. Ian says yeah right. Dan says why not. Ian says that it said everything under the tree is his to keep, but I have no use for a volcano kit. Dan says Frank says that he called it, he heard the door open before the knock. Big Brother cuts the feeds.
Superpass Live Feeds FREE 3 Day Trial then:
Watch the last month of Big Brother 14 for ONLY 50 Cents a DAY!
1:40pm Ian says that he is most upset about the beer being dumped out. Dan and Joe talk about how Jessie didn't find the bottle of Champaign.
1:50pm Frank makes fun of Danielle for flirting with Jessie. He says that she was grabbing his arms. Danielle says no he told me to grab is arm. Danielle says that Jessie was calling Dan a bean poll. Danielle says that he isn't ugly; he is just way too big. Ian says that he was bound to visit at some point. Dan says that he was shaking. Danielle says that he was shaking real bad. Danielle says that they he told Frank he would lose weight if he lost some hair. Frank says no he told me I would get more definition if I shaved my hair.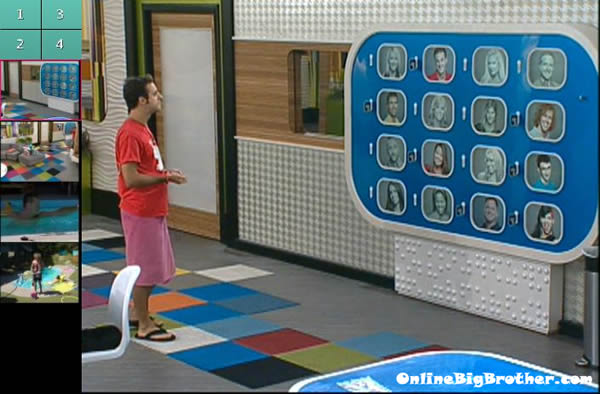 2:25pm Dan is in the kitchen looking at the memory wall. The trumpets sound for Joe to do the hula hoop. Dan says that he can't lose this game to a man with a hula hoop. Dan says he is the last coach in the game. Dan says that he and Danielle never thought it would happen, but I'm happy it did, survival of the fittest. I am still here, still alive, let's go! Sick it in, punch it in, make a move when I get a chance. Dan heads back outside. Dan and Jenn are sitting on the backyard couch in silence. Danielle and Shane are sun tanning, while Joe is floating around in the pool.
Share it YO!!
Tweet