POV Holder:
Next POV:
Sept 1 (Saturday)
POV Used
POV Ceremony
Sept 3 (Monday)
HOH Winner:
Ian
Next HOH:
Sept 6 (Thursday)
Original Nominations:
Current Nominations:
Have Nots
Last Evicted Houseguest
2:50pm – 3:15pm Shane and Dan are in the kitchen alone. Dan asks Shane how he felt about everything. Shane says it's good. Dan says that they should be good till the final four. Shane says that he doesn't trust Joe and wonders why Ian isn't putting him up. They both agree that they think even if Joe wins veto, he won't use it. Dan heads outside. Ian and Dan chat about the new hammock and how Dan looked into getting one. Meanwhile, Joe, Danielle and Shane are in the kitchen hanging out and eating.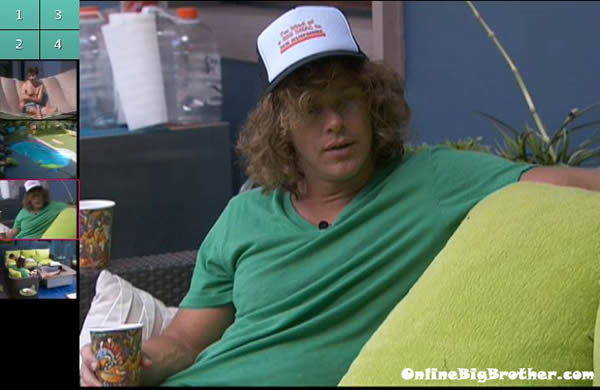 3:15pm – 3:25pm Frank and Jenn are on the backyard couch. Frank tells her that he hopes Ian puts her up against Joe or Dan. Jenn says that she had two conversations with Ian and says that he kind of said he wouldn't put me up but that he was so wishy washy. Jenn says that it would be to obvious if it was you and I. Frank says that Ian says that he is more worried about the post nominations. Jenn says that she thinks that is a lie. She says one good thing is that he likes me more than Joe. Frank agrees. Frank says that another good thing is that he doesn't know that we have deals with other people. Frank says that he told Ian that the main reason he wanted to get rid of Britney was so that he would be alone. So why not come work with Jenn and I, you will be the fourth person on the totem pole with Shane. Frank says that he also told Ian that keeping me and Dan would keep bigger targets in the house which keeps me safe. Jenn says that she thinks Danielle won't vote me out over Dan. Frank disagrees. Jenn says that she just hopes Ian isn't making a personal decision or making it personal.
Big Brother Live Feeds FREE 3 Day TRIAL: Try them and see what's happening right now!
3:35pm – 3:50pm They talk about what type of a competition the veto will be tomorrow. Jenn says that she thinks it will be the spelling competition. She says she would be good at that. Frank says that if you and I aren't up on the block together and I am, then I will try and throw the veto to you so that you can take me off and then we will both be safe. Jenn says that Joe fell off and she didn't even realize it until he was standing by you. They talk about how surprised they were that Dan didn't win it and say that he should have been better at it. Dan comes over to join them. Frank says that he was talking to Ian and is almost sure I am going up. Frank says that he is trying to tell Ian to put up Joe without saying his name. Dan asks do you think all of us will make it through. Frank says he hopes so. Frank says that Ian told Joe if someone wins it and comes down then Joe will go up. Ian is worried about Joe winning it, and I don't know why. Frank says that Ian keeps talking about bigger fish to fry; I hope he is talking about Joe but maybe he is talking about you (Dan). Dan brings up how Shane and Danielle are untouchable. Frank says that he told Ian that he is just a big a target as I am. Jenn says he has to realize that. They talk about Jessie. Frank wonders if Ian got more than he says he did. Dan says it would be an easy way to disguise it with all the presents. Jenn says that he (Jessie) was just pissed because I was the only girl that wouldn't go any where near him. Yuck! Jenn heads inside. Dan talks about how Jessie was a big time trouble maker and wonders how Frank would fair with him. Frank says that he would go into beast mode on him if he did. Dan wonders if he can hit hard. Frank says he can't be that quick. Dan comments on how Jessie must have had heels on, he could never see eye to eye with me. Frank says Santa heels! Frank says we got to survive this week. Dan says if you were to save the three of us it would spook him (Ian) out. Dan says the best case is us having three votes on the side line. Frank says that he doesn't want Jenn to go but I think we could still have the votes. I think we could get three votes.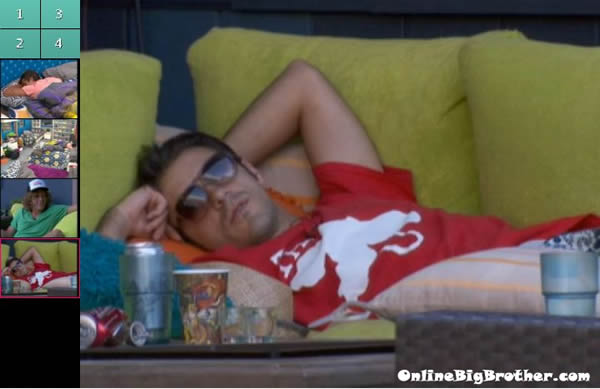 4pm They talk about if Britney is in the jury house already. They talk about how Britney called him (Dan) Judas. Frank says it would have been funny if she hadn't also busted you on the ego thing. Dan says that when he goes out he will be nice, there's no need for that. When your number is up, it's up. Frank says that they only thing he regrets is how he handled the little man the other day. I just wish I could have calmed him down. Dan says that some time it helps you out when you don't think it could. Like I regret how I handled the Pandora Box POV. He says that he doesn't usually lose his cool and wasn't happy that he did. Frank says but maybe you wouldn't have said that rat comment and I wouldn't have heard about it. Frank says that its mind blowing that I have been up on the block more than I haven't been. The only time I haven't been on the block is when I have been HOH. They talk about how bad Joe was in that HOH comp. Dan says that Jerry was in better shape than Joe is. Frank says that he worries what the fans think of him. Dan says that Frank might have taken some heat for his association with Boogie. Frank hopes he raised Boogie up a bit.
4:15pm – 4:20pm Dan and Ian discuss what the power of veto competition might be tomorrow. Ian thinks its about time in the season for the Otev or Morph Competitions. Ian then goes to swing on the hammock. Dan lays on the couch in silence. Danielle is in the bathroom blow drying her hair.
Watch it ALL on FlashBack: Big Brother 14 Live Feeds – FREE 3 Day Trial!
4:52pm Nothing much going on
4:57pm Cam 3-4 Danielle is caking on the makeup trying to cover up her face. She comments that her Rash on the neck hasn't gone away.
5:23pm Trivia yo
6:04pm Trivia



Share it YO!!
Tweet