POV Holder:
Shane
Next POV:
Sept 8 (Saturday)
POV Used
POV Ceremony
Sept 10 (Monday)
HOH Winner:
Ian
Next HOH:
Sept 13 (Thursday)
Original Nominations:
Jenn and Shane
Current Nominations:
Last Evicted Houseguest
Frank And Joe
8:45pm Cam 3-4 Ian rocking the hammock He's mumbling under his breath stuff like
"Quack Pack"
"Disqualified.. Disqualified.. Disqualified"
"Renegades.. Renegades.."
"Big Brother.. "
"Quack Quack… we did it.. we did it.. "
"There going to cut me.. cut me.. going to cut me.. The mist the mist… They'll cut me before you. Frickin joe"
8:39pm Cam 1-2 Kitchen Shane, Dane and Jenn
Dan asks him he he knows anything about the prize. Shane says they will tell him tomorrow. He's really appreciative.. Feeds cut to fish..
Dan is cooking up some food. He tells Shane that his wife does 80% of the cooking because he's so busy with teaching and football.
Jenn starts talking about her music career says she really started getting good when she was 14. Shane starts talking about the poor financial situation he is in. Says that he forgot to tell his mom to pay 2 of his 5 credit cards. Shane wonders if he should get the DR to tell her. Dan thinks he should, Dan suggests he puts in a request to send his mom a message.
Danielle joins them. They start talking about some of the better players in the house this year. Dan says Boogie and Janelle were very good. Dan adds that Frank was very good at competitions. Dan tells them that if Janelle had stayed in the game she would have won half the competitions they have been in.
Dab thinks if Willie had stayed in the game and not lost his cool he would have really mixed things up it would have been cool. Shane thinks that this years newbies are much better than last years. Dan completely agrees says the newbies last year were horrible.
Briefly chat about the POV competition. Shane says he knew he was safe but still fought for the Veto like his life depended on it.
Danielle brings up Britney trying to get Danielle to not like Shane. Dan says Britney was really good he didn't respect her coming into this house but now he does. Danielle points out that Britney didn't have to do anything during Big Brother 12 because Lane protected her the entire way. Dan: "Her Diary room sessions were priceless.. she's so witty .. zinging people"
9:27pm Cam 3-4 Backyard Jenn and Ian
Ian is rocking the hammock and Jenn is in the hot tub.. very little talk
9:31pm Cam 1-2 Shane, Danielle and Dan
Dan says they had to get Frank out he was way too good at Competitions. He also adds that Janelle was a beast she had to go early. They think that diary room sessions for Boogie and Frank were epic when they thought they convinced Danielle to put up Janelle.
Dan was worried about Kara's anxiety he felt like she would have trouble under pressure later in the game. Shane agrees with what Dan said earlier about Willie. Shane thinks Willie would have done well. Dan: "If willie had not been HOH that first week he would have mixed it up in the house and won a bunch of competitions"
Ian joins them..
Ian starts to explain to them when he decided to leave Boogie and on Day 28 the quack pack was formed. Ian says that Boogie made it very clear to him that he only cared about "His golden Goose" Frank. Ian really saw it during the Pirate Ship competition when Frank and Boogie left him hanging. Ian: "Day 28 set the course of the game"
Talk moves to Frank and Ashley. Dan tells them that Ashley would have been very hard to get out later in the game because nobody would have voted for her. They agree, comment about how Ashley was really bad at competitions. Danielle mentions how Ashley was running around "spreading stuff".
They start talking about Frank and the moves he made in the game. Ian mentions how he will be the most bitter jury. Danielle agrees.
Ian says that Jenn and Frank were so dead set on getting Dan out that he makes himself wear a carrot suit for a week and is benched for a HOH. Jenn burns her clothes and puts her self on slop for the summer. Then they use the veto anyways. Ian asks Dan if he convinced Jenn or Frank. Dan smiles says he only really talked to Frank.
Danielle mentions that her mom is a big smoker and she's been trying to get her to stop. Danielle doesn't like smoking and has never smoked week, she points out she has asthma attacks. Dan tells them that Boogie gave Frank his number so he could drop of something (WEED?) to the jury house (Dan doesn't say the word but mouths it .. I think it's weed. Frank and Boogie are awesome)
10:07pm Kitchen Cam 3-4
Dan and Danielle have made some "Mystery Drinks" for Ian and Shane. Both are blind folded and they bring them drinks. They have to tell them if the drinks are Diet Pepsi or Diet Coke.
Dan: "Welcome to the firs ever Big Brother Down the Hatch Challenge"
(Added more pictures in the gallery bellow)
10:14pm Results of the Diet Coke Vs Diet Pepsi taste challenge. Both get it wrong. Dan: "so you get the kid who drinks 7 Diet Cokes a day who gets the same answer as the guy who never drinks it"
Dan also mixed shots containing Gartorade and Tabasco sauce.
10:17pm
Dan and Danielle want to do a 2 shot challenge. Dan says that it can't be poison. Danielle: "No brown liquids and I'm down"
10:21pm Cam 1-2 Dan and Danielle Danielle is worried that Dan will throw a vote to Jenn and make Ian be the tie breaker. Dan tells her he won't vote for Jenn, he doesn't care about jury votes anymore everyone in there hates him already. Dan counts the current Juty members that will not vote for him, Frank, Brintey, Joe .. one more will not hurt him.
Dan never sees Ian turning on him. Danielle agrees says Ian loves Dan.
Danielle: 'Dan i'm serious.. no crazy antics this time"
10:41pm Cam 3-4 Ian and Shane still playing the shots game. Ian almost throws up.
11:07:44pm CAm 3-4 Danielle doesn't let Shane through the door blocks it with her bum.
11:42pm Back yard Cam 1-2 Ian, Danielle, Dan and Shane Chatting about past players, Dani Donato and Brian Hart. Ian says that Brian Hart was the most memorable first boot ever.
(Image Link)
Danielle asks Ian to describe everyone's style game style
Ian gives it a shot..
Jodi – Older and nebbish.. in everyone's business
Kara – really attractive victim
Willie good heart a lot of rage.. he was a 34 yaer old grandpa
JOJO – Loud and Horny
Janelle – Very nice lady.. played a sloppy game.. you could tell she was very motherly
Wil – Funny.. sparkling personality.
Mike – Good guy.. nice guy but very Hollywood
Ashley – Loosey Goosy.. I don't want to say d
Britney – Very nice very funny.. great Sarcasm..
Frank – Aggressive but a very good competitors. Poor social game Great competition game.
Joe – The older dude.. young at heart.. loud.
Jenn – Punk rock.. very DJ.. blunt straight forward.. Keeping it real you know
Dan – Played the game once good game nice guy
Danielle – Sweet girl really nice all the time
Shane – Young guy really good shape.. great personalty really strong player.
Danielle's turn
Jodi – the mom that came in here with a bunch of sass.. instigator.
Kara – Sweet girl.. a Cassi character
Willie – Good heart but became paranoid .. a lot of rage… couldn't handle the mental aspect . Shane chimes in and says Alcohol was part of it
JOJO – Staten Island.. Jersey Shore
Janelle – Very sweet person.. sloppy game a good mother
Wil – Funny
Boogie – Thought he knew it all.. very nice if he wants to walk to you otherwise stay clear of him he hates you
Ashley – in and out of it.. Happy.
Britney – Witty.. Glass 1/2 empty.. funny . I love her to death
Frank – He thought he was the best to ever play this game.. his ego and arrogance were too big for this house
Joe – Loud.. a good guy
Jenn – Rocker chick who is
Dan – the prankster.. gets away with everything
Ian – Extremely smart extremely cute .. easy to get a long with.
Shane – the sports guy.. works out likes sports.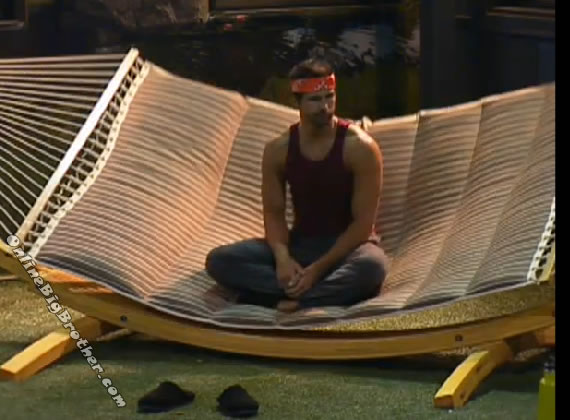 12:12AM CAm 1-2 Shane giving the hammock a shot
Share it YO!!
Tweet