POV Holder:
Shane
Next POV:
Sept 8 (Saturday)
POV Used
POV Ceremony
Sept 10 (Monday)
HOH Winner:
Ian
Next HOH:
Sept 13 (Thursday)
Original Nominations:
Jenn and Shane
Current Nominations:
Last Evicted Houseguest
Frank And Joe
Superpass Big Brother 14 Live Feeds: 3 Day FREE Trial!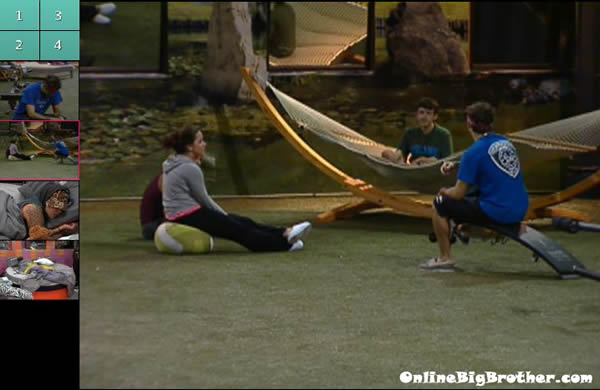 12:30am Jenn is sleeping in the stereo room. Ian, Shane, Danielle and Dan are out by the hammock talking. Dan talks about how he mentioned Ian's crush Taylor in a speech. Ian says that he really hopes that they cut that out. Dan says why, why wouldn't a crush want their name said to 7 million people. They all start reminiscing past events of the season. Ian talks about earlier in the season when Frank wanted to put up Dan. Ian says that he had to diffuse the situation. He says that he was s***ing bricks. Danielle says that she couldn't eat or sleep after Ian told her and Britney. Ian says I am so glad that they didn't put you up. Ian says it was bad! I was worried that he was going to do it. Dan says you guys told me after the meeting, I didn't even know. Dan says that Boogie told him that if he didn't agree with it he wouldn't cosign on it. He wouldn't vote me out. That's what he told me.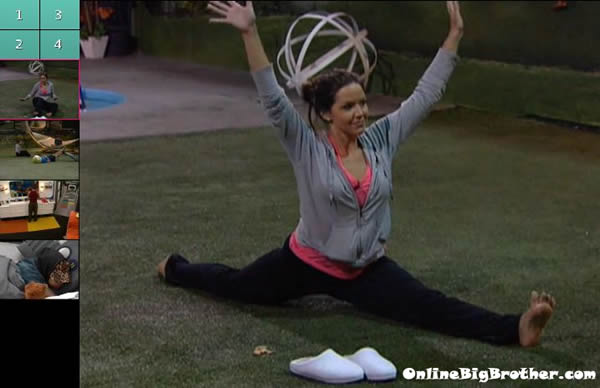 1am The conversation turns to talking about the reset button. Dan says that Britney denied hitting it. Ian says he can't wait to watch the episode just to see what the reset button looks like. Ian says that if Willie hadn't been expelled from the house then there wouldn't have been two double evictions. Ian says that if Kara had come back she would have maybe been the sixth member of the quack pack. Danielle mentions how grossed out Kara was that Boogie was hitting on her. Ian tells them about how Boogie wants Jojo, Danielle and Britney out. Ian says that Boogie said he was tired of her pouty face all the time. Danielle starts asking what does that mean, what does pouty mean? Does that mean sad? I wasn't sad, I didn't complain when I was a have not. F**k you Boogie! Dan starts doing Danielle's kissy face. Ian comments how it really rubbed him the wrong way how Frank left. Dan imitates Franks facial expression when he left.


1:25am Dan Shane and Danielle head inside to the bathroom to take care of the cuts on their hands. Dan grabs the Bactine and spays his hands. He says you want the pain son, you want the pain son! AGGGhhhh! He reads the bottle "soothing infection protection". He says that's the biggest crock of s**t! Danielle wraps up Dan's cut up hands. She touches the "holes" and Dan screams and makes faces because of how painful it is. Dan keeps making jokes about how he wants his bandages to look like brass knuckles. When she's done he tells her it doesn't look like brass knuckles it looks like I just got beat up. Danielle gets Shane to help bandage up her hands. Shane then heads to bed.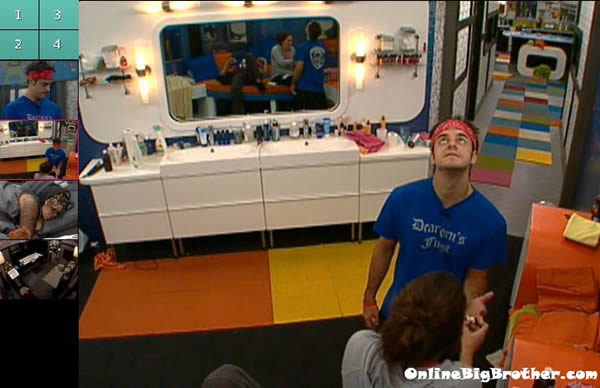 Big Brother Live Feeds FREE 3 Day TRIAL: Try them and see what's happening right now!
1:40am Dan and Ian play a game of chess. After only a few moves Dan takes Ian's queen. Ian says GAAA! I have got to stop sucking at chess!
2am Ian says that he told Joe that I basically took a huge s**t during the live show and smeared it around with my hands. Dan asks when, the first double eviction? Ian says yeah. Danielle comes out of the bathroom says goodnight and heads to bed. They continue their game, Ian misses a move and Dan makes a couple moves and wins. Ian is pissed he missed the move.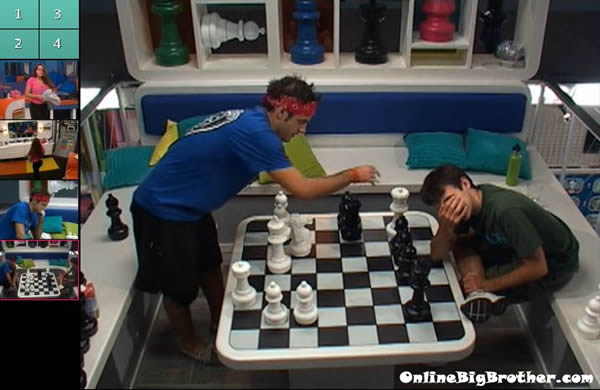 2:05am – 2:20am
In the kicks room Shane and Danielle are talking. Danielle says that she is scared to go up. Shane says that she might not go up, that he will talk to Ian. Danielle says that she is scared about Dan's vote. Shane asks why because he talks a lot to Jenn. Danielle says yeah. Danielle wonders is Dan and Jenn have a final two. Shane says yeah probably. He tells her to talk to him and tell him whatever he needs to hear, tell him you will take him to the final two. Shane says that he bets Dan made a deal with Jenn last night. Danielle whispers to Shane that she wonders if Ian and Dan have a final two deal. Shane says that he thinks they do. Shane says remember how he treated you with his speech. Danielle says she hasn't forgotten and says he also put me on the block! Shane says he (Dan) is in it to win! I really think he made a deal with Jenn. Shane says that he thinks if Dan had won veto he would have saved Jenn and voted me out. Dan comes in and pauses at the door.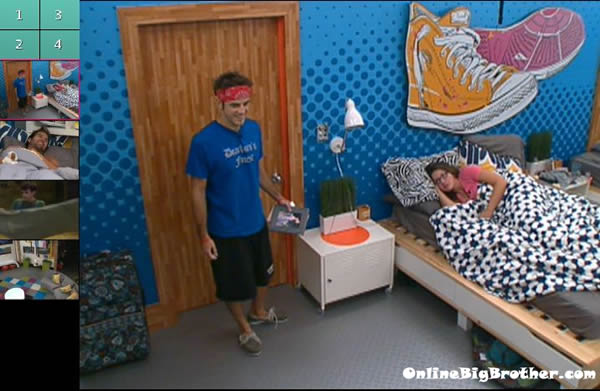 Watch it ALL on FlashBack: Big Brother 14 Live Feeds – FREE 3 Day Trial!
Shane gets all nervous and starts saying they weren't talking about him. Dan says no I'm just wondering why you two are in different beds. Shane comments that he was thinking of talking to Ian, not that it matters though. Dan says so what I can go up on the block? Dan comments that he walked in and they just finished whispering saying get Dan put up on the block. Danielle looks at Shane and says no, did that ever come out of our mouths? Danielle looks at Dan are you serious?! Shane tells Danielle he is just bugging you. Shane tells Danielle whoever goes up is safe, no one needs to worry. Dan asks Shane if he learned any more about his veto prize. Shane reads his letter from the veto "Congratulations on winning the veto, you also won a special luxury prize that you will learn more about soon." Dan says that he wonders more about the conversation they were having when he walked in. Danielle asks what? Dan says just about you being worried about going up, either you go up, I go up or Shane doesn't use the veto. Dan then starts reading bible verses. Dan then starts reading his letter from his wife Chelsea.
2:30am – 3am Dan tells Shane we are 4 out of 16! Shane says yeah I know we have a 25% chance of winning half a million. Dan tells Shane that he thinks Shane will have to make a decision with his veto prize, like either keep the veto or take a money prize. Shane says oh I hope not, don't give them any ideas. Danielle comes back and Dan starts asking them relationship questions. Dan asks Danielle if she would kiss Jojo for $10,000? Danielle says no! Dan asks $15,000? Danielle says no! Dan asks S20,000? Danielle says no! Dan starts asking would you rather questions, would you rather peck Jojo for 5 seconds or kiss Boogie for 9 seconds? Danielle says Boogie. Dan asks Shane would you rather … this is sick .. hold a zip-lock bag while Jodi cr*ps in it or Frank dutch ovens you. Shane asks do I get to use gloves with Jodi? Dan says yes. Shane says Jodi. Danielle says that was sick Dan. Danielle asks Dan would you rather give Frank a sponge bath front and back or wax and bleach Ian's b*tt and b*tt hole. Dan says Ian. Dan asks Danielle would you rather make out with Willie or Frank? Danielle doesn't want to with either.. then asks can I keep my eyes closed the whole time? Dan says yes. Danielle says Frank. Dan asks Ian or Frank. Danielle says Ian. Dan says he is going to tell Ian tomorrow and then asks Boogie or Ian. Danielle says Boogie. They end the questions to go to sleep. Dan tells Shane nice win today. Shane says thanks. They all go to sleep..
9am Jenn is up and in the kitchen making her shake. All the other house guests are still sleeping, no wake up call yet (BB usually gives a late wake up call on Sundays). Jenn finishes making her shake and goes out into the backyard, starts her laundry and sits down on the couch.
10am – 10:25am Big Brother wakes up the house guests. Dan and Ian are awake and in the kitchen. Shane and Danielle are still sleeping..
Simon and I work 24/7 all season long to bring you all the live feed updates and spoilers, please consider donating. Any amount is greatly appreciated, your donations go directly to paying the server and bandwidth fees needed to run this site. Donation Link
Share it YO!!
Tweet