HOH: Nick
NOMINATED: Cliff & Jess
WACK Power: Christie
New Alliance "Undeniable Nine" – Nick, Jack, Jackson, Analyse, Christie, Tommy, Sam, Holly, Bella

5:10pm Jess and Nick. Jess – it sucks that nominations are today. Nick – I know I haven't even had a chance to talk to anyone. I thought they were going to be tomorrow. I haven't even had a chance to think about what I'm going to do. Now its going to be today so I have to hurry up. I was going to put Cliff up because I think he's America's player. Because of that Owl and sh*t. The knife. That Owl, he always has the f**king Owl. He is being weird. I don't trust him. Jess – your decisions are your decisions. When I was on the block, I really tried to not play any game last week. Nick – He (Cliff) is getting paid for that sh*t. Jess – I want you to know that if you heard your name come out of my mouth.. it is a flat out f**king lie. Nick – I know, because you would have told me. Nick – the other nom what I was thinking is its easiest if its someone that's already been up. You and Kat are the only people. It could be possible that one of you go up because I know its Cliff that's going to get voted out. Cliff got caught talking a lot of sh*t and he is going home. If I did put you up, I wouldn't put you up if I thought you were going to go. Jess – I really don't want to go up two weeks in a row. Nick – he was caught saying he wanted to break up all the showmances and I'm in one so he's got to go. Jess – its hard in this game deciphering whats real and what's not. Everyone has their own game. People are talking. Nick – I have your best interests in the game. If I do put you up.. you will not go home. Jess – I think he (Cliff) has a power. Nick – he already offered himself up as a pawn.
– 5:30pm – 6:38pm Big Brother blocks the live feeds for the Nomination Ceremony.
Nick Nominated: Cliff & Jess
Bella, Tommy, Nick, Holly and Sam are in the HOH room. Tommy – people in the majority think that you were trying to flip the votes.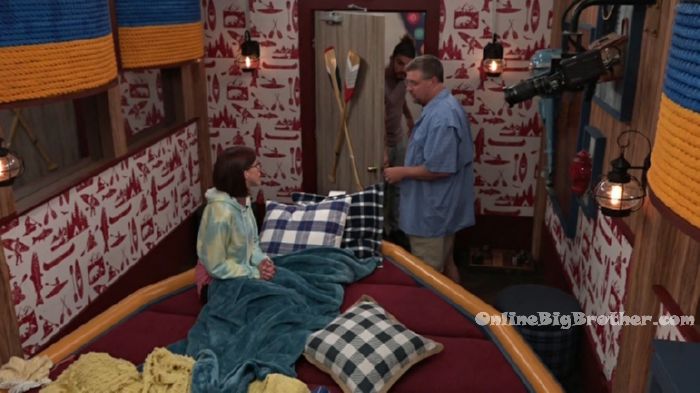 Boat room. Cliff – I am just glad that Jessica didn't throw her hands up and say one minute guys. (if she had a power) So we will so, either she doesn't have the power or it doesn't apply to nominations. Jack – eviction.. she can get sent home and come back from the dead. Cliff – if so, let her! At least she's flushed it out. Jack – at this point its pawn city. Cliff – I told Christie week one I will play the game it needs to be played. If it means doing something like this then so be it. I don't give up till the suite case it out the door. Y'all just keep me in mind and let me know what I can do. Jack – just know that I've got your back. I couldn't win the veto last time but.. Cliff – you and Sam are the ones. Jack – if you get house guest choice I would probably pick Sam. But I am available for you. Cliff – we knew this was a possibility. Jess joins them. Jess – there are 16 people living in this house how is it completely quite. Cliff – they're like cock roaches. Jack offers to play in the veto as House Guest choice for her as well. Cliff tells Nicole he is glad she isn't up there. Cliff leaves the room.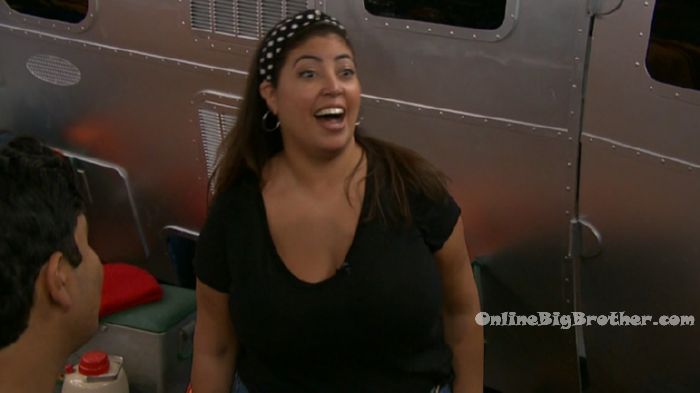 HOH room Christie, Bella, Sam, Tommy, Nick, Analyse, Holly and Jackson. Nicole comes to the HOH door. Jackson tells her – Not a good time. He then closes the door in her face. Jack comes into the HOH room. Analyse – look at that dumb B***h. Tommy – bottom line is Nicole was playing both sides. The fact is we were hearing about this so no one was surprised when Kemi said what she said. And still chose to focus on it even though it didn't matter.
Christie – she (Nicole) pulled me in the boat room and she said I don't want to name drop. I don't want to say but there is someone in the RV that created the black widow and pinned it on Jess. She said that she confided in you and gave her emotions, that she was insecure and that she came to you and you've been using it against her to make her feel weak and out of place so that you could put ideas in her head and bully her. I never pulled her aside on my sisters life!!!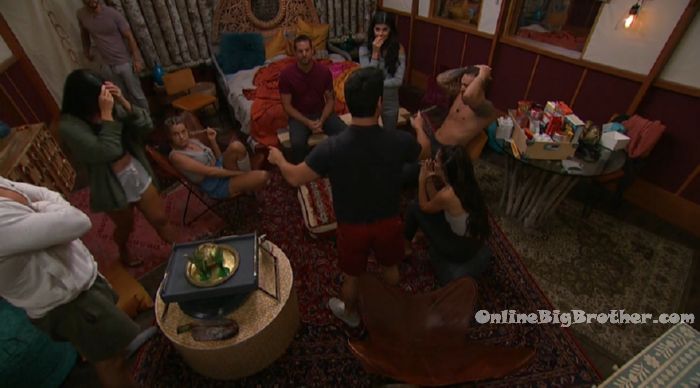 Nicole is pissed that they wouldn't let her in the HOH room. Nicole – I've done nothing but tell the truth. Cliff – you play the best game you can and you take the shots you can. They're all laughing .. that concerns me.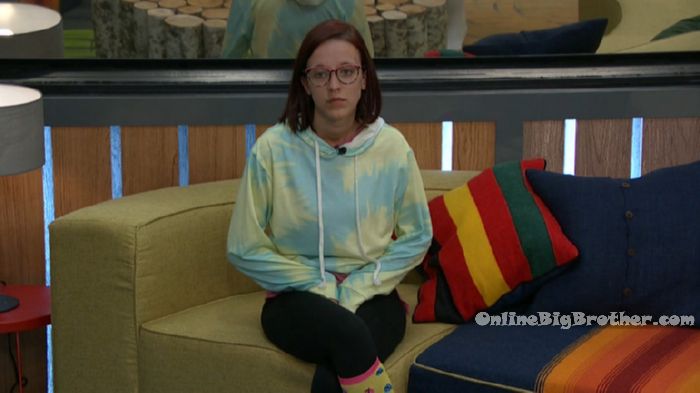 6:55pm HOH room. Ovi tries to come into the HOH room and says that he doesn't think its nice to not let people into the HOH room. Jackson – she wanted us to irrupt from the inside out. Nick, Jack, Jackson, Analyse, Christie, Tommy, Sam, Holly, Bella create a new alliance. Nick -On three what are we going to say? "NOT FALLING FOR YOUR SH*T!" They name their new alliance "Undeniable Nine!"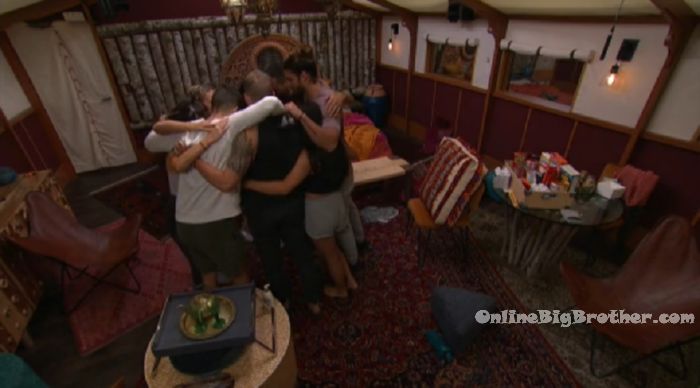 Nick and Cliff.
Cliff – no hard feelings. I want to work with you.
7:16pm Storage room. Ovi, David and Jack. Ovi – is everything okay? Jack – yeah everything is fine. Everything is fine, yeah. Ovi – you would tell me if something was wrong right? Jack – for you? No nothing is wrong. You're in camp comeback, I can't touch you. Right?! Ovi – yeah but.. Jack – why, why were we all up in that room? We were arguing and shooting the sh*t and hashing sh*t out. Nicole joins them. Nicole – am I going to find out anything from this conversation. Jack – I don't know.. maybe. Jack leaves. David talks to Nicole about leaving things alone right now. You have to smile to because its going to be hard. Nicole – I'll smile in the mirror because no one is looking at me.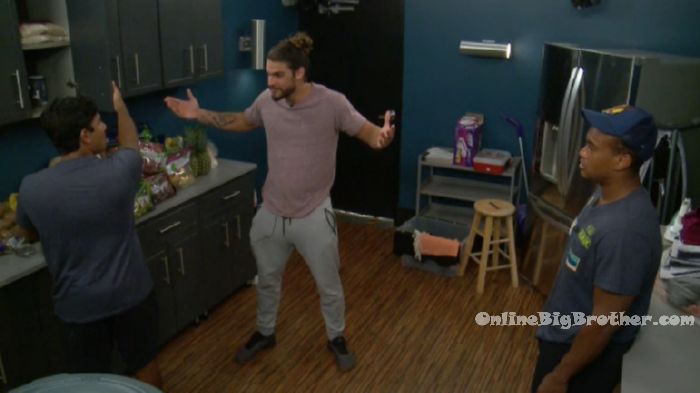 7:25pm Bedroom. Nicole and Cliff. Nicole – I realized yesterday that 6 – 8 of them are all in cahoots. I realized that I was going to be put up there with you… and I did a last ditch effort to not be put up there thinking it would stay secret. Cliff – play big or go home. You can't regret what you've done. We are trying to play the best game that we can. Nicole – they think I have a power that I don't have. They think I did a rogue vote that I didn't do. Cliff – I know you did not cast that rogue vote. Nicole – I don't understand why none of them are talking to me. I tried to talk to Tommy and he said not now. I tried to talk to David and Ovi and they said they wanted to talk alone. Cliff – even if they aren't able to keep it on a non-personal level.. you do it. If they let their emotions get the better of them be the better man. I am here for the experience and adventure.. if it doesn't go your way you go back to your life. Nicole – I am feeling like a villain right now. Cliff – you're not.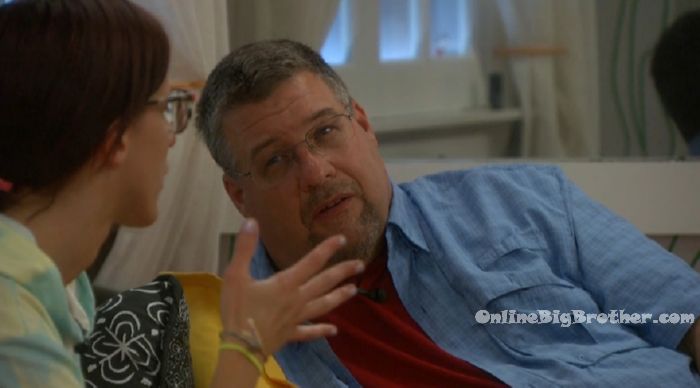 7:55pm HOH room. Tommy, Jack, Jackson, Nick, Bella, Analyse, Holly, Sam and Christie. Bella – she (Nicole) showed me her bracelet and said on my grandmothers life. Christie – she doesn't even have her grandmother anymore. She said she lost her grandmother when she was young and then the other raised her and died about 3 years ago. On my grandmother's life! Her grandmother isn't alive! She said it was the hardest thing shes ever gone through. Tommy – she is going to try and pull the card that things are being misconstrued and to me the grandmother thing is proof that she is a manipulator. Like that is a skill. That is thought out and smart. Kat joins them and the conversation ends.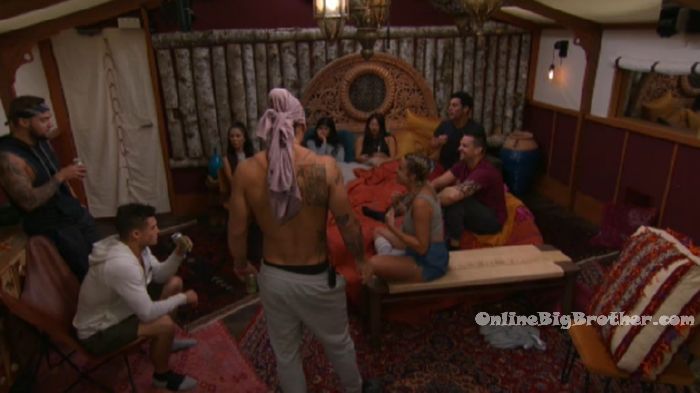 8:10pm The house guests are eating dinner.