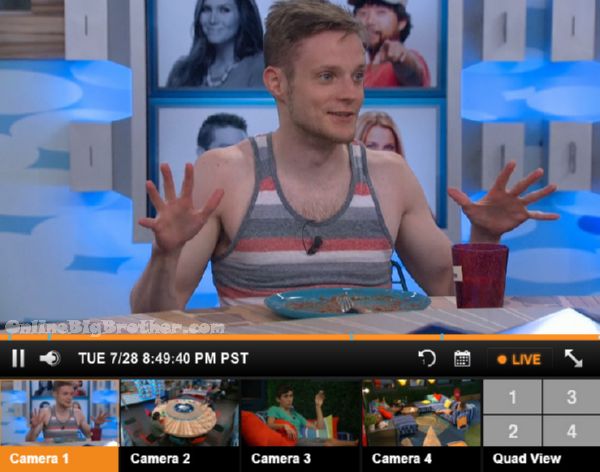 8:48pm Kitchen jmac, JAmes, Austin and liz
James asking him about his time bouncing.
James say if a little asian guy came up to him and told him he didn't want to mess with him what would he do.
Asuint wouldn't mess with him, wait for help and escort the guy out of the bar if he's causing trouble.
Austin says you always avoid a fight at all costs because you never know, they could pull out a knife, Gun or claws gouge your eyes out.
Jmac talks about people that come in with a mouth full of rotten teeth. Jamac thinks it's either crystal meth or mountain dew.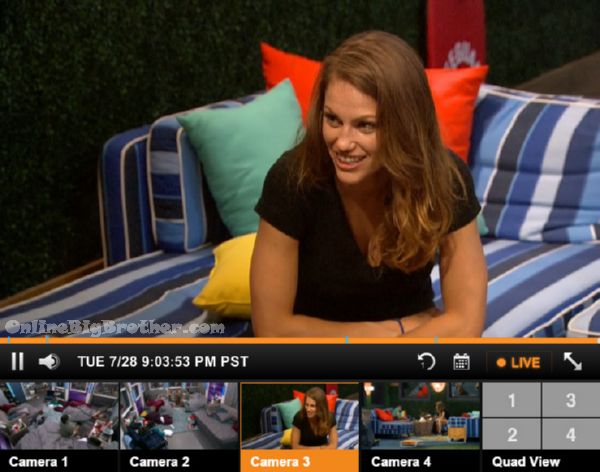 8:54pm Jason and Becky
Jason says the only girl in the game that is weak at playing it is Julia. Jason has been complaining that he wants to see a cast of strong women on the show.
Becky leaves
Jason – why do people want to keep this big fit girl here.. are these people delusional.. delusional
Jason lites a cigarette "so much for me quitting this summer"
Becky joins him. Jason says he's sour because of these mofo are getting jury cheques for working out all summer. says they are going to get 10 grand for doing nothing, "Still grateful for being here.. just waiting for a twist.. I'll do anything for some money.. don't even save me.. I'll shred some letter for money" (during big brother canada 2 Ika had the option to shred houseguests letters from home for money. She did it. unbenounced to her the rest of the house was watching sealing her fate that week)
Becky says the people that win in the beginning go home in the middle.
Jason says he's so mad he's not even getting to the 1/2 way point.
Becky says she never watched the show before getting cast but once she was she spent all her spare time studying the show and watching the past seasons.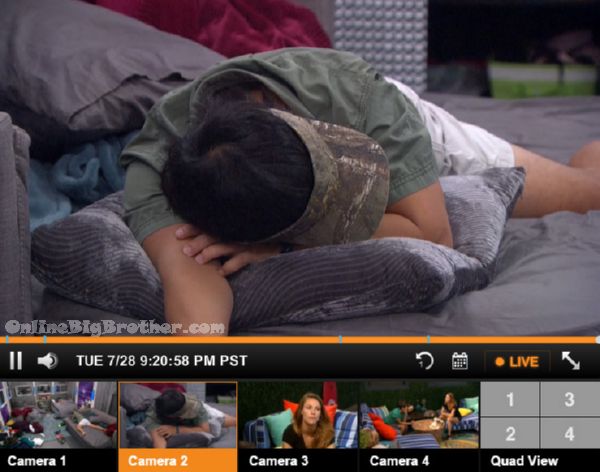 9:15pm bedroom James and Jackie
Jackie we have to do something we have to get more people on our side
Even if we wanted to work with them they won't they have already taken a shot even if we pretend.
James knows the other side isn't workable says they are just doing damage control so if they get power they won't target them.
James – we gotta win dammit we gotta win, just hope it's no true false questions I hate em.
Jackie – I don't even know where to begin if they want me out they'll get me out..
jackie is very discouraged thinks even if she starts talking to people something like what happened this week will happen again.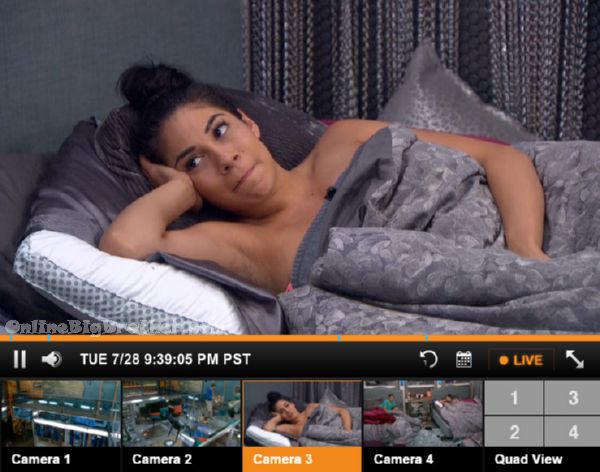 9:35pm Jason and Jackie
Jason saying he's going home but will try and help his allies on his way out.
jason says it was Austin, Liz, Steve, Shelli and Clay that wanted him up.
Jackie says Chelli (Shelli and Clay) and Vanessa have made amends with AUstin and the twins.
Jason – she doesn't care if you go up she just doesn't want to go up
Jackie – she did me dirty
Jackie can't believe they are so threatened by Jason.
Jason – backdooring me is shooting fish in a barrel
They both think the reason the house is giving them are ridiculous
James joins them say the whole other side of the house is hanging out together.
Jackie sighs says sooner or later they're going to have to turn on each other like the did with them.
James has a idea for a prank he's going to save a bud light can and randomly come out of the Storage room "We got alcohol"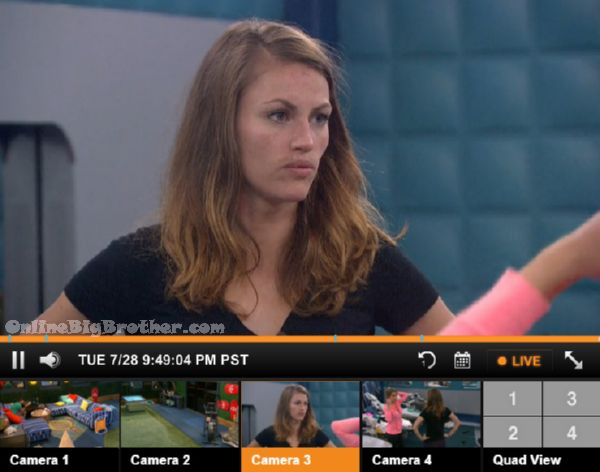 9:48pm Becky and Shelli
Becky feeding her information about the other side. Says they know Shelli and Clay had something to do with it based on how much they are getting called into the Diary Room.,
Becky doesn't know any exact game plans. She knows the other side want the HOH badly.
Becky says Jason, Meg, and James are now starting to talk to her they use to never talk to her.
Shelli says they did the same thing to her week one never talked to her until they needed her number.
9:50pm James grabs a zucchini puts on a condom and fills it full of hand lotion. Makes a giant mess
[envira-gallery id="124704″]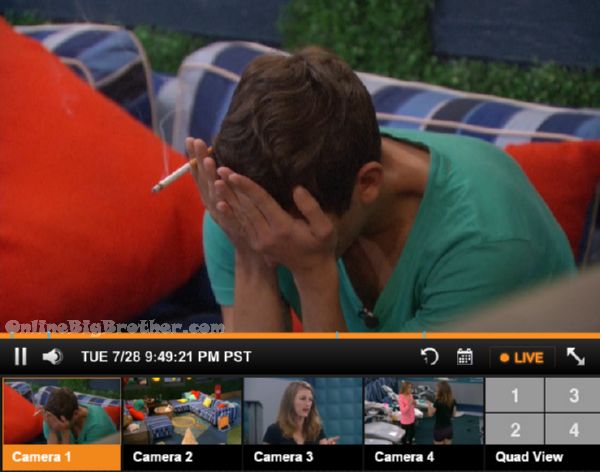 10:00pm
Jason and James in the backyard chit chatting.
Vanessa, Steve and Jmac playing chess on the sky bridge
James says he took a condom and filled it with lotion put it under her pillow. "Meg's going to scream"
James – if me and Jackie get axed.. best for meg to roll with Clay and Shelli
Jason – She's got to
Jason says Becky wants Steve out next week
James – smart
Jason it's smart weaken them a little bit then go for the head when you have a double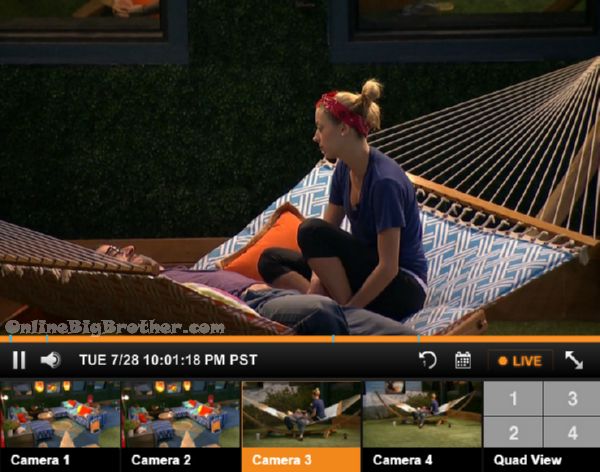 10:01pm Austin and Liz
(I'm noticing Liz and Austin are interacting as good friends again)
Austin says that side of the house wanted to lay low and coast downstairs and the whole game passed them by.
Austin – Now all they want to do is make fun of everyone they weren't allied with and now all those people are allied so now they are f****d and we are f****g killing it
They start to studying dates..
They wonder if Big Brother is just going to keep Liz in the game until Thursday. Liz says it's a big hassle when they swap they have to get the handlers and a driver. Big Brother tells them to stop talking about production.
Austin says it would be so amazing if two of the three of them win the HOH. They will go up to Jackie "You're done"
Austin points out that Jackie hasn't even talked to him since Monday.
Austin is going to tell Jackie and James She was trying to get him out and James was trying to throw the BOB, "I'm ready to go Evel Dick on them.. If I go into Meg's face she would cry. I don't think I have it in me though"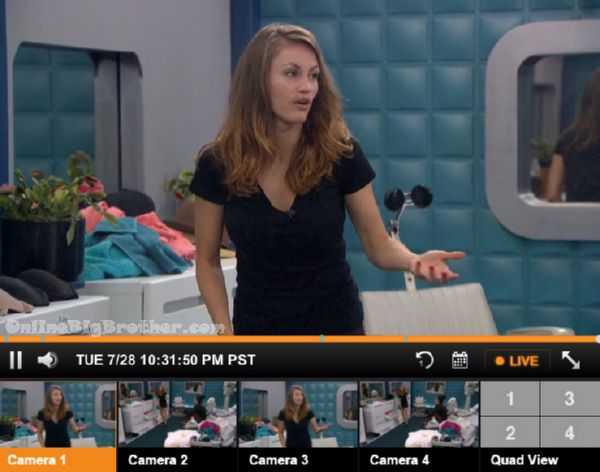 10:29pm Becky and JAckie
Becky saying a good pre double eviction target is Steve. When it's double eviction you get out a strong player. She doesn't want to put up a strong social player before then they can talk themselves off the block.
Becky – The best players in the game get nervous on double eviction, I'm not nervous"
Becky – people would waste a eviction if they sent me out on Double eviction
Jackie says Clay is denying that they had a final 8 "Why"
Becky heard him say that they were all in the room.
Jackie says she's not sure how close Meg and Clay are because they have that "Brother and sister thing going"
Becky says the people going on the block have been the safest people in the house the people not on the block are the ones going home. She adds if you are on the you play the BOB and if you lose the POV. Two chance to get immunity, 75% chance getting off the block, 20% chance of going home. .
Becky knows there's alliances, side alliances and people being cared along for votes. She just doesn't know who is were.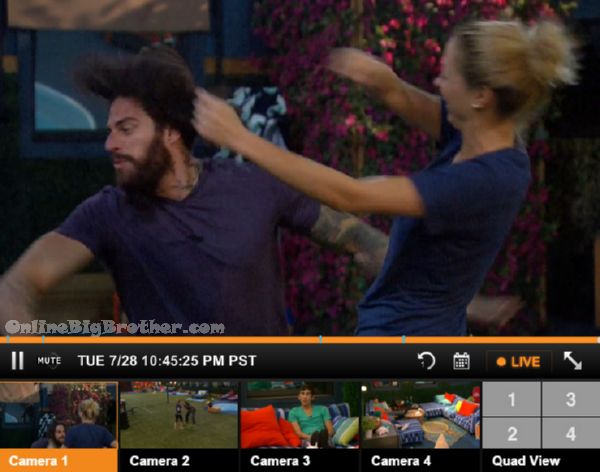 10:50pm Austin and Liz practicing wrestling moves
(They are not hitting each other just taking turns practicing some moves)
[envira-gallery id="124713″]
Double team #BB17 @DawgsBigBrother pic.twitter.com/mG7Ivoancn

— OnlineBigBrother.com (@bigbspoilers) July 29, 2015
11:01pm backyard couch Jason and Meg
Meg says Clay, Shelli and Steve are up there playing Chess, 'When did chess become the fun thing to do" Jason says
Jason says he's not rolling over yet he's going to try some sh1t. Jason says Jackie thinks the vote will be 6 to three, Meg, James and some "rando".
Meg says she's more fine with Austin and Liz because at least they are real Shelli and Clay are "Fakey Mc'Fakes"
Jason – I will never like him.. she with that fake laugh..
Meg – True

James pulls out the knock out blow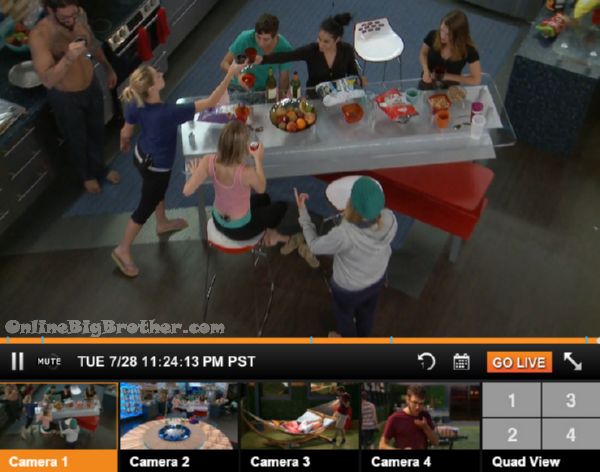 11:20 they get alcohol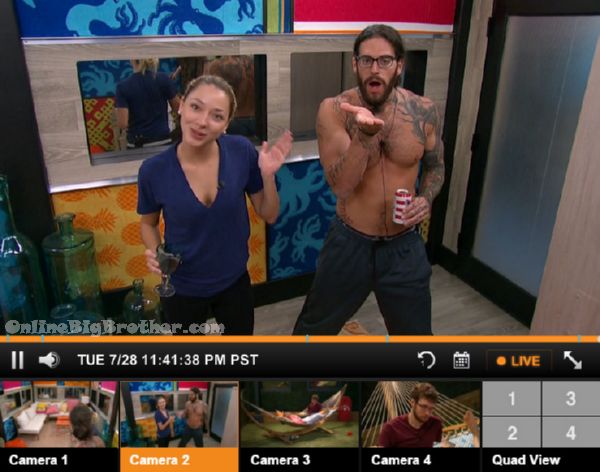 11:41pm Toasting for the demise of Jason thank you liz AKA one of the devil reject. He tried to blow up their game but
They have a second toast for Liz winning the BOB by herself
[envira-gallery id="124726″]
11:55pm Hammock Steve, Clay and Shelli
Steve saying whoever wins the next HOH will not get a chance to play in the Double eviction.
Shelli says the twins are perfect for double eviction. Steve agrees says any of the three Austin, Twins will do.
Clay says you can consider Johnnymac and Becky a couple they could be a potential target for double eviction. Adds she's not a target of his and Shelli's.
Steve starts talking about how he misses social queues. Brings up how bad things were a couple years ago. When he started going to fredonia he was very awkward but things have been getting better for him.
[polldaddy poll=8994045]
Share it YO!
Tweet