POV Holder:
Clay
Next POV
July 25th
POV Used
Yes
POV Ceremony
July 27th
HOH Winner Team 1:
Jackie
HOH Winner Team 2:
Vanessa
Nominations 1 :
James & Liz
Nominations 2:
Clay & Becky
Battle of the Block Winner
James and Liz
Next HOH/ Next BOB
July 30th / July 24th
Original Nominations:
Clay and Becky
Current Nominations:
Jason & Becky
Have Nots
Shelli, Clay and Steve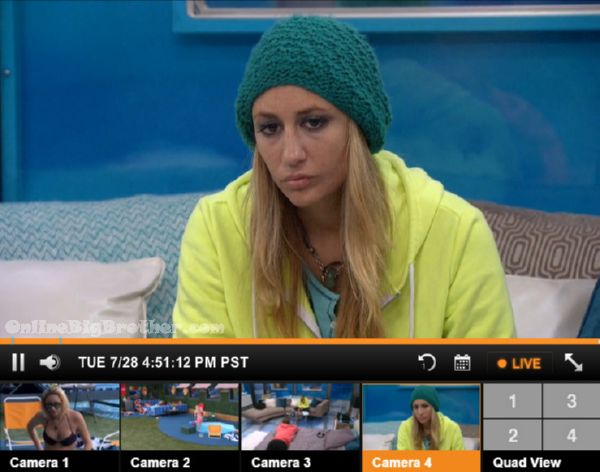 4:47pm HOH Vanessa and Clay
Clay says James, Meg and Jackie are alone in this game they know they have to win HOH or one of them is going home.
Clay – I want to get JAckie out.. She worries me.
Vanessa is worried also, she doesn't trust Jackie
Vanessa – What do you think of JAmes
Clay – Jackie is a bigger threat..
Explains they can still manipulate James. Warns her that Vanessa took out Jeff and Jason and is Blaming Clay and Shelli for being in on it. It's easy excuses if she wins HOH to them up.
Clay says just like they cover up they are working together the other side is covering their backs
Clay – right now Becky, Johnny and Steve are sitting pretty.. they haven't done anything yet
Vanessa – we have to make sure they don't make it too long.. 4 bigger than 3
They agree they have the 6th sense which is solid.
Vanessa says Meg, Jackie and Becky are her worries
Vanessa – Meg will float right till the end.. she's not stupid
Clay – Becky doesn't know how to talk game.. she doesn't get it.
They agree Jackie first then Becky because Becky can win Comps.
Vanessa is really worried the house will divide in half again and a side opposite of them will pull Meg in and have the numbers,.
Clay simply doesn't see Meg winning anything
Vanessa is shocked at how much Meg cried when Jason went up it's not like Meg was going up.
Clay says she's an emotional person and really close to Jason.
Vanessa – JAson was supposed to go last week
Clay – ya.. Sending Austin home would have been the worst thing for our game.
Clay and Vanessa agree they did enough damage control after JAson went up so the damage was huge on them, "They don't trust us obviously it's only them three"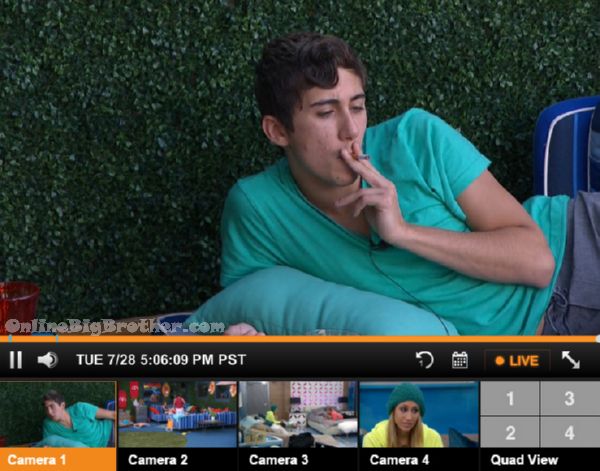 5:00pm James, Meg, Jackie and JAson
Talking about getting rid of Shelli.
James – Vanessa and SHelli
Meg – that will piss vanessa off too much
JAson – Vanessa understands the game.
Meg – I'm talking this HOH
James – no too early this HOH
Meg – I'm thinking of going for it.. screw this
Jackie tells her she has to pick her nominations wisely or she'll end up like Jackie dethroned, "You just get the rap of it.. It sucks" (When you're dethroned)
James says they need 2 of them to win HOH.
Jason – Yes sir
Meg – they will be shaking in their boots
Jason – they'll be your best friend for 3 days then back to scheming for the next week
Jason tells them not to trust Shelli and Clay EVER.
Meg – I would rather lose this game than play is safe anymore
Meg – Clay and Shelli say Vanessa is the person they trust the most
Jason – Vanessa Is here to play
They all agree if they win HOH they will take a BIG swing.
They agree Clay and Shelli were the ones in on this play to get Jason out
Meg thinks it's was Shelli's paranoia that flipped the house
They agree Shelli freaked out when James won the BOB and thought there was a play to get Clay out so she worked to dissolve their group.
Meg – conversations I've had today They (Shelli/clay) are running sh1t all the time..
Jason – they are
Jason says he called Shelli, Vanessa and Clay the human centipede weeks ago.
Jackie about Clay and Becky BOB performance "they sh1t the bed"
Jason tells them Clay and Shelli collapsed their entire group because they are not easily manipulated unlike the floater side.
Meg says Austin made an emotional appeal to Vanessa
Jackie – why make all these deals with us
Jason says it's simple her deals are worth sh1t, "They got plenty of excuses"

They agree Vanessa was being thrown under the bus by Clay and Shelli. They think they can pull Vanessa in if they can get Shelli and Clay on the block.
Jason – she's the type that will flip the house .
Jason – you have to win.. if anyone else wins you are f****D
James is unsure that Clay will target them.
Jason – Clay will do this whole ruse and backdoor Jackie or Meg
Jackie says she will be disgusted if Shelli and Clay make it to the end. Jason doubts it'll happen because sooner or later America will vote for a power.
Jason says America hates Shelli and Clay the fans always like the underdog.
Jason – Shelli is evil personified..
Jackie says she was talking to Vanessa last night and she told her the house target is still the twins.
Jason and Meg – WHAT that doesn't make sense.. why are they helping them this week
Meg – My gut says there isn't a set long term, they're using Liz and Austin this week
Jason says they are going to cripple their side first.. 'These foul bit*hes are beating me in this game.. these tinder-hoes.. "
Jason can't believe these people that have seen 2 season are beating him
Jackie – You've done more
James – it's about laying low..
Jason says that is the part of the game he hates.
Meg – What if we put up Steve and Shelli
Jason – if you put up one of Celli one might win the veto.. gotta go classic big brother put them both up
Meg – Austin and Steve, Pull Austin off put up Shelli
Jason hopes the house would vote Shelli out, "These people can't be that dumb" (wanna bet)
Jason mentions that AUstin, Clay Vanessa and Shelli getting called into the DR a lot. He thinks they are the ones being shown Scheming on the TV show.
[envira-gallery id="124658″]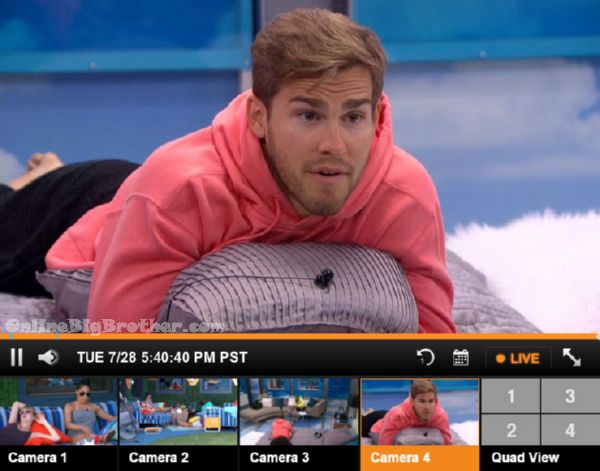 5:36pm HOH Clay and Vanessa
Talking about Johnnymac. Vanessa has some concerns that Jmac know more about the game than he's letting on.
Clay says Johnnymac never tells Becky anything about them he's a good one to have on their side.
Vanessa – the only thing that has been nervous that while Jason is here the three of us are running the game.
Clay – Johnnymac will tell me.. He'll give me any information the problem is they don't tell anything to Johnnymac he just listens.
Vanessa – even if two of their side win HOH worst case scenario next week it's 2 on 6
Vanessa wants to push the other side to put up Pawns and they'll vote out the pawn.
Clay – that's a good point the twins get them out before Jury
Vanessa says she's been trying to separate them with Austin and LIz and she told Austin and liz to do the same thing. She thinks once Jason leaves the other side will believe it.
Clay says James going to Jury would be best because he has a kid and he needs the money. He would rather James make it to Jury than someone like Becky.
Vanessa says if nothing happens for Jason in terms of jobs she's making it her personal mission to help him out on the outside.
Clay starts making plans for breaking the 6 sense up using Steve, Becky and Johnnymac so if those three win they target the twins and Austin.
Vanessa says if the twins make it to final 6 she'll eat her shorts..
Clay wants Austin and the twins to be positive Jury votes for them that why they'll use the floaters to take them out.
Clay – we gotta keep Steve close
Vanessa – steve is not targeting us I'm telling you .. he'll target Johnymac over us..
Clay – I don't know
Vanessa – 100%, Steve's not dumb we have numbers
Vanessa says Johnnymac will go against the numbers like he did with Jeff.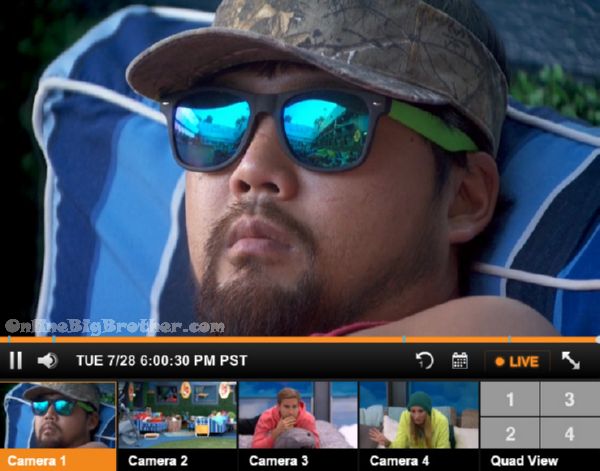 5:57pm Backyard Jason, Jackie, Meg and James
Jason sees Liz and Austin flirting says he's going to puke
Jason – Liz a prostitute for 500 thousand dollars
Jackie – I thought she didn't like him
Jackie – Shelli told me next week they have no targets make me think they aren't going after the twins.
James – they say that every week
Meg and Jackie agree they are going to spend more time in the HOH to annoy the other side.
Jason brings up Shelli saying he never goes up to the HOH, "What I need to be up there feeding them grapes"
Jackie – you're in an alliance you don't need to go up to the HOH
Steve joins them
Meg leaves to head up to the HOH.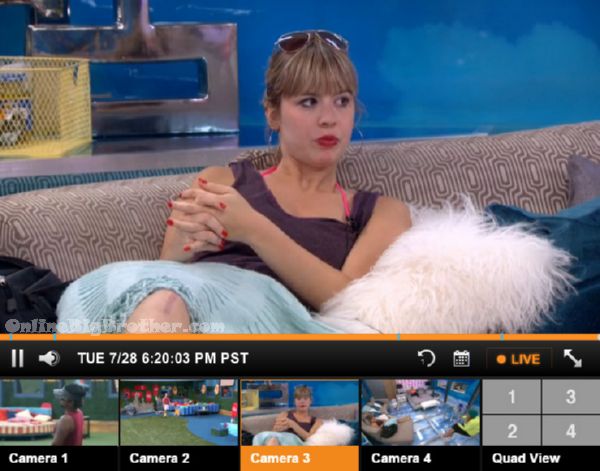 6:17pm HOH Meg, Clay and Vanessa
Clay tells her he walked outside and all of Jason, JAckie and james stopped whispering he thought they were scheming.
Meg – you're crazy, we all live in a house together
Clay says He wants her to know he hasn't lost trust in her.
Meg says she hopes so, She calls him a "little b1tch" you says he's the one that lied to my face
Vanessa and Clay are talking about how well Jason is taking it, they say things like "head up high" , Respect, Classy, So much respect, As classy as possible.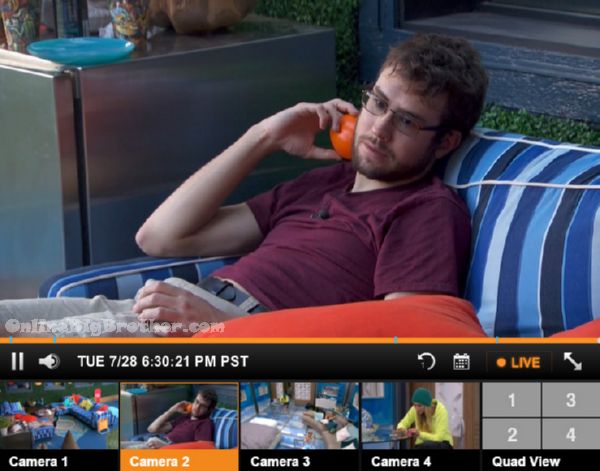 6:28pm Backyard Jason and Steve
Jason hates that there's people in the house only to be famous. Says Jace and Austin are only on for instagram followers
They agree after a couple months only the super fans will recognize them.
Steve thinks even Big Jeff can walk around in public and not get recognized.
jason says there's really only 8 million people that watch the show, "Most of America doesn't watch this show"
Jason says he came onto the show to get out of the grocery store so he's not living paycheck to paycheck. Jason says he's not stupid he knows this show doesn't get you famous.
Steve understands says he's in the game for the money to change his life same as Derrick last yaer.
Jason – half these mother f***ers that were found on tinder are beating me
Steve – Its the same as people felt last year with Victoria
Jason – she wasn't a recruit
Steve counts the people that submitted applications Shelli, Vanesa, Day, JAmes, Jason, Austin and Steve
Austin – Shelli told me she was recruited
Steve – She's an applicant.. Feeds cut
[polldaddy poll=8994045]
Share it YO!!
Tweet