Quick Big Brother Spoilers
Head of Household: Monte
Nominees: Indy and Alyssa
POV Players: Alyssa, Indy, Monte, Terrance, Joe, Kyle and Daniel (Michael is the host)
POV Winner: Daniel & Kyle
Veto Ceremony:
Havenots: Turner & Jasmine
Lock your ranks in before midnight
Festie Besties:
Turner & Jasmine
Joe & Monte & Terrance
Daniel & Kyle
Brittany & Michael
Alyssa & Indy
Nicole & Taylor
Situation
Looks like Daniel wants to use the veto so Nicole and Taylor to go up.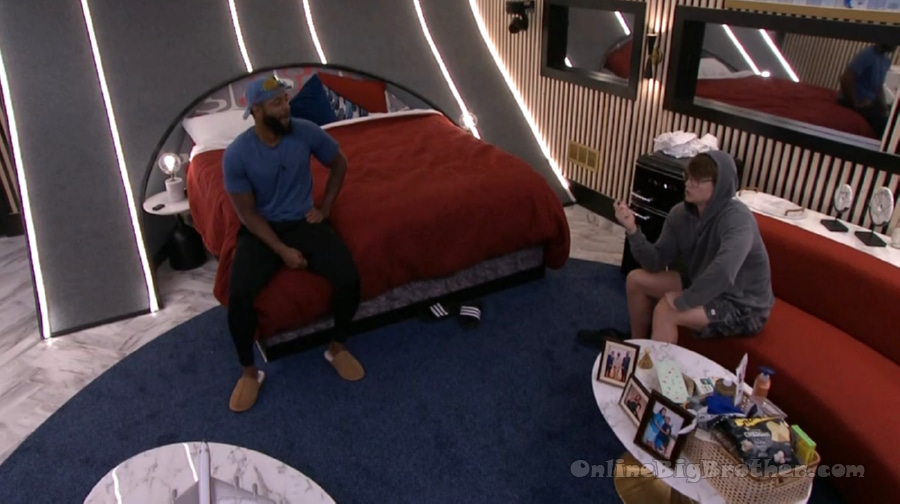 9:12 am Kyle and Monte
Kyle – with Daniel I'll talk to him be like let's double check with MOnte to make sure everything is good
They discuss what angle Kyle should use to talk to Daniel about not using the veto.
Kyle – if he finds out about a plan that involves him not putting up Nicolle he will be fine with it then he comes to me.
Mont e- 100%
KJyle – I need to have that happen soon so I can have the conversation with Alyssa and INdy I can't blindside them. I have to talk to them. I don't know that I'll lie To Alyssa and say she's safe.. dude I don't know if I can do that. Like Straight up lie to her and two days later… I think with them I'll ay Listen. I was thinking about it last night and although I said I was going to keep you guys safe Like for my game, it doesn't make sense. I am not going to use it hate it all you want bu that is the reality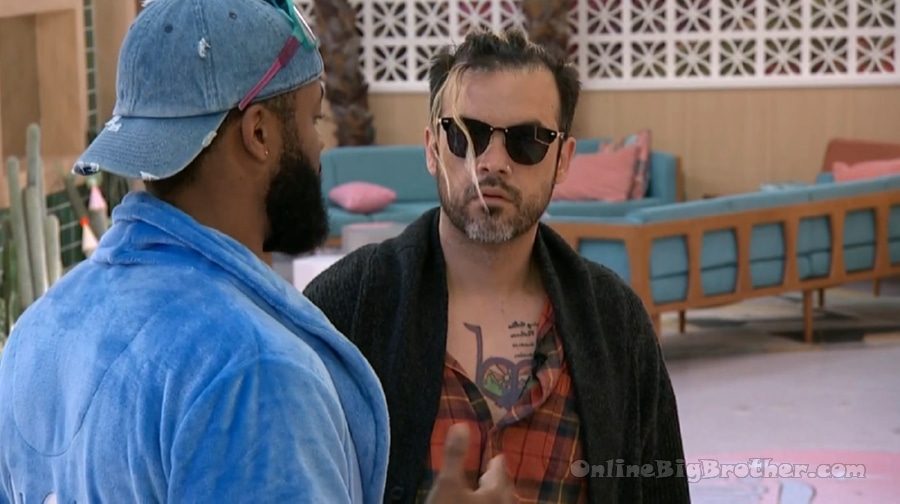 9:20 am Monte and Daniel
Monte – I want to talk to you about a few things I found out. I'm getting a little paranoid. I want to make sure we are all on the same page.
9:27 am Kyle and Daniel
Daniel – Monte wants to talk to me so I guess things are shifting again. H
Daniel – He's like I know you probably want to use the power of veto but we should talk..
Kyle – REally?
Daniel – I'm going to hear him out.. Makes me question. I don't know that is pretty wild right?
Kyle – do you think he'll ask us not to use it?
Daniel – I think he was up late with a bunch of people. I have a feeling someone tried to feed him something About INdy so they can keep Taylor as a number.
Daniel – I thought this was an automatic out (Taylor) sort of thing that is why I'm questioning things already.
9:27 am Jasmine still claiming she can't use the stairs.

9:46 am Nicole, Kyle, and Daniel
Nicole says that Monte doesn't want the veto used because he can't secure the votes to get her out. They speculate that Monte is trying to get Taylor's vote and take out Indy because she's a number for their side.
Nicole names the leftover members and says they were all up in the Head of household last night till 4 am.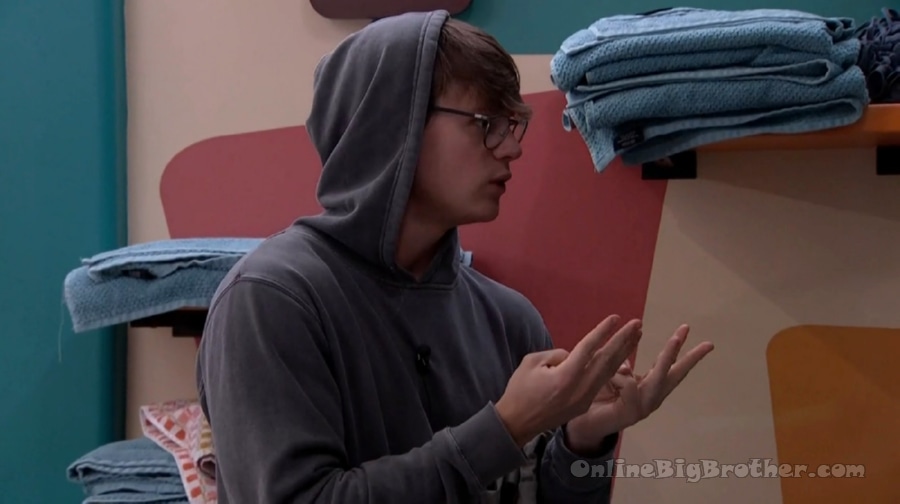 9:57 am Kyle and Brittany
Kyle is worried that Daniel will use the veto to get out Taylor if he thinks Monte is backtracking because he doesn't think he has the votes to get out Nicole. Kyle adds that Daniel/Nicole knows the leftovers were up in the HOH last night and thinks they realized last night they didn't have the votes to get out Nicole.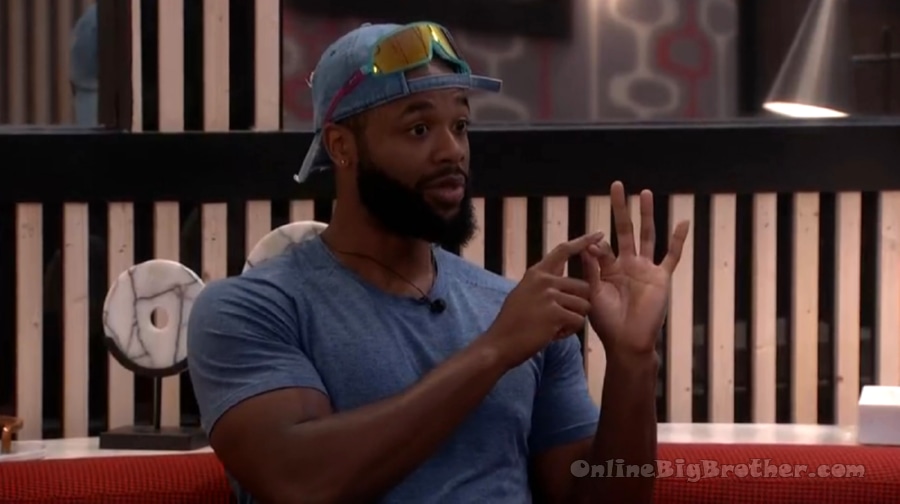 10:00 am Daniel, Nicole and Monte
Prior to Monte entering the chat, Nicole and Daniel agree to buy into whatever Monte tells them.
Monte says he talked to Alyssa and Indy and both of them warned him about Nicole. He's uncomfortable putting Nicole up this week "I don't want a surprise week" It'll look like he wanted to backdoor Nicole but that wasn't the case.
Monte – I don't want to look like a fool putting up you and Taylor and Taylor stays again.
Nicole – I'm ecstatic if you don't want to use the veto.. It's very clear Ameerah is my demise because of what she said while walking out.
Nicole – this is a shock to me and Clearly, I felt confident with them (Indy, Jasmine, and Alyssa)
Monte goes on about how those girls said they don't trust Nicole. He's very worried that they go ahead with this plan to get out Taylor and something unexpected happens and the vote goes to Nicole, "Then I look like an idiot so I rather not have that"
Monte would rather have two people (Indy/Alyssa) upset with him instead of four people.
Nicole – I never told Daniel about Po's Pack. Does Jasmine know about everybody that was in Po's Pack?
Monte says he told her yesterday. "She may not trust me either"
Nicole – they don't use the veto I'm safe another week.
Daniel – I'm going to go down and Talk to Kyle. Keeping her safe and off the block is amazing to me.
Daniel thinks the target is Indy.
Nicole brings up wanting to stay last night but being so tired.
Monte – I didn't want to end the party I'm a party guy but at some point, I was like we got to have that veto ceremony Tomnorrow (She knwos this is a lie)
Daniel and Nicole "Thank you so much I appreciate you so much"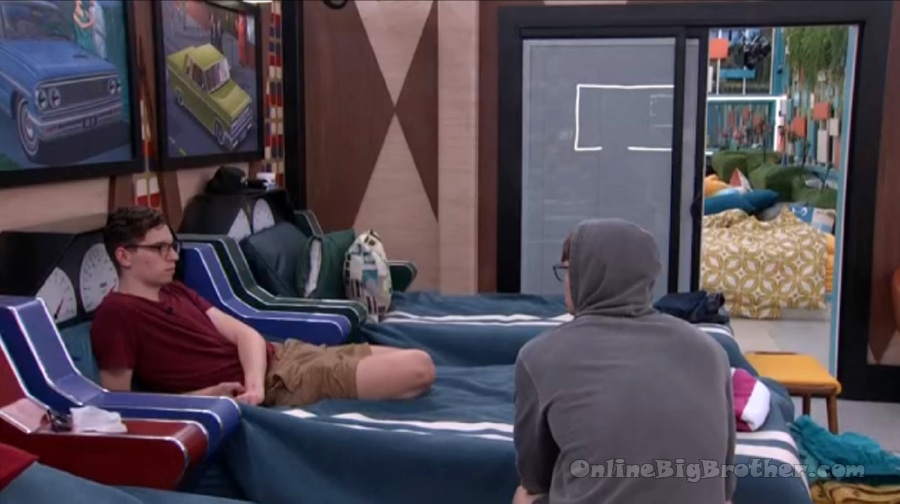 10:10 am Michael and Kyle Cam 1-2
Kyle lets him know that Nicole and Daniel are onto the leftovers Nicole knows everyone but Kyle was up in the HOH late last night.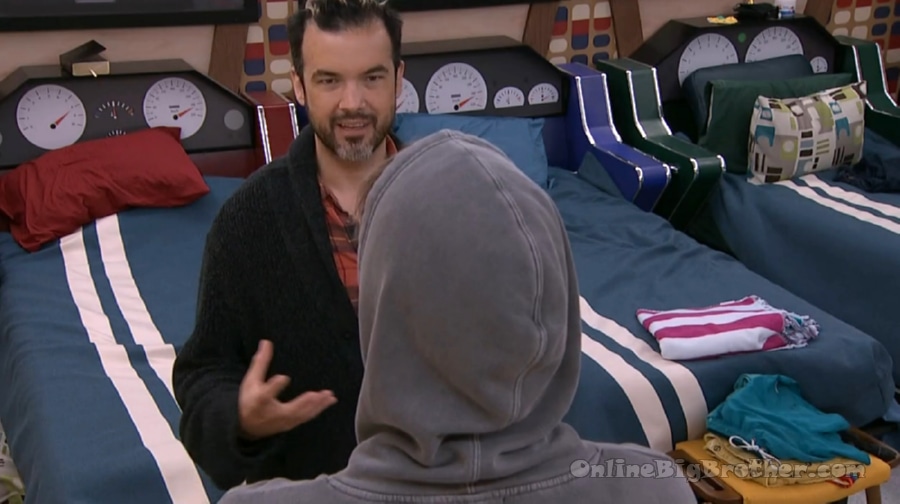 10:31 am Kyle and Daniel
Daniel fills Kyle in on his conversation with Monte.
Daniel – if you could be there to see him come up with stuff.. ohh bro it's so fake.
Daniel – Supposdly Alyssa and Indy went to jasmine or they confirmed that they agree they don't trust Daniel and Nicole. And here's the thing from what I understand those are three 100% votes that will keep Nicole. So he's trying to plant seeds tp put Doubt in our heads.. oh no we can't trust the people we trust.
Daniel – his thing is for us not to use the power of Veto and his focus was Alyssa..
Kyle – if you go through the votes we would have 7 right. Me, You, Nicole, Terrance, Alyssa, Indy, and Jasmine.. that's the 7
Daniel – Nicole would be on the block
Kyle – for this vote they would have MOnte, Joe, Taylor, Nicole, Turner, Brittnay so that's their 6 Monte can't vote they have 5 votes. We would lose 1 vote then we would have 6 to keep her.
Daniel – and he knows that
Kyle – interesting
Daniel – Indy and Jasmine are "BAD" for my game so he's hoping we keep it.
Daniel – I hope you realize everything I told you yesterday is coming to fruition. He's realizing if this changes today he doesn't have the numbers moving forward he's thinking long-term.
Kyle tuns the number again we have 7 lose Nicole the other side has 6 but they lose Monte and Taylor.
They recount the votes 6 Vs 4
Daniel – it's wild to me and kinda entertaining that he's smart enough to go F** I don't have the numbers make me make up this elaborate lie over two hours..
Daniel again references what Nicole say last night with Taylor, Joe, Monte, Michael, and Brittany up in the HOH for over 2 hours. "Of course, you are going to come up with this elaborate lie to keep noms the same because those are numbers for us. Especially Alyssa.. "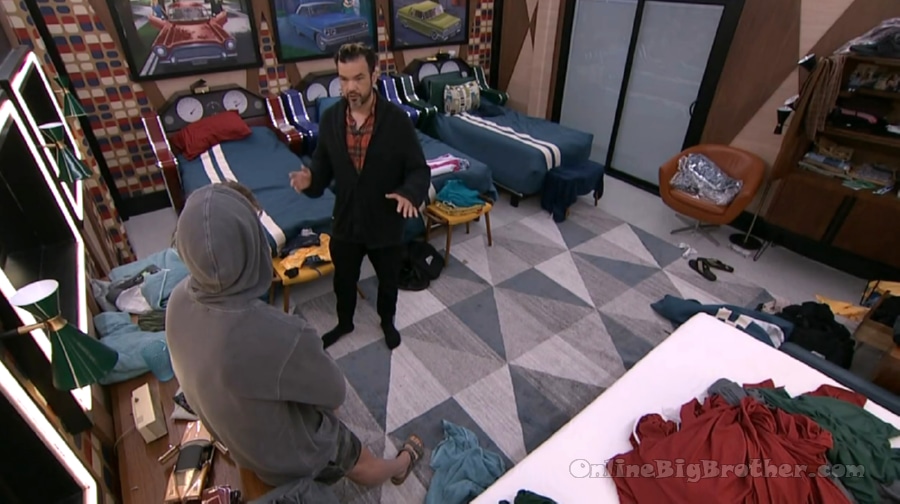 Daniel – I want to use the power of veto I'm going to tell you straight up I trust Indy more than ever now
Kyle – Is Nicole cool about it
Daniel – ohh dude she's smarter than me.. we were both like what the f***
Daniel – if monte pulls you aside feel free to say you want me there or hear him out. It's dumb if you lose Alysssa and Me indy.
Daniel – at this point, Indy is gung ho I want Taylor out.
Kyle – So just to be clear they have 6 we have 7, Monte can't vote Taylor can't vote so they have 4 votes. We have 7 and Nicole would be on the block 6 votes to 4 votes. If they keep Alyssa and INdy up on the block 100% we lose 1 vote. That levels their playing field for HOH.
Monte – ohh dude you should hear him he's like I really believe you will win HOH
Daniel about Taylor – I don't understand how she's still here she's a cat with nine lives
Daniel – even Nicole is like this is a joke because we know right now we have the numbers
Daniel says Monte's side was PISSED when they saw they won the veto.
Daniel – you should have seen Nicole's acting.. she was playing that up.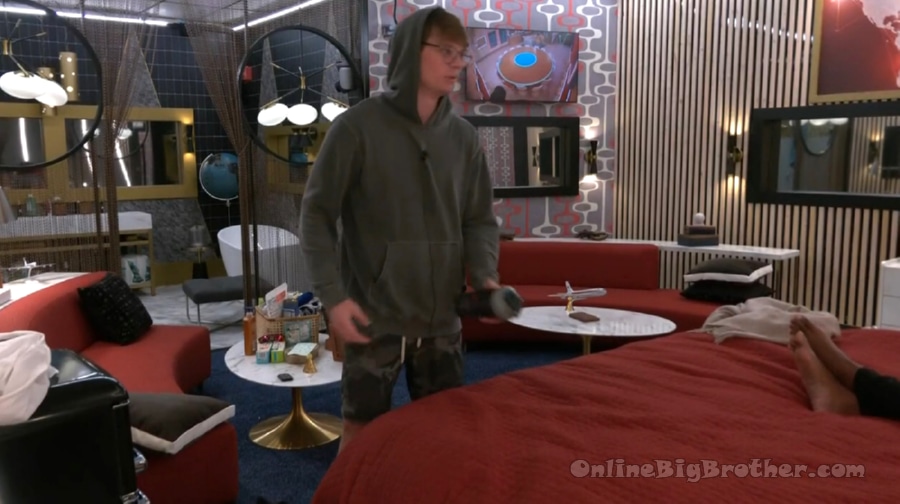 10:52 am Monte and Kyle
Kyle – he's using it.. he's using it 1000% they smelt BS he came right down to me
Kyle – he's piecing it together he knows the votes. He's recognizing that Taylor is getting in wither everyone. He said Joe is close to them.
Kyle adds last night when he was with Alyssa the rest of the cookout was in the HOH. Nicole and Daniel are onto that.
Monte – so we showed our cards
Kyle- showed our cards 100% so this morning he said the only reason they are going to keep the noms the same is so Taylor doesn't go home.
Monte – there lose.
Kyle – he's excited.. I asked him dude is it 100% eh said 'I have to' he's thinking …
Monte – they will look like idiots when Nicole goes home. and Daniel is going to look at me and I'll go YO I tried to let you know.
10:54 am Feeds cut to Animals