Quick Big Brother Spoilers
Head of Household: Monte
Nominees: Indy and Alyssa
POV Players: Alyssa, Indy, Monte, Terrance, Joe, Kyle and Daniel (Michael is the host)
POV Winner: Daniel & Kyle
Veto Ceremony:
Havenots: Turner & Jasmine
Lock your ranks in before midnight
Festie Besties:
Turner & Jasmine
Joe & Monte & Terrance
Daniel & Kyle
Brittany & Michael
Alyssa & Indy
Nicole & Taylor
House Situation
The reason to get Alyssa out over Nicole is so in the event indy picks Michael/Brittnay as her new festie Bestie it will mean the Leftovers have "insulation" in every one of their groups. Michael/Brittnay have Indy, Monte/Joe have Terrance, Taylor has Nicole, Kyle has daniel.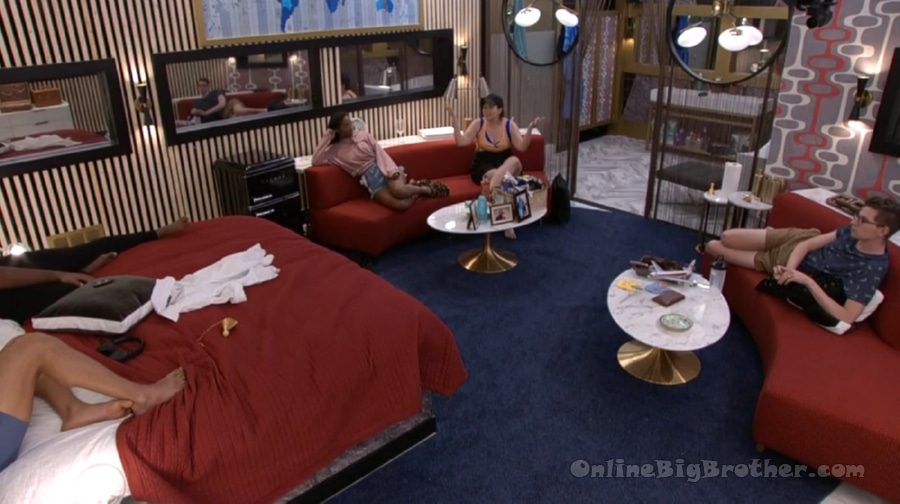 2:55 am Michael, Joe, Taylor, Brittnay and Monte
Talking about permutations with the twist. Michael asks what should Taylor do if the twist makes her decide to take one of the people in the triple team, Joe, Terrance, and Monte, and form a new pair.
Taylor decides the best choice would be Terrance.
Brittany points out that keeping the noms the same and getting rid of Alyssa is better for their long-term game and sets them up better next week.
They discuss if it was better to leave the nominations alone and take out Alyssa.
Monte says getting rid of Alyssa is avoiding short-term pain for long-term benefits.
Monte – how are we going to convince Daniel to not use the veto?
Turner joins them "Fill me in"
Michael – if we backdoor Nicole this week Taylor may have to choose between those two and Terrance to form a new pair. That leaves three of us and Terrance no matter who sis left with Terrance that creates a second pair that is not insolated.
Michael – that leaves us double vulnerable..
Taylor – someone not in our alliance wins power they can put up one duo then backdoor the other.
Brittnay – then we lose numbers which protects us all
Michael – if Alyssa and Indy stay up and Alyssa goes home they are forced they are not going to pick Terrance as their person. WE're going to be left with two pairs that are one of each. Brittany and I will still be vulnerable but it avoids us having…
Monte – two fesite besties that are alliance members
Michael says if Indy gets to pick her new festie he thinks there's a good chance she'll pick Brittany and Michael.
Joe – what if Nicole wins HO and does her plan puts us up and backdoors your guys (Brittany and Michael)
Brittany goes on about how taking out Alyssa insolates them better than Nicole.
They ask Turner what he thinks about this.
Turner – Keeping Nicole is the biggest threat to everyone's game. She's the only person if they win HOH we'll be like "F***"
Turner asks why Brittnay over Indy.
Monte says INdy trust three people in the leftovers.
Brittnay says there's a better chance Indy will pick her and Michael and the trio
Joe – Alyssa is significantly a better player and she's not on or team.
Taylor – Turner considering what INdy has said about me I want her gone..
Brittany – what do we need to set up so that Kyle doesn't use the veto?
Joe says they'll leave it to Monte to talk. If he gets a lot of push back then we'll leave it to their plan B and get Nicole out.
Joe – the only problem is Indy is such a wild card. When Indy stays on the block she will lose all sense of.. she will think she's going home.
Brittany says Indy will cool down a couple of days ago Indy told Brittany "I hate you" and called her a b1tch
Monte is thinking about pulling Nicole and Daniel into the HOH to tell them he's not feeling good about putting Nicole up right now.
They wonder if Kyle will be onboard with this new plan. Monte thinks he will he listens to logic and reason.
Joe says convincing Daniel will be easy.
Brittnay it's not as flashy of a move but it sets us up way better.


Brittnay leaves.
Taylor – you cool with this Monte
Monte – yeah.
Monte – if Daniel wants to use it it'll override Kyle not using it.
Joe – Kyle will have to tell Alyssa it's because we want to send Indy home
Monte – yeah I guess.. this is going to make me look like sh1t
Taylor – So Kyle tells Alyssa to her face we're trying to send Indy home then Alyssa goes..
Joe – to keep Indy from SPirallying we'll need to tell her she's not going home
Joe – If Indy thinks she's going home she'll spiral out that door.
Joe – it's such an unexpected move for you
Monte – I don't own it.. I'm pissed that Daniel and Kyle were supposed to use the veto..
Joe – you now can't have Daniel going around saying he was told not to use the veto. Now it's looking shady.
Joe points out how unexpected this is and may leave loose ends.
Joe – we went so strong in one direction now that we're undoing it. it could lead to loose ends for the next week.
Monte – who are we concerned about lately.. we're concerned with Daniel winning Hoh and Nicole winning HOH if she stays
Monte – if I have them on my side.. our side it grows a lot of trust
Joe – It's jasmine and Indy that are the wild cards.
Joe – so you think it'll be easier to work with Daniel and Nicole, Indy, and Jasmine than Daniel, Alyssa, INdy Jasmine
Monte – I think so. I think Daniel will be livid if Nicole is backdoored this week.
Joe – Jasmine will be pissed. You move the anger from daniel to Jasmine.
Joe – what if Indy joins Jasmine and Turner? That will be a pain in the f***ing ass.
Turner says jasmine and Indy are close Indy could very much
joe now asks what will they do if Indy picks Nicole and Daniel.
Joe says this is why they moved away from this conversation earlier in the week because INdy is such a wild card they don't know who she would pick to team up with.
Joe – we should ask Indy what she would do and make the decision based on that.
Joe – this whole idea hinges on Indy picking BRittanya and Michael.. Before you move it into motion find out what Indy will do.
Monte says there are a lot of conversations he would have to use tomorrow morning before 11am at the veto meeting.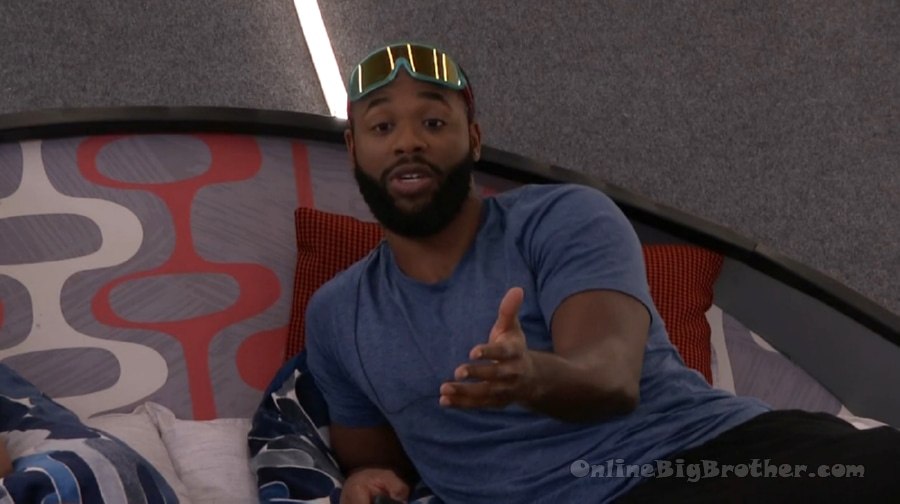 Monte – I have to talk to three people and I'll need to go to Indy then immediately after I will have to jet to Nicole and Daniel and make sure I talk to them. I guess what I"m asking is do you feel more comfortable doing it..
joe – find out from Indy
Monte – yeah
They agree with Joe they should get some confirmation that Indy will pick Brittany and Michael before they lock in this flip.
Joe is really stressing he doesn't know what Indy will do they need confirmation before risking this.
Monte – if Indy doesn't do it we're better off sending Nicole out.
Joe – and Alyssa can still give intel to Kyel.
Joe – we should have had these conversations yesterday and did all this today.
Monte – we cant hinge our alliance s on Indy's decision
joe – that's what I'm saying
Monte – I'm a little concerned if we can get Kyle in on this.
Taylor – the only other side of that is keeping Alyssa and getting rid of Indy.
Monte – this is so stressful..
They agree until they get confirmation from Indy they hold off.
Joe – I don't ever want to risk Brittnay and Micahel's game but I think we're still risking their game but putting it into INdy's hands. They are in a worse position if Nicole is still here
Monte – Nicole and daniel going after HOH is more dangerous than just Daniel
Joe points out how close Nicole was to win this week's HOH
3:55 am Daniel and Nicole
Daniel – I think Turner is America's vote.
Nicole – it's possible.
Daniel said Turner lied to his f**ing face "Real strong move brother"
Daniel – ugh makes me sick.. the bullying thing you made is a f**ing joke when it's a real-life situation and you kept the actual bully in the house. Yeah you really made a point for America Brother Good job.
Daniel – what A dumb speech.. he's seeking revenge.. I'm making a big move. You are so much of a fan and you don't even know what you are doing. he's too involved he's not removed enough. Small town kid makes this dumb move.. Good for you. I'm in a circus full of clowns.
they laugh
Daniel – even if I'm wrong this is how I f***ing feel. My intuition rarely lets me down.
Daniel – I wish these clowns would get out of my way. (He laughs)
Nicole – you are a mess
Daniel – I need to win HOH
Nicole – I need to make sure I'm here on Thursday night
Nicole says Taylor will "Bulldoze this entire game if they keep her"
Nicole says Brittnay will side with Taylor "She hasn't looked me in the face since I had a conversation with her yesterday"
Daniel – ulitmate floater
Nicole – she's the worst
Daniel – I thought this would happen week 6
Daniel says what Turner did last week just sped up him figuring out who he can trust. "otherwise I Would be sitting around waiting for MOnte to pick me off"
Nicole – when I walked into that room.. I thought ohh this all makes sense.
Nicole says there's a whole crew up in the HOH, Monte, Turner, Taylor, Brittnay, Miachel, and Joe
Daniel – Michael is with them be careful
Nicole – the irony is the three people I told him I wasn't sure about their vote, Turner, Brittnay, and Joe
Nicole – I'll talk to jasmine tomorrow after the Veto ceremony.
Daniel – don't press her too hard she's already on board.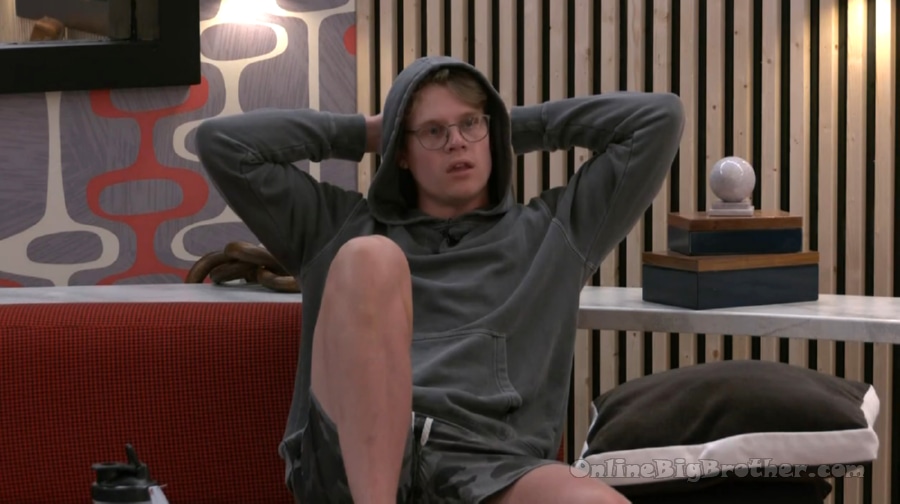 4:10 am Monte, Turner, Taylor, Kyle
Monte tells Kyle this new plan. "we're all insolated whoever wins HOH we're good"
Monte – if Nicole and Daniel are here at least we can have their trust. I can convince Daniel and Nicole you don't use the veto this week you know why? Cause Indy came up to mes saying she doesn't trust you, Alyssa came up to me, jasmine came up to me and I have very specific things Jasmine told me about the whole Po's Pack alliance how Nicole didn't reveal that she was in it.
Monte says this is all in the hopes that Indy joins Brittnay and Michael.
Monte – even if Dnaile or Nicole win HO there's nothing they can do to the alliance.. that is a fail-safe plan.
Kyle – Dude that is going to be tough with Alyssa.. I told both of them that I was going to use it like 100% like that is a BIG move for me. That is tough
Monte – I know that is why we were like I have to talk to Kyle first.
Taylor – this was all in the past 30 minutes..
Monte – we at least build favour with Daniel and Nicole..
Kyle – I'm just thinking about blowback.
Michael, Brittany, and Joe join them.
Kyle says not using the veto now is a big "Morale decision" for him since he already said he was using it.
Brittany goes on about how there's a possibility one of the pairs isn't uninsulated if they send Nicole home.
Kyle – I don't know I will have to think about it and think it through.
Monte- I can't think of a good reason for you not to use it other than hey Daniel is your festie bestie and he convinced you to protect Nicole.
Kyle says the only scenario where Taking out Alyssa is beneficial is if there's the option she has to pick another pair and she picks Brittnay/Michael
Turner brings up what if the twist ends in 2 weeks how does that change their decisions?
Brittnay thinks the twist ends there will be a double eviction.
Turner – if we would not vote Nicole out now will she be a HUGE liability with the twist ending?
Monte says they'll take Nicole out next week.
Turner – the only person I'm worried about winning a comp next week is Nicole.
Brittany – Daniel could win
Turner – Nicole and Daniel.. with both of them winning a comp that's a good chance they take it home.
Michael – don't underestimate Alyssa..
Kyle – she's really smart.
Joe – who do you think out of Alyssa, jasmin, Indy and Daniel would backdoor you to? (Brittany and Michael)
Michael – daniel
Kyle – Daniel has pieced it together
Kyle asks who would Daniel and Nicole go after if they win HOH
Monte- Taylor or Turner.
Kyle – f*** guys this is a tough decision for me based on a moral base.
Monte – I hear you on that.. at least we got a chance to talk about it.
Kyle – I reassured them multiple times today. it's still a risk it's not like if we do this we're all safe.
Kyle – I have to sit on it for a bit. This is a big thing to do. I have to go tell them tomorrow that 'HEY I'm not using it' then talk to Daniel then deal with the reprocusions for the next three days. That's a tough decision. it's hard.
Michael tells him if it all blows up Kyle won't be going home they have the votes.
Kyle keeps pointing this out this is all for "POTENTIAL" added safety for Brittany and Michael.
Joe tells Kyle that Michael and Brittany would give them their all to save Kyle he doesn't think Alyssa would.
Brittnay – the decision is ultimately yours.
Brittnay says her voting out Ameerah last week damaged her game with the girls "I was taking one for the team"
5:11 am leftovers meeting over. Kyle said he's on the same page as them but they'll see what tomorrow's conversations bring.
6:52 am zzzzzz
9:00 am Waking up