Quick Big Brother Spoilers
Head of Household:  Turner
Nominees: Taylor and Brittany Kyle
POV Players: Turner, Taylor, Brittany, Alyssa, Monte, Michael
POV Winner: Michael
Veto Ceremony: Micheal used the veto on Brittany. Turner nominated Kyle.
Havenots: 
Lock your ranks in before midnight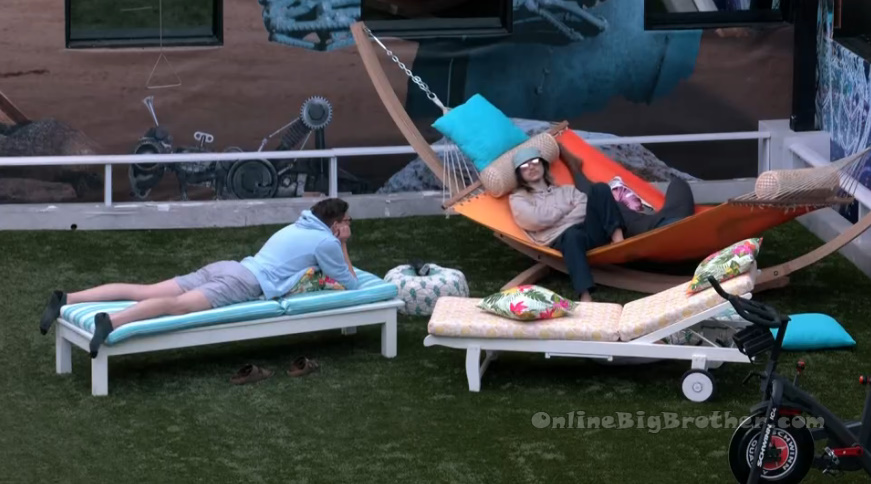 7:15pm Hammock – Turner, Monte and Michael.
Monte – Turner, does Meghan have any single cousins? Turner – are you interested? Monte – Perhaps? Meghan's vibe is pretty chill and I figured her family is too. Turner – she does not. Monte – you know for a fact Turner or are you just shutting me down my dreams? Turner – I do know that, her two cousins are not single. Michael – You know what out of everyone of the cast, I will never forget Jasmine's Birthday. Turner – nope I will never forget August 17th. Michael – I really think Ameerah should have milked I want to see my birthday in the house. Her's was September 23rd I think. Monte – that would have taken her pretty far. If I would have knows I would have kept her. If only she would have known about that loophole. They talk about whether or not they would hangout with other members of the cast when the season is over. Michael says that he wouldn't see himself hanging out with Daniel. I think there will be hurt. Turner – There are some people in the cast that I just don't want to hangout with. I just have no interest. Maybe it sounds f**ked up but I don't know I want to hangout with Daniel. Same with, I don't want to hangout with Jasmine. I don't want to hangout with Indy either. Turner – some things just threw me off about that man (Daniel).. I don't know. Like Alyssa he wanted a morning hug every morning. EWWW! Monte – really? Turner – Yeah, I was like he is almost 40! Like I don't like that at all! That just gave me the ICK! Monte – yeah now that I think about it ..a couple times with Alyssa I just saw somethings or he said somethings. Yeah, he does give me little creep vibes. Taylor joins them. The conversation turns to talking about music. Brittany joins them.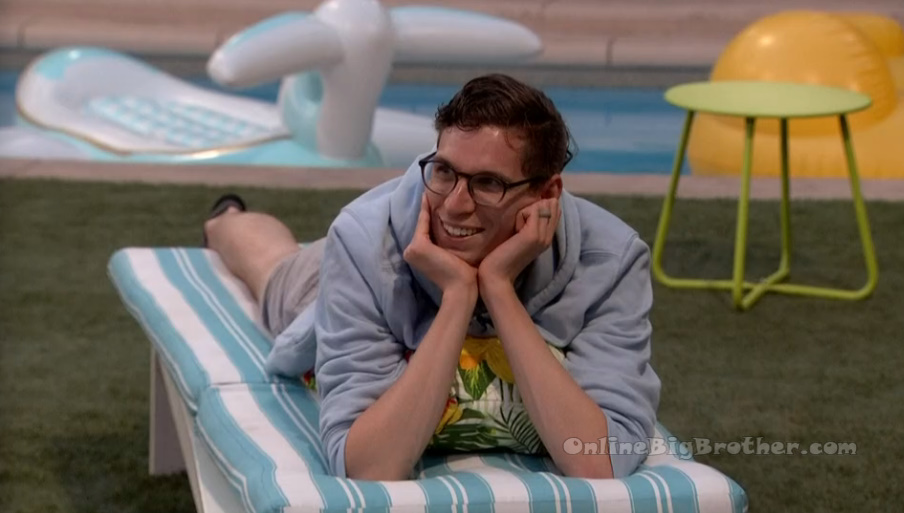 7:55pm Hammock – Taylor, Turner, Brittany and Michael.
Turner – I have some game talk for a second. Just because we talked before I put Kyle up and this is the same group. Brittany – how are you feeling. Turner – I feel totally fine. That's my goal…. because I would have done it either way but I wanted to build trust back with you guys because I still feel bad about the whole thing. I hope that helped. Brittany – yeah. Turner – simultaneously, I have been proposed the idea .. and it is not from me just in case anyone hears it .. and I would not be surprised if other people were pitched it .. just Terrance being like hey maybe we can get Kyle to stay this week and all I said I am not voting so I don't know what the f**k this plan is for me. I had nothing to do with it. I don't want anything to be spun … Nothing .. I was not attached to it at all. He brought that to me and I am like what the f**k am I going to do?!!? Brittany – yeah. Turner – in a tie breaker I don't even do anything. And I put someone up for a reason. Michael – yup! Turner – and its far past anything to do with the game and because I love everyone here. That was not anything to do with myself. Brittany – no I appreciate that. Yeah I was pitched the exact same idea and I said the exact same thing and I think everyone can vote for themselves. Turner – yeah I didn't know if that was just to me and it was like okay tell people that are voting. Brittany – yeah, yeah. Michael – did he say why? Turner – no.. it had nothing to do with game but I guarantee it had something to do with game. Just like I want to give him the opportunity to grow in the house rather than send him out of the house. I don't know if he had a different reason for you? Brittany – no that was the same exact reason. Turner – it obviously was going to be rooted in game .. or that it was like 50/50. That can't be the whole picture… unless I am being pessimistic about it. Taylor – that is not pessimism. TUrner – but I am surprised that he came to you (Brittany) who is close with Taylor (the other nom). Brittany – me as well! Me as well! I would assume anyone he would not pitch it to would be you and Michael. Taylor – thank you for following through (with putting up Kyle) and for being forthright about this. Turner – no of course and obviously I hope this does not go back to him. They all agree it won't. Brittany – there is no swaying me. The intent in sharing this was not game, the intent was for everyone to know what was said .. I just feel like everyone need to make their own decisions given what they know. And if Terrance knows what he know and still wants to keep him that is fine. Michael – when did he pitch that? Turner – like 5 minutes after the meeting. Michael – really!?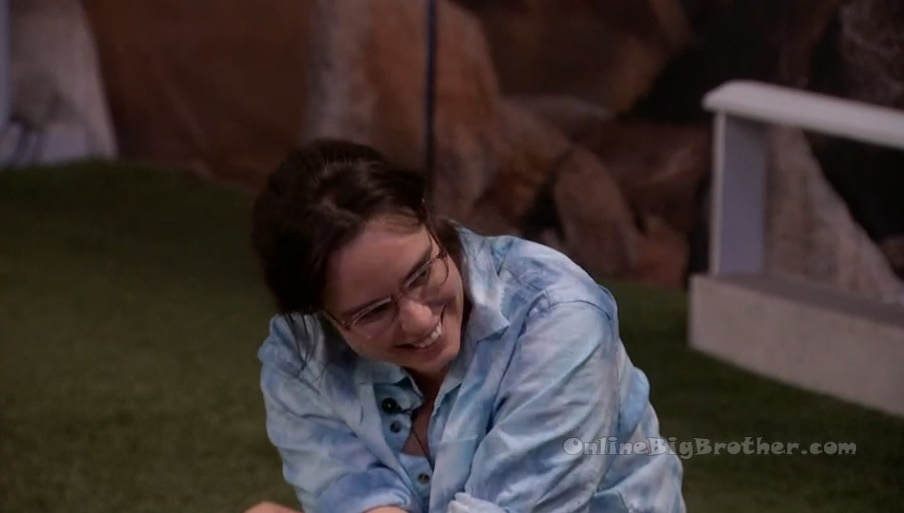 9pm Bedroom – Terrance and Kyle.
Terrance – my parents are deacons and I think about how they would want me to view this. Is it an easier solution to just send you to jury… and evict you from the house.. of course. And of course that would be the quickest and easiest way to do something and to alleviate the situation. I just think with a lot of time you have the opportunity to change the narrative .. not only what the house thinks but what America thinks. And you got people with conversation who are just looking to see what changes can take place and what in this situation you have learned. And to me if you forgive somebody you should make them whole again. And I don't forgive the action but … I DON'T FORGET the action.. let me say that .. but I forgive what happened. I can't forgive you and condemn you in the same sense because that's not forgiveness. That's how I look at it and people need to practice that more than they practice condemning somebody and demonizing them for actions. Like you have a teachable moment that you can teach somebody. And I can help you understand the severity of the thought process. Yeah in this realm it just affected game play but out there people are more into the mindset that they do it and it affects someone's life. Kyle – yeah. Terrance – and I feel like if you can break any chain that is good for me. I don't have to put words in your mouth … I don't have to be intimidated or I can't work with a group of people who you know probably have the same similarities or probably the same view points as me and I need to embrace that and see before passing judgement. You know what I'm saying?! Kyle – yeah. Terrance – I am probably going to have the most gracious aspect because I am the oldest in the house and I am glad I am still here for this situation. Kyle – yeah. Terrance – because I think that I am the only one that thinks the way I am thinking right now. You know what I am saying? Kyle – yeah. Terrance – I had a conversation with Turner and so he knows that. And I said I wasn't going to say nothing but .. I would prefer if you stay not for gameplay .. you know I don't care about the game at this point because I just don't. Kyle – yeah. Terrance – I just prefer your journey doesn't end right now just for the simple fact that you have an opportunity to learn from what you felt and the things that you've said. You just have to fully embrace how you truly feel. That is an empowering and vulnerable thing and that is what makes you feel most afraid when you have to face a mirror. It can be the most refreshing thing in the world to do. Terrance continues to teach Kyle on how to grow as a person.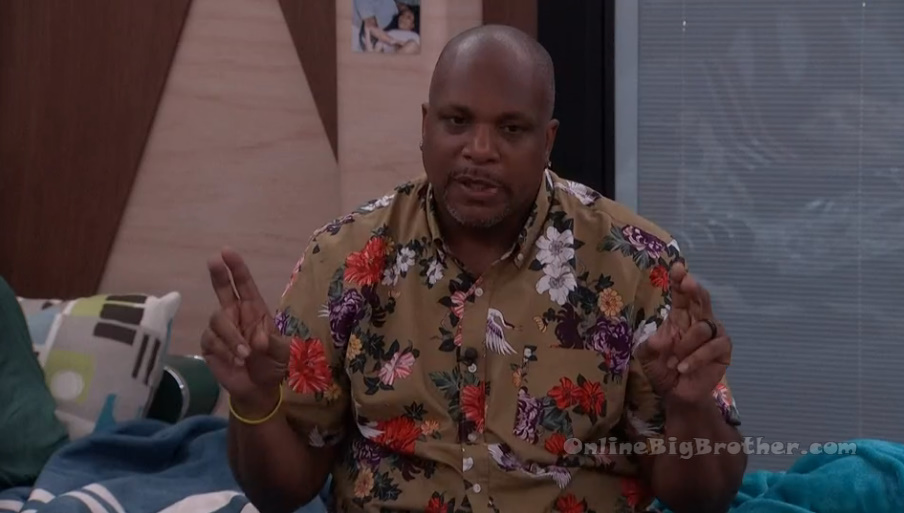 9:20pm Bedroom – Terrance and Kyle continued..
Kyle – I don't even know what I don't know and that is what is hard about asking questions and learning.. I have lived in Utah predominantly white. Like never have I had to experience those types of situations like driving down the street. Like this is all so new to me, like I don't even know what to ask and if I ask the wrong question is that going to get me in trouble you know what I mean? Terrance – right. Kyle – I don't even know how to approach this subject. Terrance – and even just saying that is going to be content enough for us to understand. And I feel that you have lived a very sheltered life. And where you have been even in your travels it didn't take you to learn the real world. This is a life lesson. I've talked to people about my idea. I have always been me this whole game. I can't lose who I am in this game. I just feel that at some point we could right some wrongs that have taken place instead of saying okay lets keep it moving. That is the easy way about it. I am not thinking about game right now. I am thinking about the human aspect. They asked me my political view on it and I just wish people would be human again and have compassion… and have love and truly care about people. Its so easy to cancel. Its so easy to hate. The harder part is to truly forgive. That he throws it in the sea and it don't come back. Straight away after the veto ceremony I pulled Turner aside and asked hey what do you think about this?! I don't think that .. I don't feel that energy ..like if a person was innately like have that… I don't even want to give it a word … because I don't like giving it energy. I don't get that from you. I think that you're a kid that just made a mistake based on not knowing and not being around and being thrown into a situation that you've never been in your life. I want you to keep your head up and repair the situation. And some situations are going to take longer to repair but if you leave then you leave things unsaid. I am just trying to change the narrative. It takes a lot and it takes courage. A mistake is a mistake and we're all human. Terrance offers to help talk with the others in the house with him. Kyle – I appreciate that so much. Thank you. I might take you up on that. F**k man.. gheezz dude! I don't deserve this type of treatment. I just appreciate it so much. Like this is the most kindness anyone has ever shown me probably in my entire life. That alone shows the man that you are and I appreciate it so much more than you can ever know. I think I will take the night because today was so difficult but tomorrow I will start having those conversations.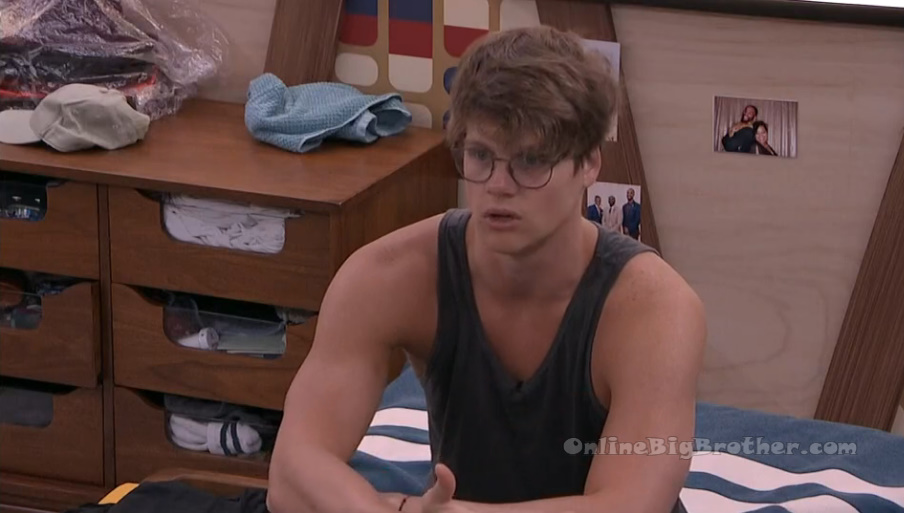 9:35pm – 9:45pm HOH room – Turner and Alyssa.
Turner – I know that Terrance has pitched the Kyle thing and I didn't want them to think I had anything to do with it. I could not not put Kyle up after yesterday. Alyssa – just the nature of the situation I think its up to Monte and Terrance to make the most educated decision and I support them .. and if their educated decision is to forgive and love and keep him in this house and if that's what people want to do as a group then I will support that but I will not be the only person to vote to keep him. One, after everything that's happened I don't think that we will be together after this game for lots of reasons. Which he said in the house meeting yesterday, he said he has a final two with you … F**K ME! These are my only two f**king friends! Turner – well that formed way .. back when the leftovers just formed. Brittany and Michael had a final two. Joseph and Monte had a final two. It would be foolish for us to not have had a final two as well. Alyssa – okay cool. That makes a lot of sense. Turner – when he said that I was like f**k me?! Why did you just say that .. me and Turner have a final two and out my game to the entire house!? I am like its not even relevant! Like what the f**K?!? Alyssa – and him and Michael/Brittany had a final three and his exact words were if I didn't have people backing up my showmance I wouldn't have fought to keep her in this game. One, I am his girlfriend… NOT his showmance. Turner – oh you asked each other to date? Alyssa – we did. Turner – when did that happen? Alyssa – like two weeks ago. Turner – oh happy two week anniversary. Alyssa – f**k that sh*t! Its been awhile of being his girlfriend and being committed to each other and for .. I literally would have done anything for him in this game and I would do anything for you in this game but to hear him say if he didn't have people backing up his showmance … "showmance" sounds fake to me. I hate the term. And two, if people didn't want me in the house .. you wouldn't have fought for me!? I was expendable to you?! I deserve someone who is going to fight for me. Whether he meant his words or not that is who I deserve in this house and outside this house. And this whole situation that we were grouped into something that we didn't consent to… and that is my story in this game .. one being left out of the biggest alliance in the house and two now you're making a narrative where its disturbing that the thought process behind the narrative given .. he was raised in an very religious household and was very sheltered and I know this came from a place ignorance and not a place of malicious intent but that is my narrative now… and I don't support that and that breaks my heart but .. like we say I love you .. like him and I.. Like I love him a lot .. like so much but there is too many things that I have tried and tried and tried and have always shown up for him and I have never seen where he has shown up for me. And Like Michael and Brittany keep asking me questions to see who they can trust and I keep trying not to answer them and sleeping and trying to avoid them because I don't want to talk to them. I just want to stay with Monte, Terrance and You and hopefully that works out. SO that is where I am at. Turner – no that was a lot. Thanks for sharing that with me. Alyssa – just so you're completely transparent why I struggled this week like to be committed to someone and love them and be sh*t on 24/7 .. that is horrible but damn you f**king lie to me this entire game .. and manipulated our relationship and then you're going to stand there and say you wouldn't have backed me up no matter what .. and then you're going to stand there and make horrible comments and remarks and a mindset that I am somehow roped into .. Like I was not .. I would never ever ever ever do that in a million years so just everything about that pissed me off. But in the same breath I do love him and support him so if he is hurting I am going to support him and that has been what I have been trying to do. He was laying there crying this morning and I laid with him. I will lay with you as a friend but I think that is as far as I will go for now. Turner – Hmmmm.. so you guys broke up. Alyssa – we didn't officially break up .. because he kept saying break up with me, break up with me, break up with me… and he was crying. Turner – okay that is weird. Kyle joins them. Turner – Hey we're just hanging .. you can come hang with us. Kyle talks about his conversation with Terrance. Kyle – Terrance is probably the best person I have ever met.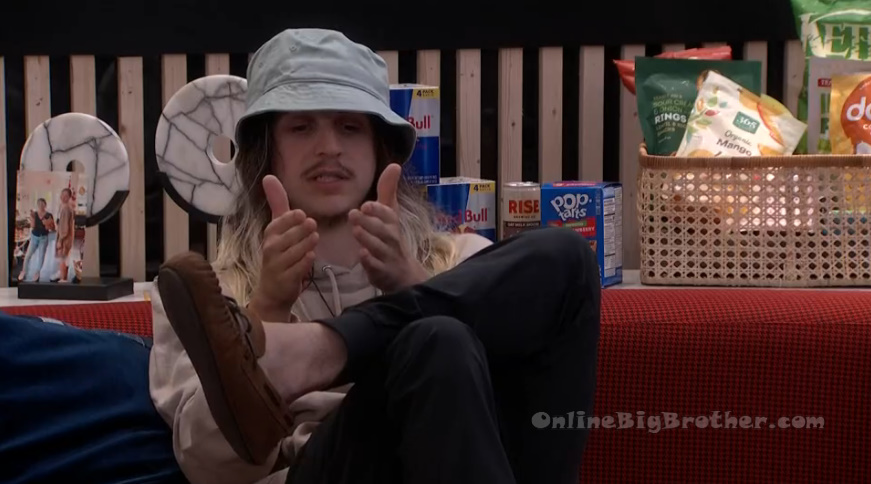 10:15pm – 10:38pm Backyard pool.

10:38pm Kitchen – Brittany and Taylor.
Brittany to Taylor – what you thinking? Taylor – how this house is going to attempt to realign. With Kyle gone and Turner not playing (in the next HOH). Brittany – that's why they would be stupid not to get Monte to swing. And if Monte feels threated by Michael .. you don't think? I need to talk to him. Taylor – Monte is strong strong on our three. Brittany – he is? Taylor – yes. Brittany – okay. When we get to four, that is a whole other game but I want to get to four. You know what I mean?! Taylor – Hmmmhmmm. Brittany – I think I would really trust.. you know what I mean. I am okay with that three if we get to that four. Taylor – you might want to take a shot sooner. Brittany – this game is so hard.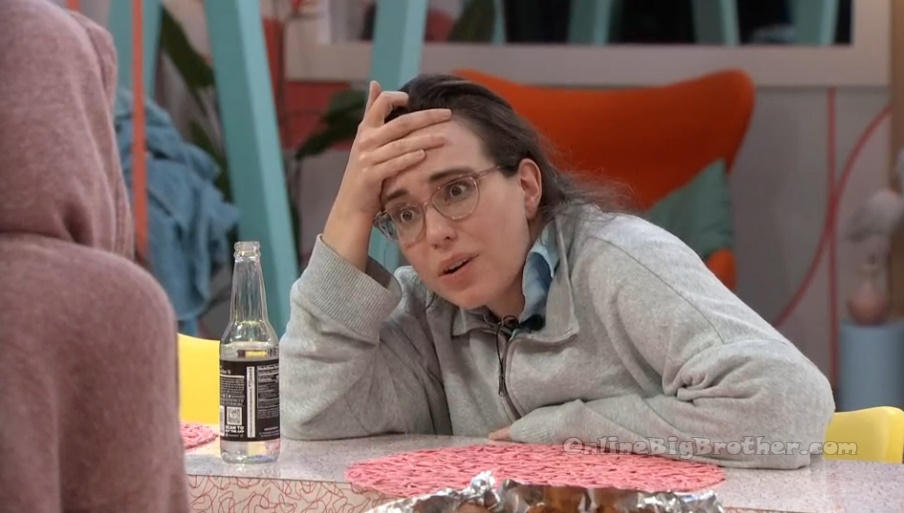 10:55pm Hammock. Brittany and Taylor.
Brittany crying. Taylor – its okay. Brittany – why do I like y'all so damn much. Its just seeming more and more a reality .. like I don't know how he (Michael) is going keep on. You know? Taylor – yeah. Brittany – it literally feels like everyone but us are against him. Taylor – yeah. Brittany – which is fine .. he is really good and I knew it was probably going to come .. but it just sucks. Taylor – yeah but for a lot of people it is the only way they win the game. Brittany – yeah. And for everyone .. and you know we've talk about that and I am on board and I know that too.. but oh my god. Taylor – better us than anyone else. Brittany – I just know its better for us the longer he stays in. Taylor – yup. Brittany – because he protects us and he's a shield. The longer he is in here, the longer people go after him and not us. Taylor – yup. Brittany – because you know we're very expendable once he's gone. Taylor – we'll be okay.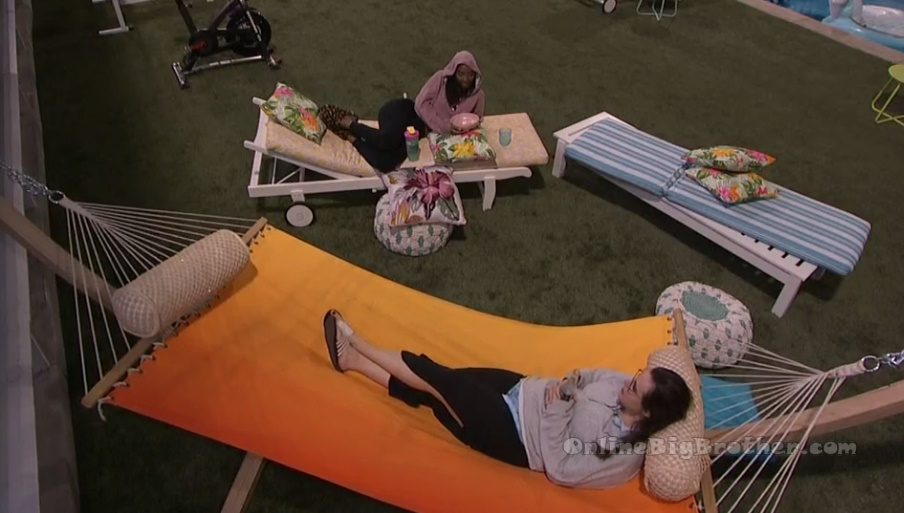 11:37pm – 12:05am Hot Tub – Michael, Taylor, Brittany and Monte chatting about past events of the house. Monte – I was talking to Turner about Kyle revealing their final two and then he revealed that Kyle wanted to put you up as a replacement nominee when Brittany came down. Brittany – really. Monte – I will be damned if I save him (Kyle) for multiple reasons but now for a game level because now okay.. even if I wasn't working with you guys I save him and I know this information .. next week he tries to take a shot at Michael and misses… who is going up!? Me!! We'll see how things play out. Alyssa joins them. They talk about random things and about whether or not zing-bot will be the next veto.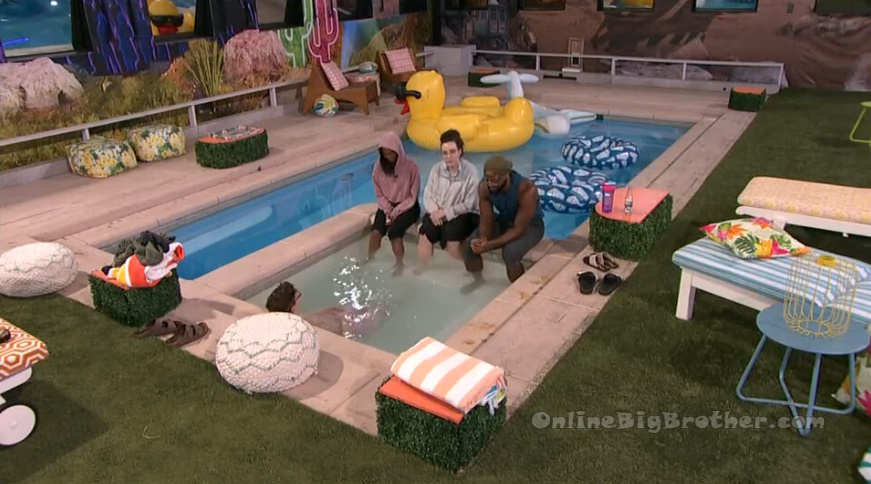 1am Hot Tub – Taylor, Brittany, Monte and Michael.
Taylor – someone asked me they're so surprised every year by how the people on the block on eviction night are like still smiling and interacting with people and I was just like well, it like right before you die and you see all the memories of your life and you're just happy..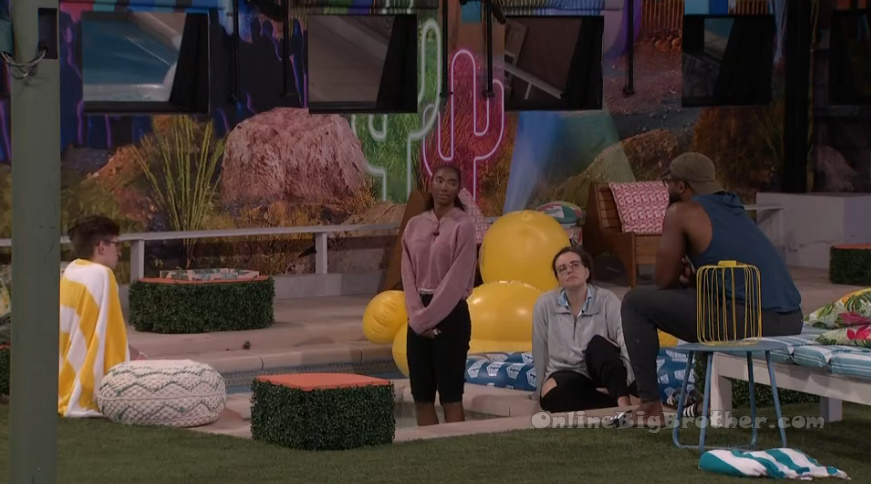 1:52am Backyard – Turner, Monte, Michael playing pool. Turner – I wonder when the next double eviction would be? Michael – I hope there isn't one. Turner – doesn't there have to be? Monte – I think there has to be one? Turner – because there's four weeks left and there are 7 people and 3 on the last week. Michael – yeah but the last couple.. 5/4 and 4/3 aren't always full weeks. Like a special Tuesday night and .. and so I don't think there has to be but there definitely could be. Turner – would you say a 50/50 chance? Michael – I don't know. Turner – I will take that as 50/50. Monte – and that is 50/50 .. you have no idea of the outcome. Turner – I could see the week after next week if there was one.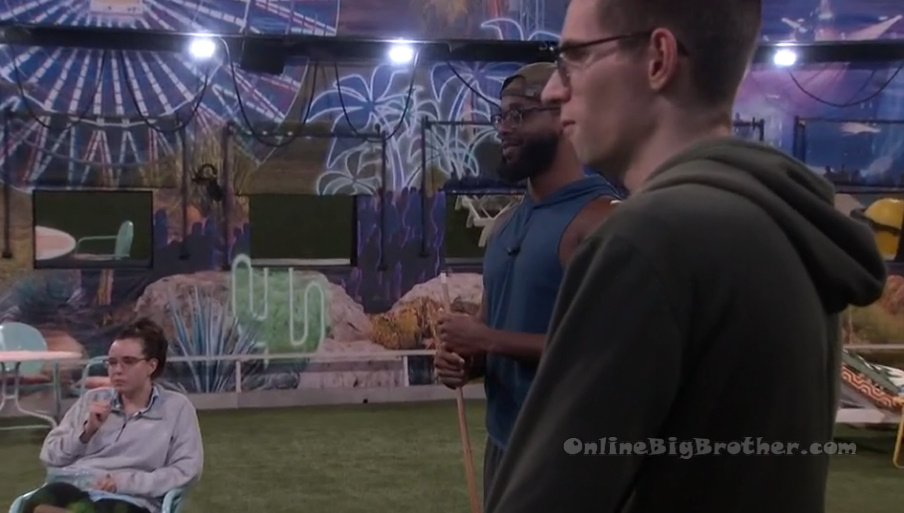 Without reader support this site and these spoilers wouldn't be possible.
Please consider a donation to keep the madness going.
Any amount is greatly appreciated!