Quick Big Brother Spoilers
Head of Household: Jasmine
Nominees: POOCH and Taylor
POV Players: POOCH, Jasmine, Taylor, Ameerah, Terrance, Michael (Host Daniel)
POV Winner: Michael
Veto Ceremony:
Evicted:
Havenots: Terrance, Nicole, Pooch, Daniel
Doesn't sounds like Joe is going to be backdoored but it's still very much a possibility. Chances are veto won't be used leaving POOCH and Taylor to battle for votes.
Lock your ranks in before midnight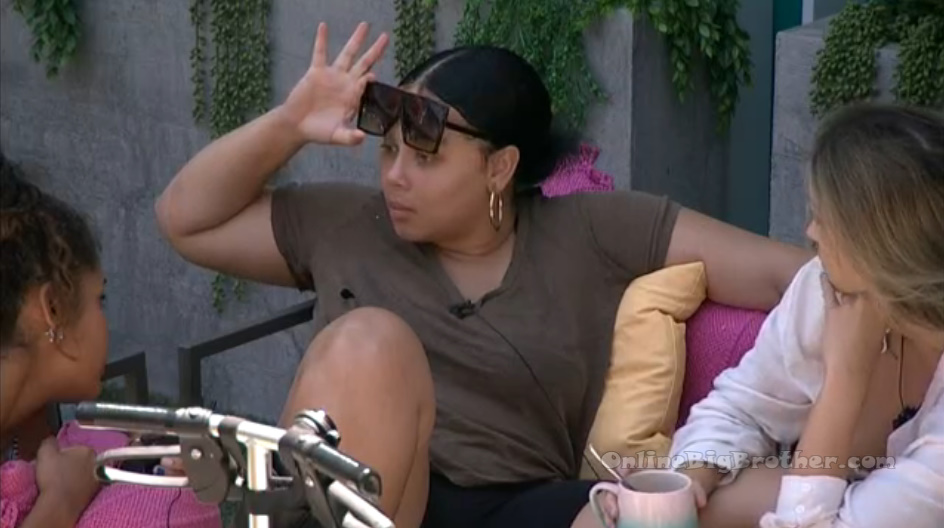 12:10pm Backyard. Jasmine, Alyssa, Ameerah, Taylor, Brittany and Nicole.
Jasmine – don't get in my head today.. as in you're thinking about that whole thing. It makes me uneasy. But I am also not trying to focus on that because we've got bigger fish to fry. Ameerah – she (Indy?) is unhinged. Jasmine – that's the thing, one little thing makes her unhinged. Ameerah – yeah because last night she was saying Joseph.. Jasmine – oh.. its getting crazy! When I tell you what she said when she was sitting on my bed it took every bit of me to sit my a$$ on that couch and not say what I wanted to say.. because I was about to one, two, three old Jasmine… the outside house Jasmine! Because I said one two three what's wrong with me .. five six forget it.. seven eight night everything is going to be fine.. ten eleven twelve… its not going to be like hell.. thirteen fourteen sixteen I am not going to start hitting. Like I had to talk my a$$ out of it. Ameerah – I have never heard that before.. Jasmine – its mine, that's why. You heard what she said on the bed when she said do you want to go up?! I was like ohhhhh… wow!!! That is why I got quiet! She was talking about if she possibly won HOH and I was like mmmm… I don't know about that. And she was like well do you want to go up?! It took everything in me not to take it there! Don't play with me!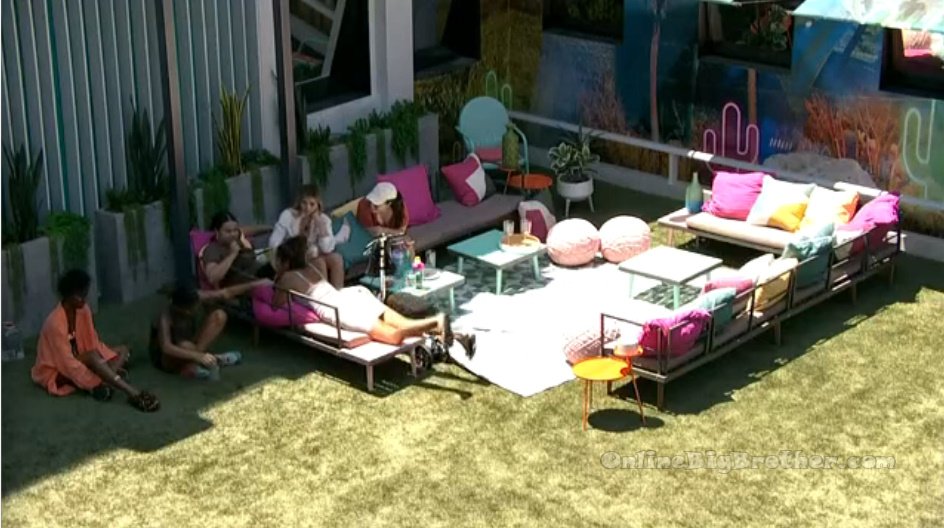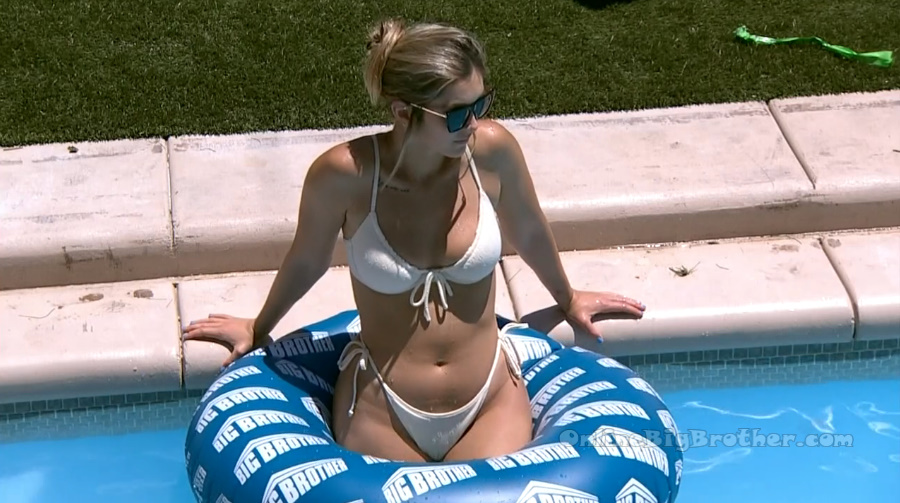 12:44pm HOH room. Nicole and Daniel.
Nicole – The reason why I wanted to come up here and have this conversation and the feels on your whole matter with your brother is because I want to dig deeper with you but I feel like I need to be honest with you about my life. I was a police officer for 10 years. Daniel – oh my god. Nicole – before I became a chef. So it literally is my secret coming into this house. No one know and no one will know. Daniel – I would never think once. Nicole – that's why I am the way I am. That is why I can turn off every emotion and just keep pushing forward.. and hearing about your brother all I wanted to do was to just hug you and say I am really sorry because I know what its like to work in that world and to have to tell a victim that we can't do something as small as a burglary let alone something as big as a murder or someone being r@ped. Like I was a good f**king cop! Daniel – I believe it. I was really good at my job.. and I just couldn't do it any longer. I fell in love with cooking. I had over 100 cases sitting on my desk.. that's over 100 victims.. and more than half of those cases could not be solved. So you have over 100 people sitting in their homes not feeling safe. I trust you so much and you saying you want to put together something for victims .. I want to help you do that. I hope that we can do something outside of here together. Daniel puts his head in his hand and cries. Daniel – It doesn't feel real.. like looking back it feels like a movie I watch and my dad had to die without knowing what happened. (Daniel was 14 when his 22 year old brother was stabbed to death in Toronto and the police removed all the information from the internet. It was basically erased like it never happened.) I grew up seeing him sitting in a room just staring at a wall most of my life. Not all the time.. I couldn't have asked for a better dad.. he was so on top of it. If I think about my brothers death everyday… Big Brother switches the feeds. Daniel – …tomorrow you can die. I think about this with everyone I love. Part of its good because I appreciate every moment and everything you say and everything we experience together. But the thing is I hold onto those things and I am waiting to get a call to say that someone I love died. It f**king sucks! Nicole – none of us are ever fixed from our experiences. I hate when people say stop cry. Like screw you, you don't even know what I am going through. Like get over it! Like get out of my face, I don't want to talk to you. I applaud you tremendously because you are doing all the things in your life right to get where you are. I absolutely adore you. I trust you. You're amazing! Thank you and thank you for being here. Do you know how hard it was not to tell Jas? Her sister is gay and an ex cop. Do you know how hard it was to not tell her?!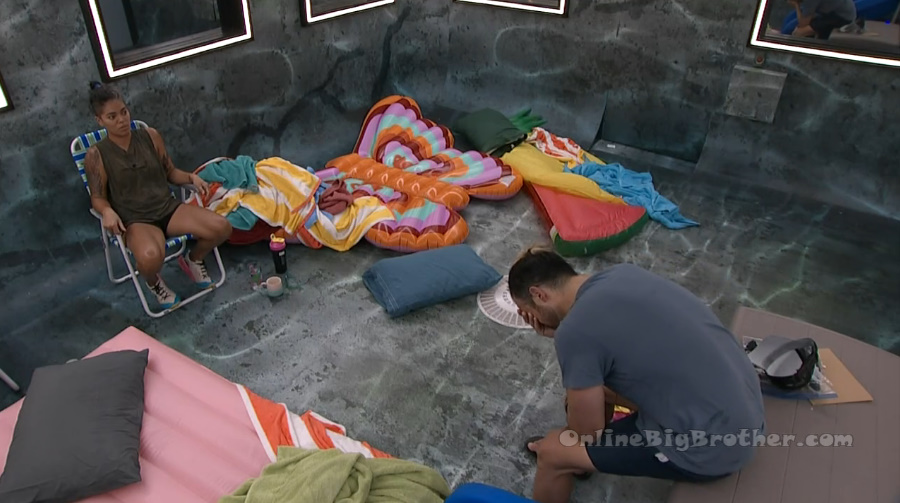 1:25pm Backyard suntanning..

1:38pm Storage room. Kyle and Monte.
Monte – I talked to Ameerah about moving forward and if we have any ideas lets just chat through it first if we want to be in a solid alliance.. because if I come up to you with some curve ball sh*t like you probably wouldn't feel good about that. Kyle – well I look at the facts that Taylor has specifically said backdoor Monte next week.. like that is the facts. I understand where they're coming from but Pooch has said Michael .. Pooch is saying Brittany, Michael, Indy, Terrance.. everyone. Look at the facts… I understand both are threats to our alliance but one seems to be more immediate and more directed at .. and that's where they come in and say I'm going to be that heartless b***h and I am like lets look at the facts. Take emotion out. That's what ruins games. Monte – you have to look at immediate threats .. Taylor was an immediate threat. Pooch is not an immediate threat. Kyle – I'm getting a little worried because Jasmine took me up into her room and she was like everyone wants Pooch. The whole thing was a lie to be honest. I think she wants Pooch out. And then she sat down with Pooch and I asked him how it went and he said he feels so much better. And I am like Jasmine is dangerous. She is a snake.. not a snake .. sneaky.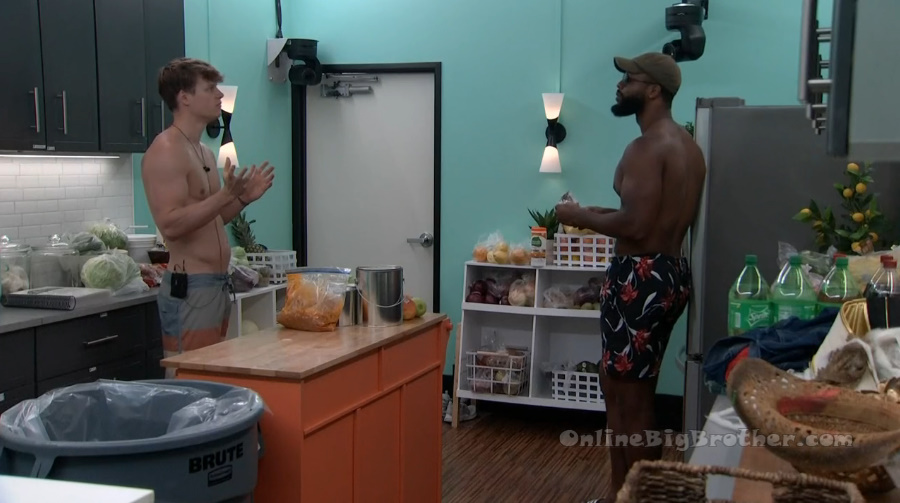 2:20pm Joe and Monte put together a fruit plater and come out as pool boys to feed the other house guests.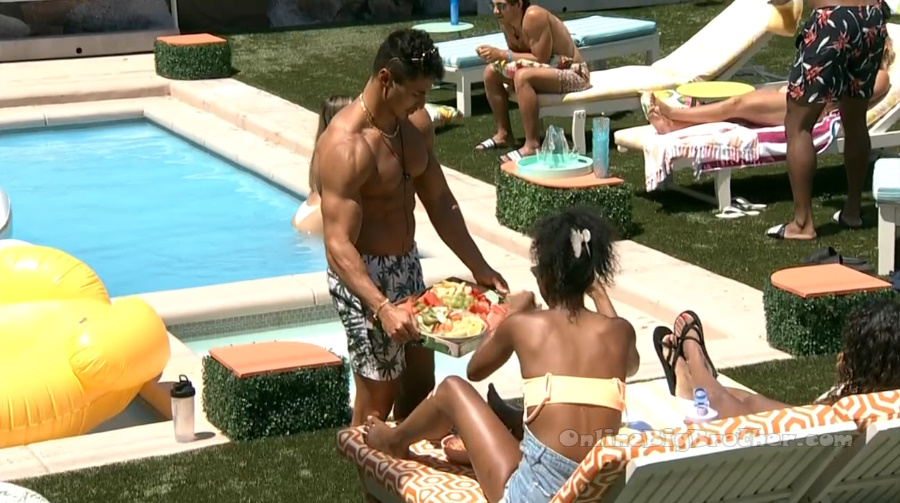 2:28pm Backyard loungers – Taylor and Ameerah.
Taylor – Jasmine was frustrated with Indy? Is that what she was saying? Ameerah – she said that Indy was freaking out this morning because she said she doesn't have a final two. I'm like do people have final twos?! Taylor – umm.. okay!?! Ameerah – like its literally week two! Taylor – its a pretty simple goal. Seven girls in the house, get them all to at least jury and then make sure two are final two. Ameerah – yeah final two girls.. when is the last time that happened? That is my goal whether I am in it or not.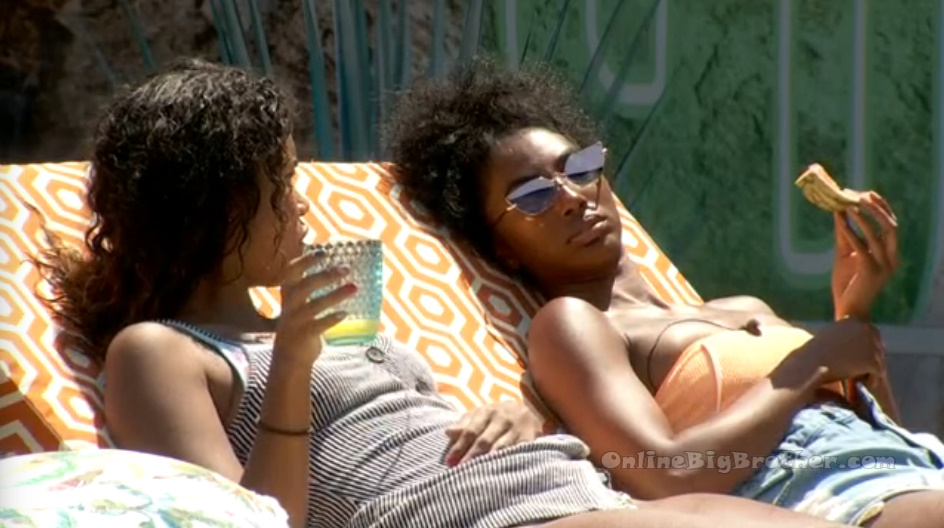 2:33pm Bedroom. Kyle and Michael.
Kyle – I think it will be close if Monte and I vote to keep Pooch. Like between one or two votes. Michael – like 8 – 4. Kyle – but that is plenty.. like me vote wouldn't be necessary. The reason I would vote to keep Pooch would be to vote to keep those relationships with everyone else. So you think it would be me, Monte, Joe and Turner (votes to keep Pooch). Do you think there is a girls thing? Michael – I don't think anything official just an understanding. It does happen a lot where the women pick each other off and the guys swoop in at the end. Kyle – it makes sense .. I am just hoping that the six stay strong.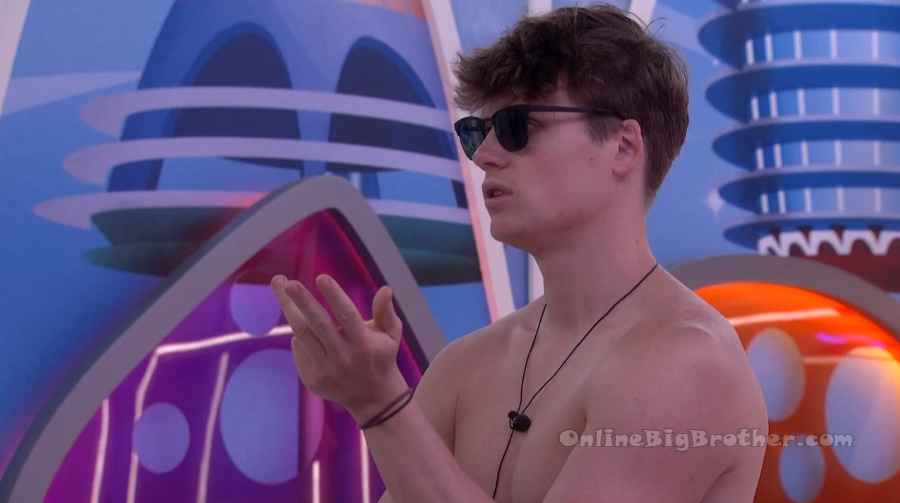 3:09pm Backyard. Ameerah and Alyssa.
Alyssa – I feel like we have to say something to Turner like right before (the Thursday vote) and say like oh my god this is happening and we just have to go with it… because there is no way we can say we voted to keep Pooch because we have to vote with the girls. Ameerah – no we have to tell him before. We have to tell Turner and we have to tell Joseph.. but then they're going to run back to Monte and Kyle. Maybe we should talk to Monte and Kyle.. we need to talk to both of them because that is what is going to keep us safe by talking to them first. Alyssa – Monte keep saying we need to talk to him but I don't want Indy to see me talking to him. Alyssa – and get a game plan going. Ameerah – does she (Indy) like him (Monte)? Alyssa – she thinks he's really really cute and if she didn't have a guy she would be with him.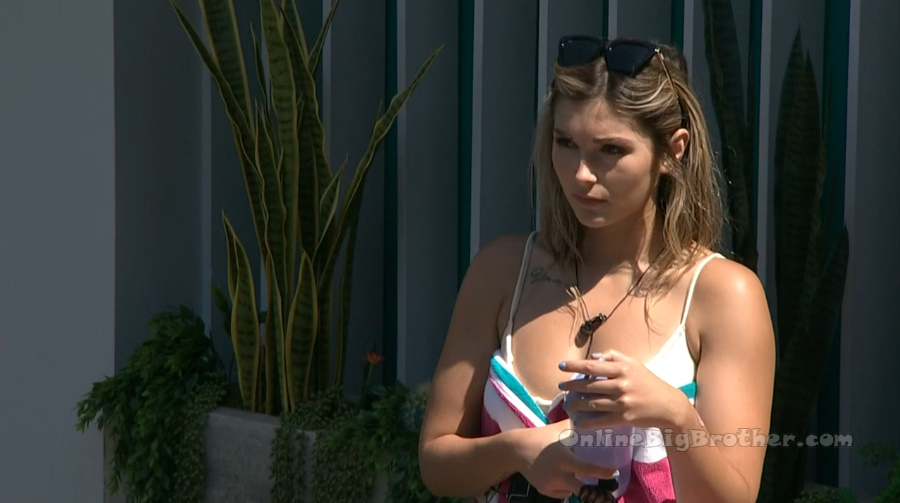 3:15pm Hammock – Monte, Joe and Indy.
Monte – how are you feeling? Indy – I am just like I really will be super disappointed if you guys both of you betray me. Monte – how so? What are you talking about? Where are you getting this from? Indy – I don't know. Its just going to be really hurtful for me.. and you guys cannot say anything .. because if I hear that I will be mad.. its just between the three of us.. Joe – I told you if we hear anything we put it away. Who telling you I was going for you? Indy – its not you're going for me.. its one of the people you like out. Joe – if I hear that I note it but its not like what I am doing. And obviously people are already picking out targets .. I am not. Indy – I know the people that I want to be with at the end. Joe – same. Indy – and I trust you and Monte.. that's it. But if you guys are like no Indy .. that doesn't work for us… just let me know? Its okay, I won't get mad at you. But I will get mad if you like .. Joe – if I play you .. yes of course. Indy – this is what will break my heart.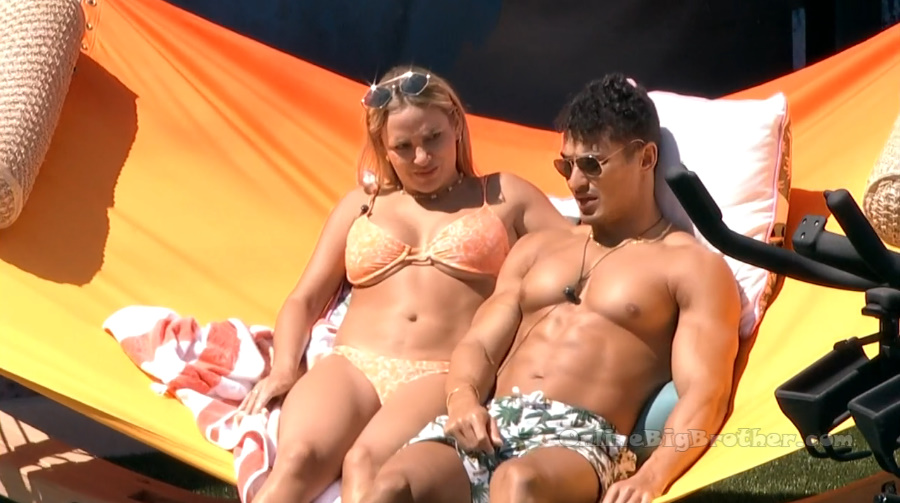 4:20pm The house guests are sitting around the backyard chatting about random things.