Quick Big Brother Spoilers
Head of Household: Monte
Nominees: Indy and Alyssa Taylor and Nicole
POV Players: Alyssa, Indy, Monte, Terrance, Joe, Kyle and Daniel (Michael is the host)
POV Winner: Daniel & Kyle
Veto Ceremony: Daniel used the power of veto. Taylor and Nicole are nominated.
Havenots: Turner & Jasmine
Lock your ranks in before midnight
Festie Besties:
Turner & Jasmine
Joe & Monte & Terrance
Daniel & Kyle
Brittany & Michael
Alyssa & Indy
Nicole & Taylor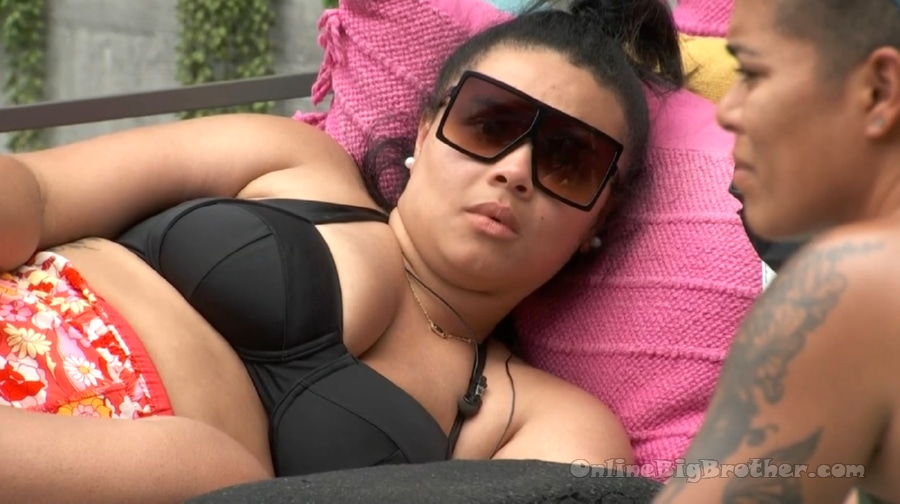 3:48 pm Jasmine and Nicole
Jasmine talking about Monte saying that Ameerah told jasmine on the way out not to trust Daniel and Nicole
Jasmine – she asked me to pack her clothes and like where her shoes were located that's it
Jasmine – she said open your eyes you can't trust who you think you can trust
Nicole – he (monte) basically said you bombarded him after I left
Jasmine – what did I bombard him? I've been minding my own business on this slop
Nicole – he said he had an individual conversation with Alyssa and Indy. He said they were against me and so are you
Jasmine – I don't know what I can tell you they've never said that to me and I feel like I'm pretty close to them.
Nicole tells her that there's something forming between Monte, Turner, Michael, Brittnay, and Taylor. They were up late for 2 hours last night.
Jasmine – Brittany know not to say two words to me
Nicole – ohh I'm going to f*** her a$$ up
Jasmine – she really gets under my skin now
Nicole – I love how she blatantly lies
Jasmine – and she's like a F**ing mosquito at a BBQ she's not p there for the f***ing plate she's out there to suck people's blood and then leave
Nicole – that is what she did today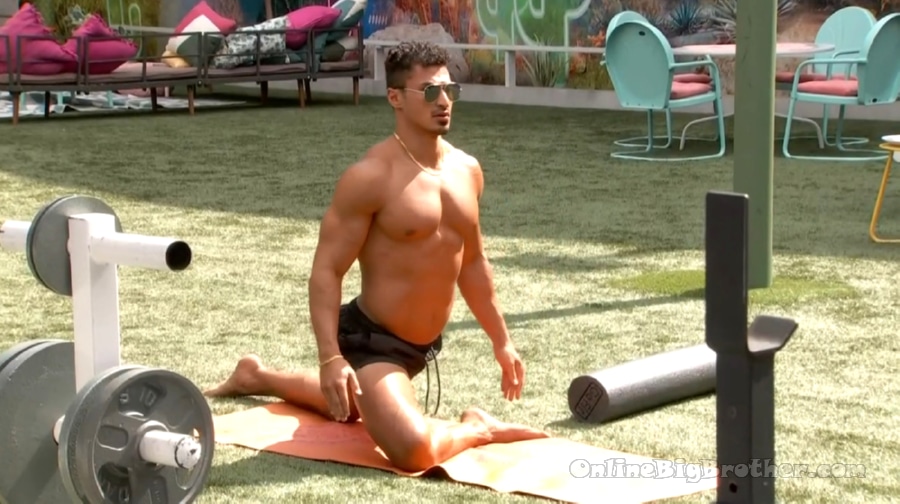 3:57 pm A bunch of houseguests are working out outside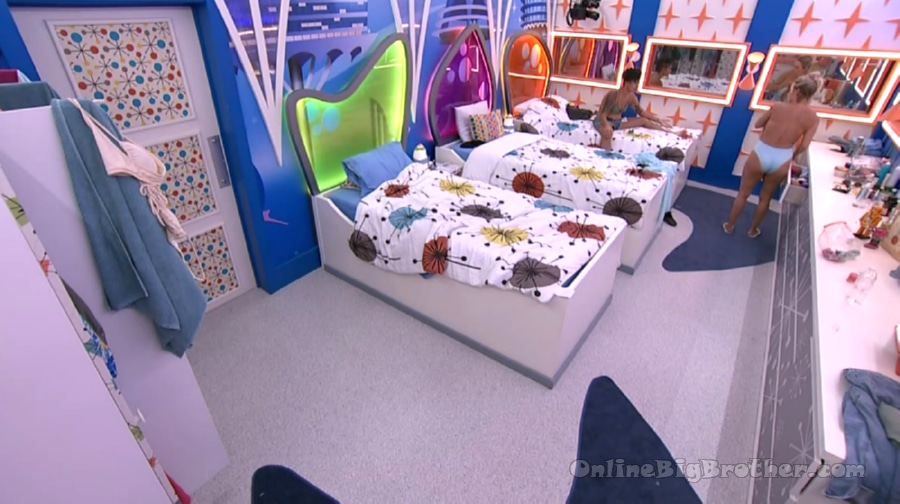 4:20 pm Nicole tells her they can't trust Monte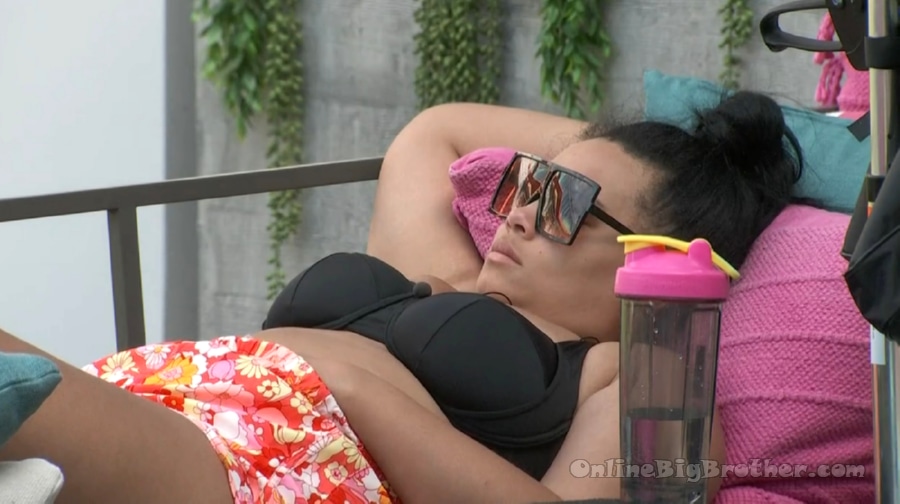 Feeds flip to Jasmine watching the working out houseguests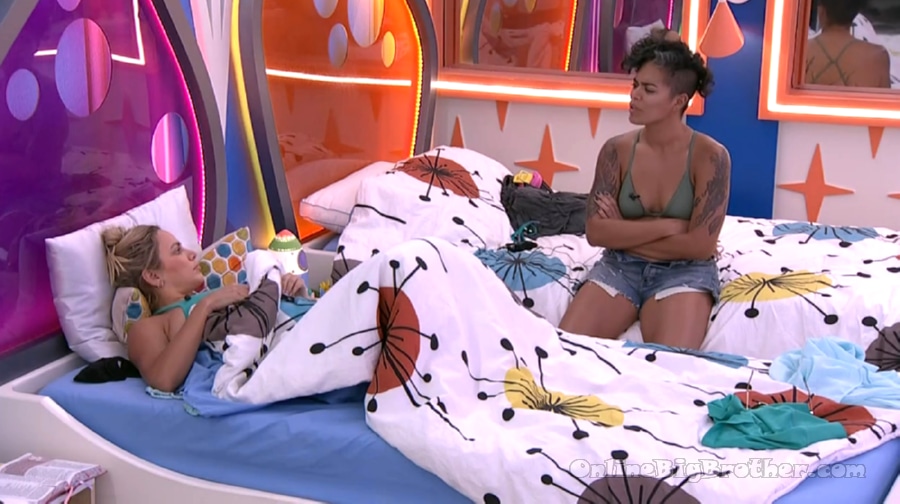 4:30 pm Nicole and indy
Nicole is giving Indy a brief of everything that went down today. Monte pulled her up to the HOH and told her he doesn't want her on the block because he doesn't have the votes for her to stay. Nicole talks about the meeting in the Head of household last night where the 6 of them (Leftovers minus Kyle) where scheming till 5 in the morning.
Nicole – he told jasmine that me and Daniel threw her under the bus
Nicole – I'm really sorry to have to tell you this but Michael is part of it.
Indy – I don't really care.. it's ok we have the numbers
Nicole says that when she and DNAiel were talking to Daniel this morning in the HOH he told them don't use the veto Daniel because I don't feel safe with Nicole going on the block.
Nicole – I swear to you on my mother's cancer I swear to you on my OWN LIFE and this friendship that we have. I'm telling you he is lying to all of us (Damn this b1tch crazy)
Nicole – he said you would not vote to keep me if I went up against Taylor then he said Alyssa would not vote to keep me.
Nicole – he said jasmine specifically told him she wouldn't vote to keep me off the block and that you and her both went up to him and talked to him yesterday because you both are suspicious of me for being in the room with him yesterday morning for an hour and a half.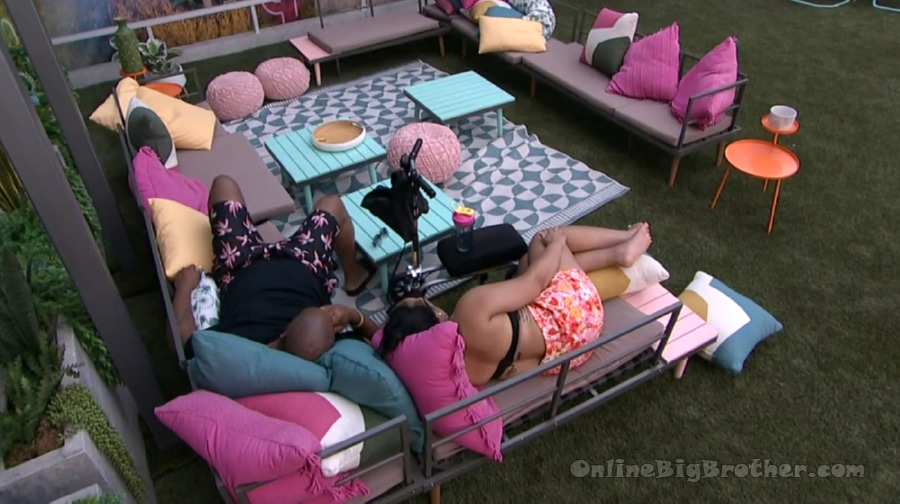 4:37 pm Jasmine and Terrance
Jasmine says the girls have nothing with Nicole "I want to make that very clear"
Jasmine says the only common thing they have is Nicole wanted to keep Ameerah like the girls did.
Terrance – I just don't trust her.
Terrance – you were talking shit about me in a room full of people.
Terrance plans on telling Nicole what she did was f***ed up "Your vote was 50/50 last week so is mine"
Jasmine – so you want to keep Taylor here?
Terrance – I'm cool I'm just trying to get a vibe from her to see where her head is. I don't know if you [taylor] are playing a weirdo game or..
Jasmine – i'm a loner game..
Terrance- do you not want to be a part of anything do you not want to have conversations? it's f***ing stupid
Jasmine – she feels comfortable because she think she has a bigger something
Terrance – if she has something bigger around her what would that be? the only people she talks to are Michael, Brittany, She talks to Turner..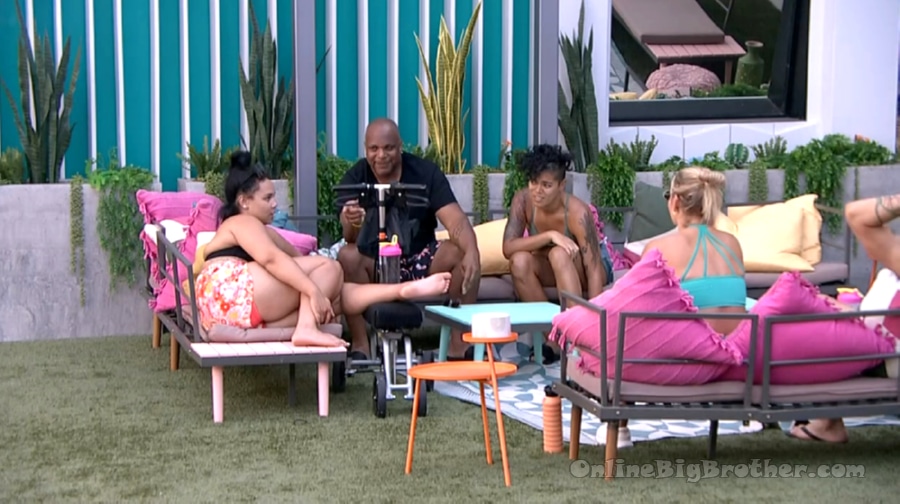 4:53 pm Nicole, Daniel, Terrance, Jasmine, Indy
Nicole going on about Monte telling her to 'FACT CHECK'
5:00 pm Jasmine, Nicole, Daniel, INdy, Terrance
Jasmine complains about her lips being burnt
Terrance – get your sh1t together that's all I can say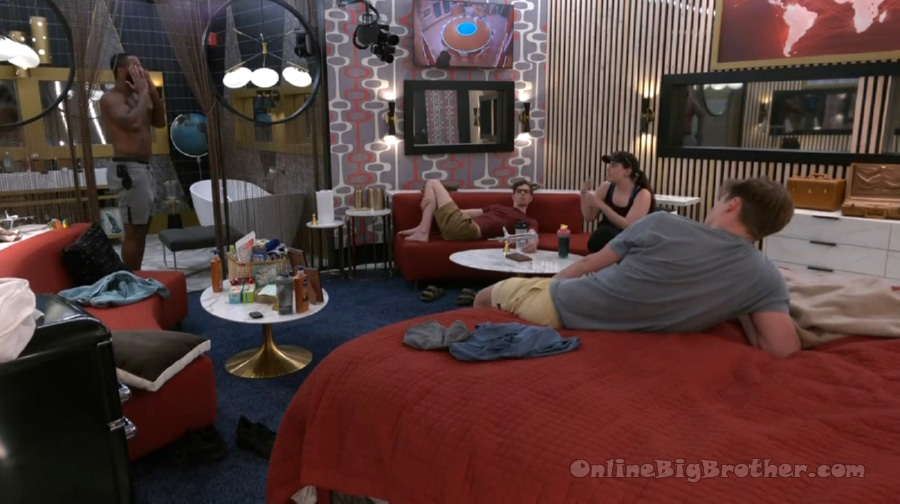 5:33 pm Brittany, Michael, Monte and Kyle
Kyle asks them if there is a way they can get everyone to flip and have a unanimous vote to evict Nicole.
They agree Terrance isn't cool with Nicole and Daniel.
Kyle says Nicole and Daniel Hate Taylor SO MUCH.
Monte – why are they so bothered by another person?
Brittany – they talk sh1t about everybody..
Kyle – so annoying
Brittany – what is the plan to get the girls onboard what do we tell them to ensure Daniel stays in the dark same as Nicole?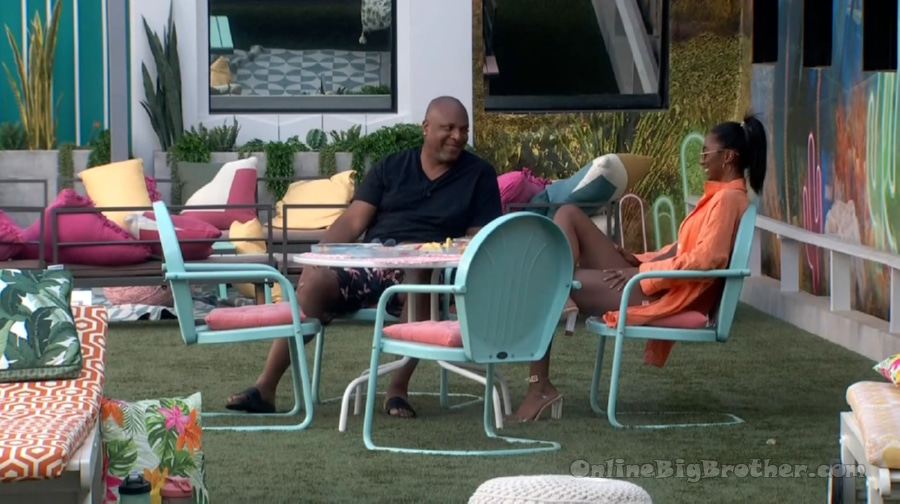 5:47 pm Terrance and Taylor
Chit chat about how Nicole must hate it that they are talking.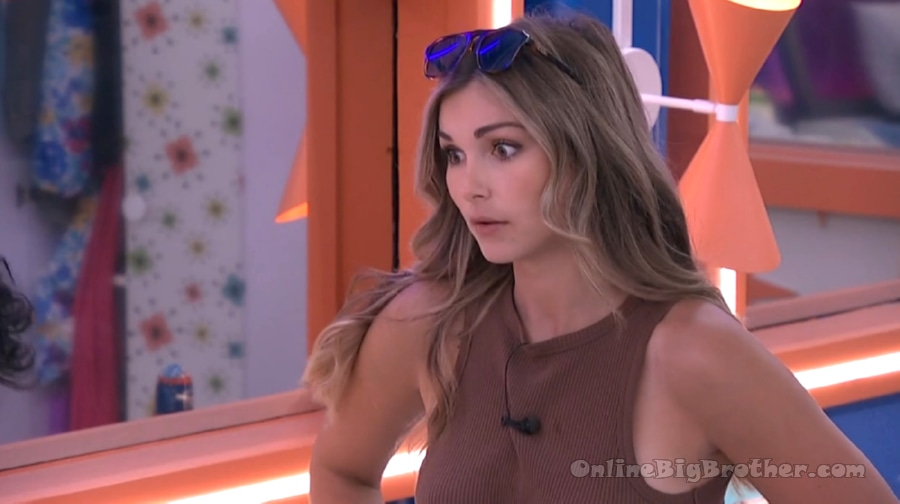 5:48 pm Alyssa and Nicole
Nicole says this morning Monte told her the girls don't trust her. "you guys are mad at me because of Ameerah"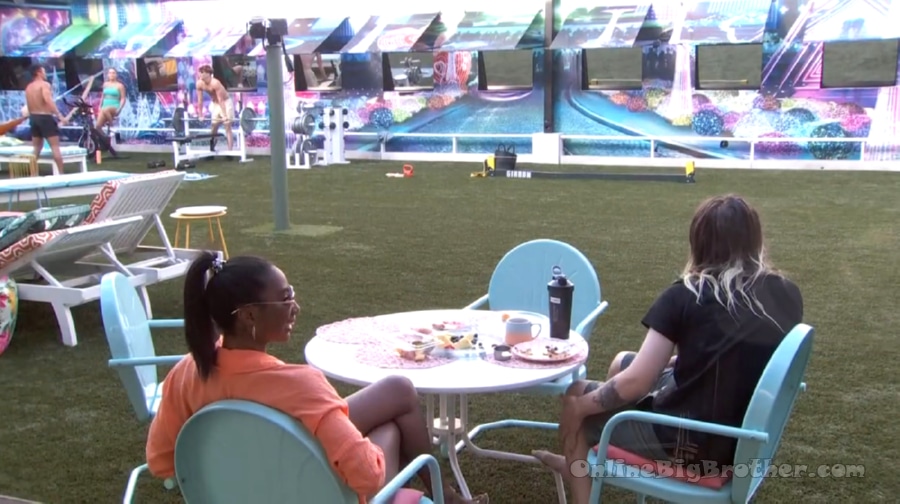 6:06 pm Chit chat about her grandmother being the favorite server of Mohamid Ali and there was a picture of the two of them. They start chatting about Jim Crowe and the feeds flip.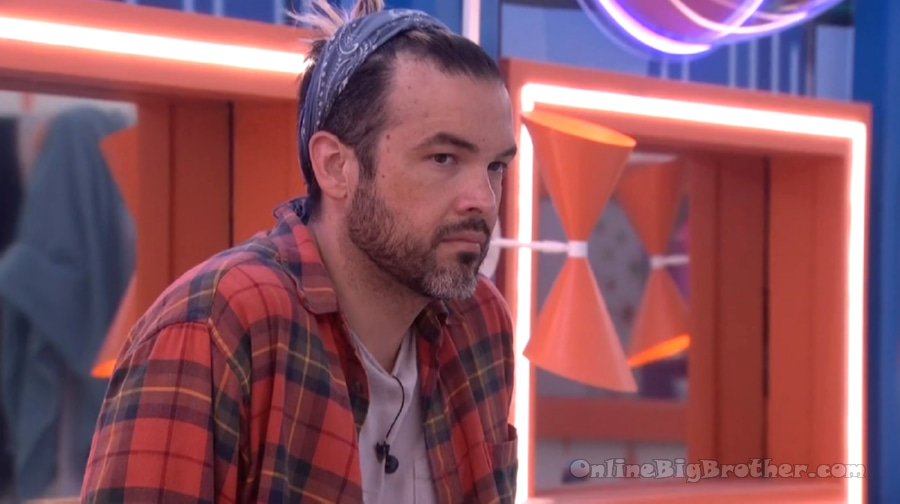 6:17 pm Daniel and Nicole
Daniel – if Terrance wants to stand a chance he'll have to roll with us
Daniel says Monte is going around telling people that they threw Jasmine and the two girls under the bus. Same shit he did to them he did to us.
Daniel – He's saying you are starting to be paranoid he's trying to plant that in people's heads so they view you as a paranoid person
Daniel – Monte won't look at me. I said to him bro you didn't give me enough time to fact check anything it's as simple as that.
Nicole – Michael is trying to set in paranoia as well. He's like what do you think of this alliance
Daniel – the one that he's in?
Nicole smiles
Daniel – oh my god
They bring up how bad of a liar Brittany is.
Daniel – I think she's better than Monte and Joe
Nicole – She believes her lies.
Daniel – so bad
Nicole – Joe is so funny he totally tries ..
Feed flip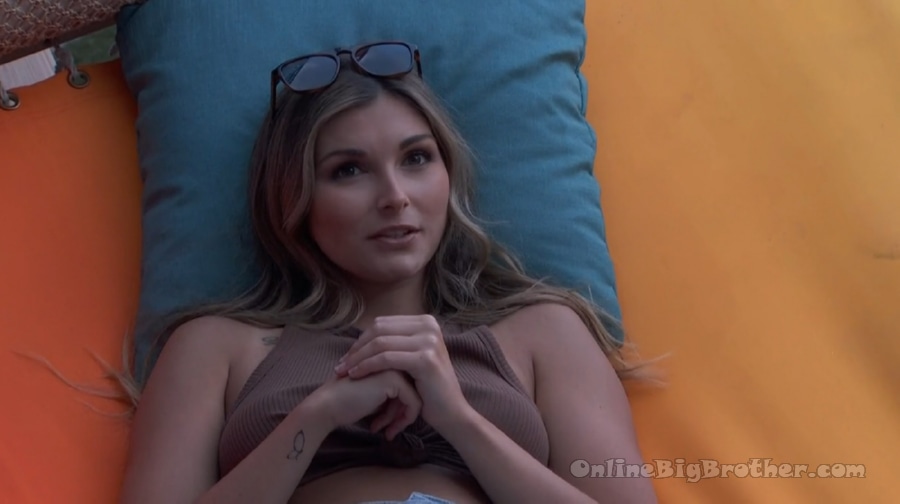 6:35 pm Alyssa and Brittany
Chit chat.