Quick Big Brother Spoilers
Head of Household: Monte
Nominees: Indy and Alyssa Taylor and Nicole
POV Players: Alyssa, Indy, Monte, Terrance, Joe, Kyle and Daniel (Michael is the host)
POV Winner: Daniel & Kyle
Veto Ceremony: Daniel used the power of veto. Taylor and Nicole are nominated.
Havenots: Turner & Jasmine
Lock your ranks in before midnight
Festie Besties:
Turner & Jasmine
Joe & Monte & Terrance
Daniel & Kyle
Brittany & Michael
Alyssa & Indy
Nicole & Taylor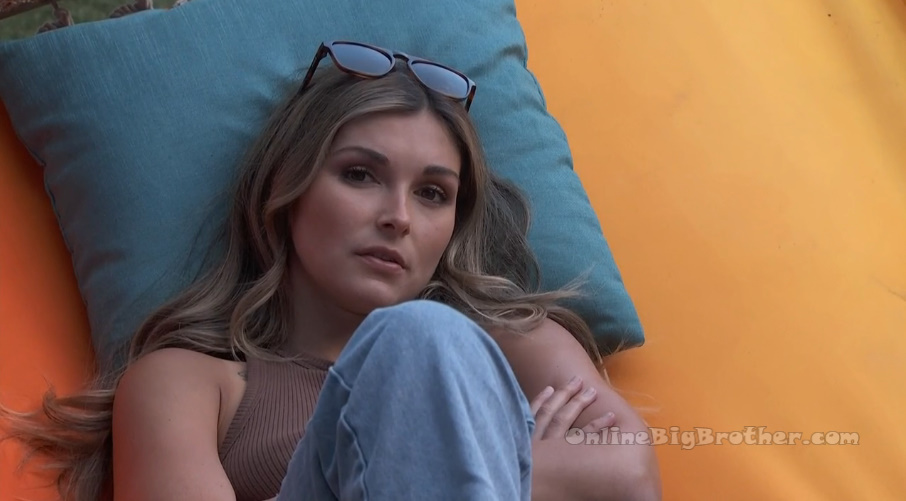 7pm Hammock – Alyssa and Brittany.
Brittany – I like that everyone is in just a good mood. Everyone is partying, hanging out outside and everyone is in little groups and you can float between groups. Like last night was really fun. Alyssa – I like the big dinners when we just hangout. Brittany – Its so hard because I want to be able to talk to everybody and you know .. and I also get that you can't .. like this is not how all this works. I get the impression that people are like .. like one side is thinking I am with the other and the other is thinking I'm with the other. Like no guys, just floating here in the middle with Michael. Alyssa – yeah that is a good place to be. Like if there are sides what would be one side and what would be the other. Brittany – I don't know like I feel like I hear different people's versions Alyssa – I try not to listen.. if anyone starts to talk I am like I got to go. Brittany – that's how I feel too.
7:18pm Kitchen – Nicole and Terrance.
Nicole – have you talked to Joseph or Monte? Terrance – briefly but from what they say its supposed to be Taylor. Nicole – oh okay. Jasmine joins Nicole in the kitchen. Nicole – I don't mind cleaning and doing my part .. I am not going to sit here and be a fool for all of you. Jasmine – yeah.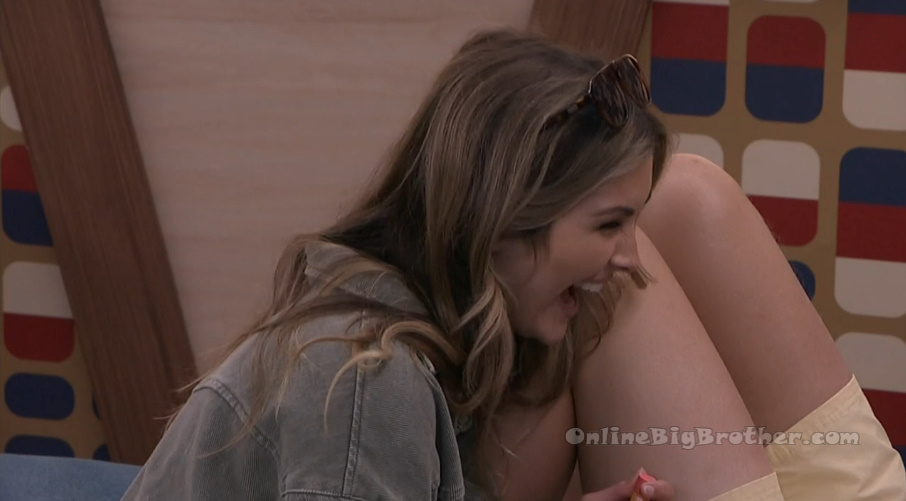 7:30pm Bedroom – Alyssa and Kyle shomancing..
Alyssa – have you lived with a girlfriend before? Kyle – no, I've never lived with a girl. Alyssa – now you have, you've lived with eight. Kyle – I think I would be difficult to live with. Alyssa – you think you would be? Kyle – yeah, probably .. actually no. I don't think so. Alyssa – I am a pretty clean person .. the only thing would be my clothes. If I am going out I would take out a bunch of outfits and not want to hang them back up. Kyle – oh my gosh, can I just give you a couple grand and you buy me a whole new wardrobe after? Alyssa – sure! I feel like you have good style. Kyle – no I don't. I promise I don't. They talk about taking a trip together when they get out. Kyle – Ameerah travelled a lot. How mad do you think she is right now? Alyssa – probably pissed. This game is stressful. Did Monte really want me out? Kyle – want you out? No. Alyssa – that's what Daniel said. Kyle – I think Daniel and Nicole are going insane honestly. I think they're trying to pin Jasmine. Alyssa – we can talk about it later but just keep me updated. Kyle – okay I will. Alyssa – because me and you are a team now. Kyle – we can only have conversations in really private places like the shower or maybe like the pool. Alyssa – tell me more.. or in your bed with the door shut. Kyle – right now? Alyssa – yeah! Kyle – I was looking at the memory wall and going through it and I was like I don't like anyone up here. I am not going to win this game. I just want to make it one more week and then we make it to jury .. that's all I care about. Kyle – me or you have to win HOH. Alyssa – yeah. Kyle – I think Daniel is next. Alyssa – really? Kyle – which means that I would go up on the block. Alyssa – that's what it feels like? Kyle – everyone is just sick of Nicole and Daniel. Alyssa – I am just riding the wave. I don't even want to be in conversations. Kyle – I know. Alyssa – every night when I go to bed Nicole is like come in my bed I was to talk.. I keep getting suckered in with her. Alyssa – once we make it another week, then we can kiss on the lips. Kyle – Oh we have to wait now that I was ready to get down? Alyssa – No, I want to wait now. Kyle – you do? Alyssa – no.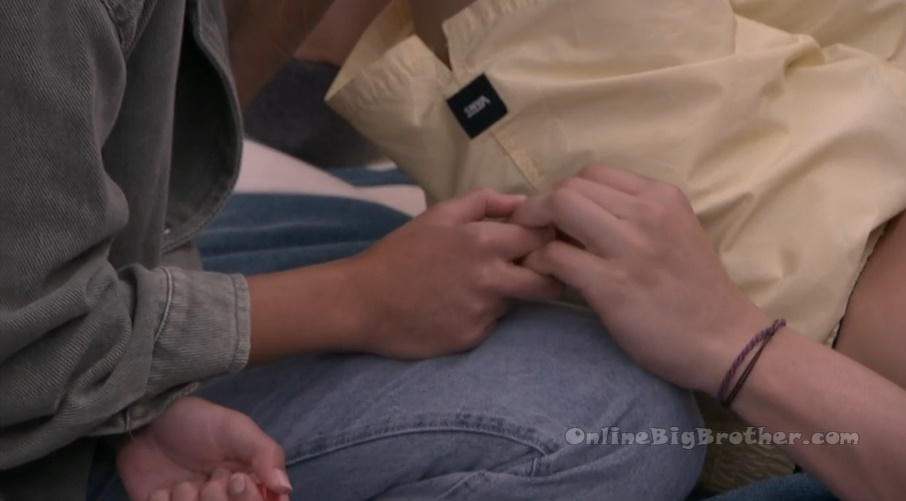 8:11pm – 8:30pm Hammock – Nicole and Terrance.
Nicole – I don't 100% trust Kyle but he see's what's going on. I am telling you Monte literally didn't want them to use the veto. Because he wanted to get more numbers for us in the house because he realized if he put me and Taylor on the block he didn't have enough votes. So now I just need to solidify 6 people. Indy, Alyssa, Jas, You, Daniel .. so I'm basically at an impasse with Kyle and Turner. And its very possible that they will all vote for Taylor to leave because they know that she doesn't have the votes to stay. So that if I get HOH next week they will be like.. but I voted to keep you. Terrance – who would you put up next week? Nicole – Michael and Brittany. Terrance – ASAP! Nicole – and if they win the veto I am going to put Monte, Joseph and you up.. but we have the numbers to keep you. You're not going home. Not under my watch. Terrance – and you're wanting out Monte? Nicole – absolutely! See ya later! What's the point of keeping him (Michael), he's too strong. And if he winds the veto Brittany joes home.. because she is the biggest god damn liar. Terrance – you can't win every veto bro! Nicole – exactly.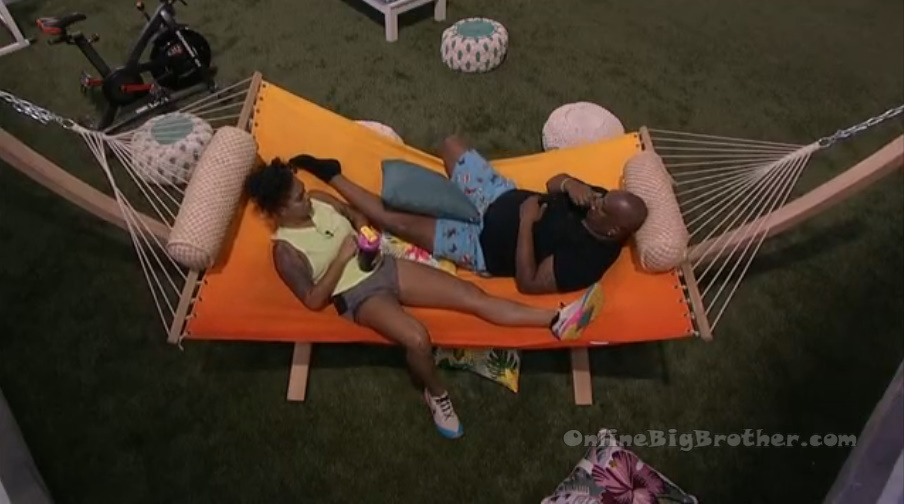 8:33pm Backyard – Nicole, Terrance, Daniel.
Nicole – so Terrance and I were talking as far as which Festie Bestie to join. Terrance – and the thing with me none of them had sh*t to say today. Brittany what do you thing?! UUhhjju!? Uhjjjjhjg?! They laugh. Daniel – oh that was perfect.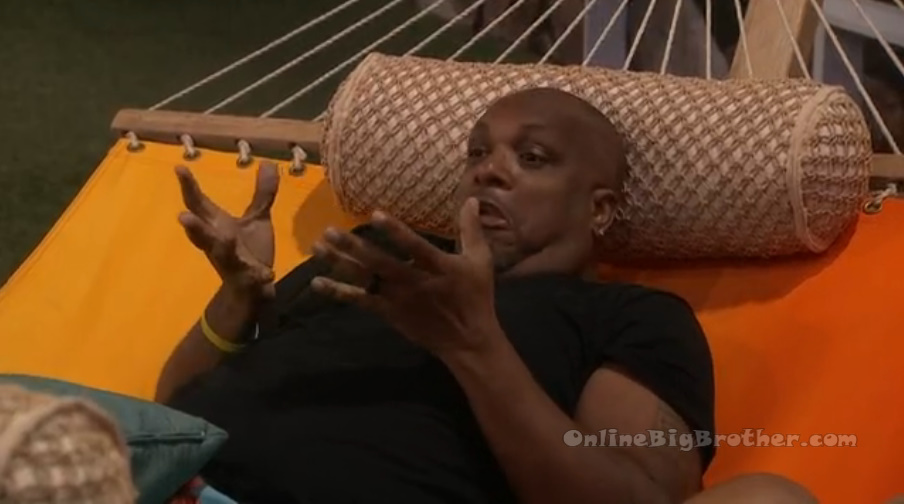 8:50pm Bedroom – Brittany and Taylor.
Taylor – I am mad about having to spend time with people that are such hypocrites. Brittany – me too. me too! My list is your list. Taylor – I get we came to play a game, that's what we all signed up for but to have a vulnerable moment like that. Thank god Turner picked up on it. Laughing the whole time. Brittany – I picked up on it. I didn't expect this experience to challenge my concept of myself as a person. You don't get a free pass on being a human here. Like the magnifying glass is on you. Coming into this game you think I am going to be this ruthless, heartless person. Taylor – I am manifesting an HOH win.
Hammock – Indy and Michael
Michael – I am very happy that the veto got used to day. I did not want to have to .. I mean I told you where my ..that you would have my vote to stay. I also did not want Alyssa to go. Indy – everything changes so fast.. and I didn't do anything to anyone. I am not apart of the Ameerah alliance or anything like that so everyone knows that. Everyone talks sh*t about each other.. I just live my life. Michael – straight up and honest. I think everything went as planned today which was nice.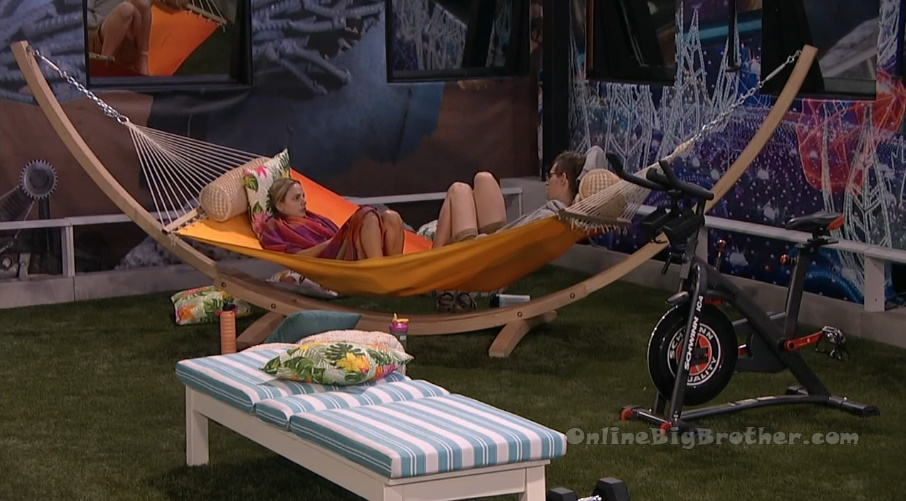 10:05pm Bathroom – Terrance and Nicole.
Nicole – when I spoke to her .. I was buttering her up like crazy and I said you know I have something to tell you. I said you know you're the strongest player in this game.. Terrance – You f**King stupid as hell!! I know the hell you didn't tell that girl that. Nicole – I get it, its the game you have to manipulate and lie but it is so much more than that.. But for me the game is so much more than that.. You have to connect with people.. and like build a team, build a force. And the only way you build that force is on trust. You're bold face lying to peoples face like that .. the way he is doing it. .. he is not going to win. Terrance – right. Nicole – the culture of Big Brother is not what it used to be. Terrance – it takes a lot of different things to play this game. It takes relationships and you have to have true relationships with people.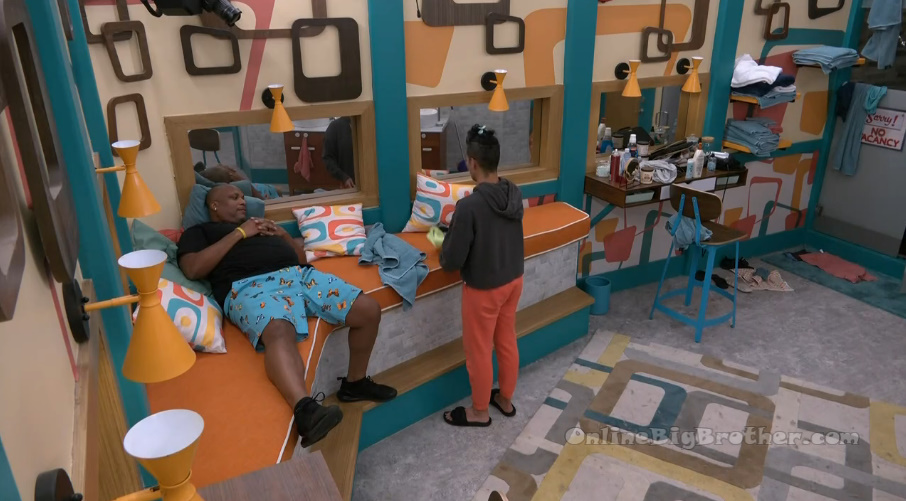 10:33pm More showmancing…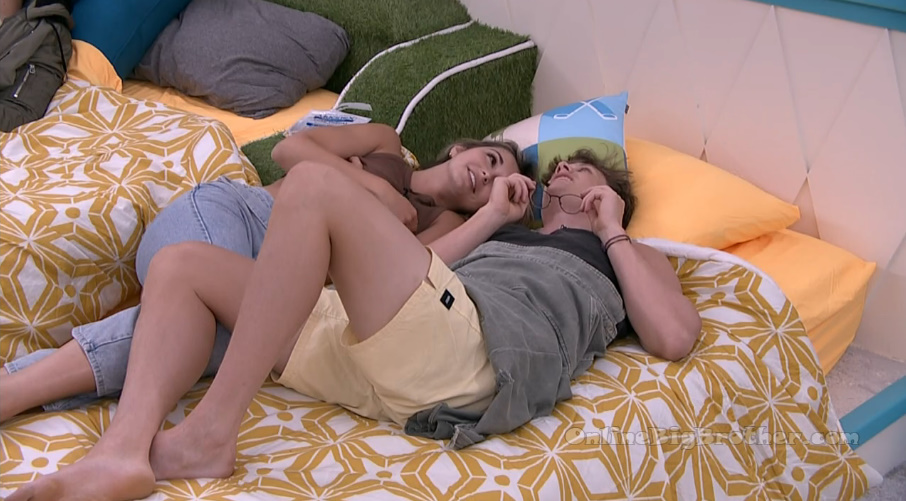 10:55pm Kitchen – The house guests are hanging out chatting about what movies / tv shows they watched in sequester before coming into the house.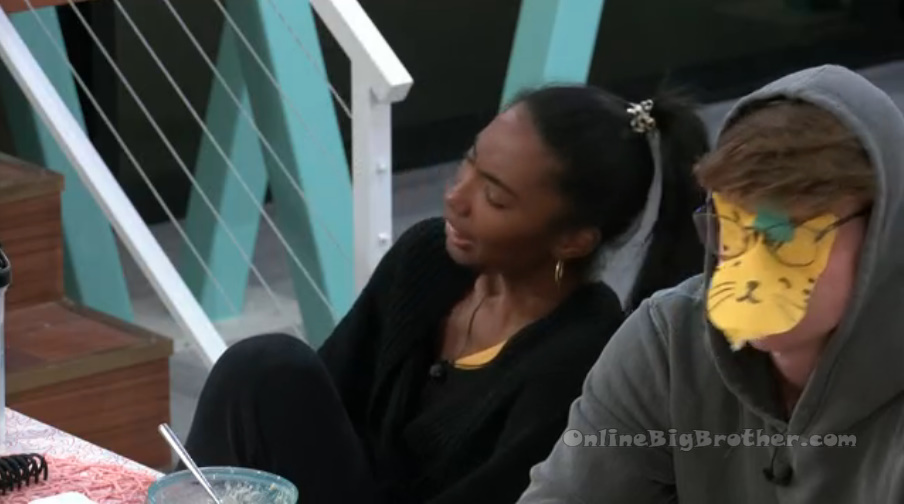 11:10pm The house guests freak out about all the ants that are all over the backyard. They sit around the hot tub and play the would you rather game.
– Would you rather know how you're going to die? Or when you're going to die? etc.
11:33pm Bedroom – Nicole is alone talking to herself. Nicole – I don't think I've been lied to by Alyssa and Indy. I genuinely feel like they're telling the truth. Maybe this was their plan for reverse psychology so that they would use the veto to put me up but the reaction of Michael and Taylor was hilarious. They seemed genuinely shocked. So I definitely feel like Daniel and Kyle using the power of veto worked. I guess we'll just have to wait and see. I hope there's a secret power and that its given to me. I really hope Jasmine and Indy are trying to stay awake to find out information but with the little hints that Michael was giving me that there is an alliance of 8 they would be included in it. Essentially meaning they have the votes to get me out of this house. It just sucks that I never betrayed any of them. But clearly my friendship with Daniel is threatening to them. Ameerah if you're watching .. what happened? Where was the disconnect? I feel like I am living one big investigation.. I know who the suspects are.. This is cracking me up, its comical .. I get to play big brother and I'm here but these people are the worst liars in the world. They don't even realize that their body language alone tells me how much they're lying.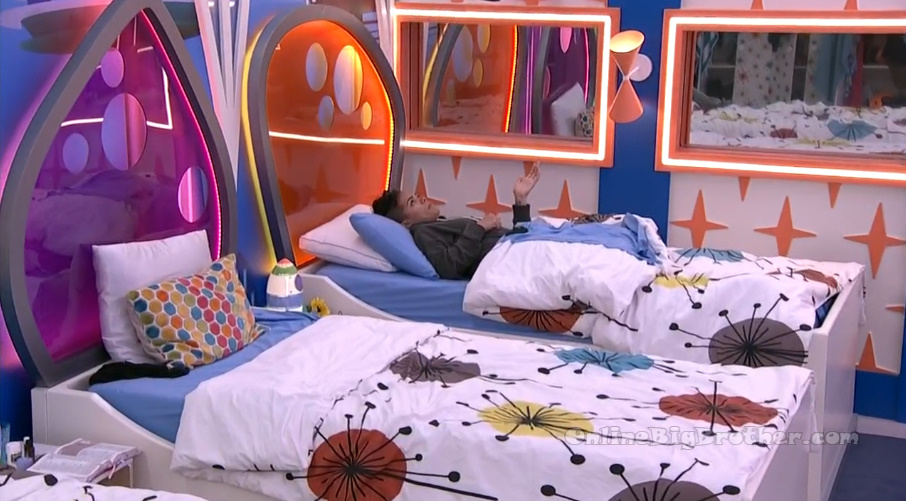 11:47pm HOH room – Monte & Turner. :
Turner – she was like the girls don't trust me so I know I don't have their votes. And I was okay, dope! Monte – oh wow so she believes it? Turner – for sure dude, she was stressing. She was like I don't have their votes, I know I don't have their votes. I trust Monte. Monte told me this before hand. I trust him for bringing me this. And I was like FIRE! Monte – that is so interesting because she is definitely scheming here because why would she tell you that but then she went up to Jasmine, Indy and Alyssa and told them that I told her that they didn't trust her. Turner – I was like okay if that's what you think, then f**k it. Like yeah dude! That's dope! Monte's got your back. I was like f**k it!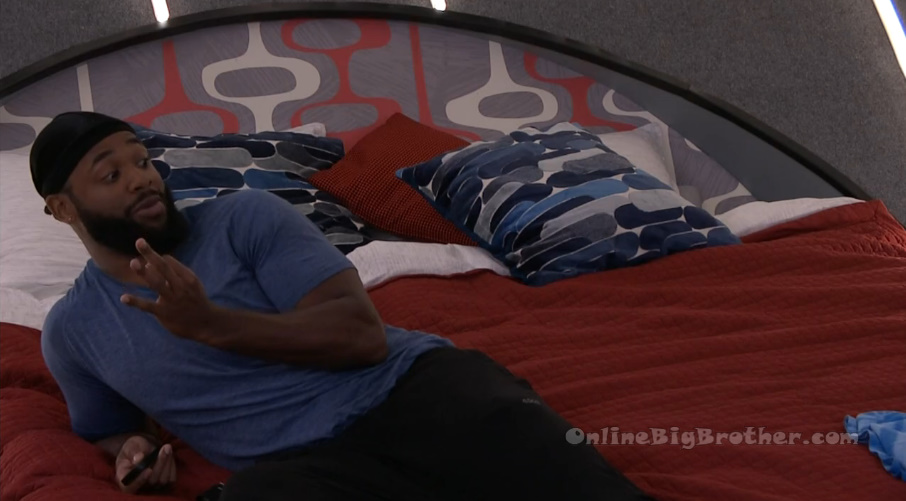 2am The house guests are relaxing.