Head of Household Winner – Jackson
Have note are:
Nominations are: Christie & Sis
Power of Veto Players are – Christie, Sis, Jackson, Nick (Christie pulled ), Holly (Sis pulled), Cliff
Power of Veto holder – Jackson
Power of Veto Ceremony – Jackson did not use the power of veto
Grab your live feeds —-> BB21 Live Feeds Subscription Link
Rank your houseguests —-> Big Brother 21 Ranking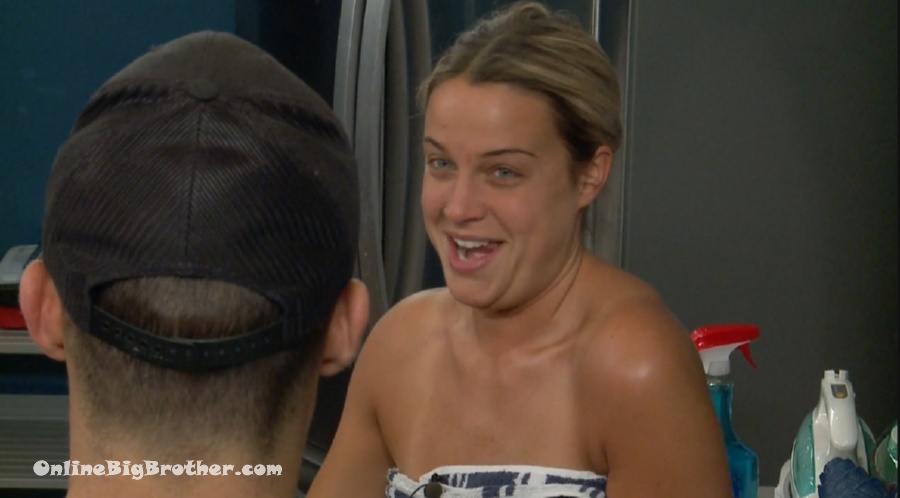 1:20 pm Christie, Holly, and Michie
Jackson – I just can't do it.. keep you here
Christie – ok
Jackson – I'm f**ing with ya, Nick just asked if it was a tie and I said I would vote to evict Sis. I think we got Jess, Cliff and I think we have Nicole.
They shake.
Christie – I'm gunning for this HOH. look me in my eyes on my sister I'm going for this HOH and I'm not putting either of you up Nick is my target.
Christie says Cliff wouldn't vote to keep her unless she could offer Nicole safety "I did give Nicole a promise I hate hate hate.. Jess might have to be the one" (Jess and Nick would be her noms)
Christie – It's going to be whoever doesn't vote for me I don't know how Tommy is voting I am assuming he's voting with the ouse.
Christie – If you keep me here I am not targeting you
Jackson – I've been saying you're my target for weeks. I'm either going to look like the biggest f*ing idiot.
Christie reassures him she's not putting him or Holly up next week.
They hug.
Christie – this means everything to me. I give a shit about this game
Holly – this f*ing game means a lot for me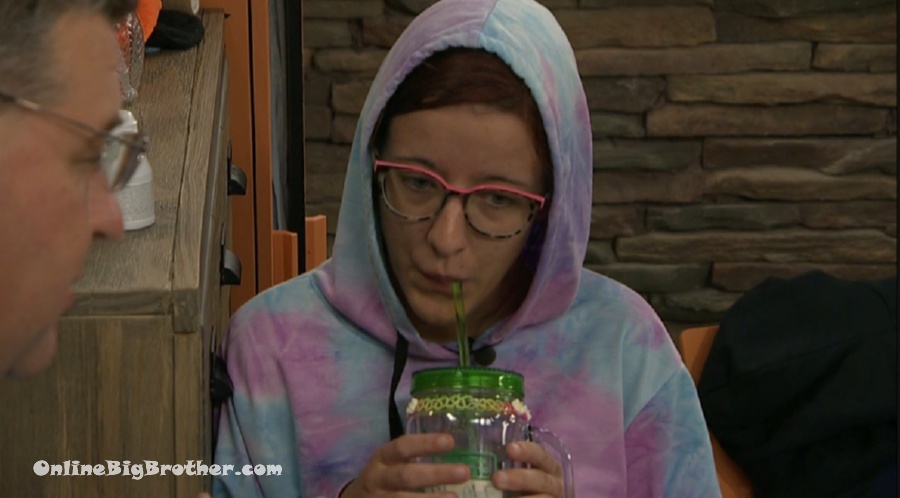 1:21 pm Cliff and Nicole
Cliff – Apparently Nick asks Jackson in the storage room if it came to a tie which way are you going. He's keeping Christie
Nicole – so voting out Sis
Cliff – yeah
Nicole says she shook Christie's hand and Christie told her she wouldn't put her up. "I wouldn't be a target moving forward"
Cliff – the issue is if someone else wins and puts us up. how is she voting?
Cliff – she promised you and she promised me. She creates a bigger target overall
Cliff – if you won HOH do you know where you would go
Nicole – I was thinking about that during lockdown. In my Brain for me, it doesn't make sense to put up Nick. I won't put up Michie and Holly because of that deal we made. I would put up Christie/Tommy.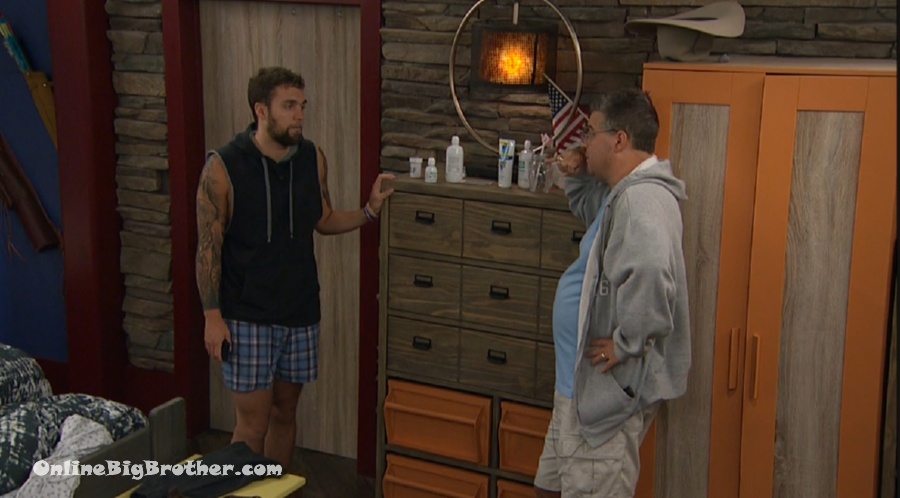 1:37 pm Nick and Cliff
Nick – do what you have to do for our game.
Nick tells him he's not coming after Cliff, he loves and respects Cliff.
Nick – I want you to know you're not going up as a pawn or a replacement
Cliff – let me tell you something.
Cliff says he always gives it 100% in competitions but he wants Nick to win it "it makes things easier"
Nick mentions that with Sis gone they are going to be closer (?)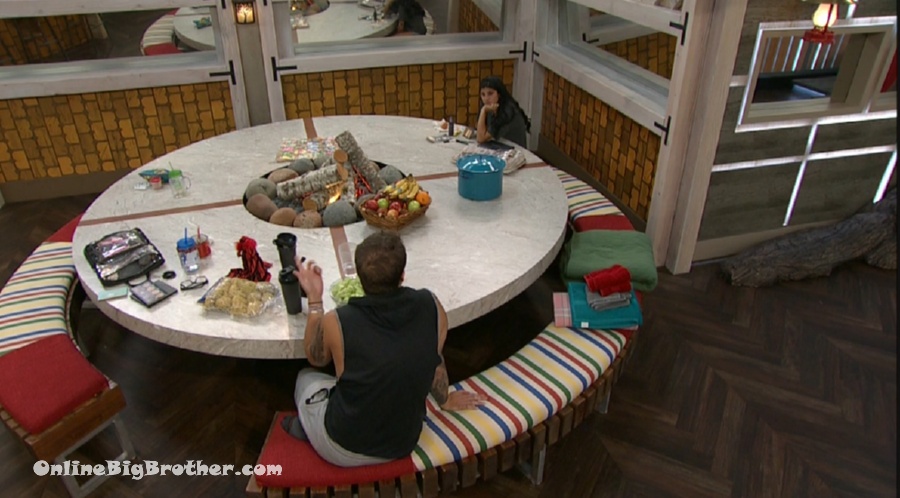 2:19 pm Nick and Sis
Nick – he said if it was 3-3 he's going to break it against you
Sis – against me.. why
Sis – f*er, is Tommy going to vote against me?
Nick – I'm not
Sis – what about Cliff and Nicole
Nick – Nicole was going to vote for you once she found out that he would break the tie the other way
Nick – I just found out.
Sis cries "I literally hate everyone in this f*ing house"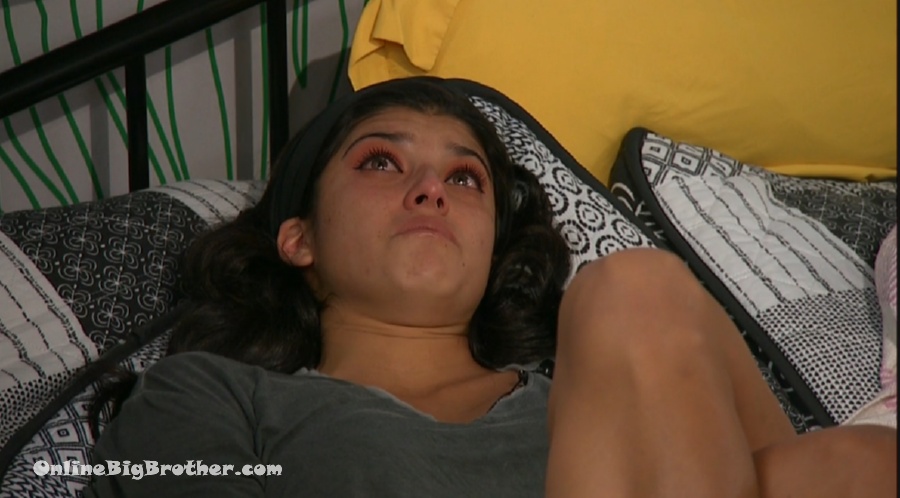 2:20 pm Sis runs to the RV and cries. Nick joins her.
Nick – I'm sorry
Sis – what the f* did I do to him
Nick – Christie promised him safety
Sis – I f*ing told him …
Nick mentions that there were things she said about Jackson and he found out
Sis – So Christie told him stuff
Tommy and Holly come in to comfort her
Sis – I literally hate Jackson I've never done sh1t for him to be on the block. Who was the one talking sh1t and wanting him out.. WHO? That's the person that's f*ing staying
Sis – he thinks he's going to get farther… OKAY Jackson
Nick – it's not his fault it's not like he's voting
Sis – if he breaks a tie
Sis – it's literally so annoying
Sis – I have done nothing to him.. literally nothing. I don't care he's f*ing stupid like literally, he'll be right after me so it doesn't even f*ing mater
Sis says she hopes Nick or Tommy win the HOH "that way he's out the f*ing door next"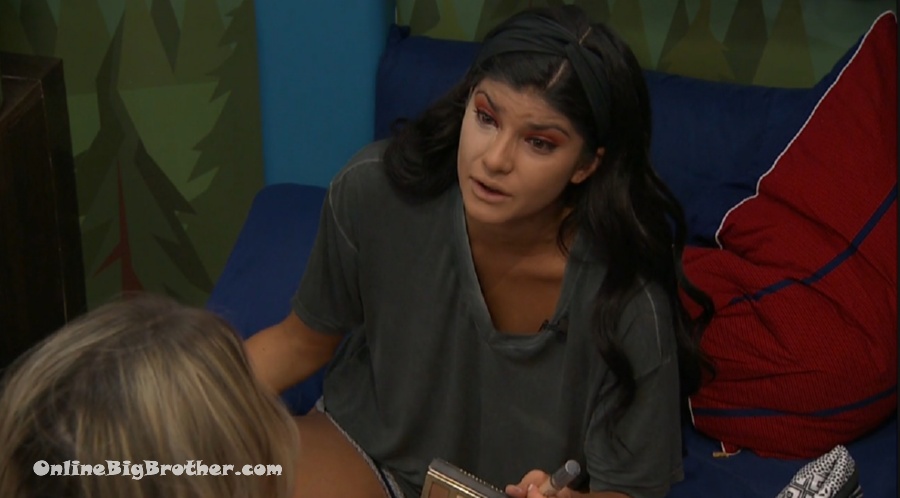 2:28 pm Sis and Christie
Christie blames it on Nick says Sis' frustrations should be direct to him or Michie
Sis – he's so f*ing annoying I understand why America f*ing hates him (LOL weren't you also on the field trip)
Sis – like oh my god
Sis – I'm not mad at you
Christie cries "I'm so upset … I'm crushed. I'm mad at Nick Yeah I'm f*ing mad at Michie I'm so pissed"
Sis – yeah I wish you never made a deal with him
Christie – what would have been my choice I had no choice.
Sis – he's just a bullshitter talker. I hope you f*ing beat him
Christie – I am devastated and I hate this. I am really really sorry it's me and you.
Christie says she never told Michie the things Sis said. "I never told Michie anything we said in private.. to be honest, Michie was my target whatever was said I said it too"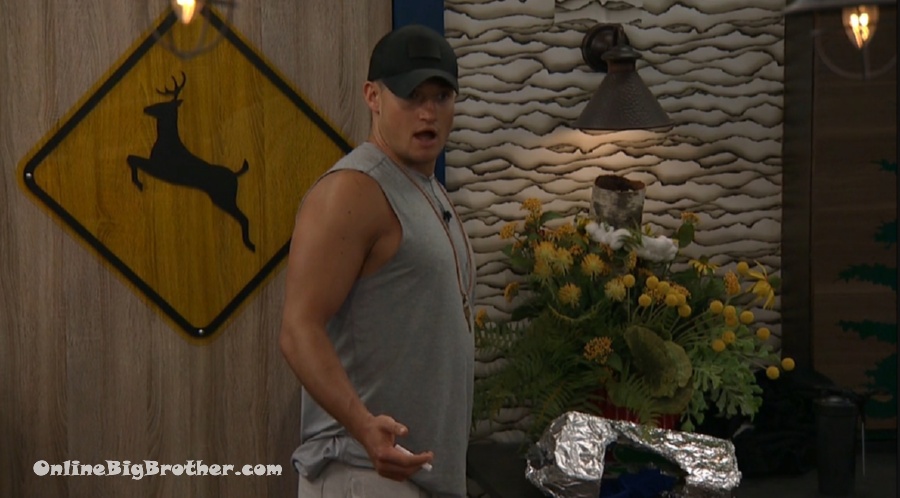 Jackson joins them
Sis – can you please get out of my f*ing face I literally cannot look at you.. Literally, I f*ing hate you. You shouldn't make promises to people you don't f*ing keep
Jackson – I never made a promise
Sis said he promised she was a pawn
Jackson denies "I said I didn't want you to go home"
Jackson – this is a game I don't hate you regardless of how much you say you hate me
Jackson – you gotta do what you gotta do in this game
Jackson leaves.
Christie – Nick f*ing did this
Sis – and so did he
Christie – I didn't know until 20 minutes ago. I've just been trying to stay outta everyone's hair and just be quiet
Christie – I want you to know how much I love you. I love you so much. I'm sick to my stomach
Tommy joins them
Christie – it comes down to. he wants Nick out
Sis – then he should have f*ing put Nick up on the block
Christie – I know .. I 100% agree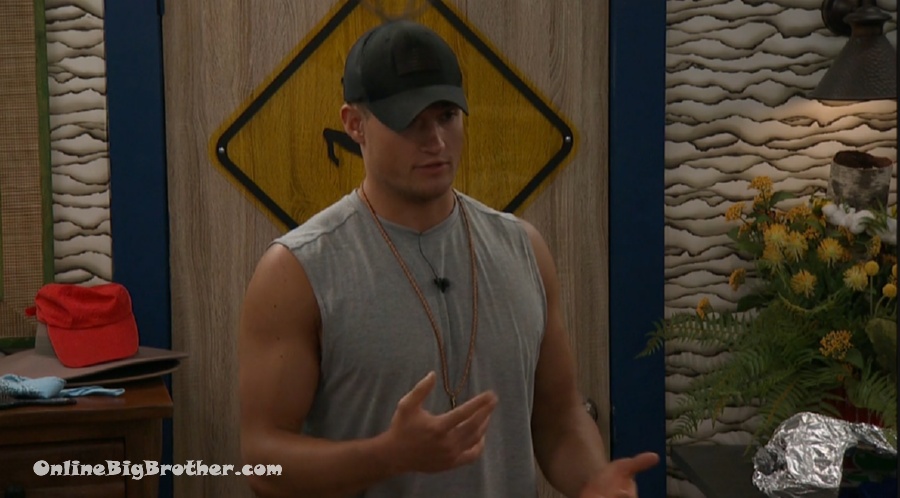 Jackson comes back "I'm sorry you feel like I didn't make the right decision"
Jackson – I have to do what's best for my game
Jackson – I'm sorry you f*ing hate me, I'm sorry you think I'm a liar and I'm sorry I am dead to you. I told you the truth. I never said you were a pawn.
Sis – Okay
Jackson – I never lied to anybody… this week
They argue about whether or not the word "Pawn" came out of his mouth
Jackson – I gave a fair and square opportunity to win the veto and it didn't happen. I gave you an opportunity to campaign
Sis says she had the votes until he said he wanted to go against me.
They go back and forth whether or not it's Jackson fault
Christie goes back to blaming Nick. Says it was Nick going around saying he would use the veto on Sis. "he's playing a really selfish game. He built an army around him to make people protect him of his own sins "
Jackson leaves again. Christie goes on about she's probably going next.
Sis says she'll be fine she's covered all her bases
Christie – what bases did I cover
Sis – Christie, You're not going home.
Sis – I'm so f*ing mad