POV Holder:
Godfrey
Next POV
April 24
POV Used
?
POV Ceremony
April 26
HOH Winner
Pili
Next HOH
April 29th
Nominations:
Sindy and Godfrey
Have Nots
Brittnee, Sarah, Kevin, Godfrey
POV Players
Godfrey, Pilar, Sindy, Willow, Bobby, Kevin.
Host is Sarah
(Godfrey will use the Veto to take himself off the block. Pilar is planning on putting Brittnee up as a replacement. Sindy is going to try and convince them to put Bobby up.)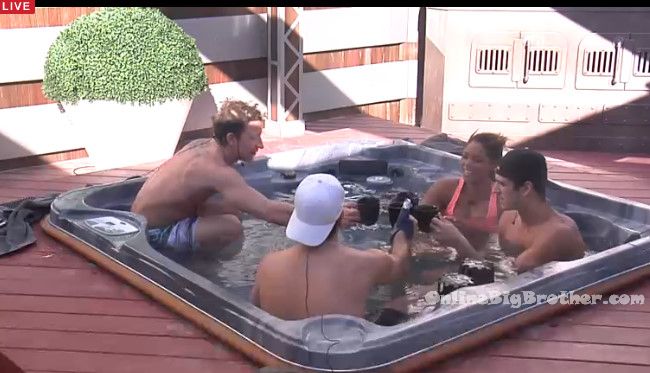 8am – 8:50am Big Brother blocks the feeds.
8:50am – 9:20am When the feeds return – Bruno, Bobby and Brittnee are in the hot tub. Brittnee says this is the way to start the day. Bobby says this is the way we always start our day. Zach joins them. Bruno says today is going to be a sick day! Bobby says maybe a task or a challenge today! Zach says we're over the half way point now. They cheers to making it that far. Bruno says Willows costume is funny. They talk about the weather and activities they would do in the nicer weather like camping and fishing. Zach and Bruno head inside. Bobby and Brittnee start suntanning. Godfrey joins them. Brittnee asks him if he's feeling good after his win. Godfrey says yeah. Kevin joins them. Bruno asks God how he's doing? Godfrey says good man! I can still taste that chicken! That victory. Willow joins them and says yeah I'll tan… I might get a little red! OHHHH! (We're going to be hearing her 1 liners all day)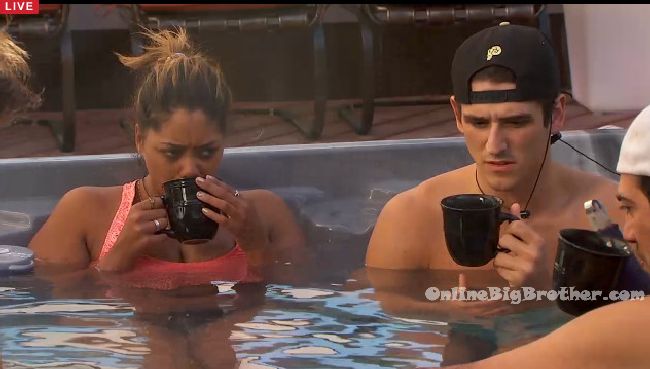 9am – 9:20am Up in the HOH room –
Kevin and Pilar are waking up. Willow joins them and puts on her ketchup costume. Pilar says you look really cute. Willow says I'm blushing because I saw the salad dressing. Willow says I either pee'd myself or had an orgasm when I saw the mystery card. I had to look at my underwear. Ashleigh tells Willow "Spooning leads to forking use your condiments"
In the bedroom – Sarah tells Sindy to tell Pilar why don't you use me? I lied to everyone in the house. Even though they used my vote, they hate me! I lied to everyone. You can use me. Sarah says say that to Zach .. and ask will you go with me to talk to Pili?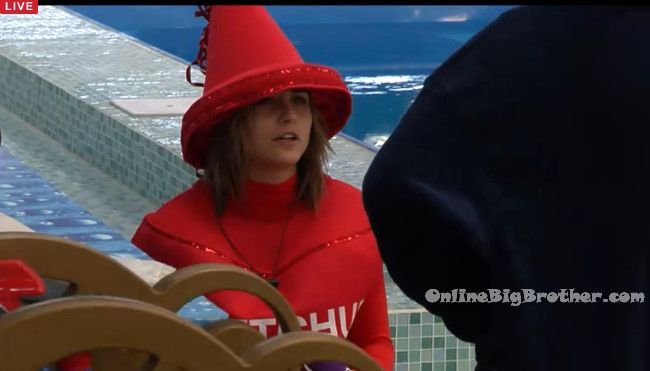 9:35am Hot Tub – Willow, Zach, Bobby, Bruno, Godfrey, Sarah and Brittnee are out suntanning and chatting about random things. Willow says Sarah you said you wanted to role play. Sarah says I'll be the hot dog. Willow replies I'll squirt some on! Ashleigh joins them. The conversation turns to talking about the Simpsons. Pilar joins them.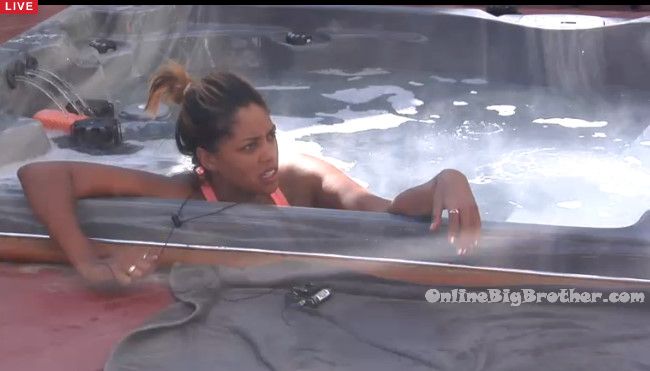 9:40am – 9:50am Up in the HOH room – Godfrey waits for Sindy to finish her shower so he can talk to her. Godfrey tells Sindy we tell Pili to put up Ash. Sindy says she will put up Britt or Sarah. Godfrey says he's the logic everyone has been up but Ash and.. Sindy says she will never put up Ash. Godfrey says why not put up someone who has never been up and never been a pawn. Sindy says it doesn't make sense for me to say that. She had the opportunity to put up Bobby or Bruno and she didn't do it. I don't want you to suggest Bobby or Bruno and Zach talks about it saying Godfrey threw you under the bus. Godfrey says I don't want Sarah, Britt, Bobby or Bruno on the block ..those are the people that voted for me last week. Sindy says I would rather Bobby be on the block because he wants me out and would never vote for me. Godfrey asks you think you can beat him? Sindy says yes. Pilar and Ashleigh join them and the conversation ends.

9:50am – 10:15am Big Brother blocks the feeds. When the feeds return – Sarah and Willow are out by the pool. Sarah says I'll sit Bruno down again. Willow lays down by Sarah. Willow says so right now they're kind of like … they're all up there telling her what to do. Willow says that Bobby hates her (Sindy) and Pili is scared of her. Sarah says where was Bobby when Graig was screaming at me calling me a manipulator… not that I need that but.. They head into the kitchen. Sarah, Willow, Pilar and Ashleigh talk about live feed updates and how people write word for word what they say minute by minute.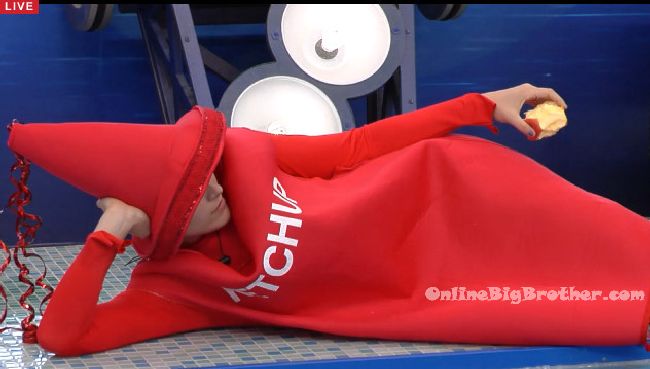 10:20am Brittnee says still no word on who they're putting up. Sindy asks is that from Pili or others? Brittnee says both. And every time I see Pili I don't want to talk game with her. I just want to chill out. What will be, will be. Its interesting to see how now that we're in jury how people are acting. Sindy talks about how Bruno acts around her… and how he hugged her after the the veto but hasn't talked serious with her. Sindy says I think Pili dropped that I suggested Bobby and Bruno go up. Brittnee says Pili being HOH is a waste. Sindy says its a waste of an HOH. Brittnee says she basically gave it to Ash and Zach. Sindy says when I suggested she put up Bobby or Bruno she said no they've been so nice and haven't done anything to me. She said its still early in the game. Sindy says its half way through the game. Brittnee says basically what she's implying is .. Like who is she going to put up then? What a waste! What a waste.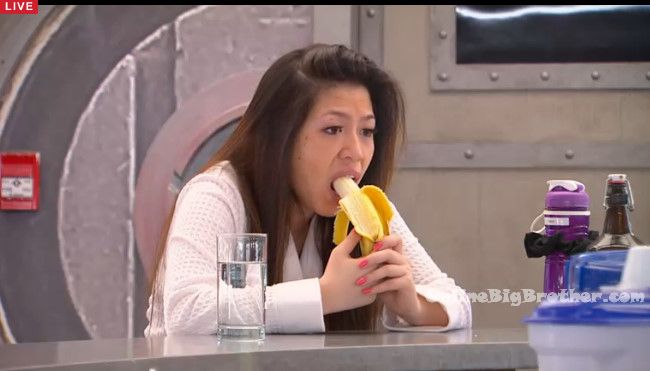 10:30am – 11am Brittnee heads up to the HOH room and comments to Sarah that they haven't said who's going up. Sarah tells her to relax and sit back. I don't think they know what they're doing yet. They're scrambling. I sense dissent among them. Sindy comes up to the HOH and talks to Sarah. She tells her about the conversation she had with Godfrey suggesting she go up to Pili to get her to put up Ash. Sarah says no don't do that. They're scrambling. Sindy asks when should I talk to Zach. Sarah tells her not to do anything yet. Sindy tells Sarah that she is so loyal to her. Sindy asks about Bobby's secret veto. Has he shown it to you? Sarah says no. Sindy asks do you think he has it? Sarah says it doesn't matter it in their heads. Sindy questions when Allison (BBCAN2) used hers. Sarah says before the vote. Sarah heads downstairs. Sarah says to Zach you don't have to say too much but I am here to work with you if you want. Zach says next week if I win HOH you are safe with me. I don't know too much. If I win next week and keep you safe then you know where I'm at. Sarah says I still trust you. Zach says I think you and Ash have had some great conversations. Sarah says I love Ash and we did have some great conversations. There have got to be people who scare you more than me. Zach says yup. Zach asks do you feel like they're after you? Sarah says kind of. Why have you heard something? Zach says no. I feel the same … I just don't know. Sarah says I don't trust anyone .. I trust B. Bobby won't give me the time of day. I was trying to comfort Sindy. But to Bobby he thinks I'm trying to work with her. Why would I work with someone on the way out the door. I don't know where their heads are at. Zach says I realize now if they had power they(Bobby & Bruno) would have (tried to get him out). Sarah asks do you think Bobby has the secret veto? Zach says no way. You don't tell people that. Sarah says if you send me and B home I don't know where you would go. I would just pray to win HOH every time. Zach says when we go into the HOH don't count me as someone that can't win. Sarah says okay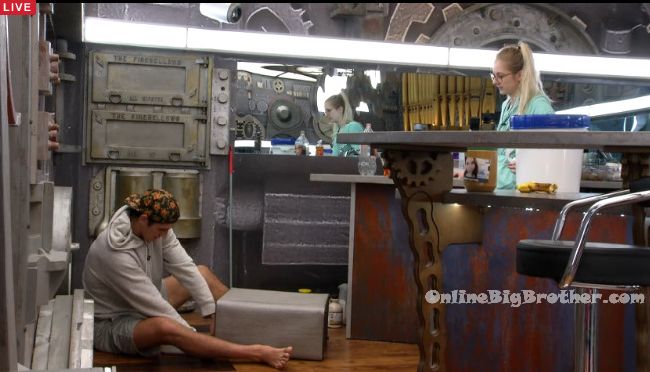 Hot Tub – Willow says "Hey Godfrey .. you can lick the bottle!" "You can screw me from the bottom."
ALLIANCES IN THE HOUSE
There are always a lot of Alliance but we've tried to make sense of it all.. Read our alliance help guide
[polldaddy poll=8819718]
Share it YO!!
Tweet