Head of Household Winner – Cliff
Have note are: Tommy, Christie, Jackson, Kat
Nominations are: Jack and Jackson
Power of Veto Players are – Cliff, Jack, Jackson, Sis, Sam, Kat
Powers in the game
Christie – Panic
At any of the next four Power of Veto Ceremonies, Christie can turn the Golden Power of Veto into the Diamond Power of Veto and allow the current veto holder pull someone off the nomination block, but instead of the Head of Household naming the replacement nominee, the veto holder names the replacement.
Grab your live feeds —-> BB21 Live Feeds Subscription Link
Rank your houseguests —-> Big Brother 21 Ranking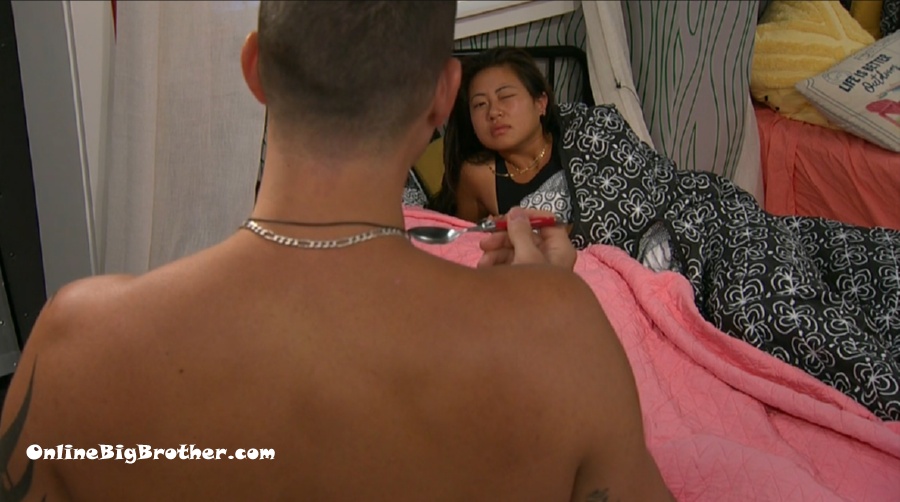 10:27 am wake up
Sam says he did his last night at 1 am it was really quick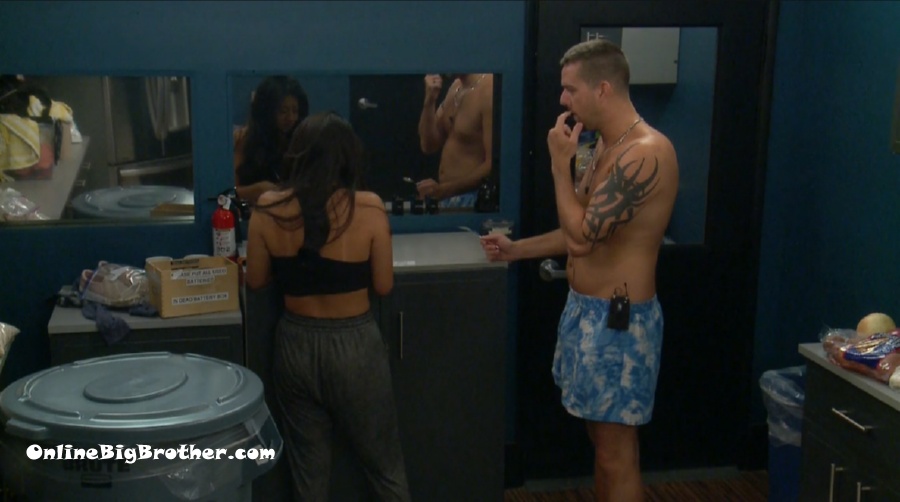 10:35 am Bella and Sam
Sam – they all hang out with Jack and Michie and they are like ohh you are hanging out with them too much
Sam – Ohh I'm sorry it's so weird (Yup it is)
Sam – I'm going to go shower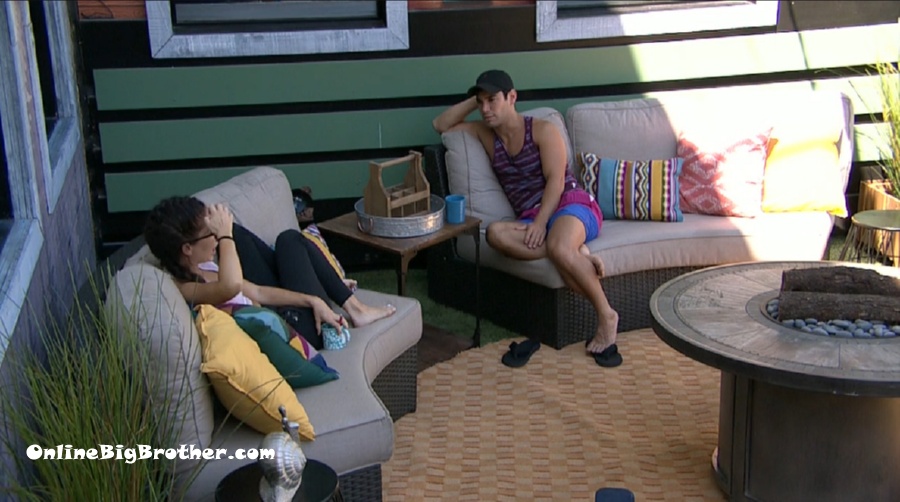 10:52 am Tommy and Holly
(Talking about what goes up "online" and Holly banging Jackson)
Tommy says there are videos of other people online
Tommy and Holly have both never watched any live feeds so they are basically totally unprepared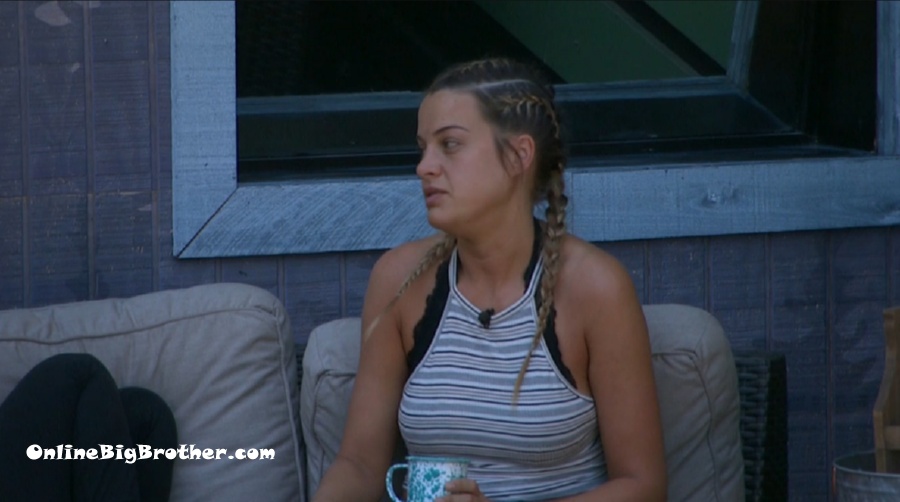 10:56 am Christie, Jack, Holly, Tommy
Christie – so basically .. I was just freaking out because Nicole came out to me. I thought for sure we would have 6 votes .. Including Nicole and kat .. Kat to seems to be on board.
Christie – I didn't want to rely on Kat at that last final hour I know she's close to Cliff and her and Jess have been saying all week that they are supporting Cliff
Christie – Nicole pulled me aside and basically said she feels like she's stuck between a rock and a hard place because her heart and her morale and her soul and what she stands for is telling her to get out Bella but if she counts numbers is feels like she owes us the world in this game she's indebted to us.
Christie – She's not comfortable keeping jack even though she wants Bella gone. So I go into pure panic mode
Christie – Sam was being annoying .. I just knew I had to have a million conversations and I wasn't prepared for it.
Christie – then Jackson was, I feel like Jackson wasn't understanding .. yeah it's clear cut Bella is the target give him the power he'll put Bella up for me. It wasn't about the blood. If I did it and still didn't have the votes that's what I was terrified of.
Sis joins them
Christie – realistically he could still put me up or any of you guys ..
Christie – we had an hour and a half conversations (with Cliff) .. it was such a productive talk. He went through the reason we went with the two of them. He basically said in retro spec .. I'm not an idiot I know he's only regretting it now because one of them one the power and he knows I'm using my power and they are both going to stay.
Jack – he was trying to fish out my power two.. people thought I had it
Christie – he said for his game at the moment he wanted to put up one of and one of them and it is a numbers game and regardless of how much he dislikes Bella and regardless of how much he's threatened by that trio we six voted him out
Christie – in the moment how can I not put up 2 of you because that ensures that they're coming after me now for choosing sides he said, to be honest, I had to go with the biggest great in the house and JAck to me is the biggest threat socially, mentally and physically.. he said he's an animal
Christie – he said in retro speck I think it was a mistake because chances of one of them winning the veto and coming off was big
Christie – these perfect plans were pitched to me and I couldn't go with them (LOL the perfect plans were shit shooter plans)
Christie – he said I wouldn't be surprised if I went up next week and went home .. he's scared right..
Christie – I was going through all the reasons to use my power.. and I said it's not about protecting the six we were an 8 that fell apart. (Jack interrupts Exactly)
Christie – I said we're super flexible with working with people and you weren't our target our targets it was the two outta the 8 that scummed us over. (Not our target yet we all voted you out XOMG)
Christie – I said you were not going to go up on the block by any of us and you probably wouldn't go on the block this week if any of us were in power (Probably)
Christie – it was an isolated issue that the six of us voted you out it was more like an F* you to them then it was we want him (Cliff) out
Christie – we were standing up for Nicole and quite honestly we were terrified of Ovi coming back (ZOMG … .i hope cliff puts her up)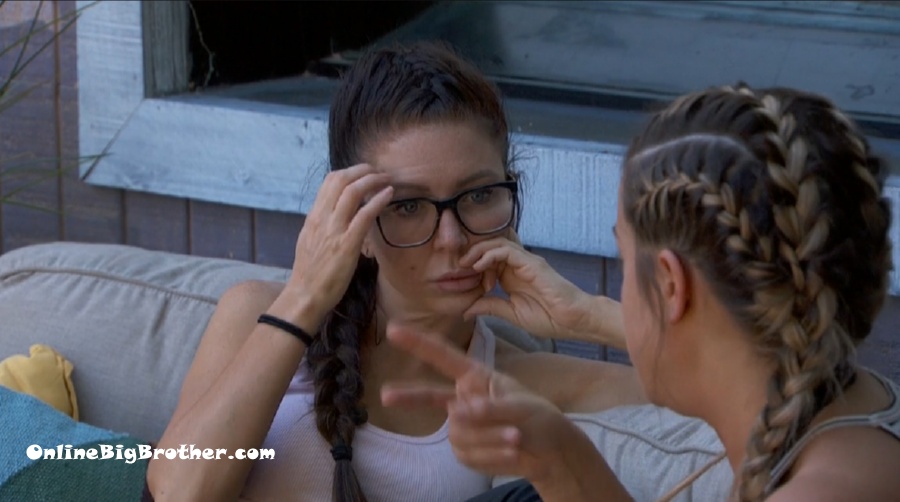 Christie – and he believed all of that
Christie (retelling what she said to Cliff) – truthfully I'm probably going to use the power i'm just keeping you in the loop about it I don't want you bamboozled you have my word I'll let you know on Monday morning
Christie – he's like .. you can tell he was just scared because he now knows the two of them will be back so he goes.. how close are you with Jack ..
Christie – he said Jackson wasn't his target .. JAck is his target ..
Christie – he goes how close are you to jack and do you trust him with promises you make to me
Christie – he goes if you were promising me you won't put me up and Jack stays this week can you guarantee he won't put me up
Christie – I was like if you are cool with me using my power and encourage the girls to vote Bella out than yeah .. the fear is if I use my power Bella might still stay
Christie – he said no I have no problem if you can guarantee my safety from him (jack) I will convince the girls and I will give them my support
Christie – I said Jack's not this scary guy he's a f*ing mush he's cried more than me
Christie – He goes I just feel bad you earned this power Like you earned this power and I would hate you use it on someone that isn't yourself. he goes what if you didn't use it and like I let you pick who goes up so I was like, to be honest, I don't feel really comfortable with that because you might put one of my alliance members up .. I didn't say alliance I said one of us 6.
Christie – he was like if you are comfortable with coming to Nick with me and breaking the news to him that you are going to use your power anyway and Bella is going to go home anyway and that she's bad for his game and that has nothing to do with him I will put up Bella you can save your power. in exchange for you saving your power for two weeks none of you six can put me up for two weeks can you promise me two weeks of safety in exchange for ou keeping me safe for two weeks once it's done and your power is gone like it's a fresh slate you can stay with me or against me I just want more time in this game and realistically if you are going to use your power in this game any way I'm screwed it's the least I can do I need protect two as long as you can break the news to me and Nick
Christie – it'll be a 10 -2 vote or 9 -2 how many people … 8 -2 .. Nick and Sam will probably keep her. I keep the power all six of us stay and all we have to do is not put him up for 2 weeks. Like no backdoor either.
Christie – I feel like it's a win he probably realizes too sh1t they are both staying I need protection and if he can buy two more weeks in this house that everyone hates smart f*ing move genius move
Christie – he said to me we'll have each other's back for 2 weeks he said I can't play for the HOH but the following I can and I won't put any of you up
Christie – if he knows we're keeping him safe he'll throw them (HOH)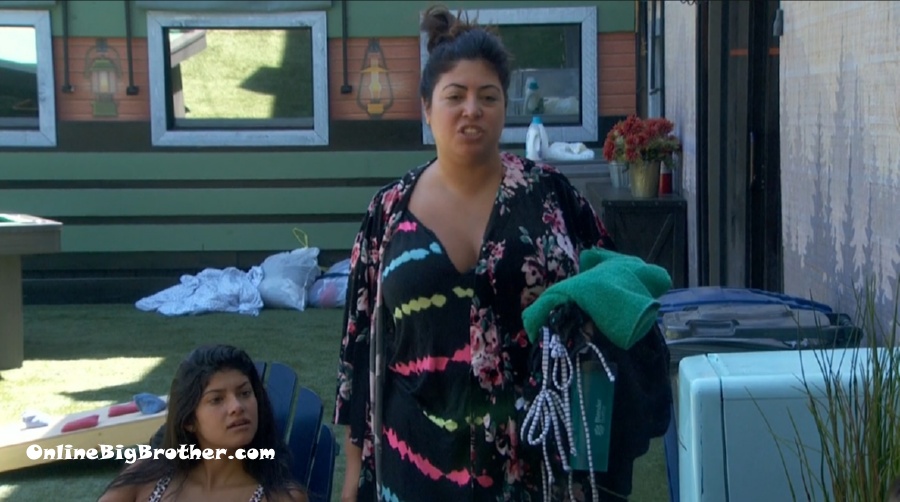 Jessica joins them … the game talk ends.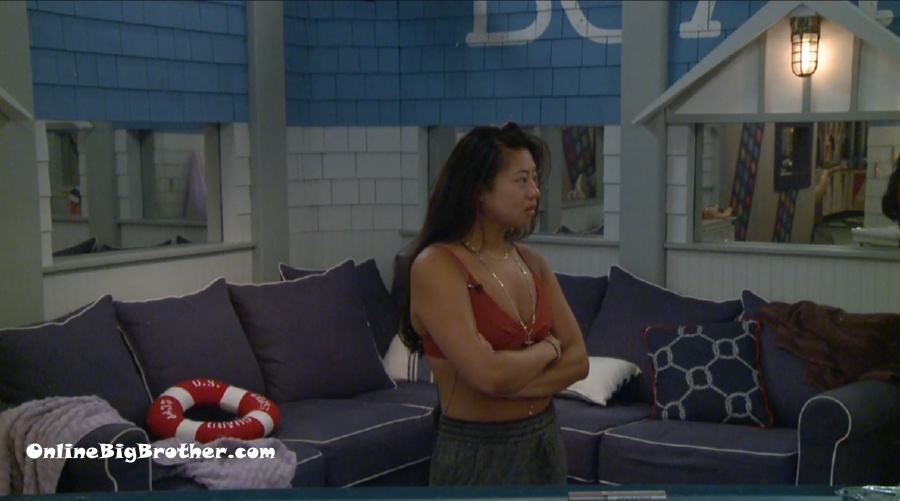 11:03 am Bella and Sam
Bells is wondering if she should put on her lashes just in case "sh1t goes down today so I look pretty"
Sam – this might just be a little hiccup right now we might still be doing good.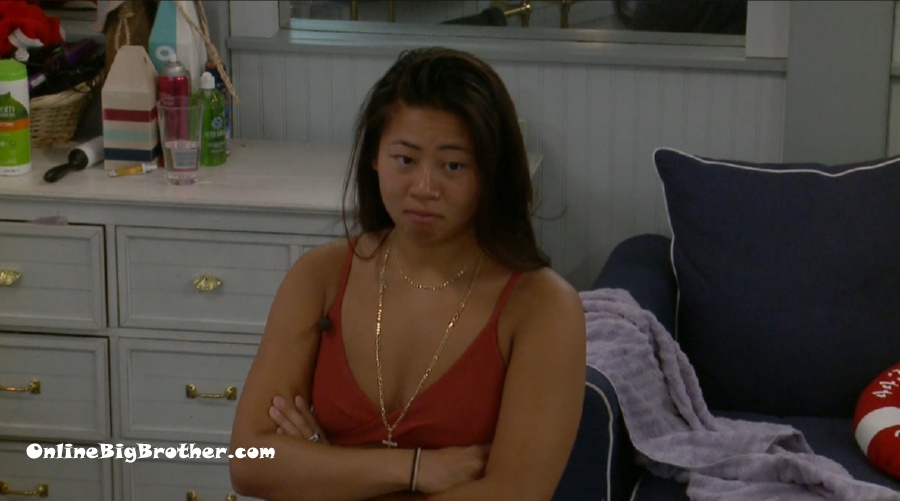 Bella – Sam I really think there's a 75% chance I'm going up
Sam is going to give Bella his families contact information in case she gets voted out this week.
11:14 am Christie walking around manifesting sh1t
Christie tells sam she's 7 days late .. and 10 lbs heavier .. I don't feel stressed I feel out of my element.
Sam – what time do you wake up on a workday
Christie – 9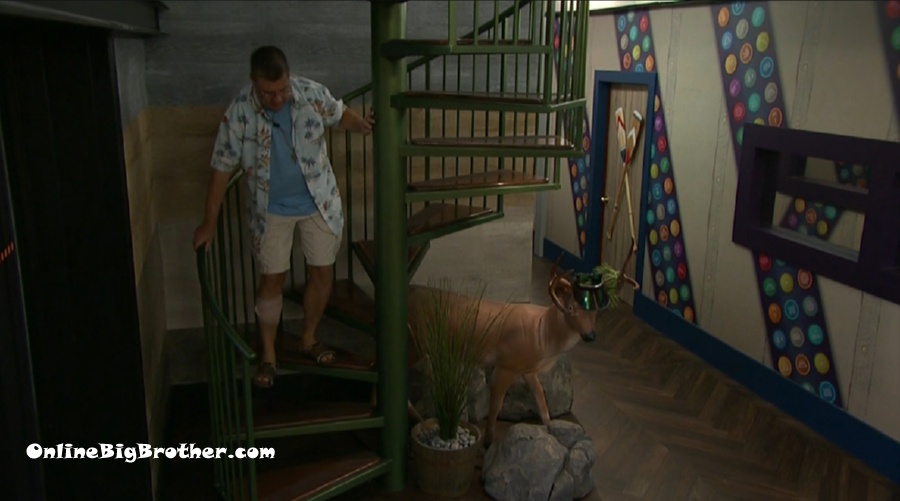 11:16 am Cliffs banged up leg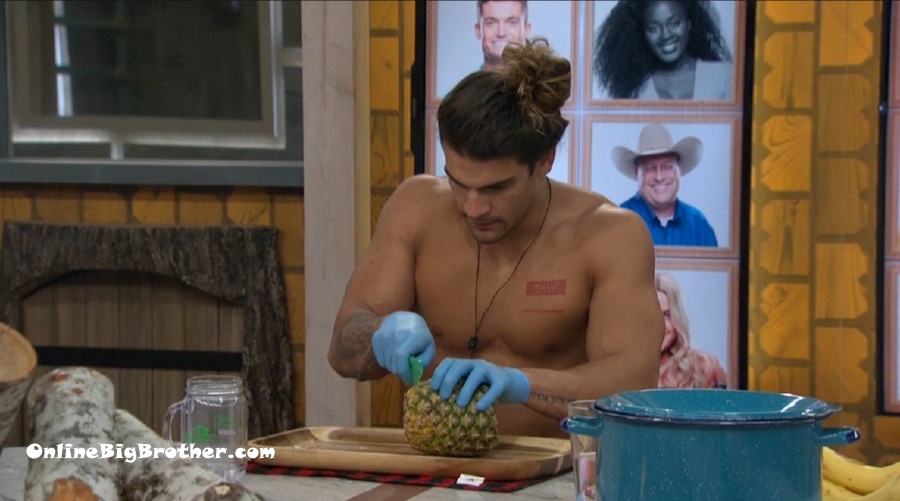 11:36 am Pineapple with Gloves
Holly in the background telling Tommy and Sis she cannot understand why Kat is allowed to sleep but the rest of tehm arent'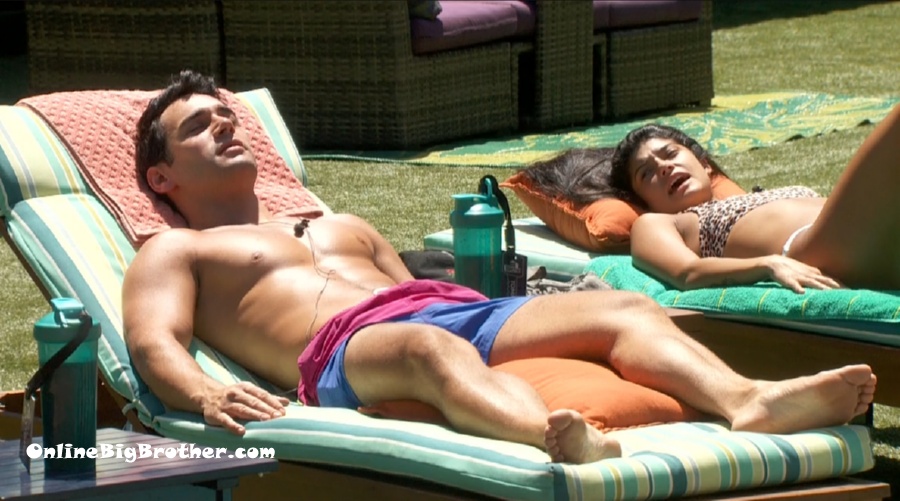 11:44 am cam Sis and Tommy
Tommy – we have to win next week
Sis – we have to
Sis – who do you not feel comfortable with winning
Tommy says "the one with Christie right now", Sam
Sis – he'll never go against us
Tommy – we'll see, there are so many people we have in our team that we couldn't beat in the end
Tommy – you have to align yourself with a good amount of people you can beat and couldn't beat (sis would be in the beat column)
Tommy – especially me and you because we are playing Similar games
Tommy says Christie is a beast
Sis – she's amazing
Tommy – at the end you know … at the end, it'll be a fight which I love. If there is too many BIG people there then like I just don't see a chance
Sis – mmmhmmm .. I feel like people will only take me along because they know they can beat me in the end which is a shitty feeling
Tommy says the cot in the Have nots is great he's sleeping fantastic. "I covered the pad in three blankets so it wasn't noisy it muffled the sound.. I woke up once and then feel right back to sleep"
Bella joins them uses the outdoor shower.
Become an OBB Member:
If you are one of the generous people that donate to help keep the updates coming, we're giving out a bit more this year. Check out this page for more details: OBB Members