POV Holder:
Nicole
POV Competition
Aug 27th
POV Used
NO
POV Ceremony
Aug 29th
HOH
Nicole
Next HOH
Sept 1st
Original Nominations:
Paul AND Big Meech
After POV Nominations:
Paul AND Big Meech
Have Nots
Corey and Victor
Care package
Corey
Watch the next week of the feeds for FREE – 1 week Trial!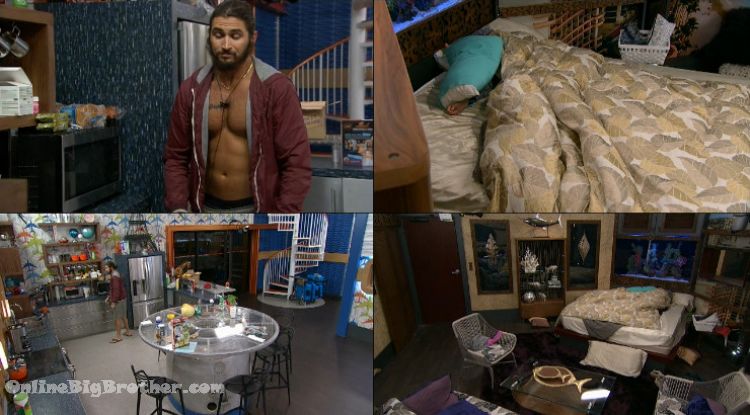 1:00pm Not a busy morning.. people still sleeping for the most part
2:38pm HOH Paul, Nicole, Victor and Corey AKA FINAL 4
Nicole teasing about Victor being Corey's new best friend.
Paul – they were talking again.. .it got quiet again.. (they= Meech, Natalie and James)
Paul – she (nat) asked so wait Paul.. you really don't know what is going on .. I'm like no
Paul – and she's like OH MY GOD Michelle doesn't know anything.. I don't know either..
Paul explained to Natalie that Victor is voting out Michelle and Natalie is voting to keep Michelle so it comes down to what they all want.
Paul mentions that Natalie said Corey will do whatever Nicole wants.
Paul- I Said not necessarily you don't know that.. They said probably…
Paul – James started talking about Double eviction again..
Paul – then it got weird.. He said… Paul i'll be honest with you bro.. I was like here it is..
Paul – he's like he's like.. .i'm ready to leave on that double eviction
Nic – what are you kidding me..
Paul – he's packing right now.. Natalie was like STOP IT JAMES..
Paul – he was like this ain't my first rodeo..
Paul adds that James is telling everyone if Paul leaves this week he'll leave nest on the double.
Paul says Michelle wants to know so she can decide what Dress to wear. Paul explains he told them that he doesn't want to know, "I'm prepping that I am going"
Paul goes on impersonating Natalie saying it's shitty that nobody will tell them what is happening this week.
Nicole – Nobody has asked..
Paul – I said in their defense.. Has anyone asked them.. They said no..
Nicole – what am i supposed to do go tell them..
Paul – exactly
Paul adds that James and Natalie were telling him since he's been spending so much time with Nicole and Corey why not he ask for them.
Paul give them a heads up that James or Michelle will be asking them because he told them he won't ask for them.
Corey says James is trying to get the bribe. Victor doesn't want him to give it to James.
Paul says he's planning "something" to do with Michelle during the eviction to prevent her from "Shitting" on people
Nicole – she wants to crap on me hard, everything that comes out of her mouth is pure emotion.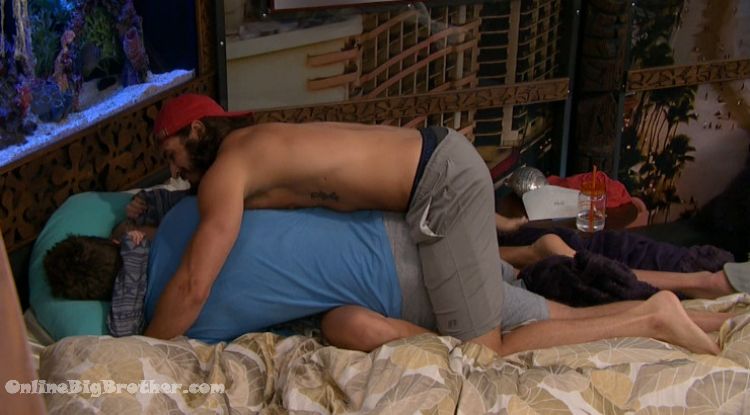 Paul – I was going to suggest to you I wouldn't tell him
Paul – they want to know.. James, in his head.. He's trying to put it together but he can't ..
Nicole – I'll just make is really hard for them to ask me.
Paul – dude I would just not say anything.. They literally don't know.. They don't know
Paul – they really in shambles kinda
Nicole – I'm confused by them
Corey – me too
They go back to giving James the bribe none of them want to. They also agree nobody will drop from the HOH.
Corey says he's been trying t0o find out what type of comp it is.. Feeds cut..
Paul brings up "They" kept at him about Victor knowing and hanging out with Corey all the time. Paul explained to them Victor and Corey are have nots together, "They were ohhh right"
Paul – i'm shutting down everything they are saying with a logical reason..
Victor – fool wants to be part of our club
Paul – I honestly think you shouldn't tell them the more they are question marking the better it is..
Victor – do what he did to us.. I don't know..
Paul – they are like the only way Paul can stay is if it's a tie and that's IF Nicole decides to keep him.. So f*** me..
Paul – I would rather have them be like F*** than them know what's happening.. Why tell them..
Nicole – OK
Victor complains about not getting any sleep.. Nicole says they should stock up on sleep tomorrow morning before the show.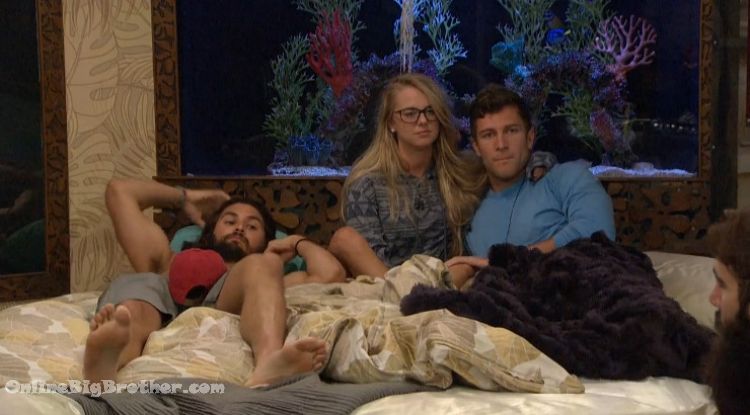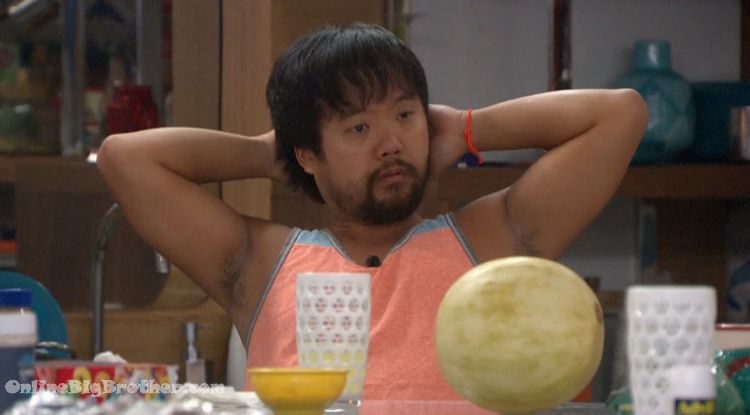 3:20pm James and Natalie Chit chat.. They are joined by Paul and Corey where they begin talking about Halloween. Paul says he's hiring a magician for his Halloween party. Paul talks about possible costumes, wants to wear a ship with Friend written on it. "A friend-ship"
Paul – "James you better come"
James says he'll have to check his schedule "I'm a busy guy"
Natalie asks who he's inviting..
James- what about Aaron Carter
Feeds cut..
When the feeds are back Paul is telling them they can all invite their closest friends.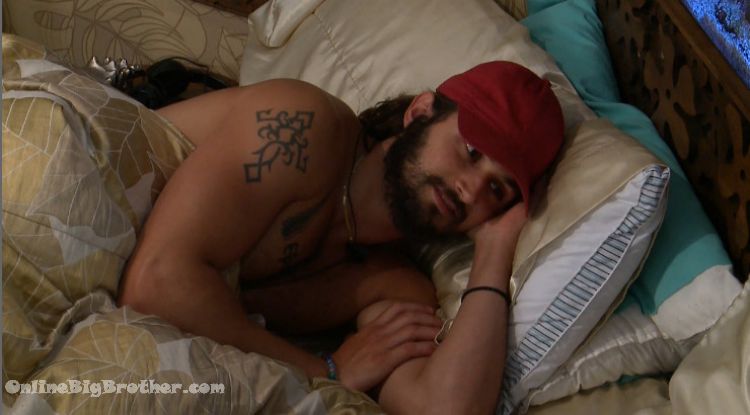 3:24pm Nicole and Victor studying..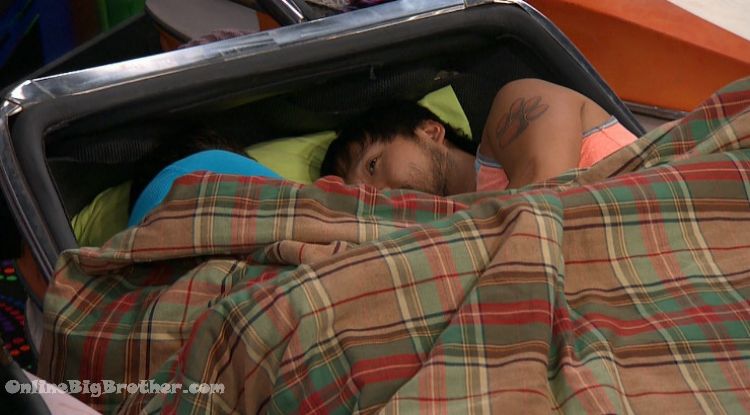 4:00pm James and Natalie
Natalie – stop saying you are going on a double nobody is taking you out beside Victor
James- that's strategy..
Natalie says Victor, Corey and Nicole don't talk any game.
Natalie – I think they are going to stick to the final 4 deal (JAmes, Nat, Corey and Nic)
James – I think so too..
Natalie – they are keeping their enemies closer..
James
Natalie – good smart man..
James- i'll be surprised if I make it outta this double
Natalie – why.. who is voting you out James.. Nicole, Corey not.. Meech no..
Victor – you no Victor yes…
Jame s- if Victor puts up Corey and Nicole or Corey and Me that's a problem..
James says he doesn't thin Victor will put that up he thinks it'll be James and either Michelle and Natalie.
Natalie – Meech has to win
Jam es- if not you're butt is touching the block..
Jame s- I'm scared..
James says Natalie went on the block because Paulie went against him
Natalie says she would never have put her best friends showmance up..
Natalie says she blew up Zakiyah and Paulie's game by exposing what they were saying about her and James behind their backs. Natalie calls it Ironic.
Natalie says she's mentally "Checked out"
Natalie says if she wins HOH she'll put 2 of Nicole, Corey and Victor up.
James – I would put Meech up..
James laugh, "You should have seen your face"
Natalie – honestly I would put Corey and Victor on the block If I had won, Michelle would put up Nicole and victor..
James saying if Veto is played put Nicole or Corey up as the replacement and everyone would vote Nicole out.
Natalie says she doesn't care anymore.. James says they should make out.
Natalie – JAMESSSSSSSSSS
Natalie adds she's goign to give every Comp her all and then "Just Chill"
Natalie – never cared.. comps are the only think I like anyways.
They talk about the finale..
James- my manger might be here
Natalie -derrick's dad
James- time you're the man..
James says he talked to Derrick before the season he came by his house and they had a conversation.
James says Nicole was never trained by Derrick adds that Nicole "lied" to Derrick and told him she wasn't goign to be on this season. (Apparenlty she digned up 1 month before it started)
Natalie is skeptical.. "they're friends they hang out she knows his wife.."
James – well maybe..
James says Derrick told him to throw every single competition for the first 1/2 of the game, "Your social game should be strong it should carry you through 1/2 of the game"
Jame says he needs to win 2 comps to get to final 3.. "2 Vetos to get me there"
Natalie says she's not goign to Paul's Halloween party, "I only care about my family and gettign in shape"
Natalie – can't wait to see what I do with my life
Jame s- me too.. invest 1/2 a million dollars..
Natalie – I hope you win outta everyone in this fricken house..
James- I want you to be up on the chair with me..
James says even 50grand is life changing..
Natalie and James both agreeing that Corey and Nicole are goign to date after the hos
James – they have fallen for each other.. they're actually really cute together too
Natalie – I know
(ZOMG)
4:35pm James – the balls in Corey's court..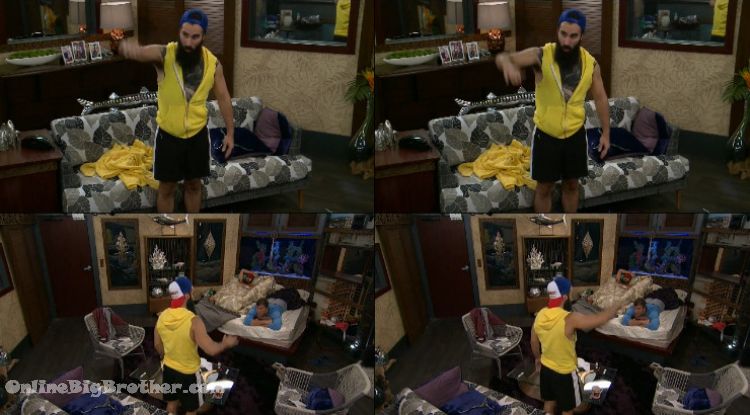 4:50pm Chit chat..
Paul talking about his dogs.. "He's this tall 150lbs.. "
Vic – dude weighs as much as yo more..
Paul – he's me as a dog..
Over in the London room James and Natalie are talking about Zakiyah and PAulie. Natalie says she's staying away from Paulie, "I don't want him to look my way"
Jame says paulie is going to be her best friend when they get out.
Natalie says her and Paul would pat her like a dog..
Natalie says she viewed Paul as a brother, "a little brother"