POV Holder:
Nicole
POV Competition
Aug 27th
POV Used
NO
POV Ceremony
Aug 29th
HOH
Nicole
Next HOH
Sept 1st
Original Nominations:
Paul AND Big Meech
After POV Nominations:
Paul AND Big Meech
Have Nots
Corey and Victor
Care package
Corey
Watch the next week of the feeds for FREE – 1 week Trial!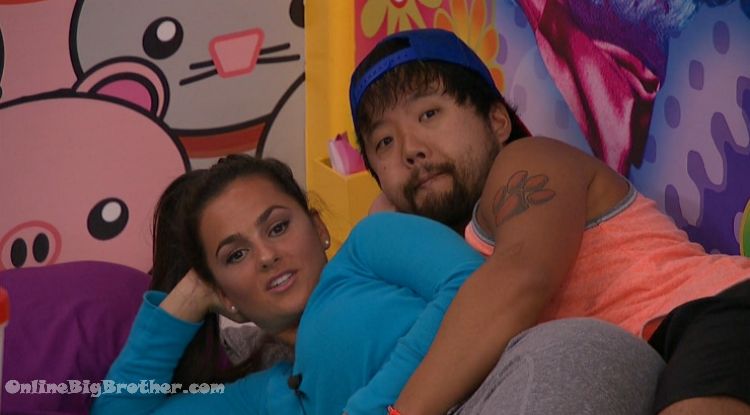 8:00pm Tokyo room James, Natalie and Michelle
Michelle is packing her stuff. Natalie and James eating.
Michelle asks James if she should talk to Corey. James thinks she should. Michelle doesn't want to.
Michelle leaves.
Natalie says Michelle is scared to talk to Corey.
James – why the worst thing he can say is you're going home..
Michelle comes back
James I just know you're staying
Michelle – then why do I have to talk to him
Michelle says the fact they haven't told her anything makes her more pissed off at them (Nicorey)
Natalie is telling her everyone campaigns for themselves even Paulie did.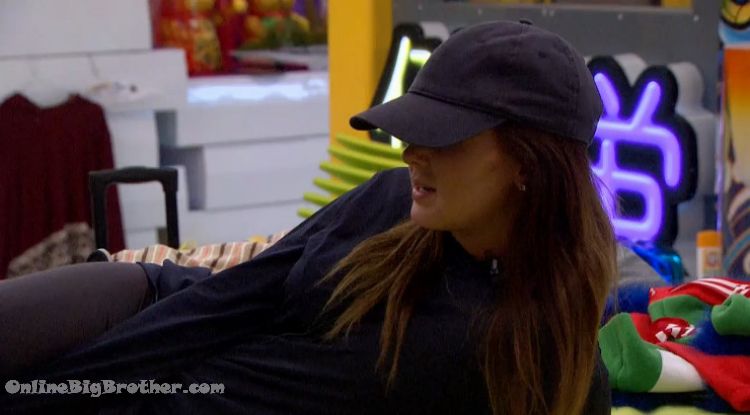 Michelle whimpers that they haven't been talking to her all week long, "When I walk into a room they don't acknowledge me"
Michele thinks Paul and Victor told COrey things about her she thought her and Corey were buds.
Natalie – that's why you have to talk to him
Meech – Nicoe's the most stubborn person ever
Natalie – if they keep Victor and Paul in this game they're winning this game..
Michelle calls Nicole and Corey twiddle dee and tweedle dumb
MIchelle – I like Corey but Nicole is BERGH
Natalie says she's a "gamer" she has to think "Strategy"
Michele says there's nothing she can do.
Natalie says if Corey is thinking about keeping Paul she needs to talk him into keeping her.
Michelle says there is no point they are stubborn and set on a target.
Natalie – what do you think
James – I think she's right
James – if they think she's a threat she's a threat no way you are going to change that.. Whatever is going to happen is going to happen..
Natalie – I think you're staying.. If she's staying she's going after Victor..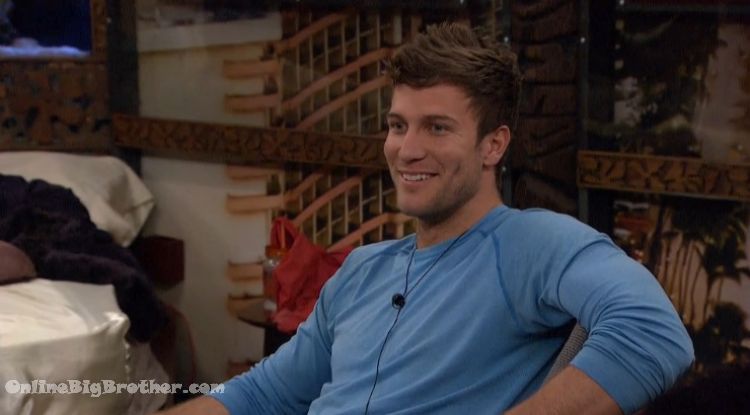 8:15pm HOH Nicole and Corey
Talking about what to do with the 5 grand. Corey doesn't want to use the money on Vic because Victor might use it against them later on.
Nicole – I don't think Vic is going to backstab us right now.. Vic wouldn't Paul would
Corey – should I just give it to you.. What do you think short term or long term deal…
Nicole – Paul and Vic are not going to backstab us tomorrow..
Corey – no they wouldn't
They don't think Corey has enough time to explains himself during the double they have to figure it out tonight and have everything ready to say.
Nicole is worried if he gives her 5grand it'll look bad to the fans, "Does that look selfish"
Corey says the 5 grand could crush their game.
Nicole says if he gives her the bribe it's a move to have no blood on their hands.
Corey brings up how production keeps calling him into the DR to find out what he's doing with the 5 grand.
Corey does not want to waste the 5 grand
Nicole – give it to Michelle and tell her not to crap on us when she walks out the door..
Corey – I'm giving it to Vic he'll like it.. No I'm giving it to you..
Nicole – I don't want it anyway… you know how I feel money is money who needs money
Corey – I'll take it.. .
Nicole wants to make sure who they give it to doesn't screw them over.
They discuss asking Victor to not screw them over if they give him the 5grand.
Nicole says Victor really needs the money "I feel good about giving him the 5 thousand dollars.. The windows in his car don't roll down"
Corey – alright i'm going to tell him.. I have to talk to DR first..
Corey says if they give the bribe to VIc they guarantee Michelle is going home which is happening anyways but they're guaranteeing it.
If he goes to Jury Corey's got his vote.
Corey's negatives are that Natalie wins HOH and Victor tries to team up with her and say Corey used the 5grand to have him go after her.
Corey – I'm leaning towards Vic but I want to giv it to you
Nicole – let's give it to Vic.. right now we're sitting do frickin good..
Nicole says James is playing dead.
Nicole says giving Victor the bribe is a good decision she doesn't feel right getting it. "this is going to help your game giving it to me doesn't help your game giving it to Vic can help your game"
Nicole – he's goign to have your back like you've never beleived.
Nicole – COOOOOOOOOOOOORRRRRRRRRREEEEEEEEEEEYYYYYYYYYYYYYYYYY i'm just scaredddddddddddddddddddddddddddddddddddddddddddddddddddddddddddd
Nicole is wondering if Victor and Paul are sectrely targeting them. Corey say that would look really bad.
Nicole wonders if "they" want them to give it to James.. "but James hasn't talked any game to us.. we can't give it to James"
Corey leaves to tell the DR the plan.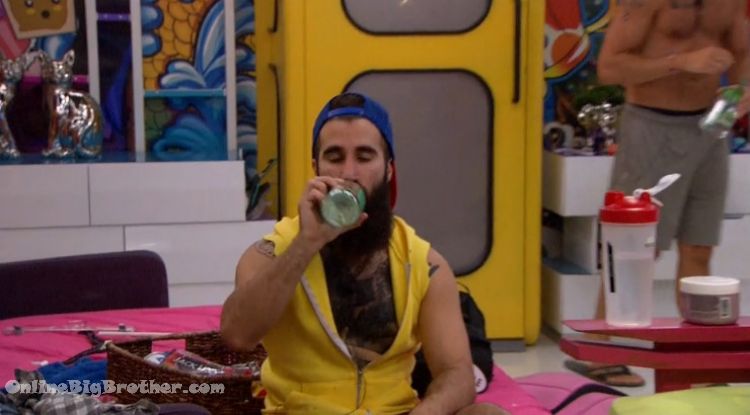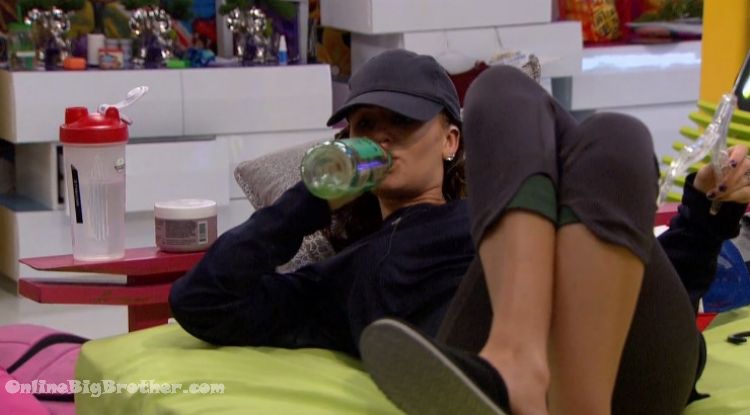 8:26pm Paul and MEECH finish off her wine..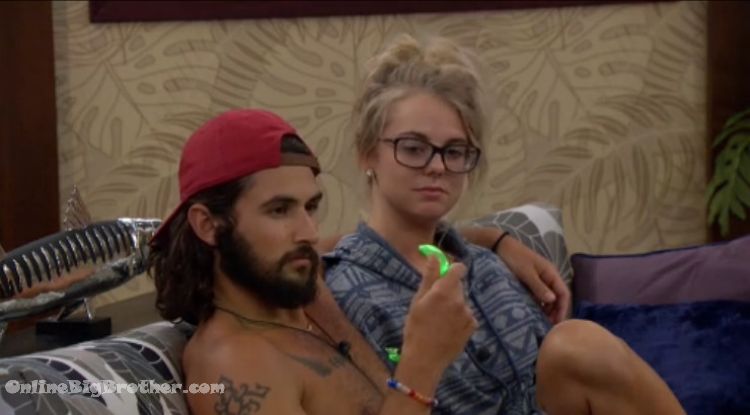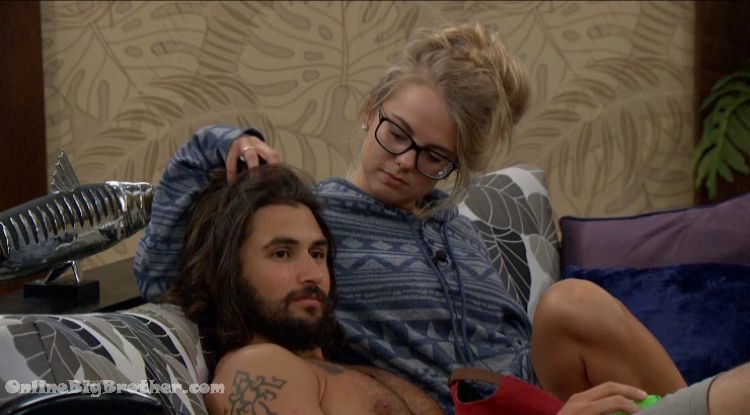 8:37pm HOH Nicole Paul and Vic
Talking about the next HOH.. Paul is going to rattle James before.
Nicole – Victor is smart and Physical
Paul says once JAmes goes Natalie is going to shit her pants. Victor says they have to focus on getting the next HOH.
Paul – already they see Michelle leave and I stay they'll freak the f** out… I'll add a bit of spice..
Paul brings up Meech thinking that Nicole and James have a final 2
Nicole – she told me she's playing with jealousy .. she said that to me to my face.. she's been playing pure jealousy and she's a very jealous person
Paul brings up Michelle making up a fake boyfriend on social media then after she got a real boyfriend use that faker boyfriend to make the real one jealous.
Paul and Nicole agree Meech will never vote for them and Corey.
They talk about how hilarious the beads and nomination speech was.
Nicole about Zakiyah – Did she try to sleep in the same bed as you (She did to piss Paulie off one night)
8:52pm Nicole tells them Corey is in the DR talking about the Bribe..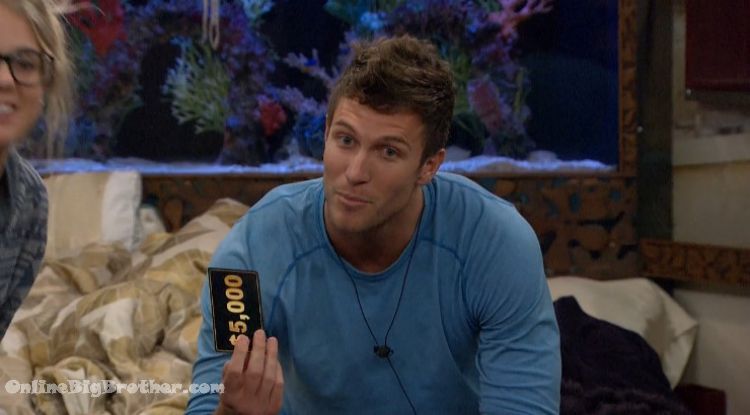 9:01pm HOH FINAL 4
Corey – I got some big news.. we want to solidfy fianl 4..
Corey – If I win i'm not putting you up.. I want to show our loyalty I want to offer Vic..
Corey offers Victor the bribe if he votes out Michelle
Victor – ohh bro..
Paul – that's friendship.. wow..
Corey – you earned it.. you liked that..
Victor is really happy.. hugging them all.. "CANCUN… F*****"
Victor – I accept it I'm voting meech..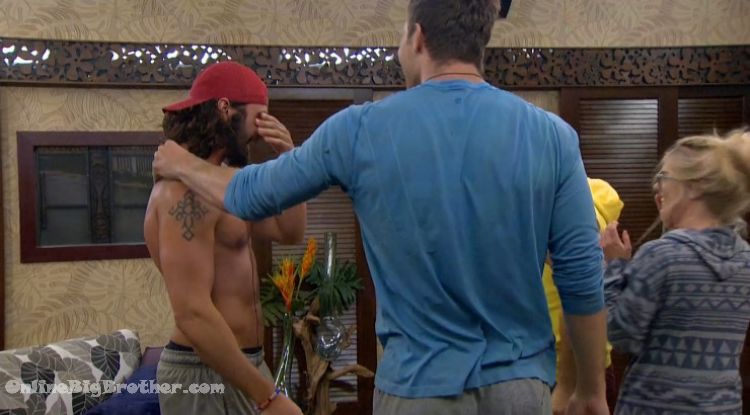 Victor starts to cry..

Corey Bribes Vic to Vote out Meech. Vic accepts. "FINAL 4" #BB18 pic.twitter.com/2Q6ySFRHiV

— OnlineBigBrother.com (@bigbspoilers) September 1, 2016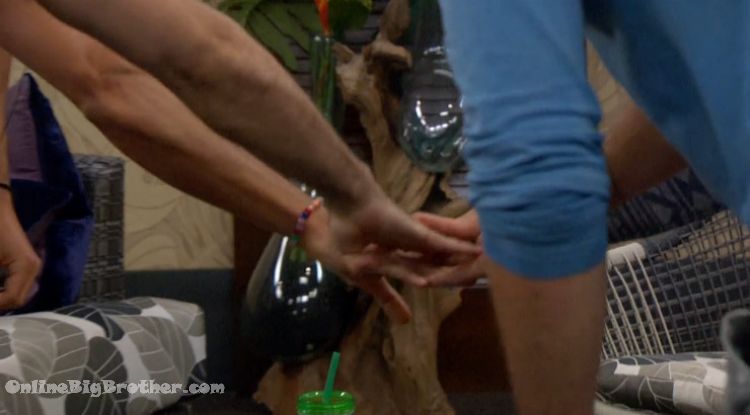 Final 4 – "1 2 3 FINAL 4"
They are all set for Final 4. Paul thanks them for giving Victor the bribe. it's showing they are all solid.
9:19pm
Paul – the Vet, the comp beast, the loud one and Corey
Nicole – the nice guy
Paul – you almost got evicted first day, 5 times on block, evicted twice and never been on the block
Nicole says her first season shew as on the block 5 times.
Victor tells them to throw the HOH to him and he'll toss James and Natalie on the block.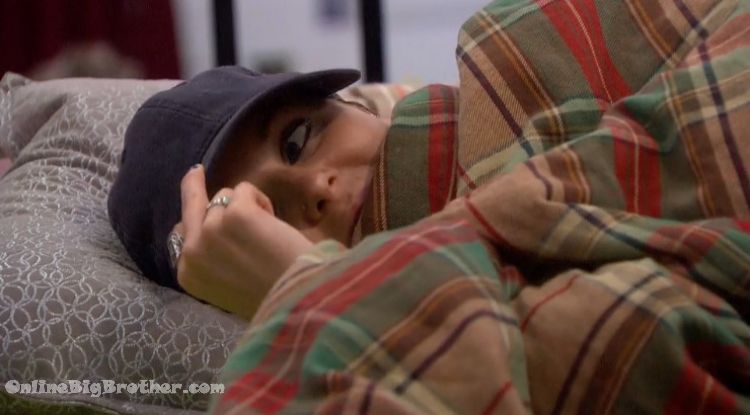 9:38pm Tokyo room Natalie, James and Michelle
Michelle says Paul seems way happier.. She's thinking something happened upstairs..
Natalie – Meech why don't you go up there and talk to them
James – Meech this is your Big BRother game
Michele says she doesn't want to be fake
Jame s- you haven't butt kissed all week
Michele -t hey can come tell me..
James- it's not their job to tell you..
Michele calls Nicroy a$$holes
Nat – you should talk to them
Meech – I don't want to it's painful for me my eyes will bleed i'm going to start vomitting my skin is going to deteriorate and start flaking off
James- OK well if we get blindsided..
JAmes and Natalie says they haven't been told anything. Meech thinks that's a sign she's going home.
James says Paul wouldn't cocky like he is now if he's going home.
Michelle says PAul knows she's staying and is playing nice because he knows she'll blow sh1t up.
Meech – James, don't you think it's strange you said Nicole and Corey are close and they haven't told you anything
James – that's because they didn't need to.. They didn't come hang out with us and we didn't hang out with them..
James- they would tell me they said paul was the target before they put noms up. (lol)
Meech – they didn't say I was going to be up there
James – honestly I thought they were going to put Victor up.
Natalie – they didn't want so much blood on their hands
Meech points out Corey won't have a conversation with her but is talking to Paul all the time. Natalie says it's because Paul kisses his a$$.
Meech doesn't want to talk to Nicole and Corey because she'll look like a fool.
James – you as a super fan
Natalie – it's expected.. So go do it.. Stop being scared.
Meech – I can't stand them right now
Meech – if I go i'm calling that girl out.. Blowing her GAme up..
James – whose Nicole's
Meech – hell ya
James – on the way out the door
Meech – hell ya
Jame s- ok..
Meech – blowing it out of the water.. I swear to god if she is final 2 i hate this game forever.. Never watching Big brother again
James- that's a lie
Meech – dude from day 1 I wanted her gone.
Meech – and then she became HOH and I had to keep my enemies close
Jame s- if you wanted her gone why didn't you put her out
Meech – you wouldn't have voted her out
James- you don't know that..
Meech – trust me that's who I wanted out last week. (we all did meech but you listened to James and Natalie and here you are)
James tells her to go talk to Corey and Nicole now.
Michelle – nothing I can say will make it change.. They have sticks up their butts and tape on their mouth..
James – stick up their butts.. Sounds like it hurts..
Michelle – has to hurt because they have Paul and Victor's head up they're too. Lots of stuff up the butt
Meech – i'm just saying for your sake if Paul stays he's going after the 2 people that voted him out..
Meech – everyone is going to be against you to.. so maybe find out than that way you vote me out and no one cares..
10:10pm Final 4 hanging out in the kitchen… Natalie in teh Diary room. James and Meech sleeping…
10:40pm Kitchen, Natalie and Paul… talking about Paul's clothing company. Paul says he was offered 250000 for his company. If he wins any money from Big Brother he's goign to start a High end clothing company.
Natalie tells Victor he has Doctor hands..
Vic – what does that mean..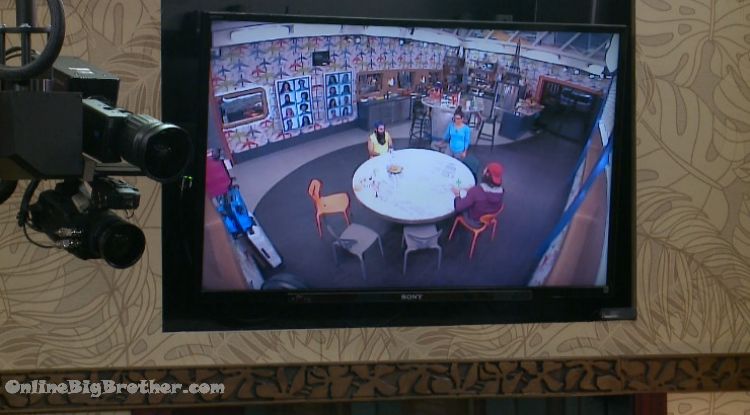 11:30pm HOH COrey and Nicoel
Corey says he would rather see Natalie go even though James is the bigger target.
Corey – not fun to play this game with.. not a gamer… she thinks it's like a game.. it's not a game she's not playing a game.. tans all day everyday.
Corey says JAmes, Natalie and Michelle have tapped out they haven't even talked to him and Nicole.
Midnight HOH Paul, Victor, Nicole and Corey
Victor saying Michelle got sketch when James was explaining final 3 to them.