POV Holder:
Nicole
POV Competition
Aug 27th
POV Used
NO
POV Ceremony
Aug 29th
HOH
Nicole
Next HOH
Sept 1st
Original Nominations:
Paul AND Big Meech
After POV Nominations:
Paul AND Big Meech
Have Nots
Corey and Victor
Care package
Corey
Watch the next week of the feeds for FREE – 1 week Trial!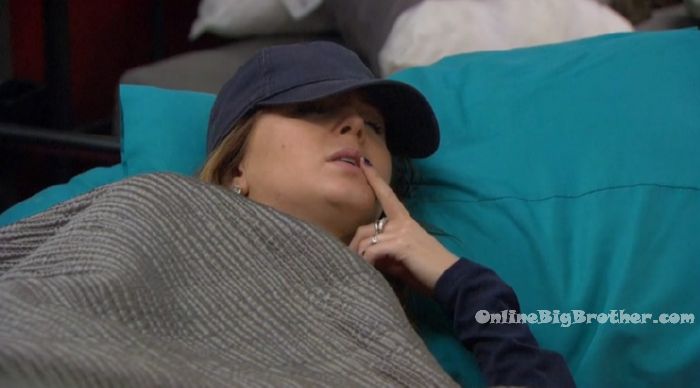 12am London bedroom – Meech is studying the days and events of the house. Nat stops her and listen to this, I just figure this out. When Paul won HOH who did he put Paulie up and who else? Meech says Paulie and Bridgette. Nat says why would they put Paulie up if they weren't going to backdoor someone. Meech says that's true. Nat says they threw .. like everyone made sure that Paulie got the veto. Meech says I wish I didn't tell anyone, anything. Nat says if I win I'm not putting you up no matter what. Meech says I know. What if I lost to Corey. I would be so sad. Nat says you're not going to. Meech says I don't even want to play this game any more with them. Its not fair. Nat says we made it to here with 2 vets still in the house and ahhh what's his name.. Vic and Paul who are mental and physical beasts and we're still in the house with them. We beat out Paulie. We're doing good. Meech says I'm just fed up with the information .. the flip flopping, butt kissing triple threat. He should be evicted by now! He got evicted twice, he shouldn't be here. We sent his butt home! Nat says we have to study harder and win the next HOH. Look how dumb he is he is studying in the middle of the kitchen with everyone around. Just like Jozea. Nat says I don't even care any more we need to win win win and get people out. We made big moves.. we got Vic and Paulie out.. We can do it again. Nat asks if you had the bribe who would you bribe? Meech says Victor.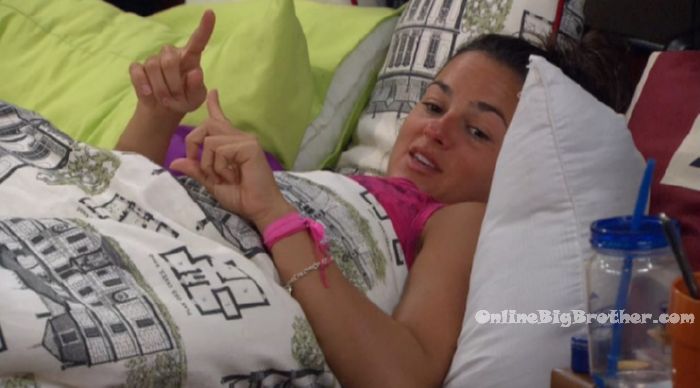 Watch the last month of the feeds for ONLY $5.99! Try it FREE for 1 week!
Nat says they're going to bribe their target. If you were still in the house they would bribe you. Meech asks I'm their target? Nat says no, just so they don't put you up. Nicole can't play in the next HOH so they would probably bribe you so you don't win the next HOH and put her up. Meech says but I will. Do you think they already bribed James and that's why he's not studying? Nat says James has not been studying forever and I asked him. He said he doesn't have a good memory. Meech asks do you think they will bribe him? Nat says they might bribe you or him. Meech asks do you think he would take it? Nat says I wouldn't. I hope he wouldn't. I will have to have a talk with him. Nat asks would you take it? Meech says probably not. Nat says take it if you need it but I'm not. It would feel good if I didn't and then won HOH. Meech says I need to stay first. I'm sick of Queen of Sheba sitting up there with her pursed lips not saying anything. I'm too good to talk to you commoners. She's shady as F, shes a snake. Nat says you're smarter than Vic. Meech says he failed in college, he barely passed. He partied all the time. He said he had s*x in college in his gym. James joins them. Meech says I wish we didn't help Vic with the days. James says you don't help anyone in this game. Unless they're people like Nat. Paul joins them.

12:45am Backyard – Paul, Victor and Corey are playing pool. They head to bed.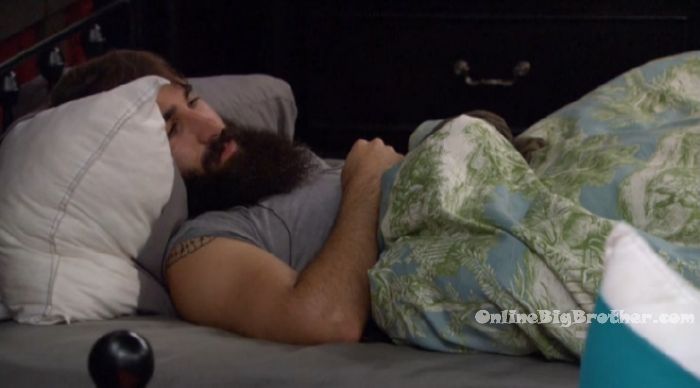 1:50am London room – Nat says if the next comp is a mental one I am out. James says Paul I wouldn't be surprised if I was the next one out after you or her (Meech). I'm ready to go. Paul says no you're not get the f*** out of here bro. Nat says he's kidding. Paul says I would be pissed if I went and then Meech did right after .. to get boned back to back. Meech says we're public enemy number 1. James says you know who has control of that side. Paul asks who. James says you know me and Nat aren't going to send Meech home. Paul says I know that. But I ain't talking to them about that .. I would be super uncomfortable. James asks why? Paul says because she said she put me on the block as strategy. So what am I going to say .. strategically take me off? James and Nat laugh. Paul says I don't want to ask I would rather be surprised. Meech says I don't. Paul says staying or not I'll freak out. Paul says if I go out I'm going to talk to customer service about this (His Round Trip ticket). So if you're not wearing a dress .. I know I'm f**ked. Meech says they (Production) won't let one person dress up and another down. They don't want the audience know who's going home. They want it to be a cliff hanger. Paul and Meech go to eat. Nat studies with James.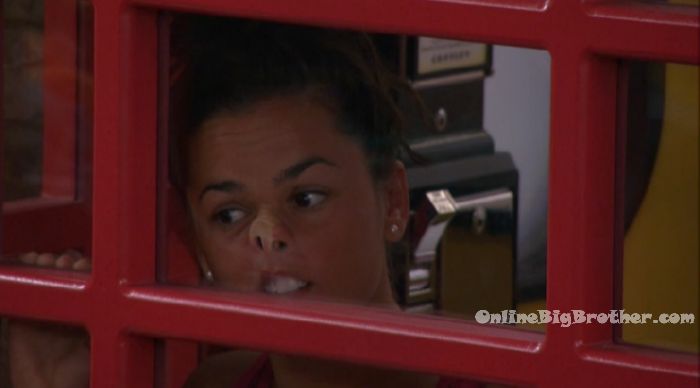 4:30am – 5:20am Meech and James in the bathroom.
James says that Nat has been distant from me. Its because of stuff I said to Corey. She said it was like a single mans club. Stuff I said to Corey 29 days ago. She feels like she has to distance herself from me. Corey said he knew one of the girls off the Bachelorette. He said I should come to Texas and he would introduce me. Nat heard it and was mad about it. James says she says she doesn't like being touchy feely but she flirted with people all season and now she has someone that she actually likes and you don't show any affection at all. I understand with the whole family thing but she flirted with everyone else more than me who you're supposedly in a showmance with. Meech says maybe its just about taking things to the next level which she's scared about. James says she's been very distant. When I am in bed with her I stick to my side. I feel like when I am in bed with her I am non existent. Meech asks she won't even rub your back? James says no, nothing. James says why am I laying in the bed with you if we're going to act like an old married couple. Meech asks when did it stop? James says after I was a havenot and in the bumper cars. Not the last one, the one before that. I wake up and she's in the next bed. She doesn't want to cuddle because she's on tv and doesn't want her family to see it. Meech says she did before. James says exactly. I feel like she wants to tell me she just wants to be friends. I know that she cares about me. I just think she knows that I like her way more than she likes me. Maybe I need to stop giving her so much attention. Let her come to me if she wants to. Meech says maybe have a conversation with her. The best thing is to be open and honest. I feel like I'm the one that is always chasing her. Meech asks what was your deal with Meg. James says I looked out with Meg like how I look out for Nat. She at least made it known that she didn't want a showmance. Meech asks do you feel the same way about Nat? James says no with Nat its deeper. Maybe we'll just have to wait and see if we can make it work on the outside. Meech says she could be just stress about things. We just need for me to stay and then to win HOH. James says I'll have a talk with Nicole tomorrow. I feel like I have a lot of pull with her. I'll be able to tell if they're lying to me.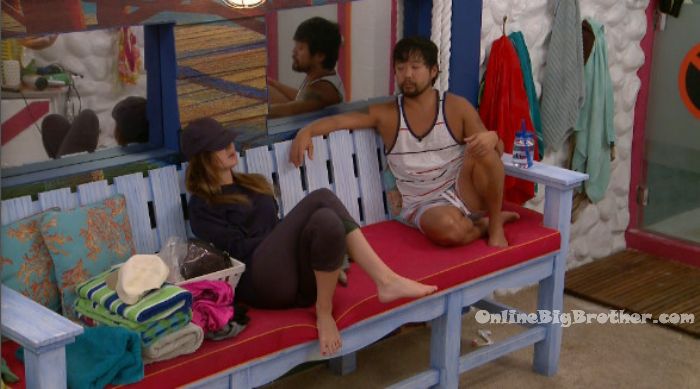 5:25am James and Meech head to bed. James goes to sleep in the bed beside Nat's bed.
8:37am Houseguests woken up by Big Brother.. but they are still sleeping…
(regular feed updates will continue this afternoon.. after they wake up.)
Show your support by making a donation.
Donations support this site more than anything. If you dig our spoilers please find a way to support us.