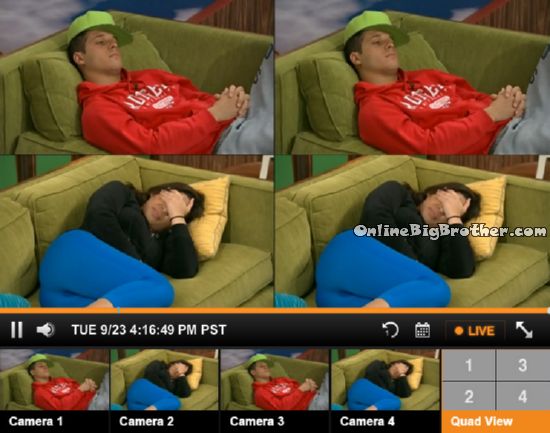 4:17pm Living Victoria and Cody
nothing….
Production – This is a reminder that sleeping in the living room is not permitted"
Victoria gets up and goes to the Fire Room to sleep. Derrick is there already in bed with his eyes open.. Cody doesn't care keeps sleeping in the living room.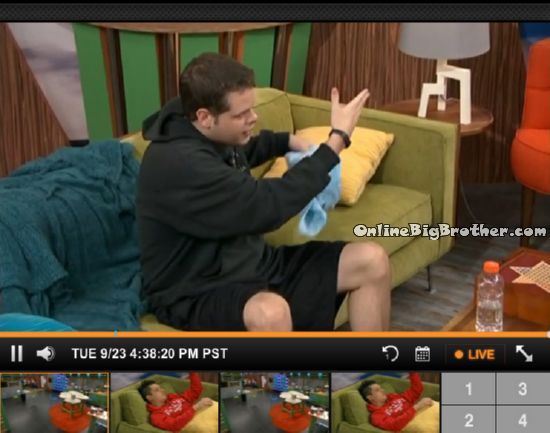 4:33pm Derrick joins Cody in the living room says he can't sleep. Derrick asks him if he's ready to go to battle with these jurors.
Derick doesn't think it will be that bad says they never burnt anyone that bad.
Derrick – I have no f***g clue what Zach will ask.. he might even ask hey Cody fruit loops or Cheerios..
Cody – This sucks
Derick – this is the calm before the storm
Cody – is it the calm before the storm because we're both getting money
Derrick – I'm super pumped
Cody – I'm way too pumped
Derick – My bag is packed.. I'm legit done
Cody is going to get his stuff packed soon.
Derrick reminds him one of them will have to talk to "Sean" about the comic book covers. (Sean is production and the comics are from a competition earlier in the season)
Cody will pay whatever he has to for shipping. They want the Comic cover to not get damaged.
Derrick mentions them going on the Talk TV show the day after the finale says the building is really close to the Big Brother House.
Cody says tomorrow he's going to be "Jacked up" his father would drill into him not to get excited the days before important games and it's carried over to Big Brother.
Cody goes to check the time says it's 4:50pm Derick – Ya 5 o'clock baby
Victoria joins them says she'll start praying at 7. They chat about which flights their families are taking. Derrick says he never waits long going through security because the airport near him is small.
Derrick thinks the feeds will be off tomorrow morning. mentions their might be a "Feed Event" for after the finale. (CBS is telling us the feeds go down tomorrow morning with flashback working until Oct 8th in case you wanted to go back and re-watch some of it)
Victoria claims she will not be bothered by any "Negative energy" mentions Kim Kardashian has haters. (Negative comments from Twitter/sites/cats)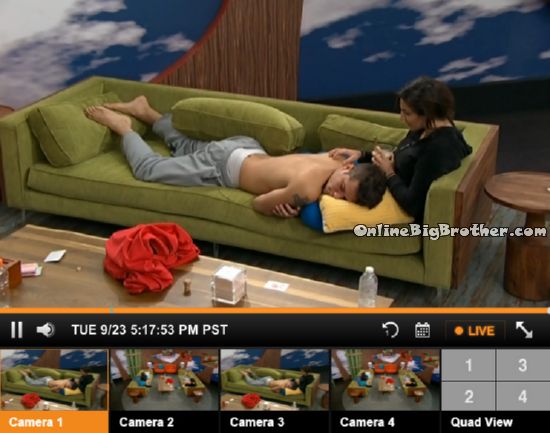 5:13pm Living room everyone
Chit chat.. Looks like Victoria is back to rubbing/stroking for final 2
They hope Big Brother lets them listen to music tomorrow morning today they didn't even after Victoria Begged them.
5:22pm Cody says if Caleb tries to go after his sister he'll kick Caleb in the back of the head.
Victoria – please do
5:37pm Victoria says there is a baby she takes pictures of every month.
Cody says he loves Cadillac cars.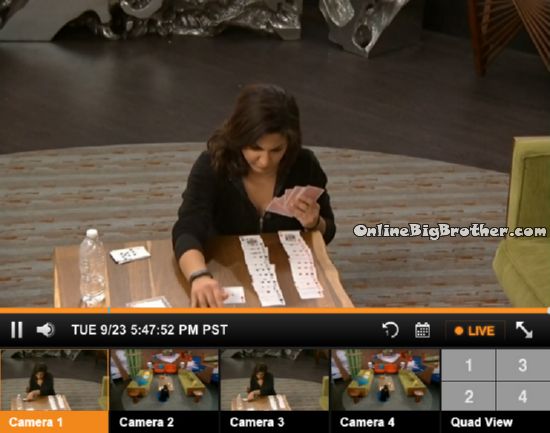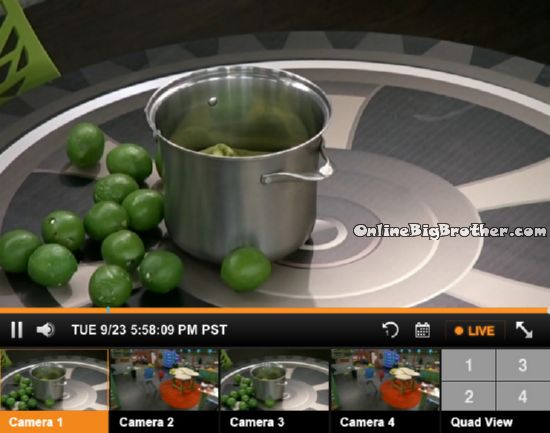 6:00pm Lime Toss is back
6:54pm preparing food.
Looks like a piece of Tuna that was frozen and thawed out in the Microwave.